If you've never been on a ski holiday like me, the thought of one can be pretty daunting. You don't want to get in the way of any expert skiers whizzing down the slopes, or shown up by the nimble six year-olds who could ski before they could walk. So I've been appealing to my ski-mad friends for their tips on which European destinations they'd recommend for a beginner and I thought I should share the results with you!
According to those who have already been through the process of learning to ski, what you need is a resort that has plenty of nursery slopes and wide open green runs (they're the easy ones for us beginners). You're also going to need to head somewhere with good lifts for getting up and down the mountains, and excellent ski schools. Especially important is to make sure the instructors speak good English as you don't want to run into language problems as you're hurtling towards a ravine.
The following five resorts all fit the bill:
Soldeu – Andorra

Image from "bergaralphoto" Ramon Rodriguez Martinez
I've been advised that everywhere in Andorra is good for beginners, but the resort of Soldeu sounds particularly attractive as the name means 'sun god' in reference to the resort's renowned good weather. There are two large nursery areas here, as well as an excellent ski school. Soldeu is also known for its lively nightlife – an essential experience to partake in on a first ski trip.
Banskso – Bulgaria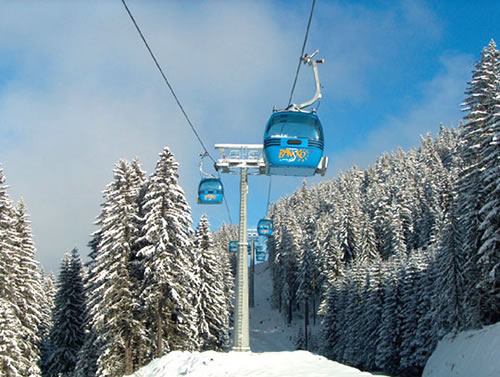 Image from Bansko hotels
If you've never been skiing before and you're not sure how you'll take to it, you don't want to be spending a small fortune on your first excursion, which makes the budget options in Bulgaria appealing. Although Bansko may be cheaper you're not scrimping on facilities – the lifts are super efficient, there are a wide range of nursery slopes and 16km of green runs. Bansko is particularly recommended as 65% of the slopes there are aimed at beginners and intermediates. Plus the town dates back to the 10th century – so there's plenty of history to explore if you have enough of skiing.
Les Arcs – France

Image from Marc Lacoste
Les Arcs' main draw to the beginner skier is the abundant nursery slopes, all easy to reach as they're set right above the main village areas. There is also a dedicated beginners lift, and a good variety of slopes for once you're ready to advance a bit.
Saas Fee – Switzerland

Image from blacklord
The beginners slopes at Saas Fee are set completely apart on one side of the mountain, so you don't have to worry about getting in the way whilst you're learning. There are also plenty of intermediate slopes for when you progress. But the resort's main appeal is that it is so pretty, set under 4000-metre-high peaks with a real traditional feel. The town is car free, and I'm told particularly charming for it.
Cortina – Italy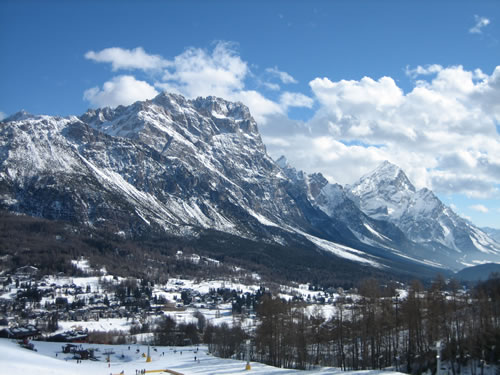 Image from Coachy
Cortina is actually Italy's premier resort, and one of the best in Europe, but it is also a great place to learn due to the abundance of long gentle runs and especially skilled instructors. You'll be learning with a stunning backdrop of Dolomite mountain views, and as this is an especially stylish resort there's plenty of boutique shops and people watching to do if you get tired of the slopes.
No now you know where to go, I've also been given the following advice for when you're there:
Rent your gear in resort – it's too expensive to invest in when you're a beginner. Plus you can exchange rented gear if you get the wrong size
Don't forget your sunscreen – the sun is strong on the slopes
Enjoy it!
Top image from Jesslee Cuizon