Londoners get a bad rep – according to popular stereotype we're moody, silent, always in a rush – unless you're thinking of a cheeky cheery cockney of course. Well, with the world about to converge on London I want to assure you all that Londoners are pussycats behind the cold and aloof exterior. So long as you play by our rules that is….
1. Thou Shalt Get Yourself an Oyster Card
No really, this is the first thing you MUST do when you land. You're not getting anywhere in this city without one.
Well, ok, that's a slight exaggeration, but all your travel will be about four times the cost. Oyster cards cost £5 (which you can get back by returning them at the end of your trip) you can buy them and top them up at any underground station and at newsagents all over the city. They're used on all public transport in London, and not only do they save you money, they save you fumbling for change and trying to work out your fares too.
2. Thou Shalt Know your Underground Etiquette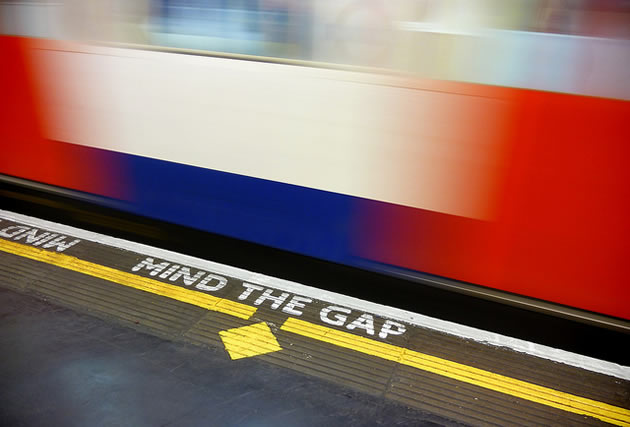 Image by StewC
Do stand to the right on the escalators (the left is left free so people can walk past)
Do get your Oyster card ready in advance of the barriers. If you can't find it, take a step to the side. Simple.
Do let others off of the train first
Do move down in side the carriage. (Most Londoners haven't learnt this tip yet so you'll get a lot more space!)
Do stand behind the yellow line. You'll hear many, many announcements about this when you use the underground. It's for your own safety so do it.
Don't stop right the other side of the barriers to check your map. Seriously, this is the worst place in all of London to check a map.
Don't make eye contact. No reason why, but you'll give yourself away as from 'out of town'.
3. Thou Shalt Hurry Up!
The first thing any visitor will notice is that Londoners are always in a hurry. Dawdling down a street just isn't for us. Time is money people.
Actually, we're not really rushing to important meetings (though that might be what we want you to think, is it working?) We're more likely to be on our way to the pub, trying to catch the X-Factor on TV or late for a haircut… or something.
Perhaps if London was a tropical desert island and our daily commute involved a stroll along a sandy shore we'd take our time to enjoy the view too. But we don't. Travelling through London is likely to include any or all of rain, wind, sweaty tubes, passive aggressive bus drivers, cyclists with a death wish and grinding traffic jams.
You see why we want to get the travelling over as soon as possible? Just don't become one of the obstacles in the way and we'll all get along fine.
4. Thou Shalt Try Visiting Somewhere Off the Beaten Track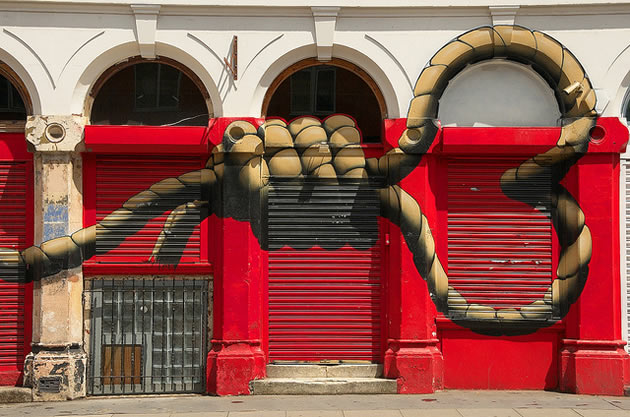 Petticoat Lane Wall Art – Image by bvi4092
The main tourist sites in London are firmly established. Buckingham Palace, The British Museum, The London Eye, Trafalgar Square – I've been to them all and they're great. But please please please leave Leicester Square behind just one day to see what else our fantastic city can offer. Spend a day photographing the amazing street art in the east, explore the regenerated docklands where you can find cool cafes and calm basins, visit Hampstead's leafy suburbs and climb Primrose Hill for a beautiful view of London.
5. Thou Shalt Bring an Umbrella
Because if there's one thing that London can guarantee it is rain. Sorry.
6. Thou Shalt Not Wear an I (Heart) London T-shirt
I mean, you can if you want. It's a free city. But every single Londoner will think you look silly.
We do love London, but we don't understand why we should make our chests shout about it.
7. Thou Shalt Eat Well
Wherever I travel British food is universally derided as bland, overcooked, stodgy and all things bad. Well those people have clearly never been to London baby! There isn't a cuisine that isn't cooked in the capital – and we have whole streets devoted to curry, dim sum and Italian.
If you want to sample some British dishes there are plenty of gastro-pubs happy to serve you a hearty Sunday roast. Don't miss out on a traditional cream tea either, where you'll be served sandwiches, scones and delicate cakes alongside enough tea to swim in.
8. Thou Shalt Queue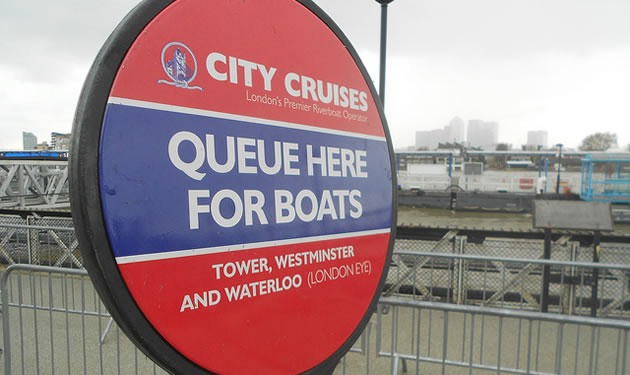 Image by EEPaul
The combination of the popularity of London's attractions and the tradition of orderly queues in Britain mean that you should prepare yourself for a lot of time spent in queues when you come to London. Especially for this busy Olympic period.
If you're watching any events the advice on Olympic tickets is to turn up 90 minutes before the start time – That should give you an indication of how big the queues are expected to be.
Plan ahead, think up queue games, people watch and no matter how tempting do not attempt to queue jump – you will not be making yourself popular.
9. Thou Shalt Speak Up When you are Lost
Londoner's are actually very friendly polite people, and usually happy to help/show off our knowledge. You just have to break through our protective shield first.
Since we're always busy being in a rush and avoiding eye contact we don't have the chance to notice if you're in need of assistance, so you are just going to have to interrupt us. A smile, an "excuse me" usually does the trick, and we'll go all out to get you where you need to be. I promise.
10. If in doubt…. Thou Shalt Apologise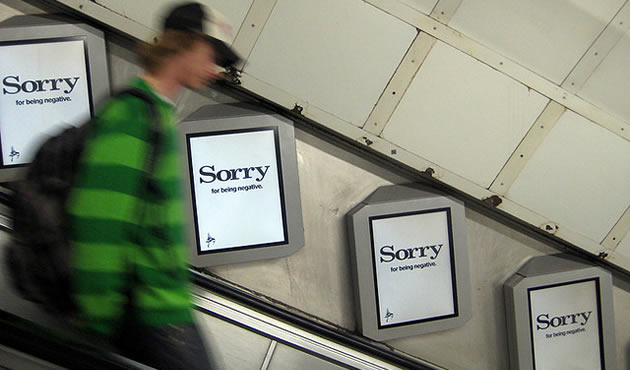 Image by Annie Mole
"Sorry" is an extremely useful word to learn if you're coming to London, as like all Brits Londoner's are always apologising. If you run over someone's foot with your three-ton suitcase, they will apologise (you should too). If a Londoner doesn't understand your question they will apologise (they're actually asking you to repeat yourself). If we don't know the answer to your question, we will also apologise. You get the idea.
We also overuse 'Please' and 'Thank you'. Learn just these three words and you'll get by fine.
Now you're prepped for a visit to the capital, you can check out what's going on in our London Events Page.