Each year over 10 million international visitors descend on New York, and it's no mystery why. The city that never sleeps is home to countless jaw-dropping monuments, unique and delicious world foods, movie screen backdrops and a buzz that can't be found anywhere else on the planet. What makes New York even more appealing is the potential for a surprisingly cheap getaway, so long as you follow our guide to New York on a budget!
Getting there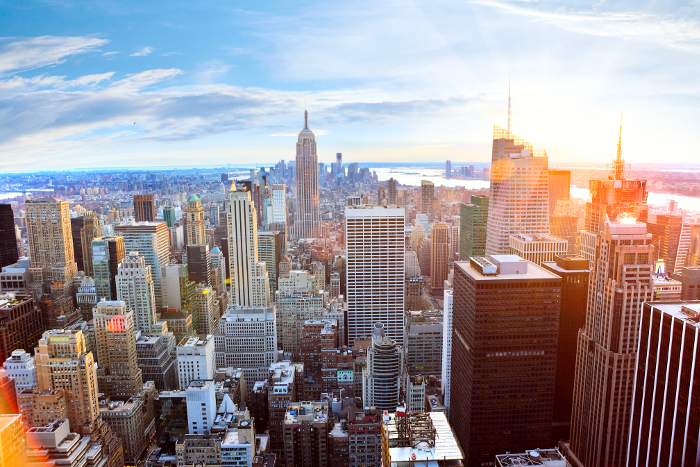 Flights to New York may seem daunting to your bank balance, but it's simple enough to find flights that will suit your needs, schedule and budget if you're willing to be flexible. Comparing flights from many different providers is a good place to start, as this will give you a clear idea of a fair price whilst also alerting you to the cheapest options. Consider in-direct flights if you're short on money but long on time, as these can be a huge budget buster with an added adventure thrown in. Don't forget to keep an eye out for flight sales as these are a fantastic way to grab a bargain!
To save money in New York, booking in advance will always be worthwhile. Look for flights six months to a year in the future – giving more time to plan and save – and try to avoid peak seasons such as September to December. Not only will flights booked far in advance be much cheaper, but so will hotels and tour packages.
Getting around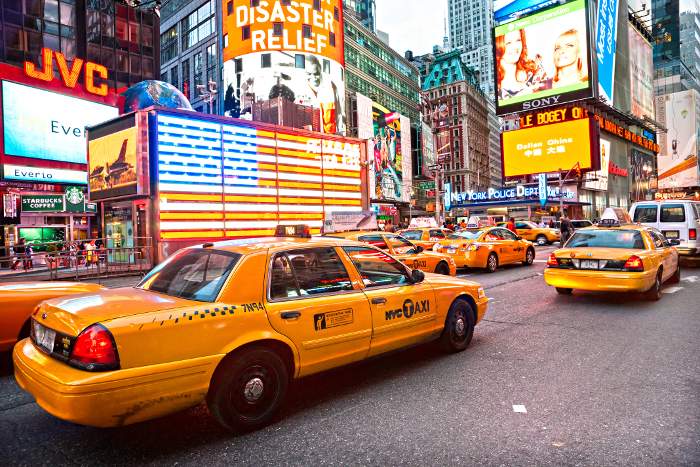 Image: Luciano Mortula
The public transport in New York is huge, reliable and fortuitously cheap! A MetroCard covering all subway and bus services in the city can be bought in advance of your trip for just £33, giving you unlimited access to all underground trains and buses for a week. Cards are also available for longer visits, giving even greater discounts on public transport the longer you are travelling in the city.
As difficult as it may be to resist the novelty, avoid New York taxi cabs. These kitsch yellow cars will usually cost you over a dollar per minute of travel, and with traffic often at a standstill a seemingly short journey could last well over your estimation, leaving you out of pocket.
Accommodation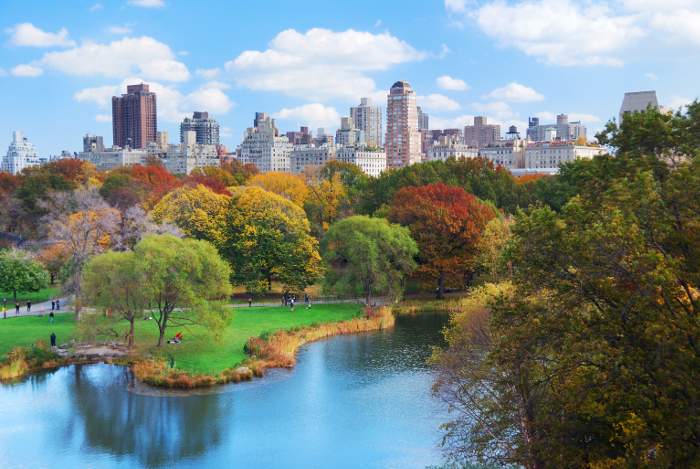 Finding somewhere amazing to stay in New York shouldn't mean that you're too skint to leave the hotel. Again, booking well in advance and utilising comparison websites will help you steer clear of inflated hotel rates at peak times.
To find cheap New York hotels, think outside of the box when planning your trip. Renting an apartment from a native New Yorker can give you an authentic glimpse into life there whilst they're out of town, often giving you higher quality accommodation on a much lower budget.
Hostels may have a bad rap as the ultimate budget choice for travelling students, but in recent years things have changed on the hostel scene! Seek out boutique hostels (yep, you heard me right) for a quirky and incredibly cheap stay.
Sightseeing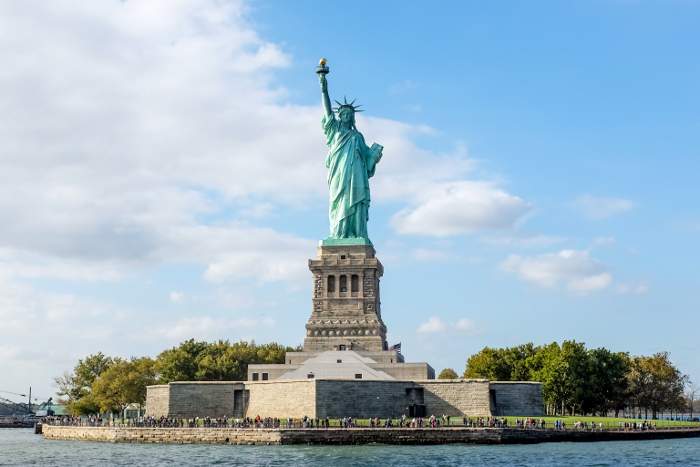 Sightseeing is sure to be a top priority for anyone visiting New York, with so many impressive landmarks to see and explore. We feel that your budget should never restrict your opportunities to experience these sights for yourself, and luckily the people of New York share this sentiment.
The city provides numerous free walking tours and 'name your own price' tours around the main landmarks. Big Apple Greeter is a tour organisation that allows you to see 'New York through the eyes of a New Yorker' for free, but places fill up fast so sign up as quickly as possible!
You can also purchase attraction passes which give discounted entry into sights such as the Empire State Building, the Statue of Liberty and the Guggenheim. A New York Explorer Pass lets you choose from three, five, seven or 10 attractions from over 50 options, with prices starting from £48 for adults and £35 for children.
Eating Out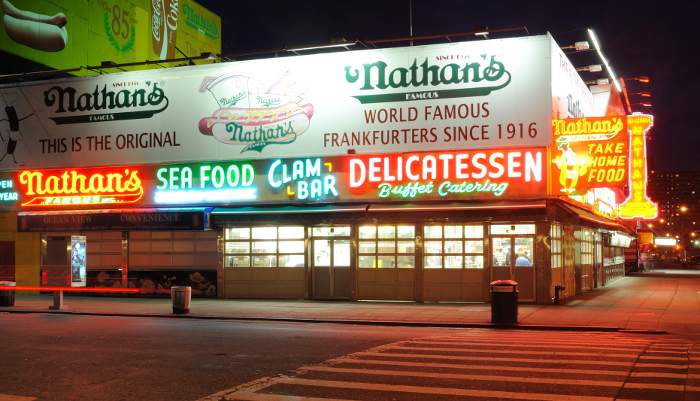 Image: Sean Pavone
New York is a city of extremes and if you're looking to eat out in the big city you can expect to find plenty of extortionately priced restaurants, but fortunately there as just as many obscenely cheap restaurants too! Many of New York's most popular eateries are seriously low budget, but richer in atmosphere and flavour than the more expensive equivalents.
Get a taste of the real New York with a hot roast beef sandwich at Brennan & Carr, sample some South American fried chicken at Sylvia's and eat heartily at family-run Italian L&B Spumoni Gardens. Remember to get your fill of classic New York pizza too! Try Fiore's Pizza for just $2.50 per huge slice.
Entertainment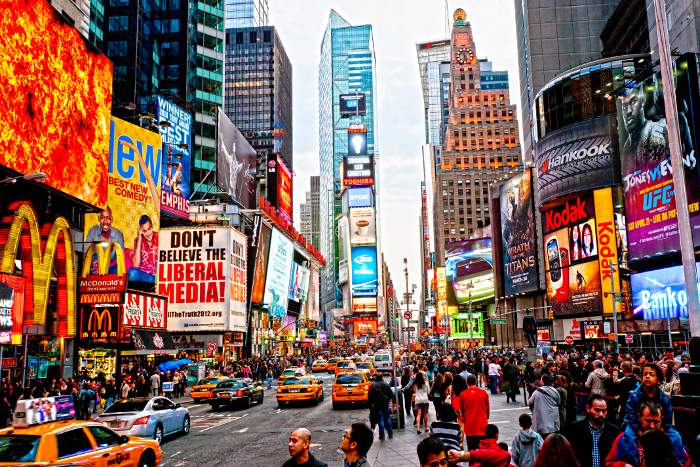 Image: Luciano Mortula
When it comes to entertainment, you'll be spoilt for choice no matter how limited your budget may be. New York provides bountiful events, live music and art shows any night of the week – and what's more, many of them are totally free!
As a training ground for hundreds of up-and-coming comedians, you won't be short of laughs in this city. Weekly stand up at the Upright Citizens Brigade Theatre showcases the best new comics for free, as do many other venues around New York. Museums and art galleries all over town also operate free entrance at least once a week, with the Museum of Modern Art offering free Friday night visits.
If it's live music you're after, pop along to Prospect Park for free gigs! Take a picnic and a blanket, sit back and enjoy the music in the New York heat. Or if the heat gets too much for you, take a trip to a public pool! These clean, safe and abundant pools are dotted all over the city, from the Bronx to Broadway, and are free all summer long.