For a long time, travellers have debated between New York and London. These two famous cities are both are fashion capitals, the backdrop to countless films and the setting of famous novels… but which one wins the battle of the city breaks?
It's a tough question, but we want answers! So I think it's high time we hashed it out…
Shopping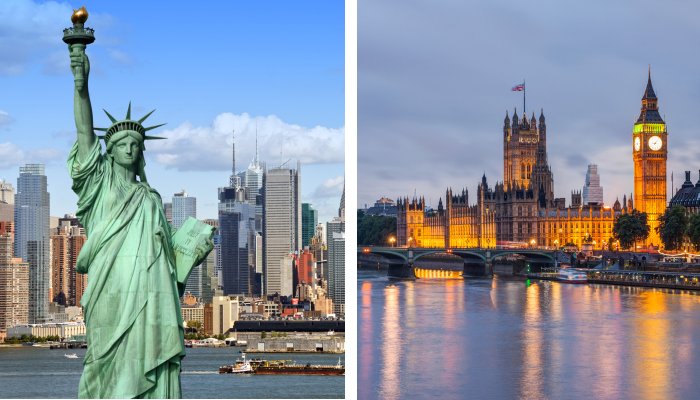 LON: When shopping in London, the first port of call is usually Harrods, and let's not forget the joys of Selfridges, Harvey Nichols and Liberty. For big-name high street brands such as John Lewis and Debenhams you can head to Oxford Street, or if you're feeling fancy you can try out Burberry and Browns on Bond Street. Visit famous Saville Row for bespoke British tailoring or East London's Boxpark for pop-up stalls and cafes. There's also the unmissable, mile-long Portobello Road Market to keep you occupied.
NY: Meanwhile in New York, the stores have taken on a life of their own as must-visit landmarks; channel Audrey Hepburn at Tiffany's or Carrie Bradshaw at Bergdorf Goodman. Let loose in Bloomingdales or raid the infamous Barney's sale. For the stylish traveller on a budget there is New York vintage, found at Mr.Trowback and 10 Ft. Single.
THE VERDICT: With stores just as famous as the historical monuments, it looks as though New York might have won this round.
Dining
LON: London cuisine is changing all the time, with an expanding culture of pop-up restaurants and street food fairs. Visit Tramshed to see a Damien Hurst preserved cow suspended from the ceiling, or have a slightly more elegant afternoon tea at The Ritz hotel.
NY: Eating out in New York flashes between the inexplicably expensive to the surprisingly cheap, but one constant is big flavours and excellent produce. Head to The Mermaid Inn for cold water oysters at $1 each during happy hour, or try a New York classic of fried chicken and waffles at Sylvia's. Don't forget to pick up a slice of authentic NY pizza at famed Fiores.
THE VERDICT: Sorry London, but a big plate of fried chicken is always going to beat pie and mash. New York wins again!
Art & History
LON: Historical monuments don't get much bigger or fancier than London's Buckingham Palace, and New York is lacking the royal family to compete! Spend a day strolling along the Mall, take in some history and watch the changing of the guards. For art visit the Tate Modern and Tate Britain for an insight into both contemporary art and British folk art.
NY: While there may not be as many royals in New York, the city that never sleeps is still filled to the brim with fascinating historical landmarks. No trip here would be complete with a visit to the Statue of Liberty, which has stood overlooking the city for almost 130 years. The Whitney and Metropolitan Museum of Art are great spots to soak in some art and culture, as well as a cocktail or two on a Friday night.
THE VERDICT: The Royal Family doth proclaim that London wins this one.
Nightlife & Entertainment
LON:You'll never be bored in London, with so many things to see and do. For entertainment head to the West End to see a classic like Cats, or something new like The Book of Mormon, in beautiful theatres like the Victoria Palace and London Palladium. When you get tired of all that culture, pop to nearby Covent Garden for a cocktail at Cellar Door. For great views of the city try Heron Tower, or pull some serious shapes at The Shard's silent disco.
NY:New York has great theatre on offer too at the famous Broadway Theatre, showing longtime favourites like Chicago and Hairspray. However, the entertainment here isn't all jazz hands and show tunes. New York is famous for comedy, with up and coming comics from all over the U.S. flocking here to make it big. Shows are often free for ameteur nights, so mosey down to the Comedy Cellar or Comedy Village for big laughs in the big city.
THE VERDICT: A silent disco up almost 300 metres high? How could that not win, really?! Take a bow, London.
So there you have it, it's a tie. We've solved nothing. Maybe this is why people have been struggling to decide for so long… Which would you rather visit?