A day or two of exploring nearby wineries can often be one of the best ways to take your European holiday to the next level. Thoughts of the ultimate wine getaway commonly lure us away to places like Burgundy, Bordeaux, Tuscany or Piemonte but flying under the radar is the vastness of Portugal; a country rich with world-class wines, excellent value for money and no queues. Pack light, as you'll most certainly need some spare luggage space for this one.
From Porto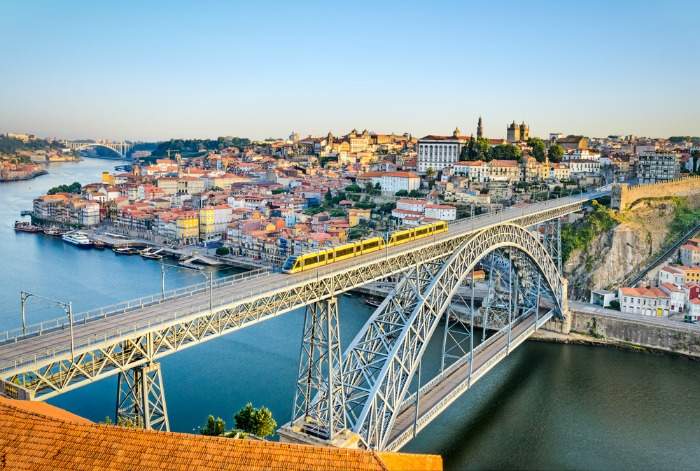 Image by Mapics / Shutterstock.com
Not only is Porto home to the world-famous port wine it is also the launching ground to explore Portugal's most-valued wine region and a UNESCO World Heritage Site – The Douro.
Spending an afternoon hopping between port houses is easy enough. You'll quickly notice the south side of the Douro river is packed full of them, and can be tackled in a few blissful hours. Here you'll find all the big name port brands like Sandeman, Croft, Taylor's and Graham's, as well as some smaller, lesser-known labels. Each house has its own story and many of them have a very interesting history so be sure to visit a few and take a quick tour!
The Douro on the other hand may require a bit more organisation but never disappoints. Named after the river for which it straddles, this world-renowned region is made up of an endless series of beautiful terraced vineyards that rise from the winding banks below. The three sub-regions you'll find here stretch east to west all the way to the Spanish border and each express their own characteristics.
You may be satisfied to simply make your way to the most-westerly Baixa Corgo and call it quits. From there you'll certainly be able to experience the dramatic landscape that the Douro is known for and also taste some excellent wines along the way.
The quality and tradition can't compare to that found in the Cima Corgo, home to the small village of Pinhão and the bulk of the region's famous Quintas. Here you'll find an endless offering of fantastic wineries, many of which grow the grapes that are then shipped back to Porto to make port.
To continue heading east to the Douro Superior takes more motivation and definitely more time but you'll be rewarded by some of the best wines found in all of Portugal. This is the hottest and driest sub-region within the region, which contributes to the strength and flavour of these landmark wines.
Getting There:
Whether you prefer to join a tour from Porto or plan the route yourself, the stunning landscape and its excellent wines can be reached in just over an hour from the city centre, which makes it a great way to experience another side of the country for a day or two.
You can fly direct to Porto from several of the London airports including Gatwick, Stansted and Luton.
From Lisbon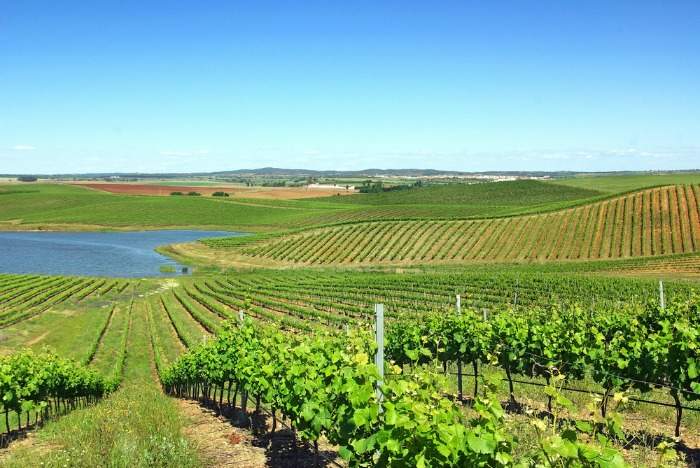 Image by Inacio Pires / Shutterstock.com
A stay in Lisbon offers such a fantastic amount of diversity to your wine adventures that it's almost overwhelming trying to decide where to go. You may choose to hop on a city bus and take a quick trip south to the region of Setúbal or rent a car where you can head east to the Alentejo, north to Tejo or west to Lisboa. Either way, you're in for a treat.
For the sake of convenience it's hard to beat what's on offer in Setúbal. Hop on a city bus from Lisbon and in about 45 minutes you'll be let off directly outside of the Bacalhôa winery, home to a very delicious sweet Moscatel and a rather bizarre museum housing a collection of African artworks and art deco pieces.
The second option is to rent a car and make your way out to Tejo (formerly Ribatejo) or Lisboa – or both! In these regions you'll find a good selection of wineries but quality can often be lacking in a country that offers so much more with not much more commitment.
To experience the best, the Alentejo is the goal and requires just about an hour and a half of driving to reach the sub-regions of Portalegre or Evora. This large region, which covers about a third of the country is home to the majority of Portugal's cork oak, endless olive groves and a large bulk of the country's wine production. Here, you'll find the small, charming villages responsible for the easy-drinking, fruity reds we all know and love Portugal for. You'll also find that Alentejo is a great place to witness the lesser-known culture of the country; home to rolling hills, sprawling farmlands and wonderful natural beauty.
Getting There:
Lisbon is home to a range of tour companies that run trips to the surrounding regions, but we recommend renting a car for maximum freedom in your exploration!
You can fly direct to Lisbon from various airports around the UK, including London and Manchester.
From Faro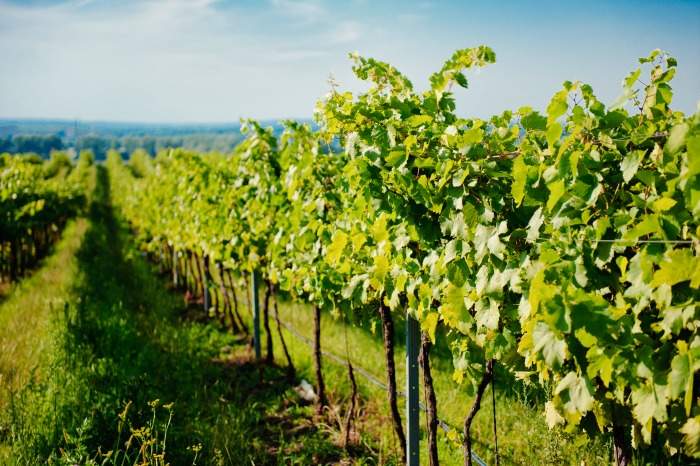 Image by PortoBay Events / Flickr
Faro may not offer the diversity found around Porto or Lisbon but it does give visitors a chance to experience the southern side of the Alentejo, which may be out of your reach when travelling from Lisbon.
Heading north from the city you'll find the Baixo Alentejo and the sub-regions of Moura, Vidigueira and Granja. There's a mix of great wineries here that come with the usual added bonus of postcard-like landscape.
Faro also comes with the option to work your way around the up-and-coming wine areas of the Algarve: Tavira, Lagoa, Portimão and Lagos. These regions may not carry as much respect as the Douro and Alentejo but the climate is perfect for growing (and tasting) wine with cooler temperatures coming off of the Mediterranean and Atlantic. And with a history of winemaking that stretches back to 2,000 B.C. the Algarve offers more than just delicious wine. Check out the Casa Rural das Ruinas in Milreu or the Moorish Castle in Silves. But let's not kid ourselves – we're really here for the wine.
Getting There:
We recommend joining an organised tour to experience the best of the expansive Alentejo region. This way you can avoid long drives and taste more wine. The Algarve on the other hand can be easily navigated by car from Faro with Portimão and Lagos being less than an hour away.
Direct flights to Faro are available from locations around the UK. Search for the best deals here!