While many of us may associate Malaysia with mouth-watering street food, colossal skyscrapers and unique biodiversity, another facet of the country is revealed through the visual art and musical performances showcased in various galleries, theatres and art venues throughout the bustling capital.
Kuala Lumpur is a city bursting with culture, and its diversity is one of the major reasons for this. A melting pot of Indian, Chinese and Malay communities all contribute distinctive art works, musical genres and customs that give the city a distinctive personality.
The Islamic Arts Museum displays stunning works from the Muslim world, and the annual arts festival, DiverseCity, brings together performers from across the globe in a month-long arts extravaganza. Then there's the Hungry Ghost festival which brings in Chinese opera troupes and musical performers to venues all over the city with the aim of appeasing the angry spirits. Here are just a handful of the theatres, festivals and galleries that makes KL's art scene one to be envied.
Visual Arts
Image courtesy of r.nagy via shutterstock.com
G13 Gallery
This trendy space is filled with evocative pieces created by local and and international artists. Throughout the year, workshops and forums are held to promote a greater understanding to the wider public of the artwork housed here. Past and present pieces on display have ranged from propaganda inspired art to a deflated basketball.
Islamic Arts Museum
This museum has a number of galleries depicting different aspects of Islamic culture, including an architecture gallery with models of iconic Islamic buildings, a ceramic gallery filled with intricately painted pots and decorative tiles, and a metal and textiles gallery. There's also a library filled with publications on the Muslim world.
Kuala Lumpur City Gallery
Most visit the Kuala Lumpur City Gallery for a glimpse of the huge, ever-changing model of the whole city. It's the brainchild of Andrew J. K. Lee who, along with a team of artists and craftsmen have collectively become known as Arch. Their monumental task has been to photograph each individual building in the city in order to create a bite-sized replica for the model. The model even has buildings that haven't yet been constructed – all white, while old, colonial buildings are made from wood and the modern ones from acrylic. Measuring 40 x 50 feet, it's the largest model in the city, and this immense achievement has garnered a lot of well-deserved attention and praise.
Once you get over the sheer scale of the piece of work, you can move onto the other things that make this gallery great, like the Kuala Lumpur Skyscrapers Mural, made from over 20 different types of wood and the Old KL exhibition which features prints and models that tell of the city's fascinating history. It's not to be missed.
Klang River Graffiti
With the appearance of Banksy works popping up in cities across the world, street art has finally begun to has gain the recognition it deserves. Some of Kuala Lumpur's most vivid graffiti can be found lining the concrete banks of the Klang River.
Consisting of countless 15-metre high murals and mostly painted as opposed to sprayed, these striking pieces play a key part in establishing the city's distinct artistic identity and brighten the otherwise vapid surroundings. Every year, graffiti artists congregate during the KUL sign festival, which is a wall art competition, and add on to this collective masterpiece.
Performing Arts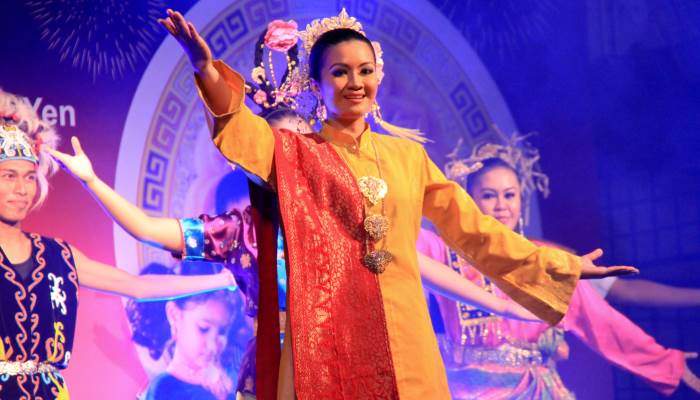 Image courtesy of Faiz Zaki via Shutterstock.com
Panggung Bandaraya DBKL Theatre
Located right in the city centre, this theatre is one of the oldest in Malaysia, and its façade takes inspiration from Moorish architecture. Currently in residency is a colourful production called Mud which weaves a fascinating story through the characters of three friends who arrived in the city in 1880 during the mining boom in search of the opportunities it would bring.
Istana Budaya National Theatre
The striking piece of architecture forming the exoskeleton of this theatre was designed by Muhammad Kamar Ya'akub to reflect traditional Malay architecture yet still retains a decidedly modern appearance thanks to its angular exterior. It's close to the beautiful Titiwangsa Lake Garden and has a capacity for just under 1,500 spectators.
With an interior which takes inspiration from the design features of traditional Malay houses, this was the first theatre in Asia to be fitted with state-of-the-art equipment. Depending on what time of year you visit, you can watch concerts, musical theatre performances, operas and a Disney's Frozen concert if you happen to visit this coming December!
PJ Live Arts
Set in the Petaling Jaya neighbourhood, this venue has played host to comedy festivals like Melbourne International Comedy Festival Roadshow and its annual Laugh Fest, a celebration of comedy from Malaysian and international comedians. It has a theatre with a capacity for 450 people as well as a cabaret with space for 80 spectators. Head down there for open mic nights, comedy theatre and side-splitting stand up.
Festivals
Image courtesy of Lee Yiu Tung via Shutterstock.com
Hungry Ghost Festival
During this festival which takes place on the seventh lunar month every year, various Chinese operas and other musical performances are staged in community centres, theatres and halls all over the city. The aim of the festival is to appease the hungry ghosts that are said to roam freely during this month, so food offerings are made and loud music is used to entertain and distract the spirits. During all of these performances, the front row of the auditorium is always reserved for the ghosts who care to join the living audience members.
Kakiseni International Arts Festival
This free arts festival brings together performers from all backgrounds and is organised by an organisation called Kakiseni, who strive to provide an accessible platform to the arts for artists and people interested in them. The festival happens every September for five days and includes live shows across a range of genres as well as some art workshops. Past festivals have included puppetry workshops, and this year, among the acts will be a parkour group from Brighton performing some daring stunts.
DiverseCity Kuala Lumpur International Arts Festival
This month-long festival beginning in August showcases visual arts performances from across Malaysia and worldwide to cater to all tastes. This year's line up includes everything from risqué comedy and 3D art to avant-garde ethnic music and Zat-Pwe dance from Burma. It's one of the highlights of the Malaysian arts calendar.