Top 10 Bargain Beach Destinations
There's nothing quite like the feeling of sand between your toes, clear blue sky and the soft sound of waves caressing the sun-scorched shore. For many, the beach is a must when it comes to holidaying, which is why we've put together a list of stunning coastlines that come with equally stunning prices. Get your buckets and spades at the ready, because with prices like these, there's more reasons than one to jet off to a beautiful beachy destination!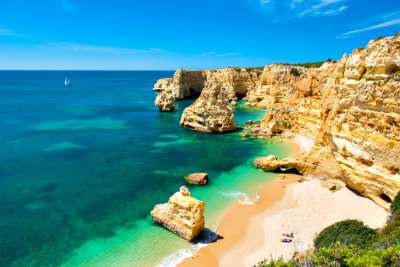 1

Algarve

The bewitching beaches in Portugal's Algarve are nothing short of breathtaking, with towering cliffs, golden sand, jugged bays and sparkling islands. In fact, it's these beaches that attract around 12 million holidaymakers each year, keen on embracing the sun, sea and surf. Prices remain low, especially during spring and autumn when temperatures are warm and crowds low. You'll find over 150 beaches to choose from, but we recommend Praia da Marinha or Praia da Falésia in the south, and the remote Praia de Vale Figueira in the north-west.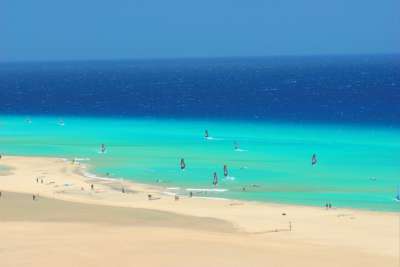 2

Fuerteventura

Like its Canary Island sisters, Fuerteventura has year-round warm weather, but boasts the biggest beaches of the islands, with over 150 to choose from. La Concha in the north is particularly beautiful with clear turquoise water not dissimilar to the Caribbean, and a wealth of creamy-gold sand. In fact, many of Fuerteventura's beaches (even the more popular ones) come with incredible colours, mountain backdrops and a remote feel. Avoid peak summer for the best prices, with an array of affordable all inclusive packages available.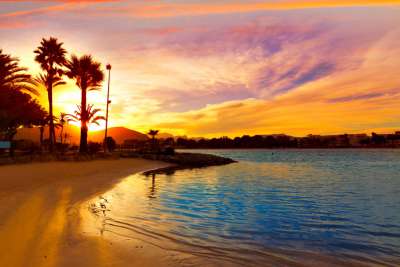 3

Majorca

This popular Mediterranean island over-delivers when it comes to dazzling visitors with its beaches. Even the built up coastal resorts come with unexpected beauty, and then there's the serene coves that weave the island's border. The coastline varies via location with dramatic cliffs in the west, leafy backdrops in the north, deserted coves in the east and white sands in the south. With an abundance of affordable resorts dotted around the island, there's plenty of reason to indulge.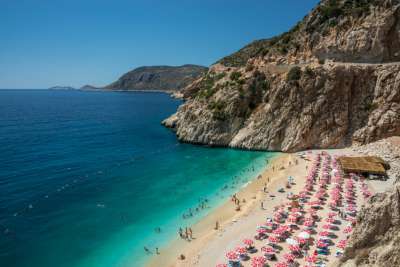 4

Marmaris

Marmaris has long been popular with European holidaymakers and its affordable all inclusive package deals, often in beautiful hotels, make it ever appealing. Then there's the spectacular natural surroundings - rugged peninsulas with a distinctly unspoilt feel, golden sands and pristine waters. The resort is excellent for lazy beach days with frequent dips in the sea, dubbed 'The Turquoise Coast' due to its dreamy colour. Add to that the gorgeous weather and you may never want to leave.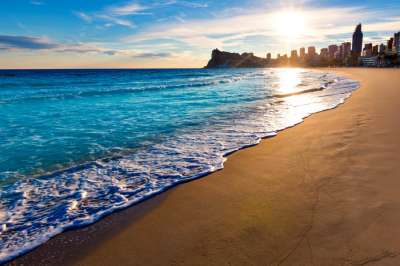 5

Benidorm

Benidorm is a resort of contrasts with British expat areas, a traditional Spanish Old Town and plenty of golden sand to go round. The holiday vibe that pulsates through the coastal city is infectious and the beautiful beach sunsets are a must. Mass tourism means that prices remain at an all-time low and booking a week away can easily cost under £200 per person. If you're looking to escape the crowds, Poniente Beach has a Spanish vibe and you'll find traditional tapas restaurants nearby.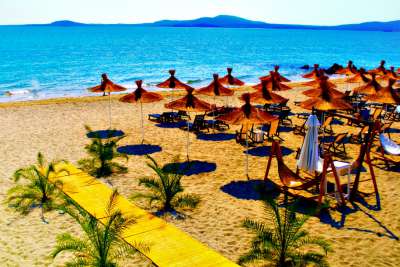 6

Sunny Beach

An interesting alternative for a beach holiday, Sunny Beach on the Black Sea's coast offers several miles of golden sand. There's every watersport imaginable and a whole host of bars, clubs and restaurants to keep the restless amused. There's also an impressive range of all inclusive resorts, many of which come at great prices. Sunny Beach is an excellent option for beach lovers seeking something new, and it's a destination that's all too easy to fall in love with.
7

Costa Del Sol

The Costa del Sol has long attracted sun worshippers to its sandy shores, and despite the heavy tourism, still boasts gorgeous beaches and traditional Spanish atmospheres. There's a whole range of budget resorts, many of which are mere steps away from the beach, meaning your buck will go further when booking a holiday here. Plus, with 320 sunny days a year and 99 miles of coastline to enjoy, you can't go wrong. Head to Marbella for glamour, Torremolinos for a laid-back vibe and El Cañuelo in Nerja for secluded coves.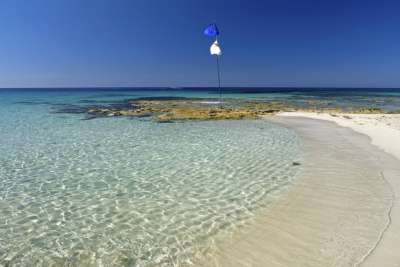 8

Cyprus

The island of Cyprus is awash with beautiful sandy beaches, and its low prices throughout the year make it a great choice for some Mediterranean sunshine. Adventurers will love the wild western coast which boasts a rugged coastline that cradles green waters. Party goers should head to the stunning Nissi Beach in Ayia Napa and adrenaline junkies will be in their element with the watersports at Paramali Beach in Limassol. Inland you'll find whitewashed villas, history-rich villages and traditional restaurants serving mouth-watering dishes.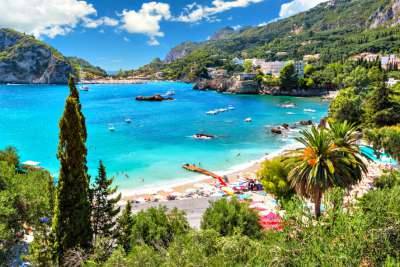 9

Corfu

Rich in history and culture, this Greek island has mountain-lined beaches with lush greenery and small sparkling islands that lead out to the horizon. It's not only beautiful but it's an incredibly affordable holiday destination too, with plenty of package holidays and budget hotels available. There's something for every beach fan - from well-known spots with various watersports to small, secluded coves. Head to the popular Paleokastritsa beach in the north-west for crystal clear waters and hire a boat to visit the surrounding islands.
10

Agadir

Beachy Agadir feels very different to the rest of Morocco with its intoxicating and laid-back coastal vibe. The sandy beach is huge and surrounding it there's everything from pubs to pizza joints, in stark contrast to colourful Moroccan areas. The sea is clean and great for both swimming and watersports, and there's around 300 sunny days a year. Best of all, holiday prices remain low. Those looking for an exotic twist to their usual beach retreat won't be disappointed!
Most Popular Top 10s