Portugal's Best 10 Beaches
Portugal's coastline stretches over 1,115 miles at the western edge of Europe. And amid those miles there are more than a few incredible beaches. So to help you home in on them, we're picking our favourite 10 beaches, including a wonderful selection of gorgeous golden cresents of the Algarve, lesser-known island shores and world-class surfing beaches lining the Atlantic.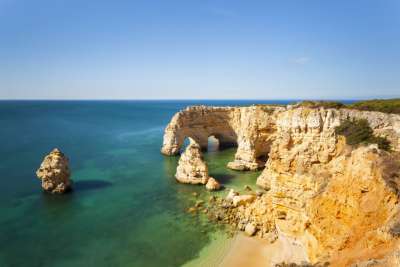 1

Praia da Marinha

Consistently named as one of the world's most beautiful beaches, you'll recognise Praia da Marinha from countless postcard stands across the Algarve. The cliffs here have eroded into dramatic stacks and curious caves, all set against golden sand and clear seas. Be warned that the climb down to the beach is steep - an easier option is to join a boat tour departing from the nearby resort of Carvoeiro.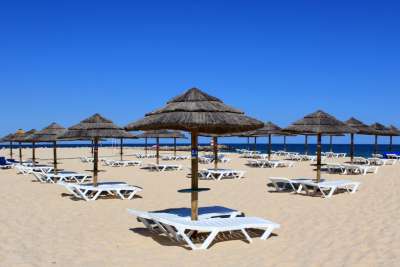 2

Ilha Tavira

On the eastern side of the Algarve visiting the beach includes a ferry trip through the beautiful Ria Formosa nature reserve. Ilha Tavira is one such example - this narrow island features seven miles of pale sand on one side, and a gentle lagoon on the other. There are beach bars near the ferry stop, but just keep walking and you'll soon find you have the place almost to yourself.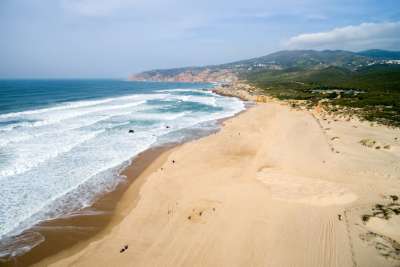 3

Praia do Guincho

Five miles outside of the town of Cascais, Guincho beach is wide and long and accessed over sand dunes - but it's so popular you'll still find it's packed out in summer. The currents, waves and wind mean the water's best suited to surfers and kiteboarders - but plenty of others flock here to soak in the scenery and sunshine. It's so scenic it was featured in the James Bond film On Her Majesty's Secret Service.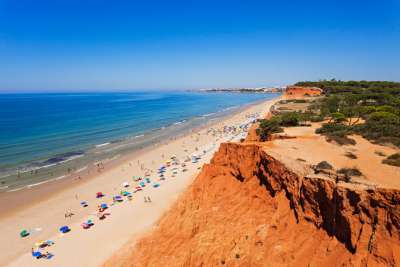 4

Praia da Falesia

Drive just six miles east of Albufeira to uncover this dramatic beach. Falesia beach is nearly two miles long and backed by impressive orange- and white-marbled cliffs which are frosted with pine trees. There are several access points, but you'll need to park at the top of the cliffs and climb down wooden steps to the sands below.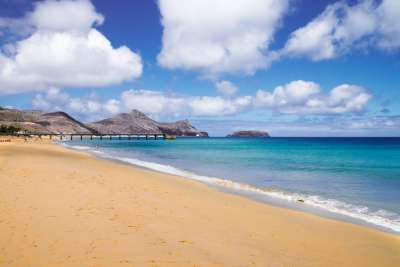 5

Porto Santo Beach

It's been said that there's nothing to do on Porto Santo except go to the beach - but since the beach in question is nearly six miles long, beautifully unspoilt and blessed with a sub-tropical climate, that sounds pretty idyllic to us. Porto Santo is a tiny island 25 miles off the coast of Madeira. It's somewhat off the beaten track, and with only one sleepy town, it's a great place to relax.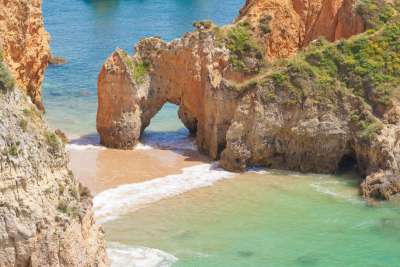 6

Praia dos Três Irmãos

Another of the Algarve's striking golden rock formation beaches, Praia dos Três Irmãos (Three Brothers beach) is really the eastern end of Alvor beach. That makes it extremely accessible if you don't mind a lovely beach walk (or you can reach it by road too). The craggy rocky outcrops create enchanting grottos with blue-green sea water and open caves you can explore.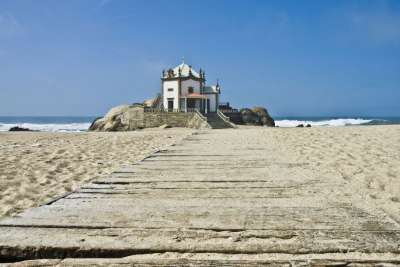 7

Praia de Miramar

Despite being just seven miles south of Porto, the seaside town of Miramar and its beach feel relatively isolated and peaceful. The beach is instantly recognisable for the picturesque chapel of Senhor da Pedra (Lord of the Rock), but there are plenty of other beaches in the same nine-mile stretch, all connected by boardwalk. It's not on many tourists' radars yet, but local visitors bring a buzz to the place on a sunny weekend.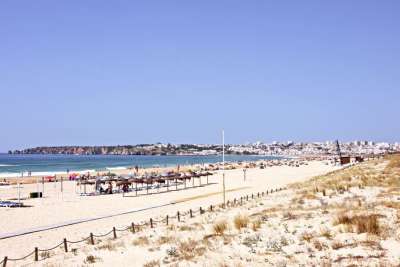 8

Meia Praia

This is the largest beach near the popular town of Lagos, and it presents a seemingly endless stretch of golden sand. Nearer the town the beach is lined with both casual cafes and fancier bars where you can lay on a canopied sunbed to sip a refreshing cocktail. Continue along the pristine beach and you'll find more beach shacks and a golf course at the far end - but beware, this portion of the beach is also popular with nudists!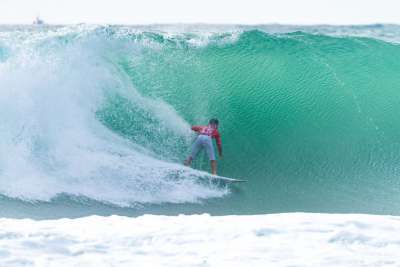 9

Peniche

This fishing port turned surf mecca boasts plenty of long sandy shores either side of the main peninsula. The coast is wild here, braced against the Atlantic and renowned for world-class surf breaks. Medão Grande beach is where you'll see the incredible Supertubos - surfing one of those is purely for the experts. A reliable wind makes the area popular with windsurfers and kite boarders too.

Image ©

homydesign

/

Shutterstock.com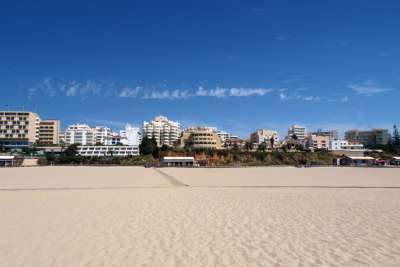 10

Praia da Rocha

If you want to stay right on the doorstep of one of Portugal's best beaches, head to Praia da Rocha. Hotels sit atop the limestone cliffs, directly overlooking the beautiful broad sands. As popular as the resort is, the beach is big enough that it never feels too crowded. You can hire pedalos and parasols, or stroll along the wooden boardwalk to find your own private patch of blissful sands.
Most Popular Top 10s