Let's face it – a wedding without a hen do is like a holiday without any sun. We Brits hold our pre-nuptial celebrations dear, but with a recent study revealing that around 1.3 million of us headed overseas for our stag and hen parties last year, it seems a local night out and greasy kebab just isn't going to cut it anymore.
Whether you're a party planning best mate or an adventurous bride-to-be, our ingenious ideas for offbeat hen do locations abroad will provide all the inspiration you need. Pack up the feather boas, L plates and stilettos and head to the airport – we're going hen partying in style.
On a shoestring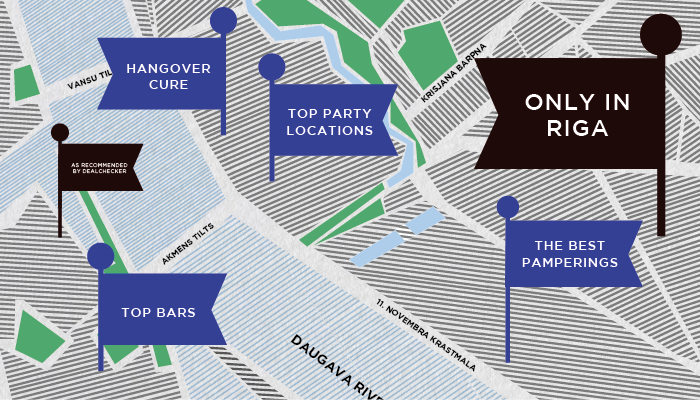 Spend the day…
Majestic, flamboyant and effortlessly trendy, this Eastern European gem is fast becoming a magnet for pre-wedding party-ers. Soaking up the culture here is as simple as a stroll along the canal – the ornate, gothic-spired Nativity of Christ Cathedral is definitely worth a gawp. The old town will give your selfie stick a workout, with the stunning St Peter's Church and House of the Blackheads framing backstreets of charismatic cafes and Art Nouveau architecture. If you fancy shopping 'til you drop, Riga's retail therapy comes in the form of the city's pride and joy – the UNESCO protected Central Market. One of the largest in Europe, the bargain opportunities here are endless, with ramshackle warrens of stalls and food pavilions offering locally grown produce and Latvian specialities to tempt you in.
Spend the night…
After dark, Riga takes on a whole new identity, as gritty underground scenes happily co-exist with refined cocktail culture. Ironically, every good night out in Riga starts (and ends) in HHC, the Hardcore Hangover Club – the place to grab a beer, pull up a chessboard and hang out with the city's local bohemians. If live music will get your hen party started, head to Depo, an alternative basement venue which plays host to acts of every genre. To glitz up your night, simply hop into a glass lift to the sleek Skyline Bar, where incredible skyline views mingle with expertly crafted cocktails – sounds heavenly doesn't it?
Chow down on…
Riga's foodie scene has recently blown up, and with calorific stodge now overtaken by experimental soul food, it's impossible to walk down a street without being tempted into a sweet-smelling bakery or cafe. Sampling the new twist on Latvian cuisine is best done at 3 Pavaru Restorans, where starters are prepared from scratch at your table, or the cosy Istaba, which features a menu so fresh it changes daily. To come face to face with Riga's gastronomic creativity, book a table at Vincents (we recommend the Baltic Sea Flounder). No hen do is complete without a big, greasy brunch – Pagalms cafe is hidden next to the Latvian National Theatre and serves killer waffles.
Only in Riga…
Pack your hen weekend with culture by taking a free tour of the city. Every day at noon, those interested in learning more about the Riga's history meet in front of St. Petri Church to be guided through the streets by a knowledgeable local.
Riga's best hangover cure…
After a heavy one, there's no better way to recalibrate than with a traditional, Latvian wood-fired sauna at Balta Pirts spa.
Spend the day…
Dublin is a compact city – wandering its bustling streets can easily while away a day. The capital's true personality can be found in St. Stephen's Green – a people-watcher's paradise. The green isn't just a great place for hens to relax in the sun with an ice-cold pint, it's also a great base from which to explore St. Patrick's Cathedral, the National Museum of Ireland (Decorative Arts and History) and the National Concert Hall. Home to four winners of the Nobel Literature Prize, a visit to Dublin wouldn't be complete without a quick nose around its Writers Museum. Once you've got acquainted with the city, kick back in one of its cosy corners – The Tea Gardens, a carpeted and cushioned cafe open until 11pm and a great choice for chilled out pre-drinks.
Spend the night…
Famous for its relentless pub culture, Dublin is the city that does sleep, but curled up in the corner after one too many Guinesses. The live music scene is one of the finest in Europe, with The Grand Social, an airy bar with a garden full of independent food vendors, voted the best venue. Cocktail culture is best located in the city's Temple Bar Area, where finding a trendy tipple couldn't be simpler (the 20's style The Vintage Cocktail Club is a great place to put those feather boas to good use). For all-out clubbing, stroll to the city centre, where the likes of Copper Face Jack's, Pygmalion and Wigwam have your dancing needs covered. For something a little calmer, try live comedy at The Workman's Club and laugh the night away instead.
Chow down on…
A Dublin dinner is best served at the city's renowned Winding Stair. An undeniably quirky setting, this restaurant serves up Irish good eats from locally sourced ingredients. Spice up your meal at Dada's, a Middle Eastern eatery which doubles as an after dark belly dancing workshop in its basement level Ziryab Bar. If you're keen to hit the clubs, grab a quick pizza at Bernard Shaw's Big Blue Bus first, a converted double decker popular with the city's student population. After a messy night, indulge in an equally messy brunch at San Lorenzo's, famous for its Lobster Eggs Benedict.
Only in Dublin…
Because no visit to Dublin would be complete without a considerable amount of 'Irish champagne', why not take a private tour of the iconic Guinness Storehouse? This renowned brewery offers guided trips around its lofty expanse, with taster sessions included of course!
Dublin's best hangover cure…
Treat the hens to a decadent afternoon tea at the beautiful Merrion Hotel. Not only are the sandwiches to die for, the confectionary is decorated to match the art pieces hung in this elegant Georgian townhouse.
Splurge a little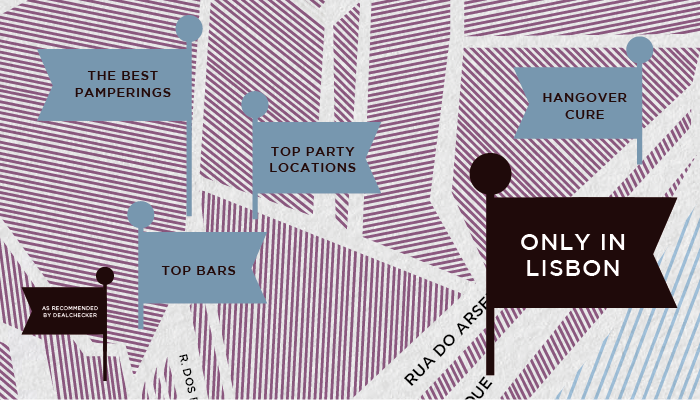 Spend the day…
Lisbon is fast becoming a bohemian paradise. With edgy art galleries and bustling markets all intersected by its network of iconic yellow trams, it's an awesome location for letting down  your hair with your best friends. Alfama, the city's oldest district sits in the shadow of the imposing Castelo São Jorge and Lisbon Cathedral, and is the hub of city sightseeing. If a day of historical culture sounds a bit too heavy, the adorable hotch-potch of streets that make up Barrio Alto offer solace in the form of quaint cafes and colourful locals. For a complete change of scene, head for the ocean – Lisbon station runs regular services to both Cascais and Estoril beaches, perfect for sipping sangria, topping up the tan and ogling the odd surfer hunk ridin' the Atlantic waves.
Spend the night…
Pink Street is Lisbon partying 101 – a strip of trendy bars and live music venues effortlessly easy to hop (stumble or conga) between. For a night out with added sea view, head to the decadent Lux Fragil (one of Lisbon's most prestigious hotspots) or keep it quirky with Park, a secret rooftop bar situated above a multi-storey carpark. This hidden gem casually churns out sets from the city's slickest DJs night after night, and even boasts an outdoor cinema for when you're all partied out.
Chow down on…
There's more to the Lisbon foodie scene than pasteis and sardines – you'll be spoilt for choice when hunger hits. Start off with brunch at Flower Power Food, a healthy eating cafe and restaurant in Barrio Alto. Then grab lunch from a stall at Intendente, an up-and-coming neighbourhood with incredible street food. As the sun sets, sample the fresh fruits of the sea on offer at Cervejaria Ramiro, or add a twist to the evening's meal by grabbing a bite at Chapitô à Mesa, a restaurant with live circus-style performances. For powering down or nursing a sore head, there's no better place than the homely Pois Cafe, serving up buttery pastries, crumbly cakes and stacks of books to flick through as you munch.
Only in Lisbon…
The selfie opportunities are endless on Lisbon's iconic number 28 tram. A mere €1.35 buys you a ticket to ride up and down the impossibly steep hills for up to 45 minutes, with some of the city's most Insta-worthy architecture just inches from your fingertips!
Lisbon's best hangover cure…
Pamper away the morning after the night before at Lisbon's pioneering Float In Spa. Offering a group package of massage, facial and indulgent float session, this is the ultimate way to rest and revitalise.
Spend the day…
With culture, history and an irreverent sense of humour oozing from its every pore, there ain't no hen party like a Berlin hen party. Taking in the city's countless sights can feel a little intimidating – a good place to start is outside the Reichstag, which is also in the vicinity of the Brandenburg Gate and quirkily-designed Bundeskanzleramt building. From here, the stunning square of Gendarmenmarkt is only a short walk away,  which offers some of the city's best architecture in the Konzerthaus, and Französischer Cathedrals. If walking seems a little passe, chuck on a helmet and jump on a city bike tour, most of which depart from Alexanderplatz. After soaking up the culture, soak in some rays at Berlin's summer paradise, Badeschiff, a floating pool on top of the River Spree.
Spend the night…
Hardcore hens looking to party, this is your stop. Berlin's nightlife is nothing short of legendary, but does require a bit of insider know-how to get right. You've probably heard of the exclusive Berghain and Tresor, but as they're notoriously difficult to get into, it's worth having a Plan B. The bohemian neighbourhood of Kreuzberg offers nights out with a twist – local DJs at Barbie Deinhoff's, decadent cocktails in the chic Limonadier, or a bit of burlesque in Prinzipal Kreuzberg. It is also possible to have a chilled night in Berlin – Neukölln is the newest hotspot for cocktail bars and beer dens, with the understated atmosphere of Schillerkiez bar a highlight. Then again, when in Berlin, Lab.oratory is THE venue for a night of exuberance, hugely popular with the city's LGBT community.
Chow down on…
It's hard to go wrong when scouting for food in this buzzing metropolis. Try the eclectically decorated 3 Minutes sur Mer for Parisian specialities, or the chic Alpenstück for trendy South German cuisine. But for a dining experience to remember, you need to head to the experimental Prinzessinnengarten. A small cafe-cum-restaurant situated in the middle of Kreuzberg's very own urban forest, where better to dine on your hen do than a real 'Princess Garden'??
Only in Berlin…
Discover your inner street artist by jumping on board a group graffiti tour. Leaving from Alexanderplatz Tower, this tour showcases works by Berlin's most renowned urban scrawlers, as well as offering you the chance to see what you can do with a spray can!
Berlin's best Hangover cure…
Yoga has become somewhat of a city-wide obsession here in recent years, and what better way to shake off the hangover than a spot of sun salutation? Try a session at Spirit Yoga in Mitte for true revitalisation.
Spend the day…
With some of Europe's finest architecture and richest history, Krakow promises a hen weekend brimming with exploration and culture. The city's main square is the centre of sightseeing. The stunning Sukiennice (Cloth Hall) houses a market of traditional Polish goods, with St Mary's Basilica towering beside it.  Grodzka Street is a UNESCO heritage site worth wandering through on your way to the stunning Wawel Castle, home to the Polish royals for over 500 years. Other highlights include the Oskar Schindler's Factory, made famous in Spielberg's Schindler's List, and the beautiful Kazimierz (Jewish Quarter), which offers incredible food and cobbled streets to get lost in.
Spend the night…
There's more to the Krakow party scene than vodka, but it's a damn good place to start. Wodka Bar is a sophisticated venue with over 100 flavours to sip. Once you're nicely warmed up, head over to The Piano Rouge. A sumptuous boudoir of a venue, this underground bar oozes opulence, and offers live jazz and soul performances every night with liberal amounts of sequins. For a club experience like no other, Klub 30 is the place to be – a monolithic venue on four floors that offers pounding beats, affordable drinks and plenty of space to get your groove on.
Chow down on…
With influences drawn from all manner of ethnic groups, this city does any meal of the day like a pro. Sample a bit of everything at the renowned Food Truck Square in Kazimierz, or head to Cafe Oranzeria, a rooftop restaurant with incredible views across the city. No Polish experience is complete without sampling the country's beloved pierogi – try Pierozki u Vincenta, which serves up some of the best on offer in a kitsch, Van Gogh-inspired interior.
Only in Krakow…
Take a group tour of the city's fascinating Wieliczka Salt Mines. Carved out by 13th Century miners, the interior of this unusual attraction has to be seen to be believed.
Krakow's best hangover cure…
The only one of its kind in Poland, Hamam Shahrazad is boldly flying the flag for traditional Turkish indulgence. Relax in the decadent Hamam chambers and grab a luxurious massage to soothe away those pre-wedding jitters.
Treat yourself
Spend the day…
If your goal is to be pampered before the big day, Geneva is your best friend. Just inhaling the fresh alpine air will make you feel brand new, but the beautifully elegant city is home to cultural highlights that should definitely feature in the hen party photo album. The spectacular Cathedrale St. Pierre is the star of the city skyline, and you can't fail to notice the striking Jet D'eau fountain upon your arrival. Marking the edge of shimmering Lake Geneva, it definitely deserves a revisit after you land. Aside from its physical beauty, Geneva does pampering like nowhere else. Its renowned Bain-Bleu Hammam and Spa is an indulgent treat for any bride-to-be.
Spend the night…
When you feel rested and squeaky clean, it's time to celebrate. Start with nibbles and tipples at Boulevard du Vin, famed for its tapas and wine parties, or spend a warm summer's eve at Les Voiles, a swanky, open-air lounge bar. If cocktails are calling, there's no better venue than L'Atelier Cocktail Club, an experimental bar serving the kind of heady mixtures that all good hen dos are made of. An alternative evening of entertainment can be found in the incredible Bâtiment des Forces Motrices, a former power station that has found a new life as a grand theatre.
Chow down on…
Switzerland's Italian influences are to thank for the renowned La Bottega restaurant, situated in Old Geneva. Serving traditional favourites with a cheeky twist, this is a great venue for hearty dinner and drinks. Take things to the next level and book a table at the experimental Le Chat Botte, an exclusive gastronomic experience fusing Mediterranean flavours with plush interior styling. Lazy lunching is easy at L'Adresse, an airy eatery in a converted loft, with healthy treats and cleansing juices on the menu.
Only in Geneva…
When you think of Geneva, you immediately think of fondue cruising right? For around £30, you and your hens can be swept across Lake Geneva, enjoying gourmet fondue with a view on board a luxury boat – tours leave every Friday from Jardin Anglais.
Geneva's best hangover cure…
Nursing a hangover behind oversized sunnies becomes a whole lot easier at the gorgeous Bains des Pâquis, a chilled and glamourous city beach with amazing lake views.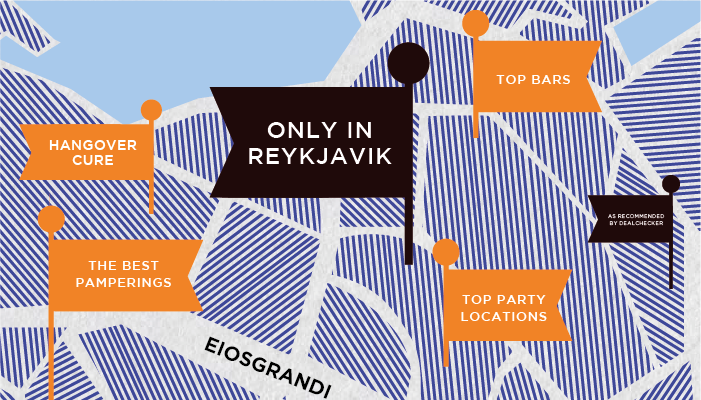 Spend the day…
With otherworldly landscapes, extreme sports meccas and ice-cool culture, Reykjavik was made for adventurous hen partiers looking to shake their tailfeathers. The city centre is miniscule – highlights include stunning views from the bizarre Hallgrímskirkja Church, and the Viking Settlement Museum (nowhere near as dull as it sounds). However, most of what makes Reykjavik such a great group destination lies a few miles outside of the city. Boat trips leaving from the harbour will take you whale and puffin spotting, whilst bus tours run to the breathtaking Thingvellir National Park, home of the Strokkur Geysir, Gullfoss Waterfall and Lake Þingvallavatn. After dark, multiple tours also set off in pursuit of the hallowed Northern Lights between October and April.
Spend the night…
Instead of distinct bars, clubs and restaurants, Reykjavik's streets are lined with venues that can be categorised as all three. It's easy to pop into a cafe for an afternoon snack, stay for cocktails, and end up dancing 'til dawn to a live DJ set. If you fancy a piece of this action, the only place to go as the sun sets is Laugavegur Street, and its connecting Bankastræti and Austurstræti Streets. If you like your hen partying on the rowdy side, join the infamous Runtur Pub Crawl, which takes place every Saturday night along Laugavegur Street. At the opposite end of the scale, Reykjavik Harbour is home to much classier venues including the sleek Slippbarinn, an expert mixology bar that serves a mean cocktail.
Chow down on….
Traditional Icelandic cuisine is not for the fainthearted – fermented shark anyone? Luckily, Reykjavik's foodie scene is effortlessly cosmopolitan and always ahead of the curve. The renowned Laundromat Cafe is great for brunch or lunch, with a Danish-inspired menu of delicious treats. Dinner dining takes place early in Reykjavik, with most restaurants wrapping up (or transforming into nightclubs) between 9-10pm. Hofnin is an incredible location in which to sample freshly caught seafood- ask to sit upstairs where there is a panoramic view across the harbour. Keep it hip with a meal at Kol, a trendy new spot with an experimental menu.
Only in Reykjavik…
Thrihnukagigur Volcano is a mere half hour drive outside the city centre, and is the only volcano in the world that can be explored from the inside for those hens who are brave enough. Tours leave daily from the destination of your choice.
Reykjavik's best hangover cure…
Recover from a night out on Laugavegur with a trip to the mesmerising Blue Lagoon Thermal Spa, a natural, geothermal pool rich in nourishing minerals and complete with complimentary, nourishing mud masks. Buses to the lagoon leave every hour from BSI bus terminal.
All that's left to do is pick your hotspot and download one of our handy maps to make your hen do abroad a breeze!