Beyond the buzz of Orlando's theme parks and the glitz of Miami Beach, the Sunshine State has plenty more to offer. Florida's landscape is diverse and captivating; there are some 850 miles of beaches, acres of bio-diverse wetlands, vibrant coral reefs and expansive national parks.
So, before you write off Florida as a holiday destination for those looking to spend more time queuing for rollercoasters that exploring the great outdoors, take a look at these gorgeous natural wonders across Florida state.
Everglades National Park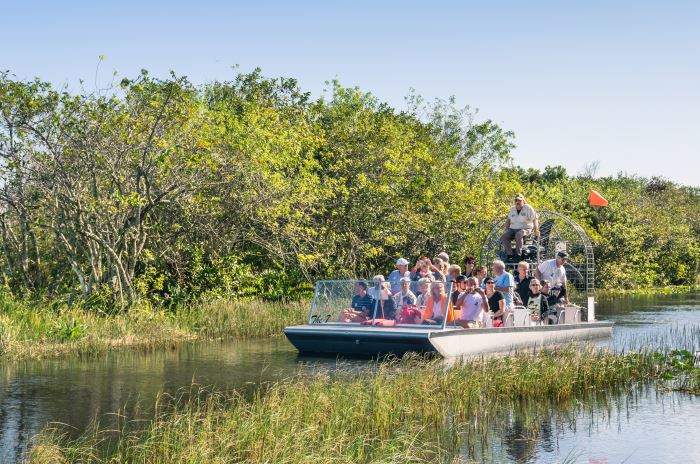 ©View Apart @ Shutterstock
Famous for its resident 'gators and epic scenery, Everglades National Park is not only one of the biggest attractions in Florida, but in the entire United States. This is the USA at its most rugged and untamed, with over one and half million acres of wetland offering a home to a diverse and expansive amount of wildlife, flora and fauna. Mangroves, forests, sawgrass prairies, swamps and rivers make up this bio-diverse area of Southern Florida, giving way to many different opportunities to explore and get up close to prehistoric creatures, endangered wildlife and unimaginably beautiful views.
Exploring the wetlands can be as conventional (or extreme!) as you like, go on foot along one of the four main trail groups; Pine Island Trails, Flamingo Trails, Shark Valley Trails and the Gulf Coast Trails. Or take an adrenaline-inducing air-boat ride, or get uncomfortably close to alligators on a kayak tour.
Dry Tortugas National Park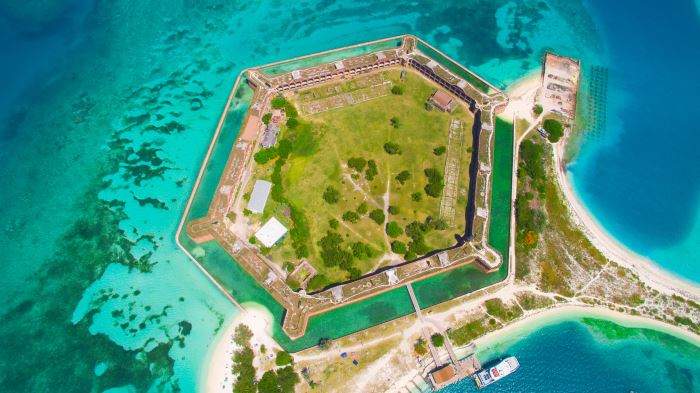 70 miles from Key West is a seven-key archipelago known as Dry Tortugas National Park. Almost 99% of the park is submerged below water, where you'll find stunning coral reefs and an array of aquatic creatures. Describing Dry Tortugas as rural is a bit of an understatement. One of the islands, Garden Key, can only be reached by seaplane or by ferry, of which there is one a day and it takes two and half hours.
Upon arrival you'll be greeted by a crumbling, yet entirely atmospheric Civil War-era fort. It is possible to camp on the island if you book in advance. Then you can spend a couple of days snorkelling in the surrounding crystal clear waters, where you may catch a glimpse of colourful reef fishes and turtles who nest here annually.
Florida Caverns State Park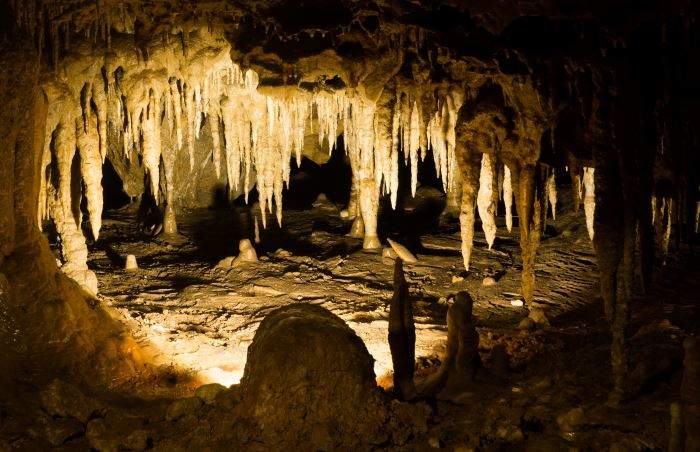 Being a relatively flat area of land, Florida Caverns State Park's caves may come as a surprise. Cave tours will reveal a labyrinth of dazzling limestone stalagmites and 'tites. You can take a guided tour of the caverns from Thursday through to Monday, where you can learn more about the geography of the area and how the caves were excavated and opened to the public in the 1930s.
Apalachicola National Forest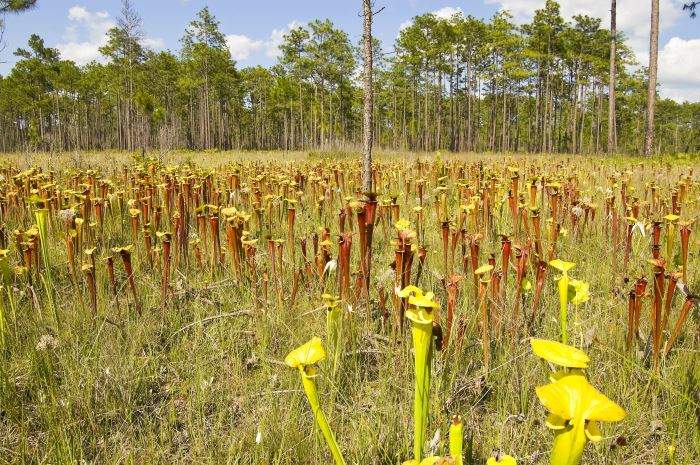 Florida's largest forest covers over 570,000 acres of land and is home to a huge variety of wildlife, including bald eagles, black bears, fox squirrels and of course, alligators. The area is also renowned for its striking native insectivorous pitcher plants (you know, the ones that eat bugs…) and dense pine forests. This is an adventurers paradise, offering some of the most rural hikes in Florida.
Blowing Rocks Preserve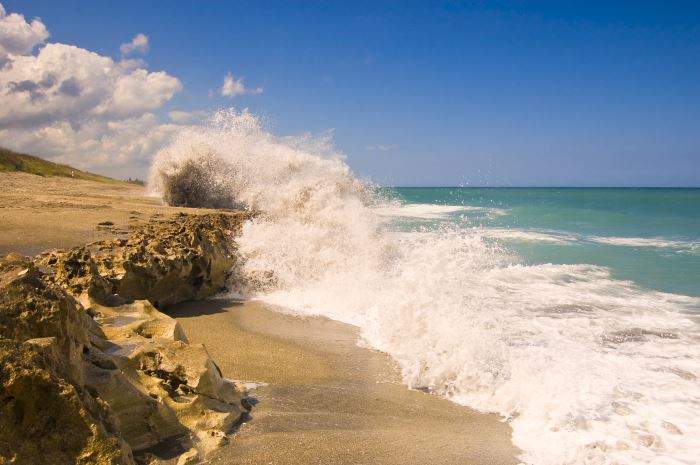 Yellowy sands, blue waters, bronzed young Floridians and holidaymakers throwing about a volleyball… this may be what comes to mind when you imagine a typical Florida beach, but Blowing Rocks Preserve offers something completely different, and arguably, far more spectacular.
Located on Jupiter Island at the southernmost tip of the Indian River Lagoon, it's about 25 miles south of West Palm Beach and offers an interesting glimpse into the area's natural history. Most striking about the area is its large limestone cliffs, which during high tide, creates geysers with the high waves. The area's beauty can be attributed to large scale conservation work, helping it to offer a home to rare loggerhead, green and leatherback sea turtles.
Blue Spring State Park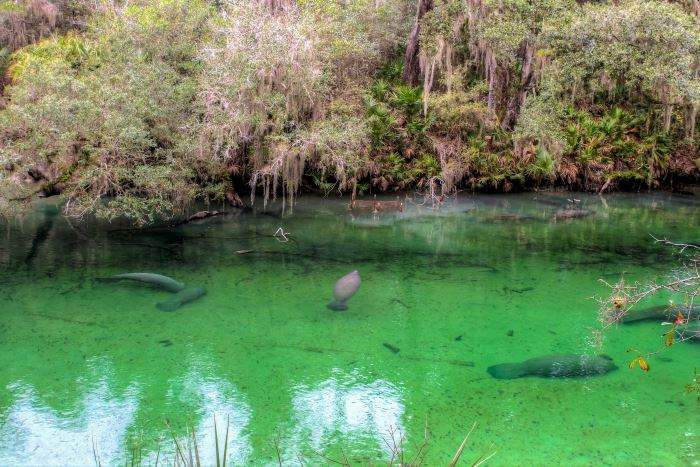 ©Rain0975 @ Flikr
During the winter months (mid-November through to March), Blue Spring State Park becomes a sanctuary to over 200 manatees. It is rare to see manatees in this quantity and the park's crystal clear waters will allow you an incredible view of these fascinating creatures. A walk along the boardwalk will take you through fascinating scenery with views of the manatees below. In the summer, they disperse and the river is filled with people taking a dip in the cool waters.
Fakahatchee Strand Preserve State Park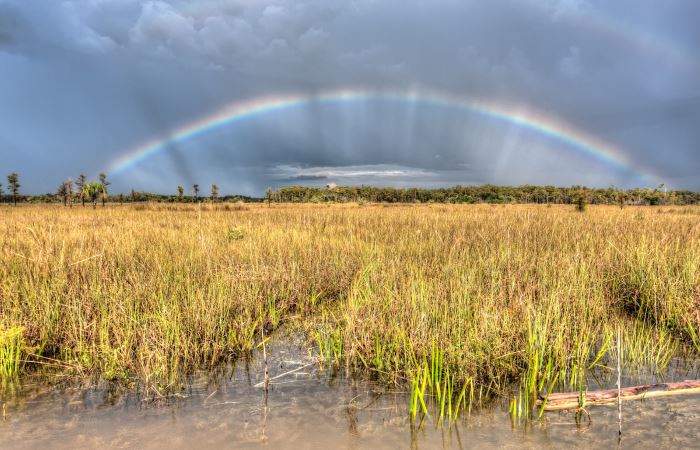 ©Matthew Paulson @ Flikr
Nicknamed the 'Amazon of North America', Fakahatchee Strand Preserve State Park, is famous as the setting for the novel The Orchid Thief and its meta-film adaption, (confusingly named Adaption). It is Florida's largest and most wild national parks, abound with wildlife, fauna and flora. Of course the star of the show here is the park's orchids, of which there are over 40 species, including the rare ghost orchid. These are not always easy spot, and the park offers guided swamp tours that'll allow to snap (as in photograph of course!) these beautiful plants.
Come explore Florida's wild side! We can help you save on Flights | Holidays | Car hire