Budapest has well and truly established itself as top European city destination. And it's no secret that it has one of the best party scenes in Europe. Holding its own against well established stag and hen, lads and leavers destinations like Prague, Barcelona and Berlin. It not only offers the liveliness of these places, but it manages to throw in a few pretty impressive curve balls against your standard late-night bar and clubs scene. From ruin bars to bath parties, we reveal the best places to be seen in Hungary's capital, where a good night out is easily guaranteed.
Ruin Bars
If Budapest has become known for anything, its got to be its ruin bars. Started back in 2001, the story goes that they were first set up by a group of people looking for a way to have a cheap night out. There are now dozens in the city with new ones popping up all over the centre.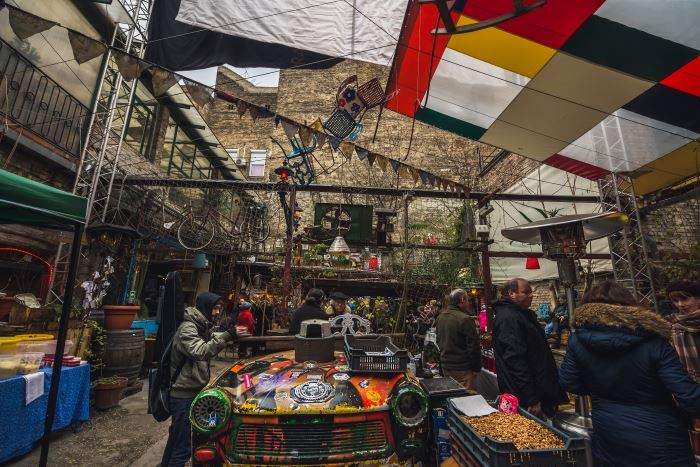 ©Foxys Forest Manufacture @ shutterstock
The original Ruin Bar and easily the most popular, this place is packed with tourists and locals most nights of the week. Located in the city's Jewish Quarter, its interiors are an eclectic bric-a-brac mix of vintage and second-hand items that have been repurposed into art and furnishings. The most interesting of these is an East German Trabant car that is now a table and chairs in the bar's garden. The place is covered with local art and graffiti from visitors who are actively encouraged to adorn the walls with messages.
Along with music, shots and everything you'd expect of a city's top bar, they also host a farmer's market in their garden, organise film showings and even teach a bit of Hungarian to enthusiastic tourists. And if you're worried about this place being super hipster and pretentious, fear not! Its clientele truly are varied, the bar even has an OAP discount – so even your Nan can come along!
Instant takes the title of being the city's largest Ruin Bar, occupying an entire six-floor apartment block. This place is a serious feast for the eyes and truly overwhelms upon first impression. Its decor is a strange narcotic-induced concoction of statues and figures. Upon entering, you'll spot a bizarre owl-headed human centre piece and galloping bunny rabbit figures that fly above your head. Open until six in the morning, this place is really more of a club than a bar, featuring 26 rooms, seven bars, two gardens and seven stages – although it does have a distinctly house-party feel.
S-parties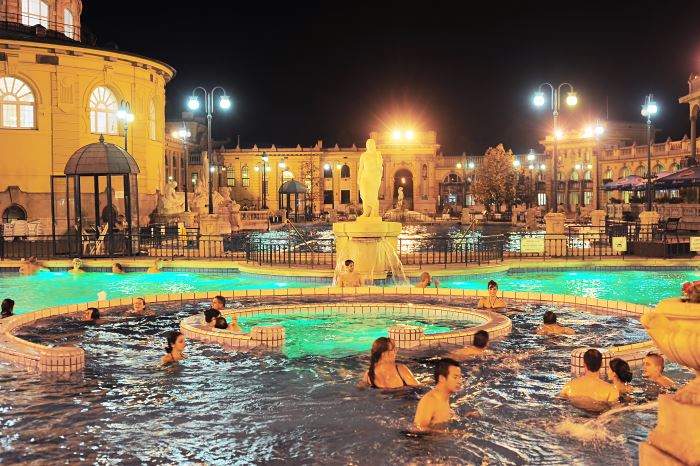 ©joyfull @ shutterstock
It's no surprise really that Budapest's renowned nightlife and its perhaps even more iconic spas combine to create the ultimate pool party. Known as the 'City of Spas', Budapest has around 125 hot springs and generations of locals have taken to the waters to relax, socialise and now, to party. One of the most popular is held throughout the summer at the impressive Szechenyi Baths. The relaxed and convivial atmosphere during the day is replaced by laser displays, DJs, psychedelic music and numerous cocktails…Don't forget your GoPro!
Roof Tops!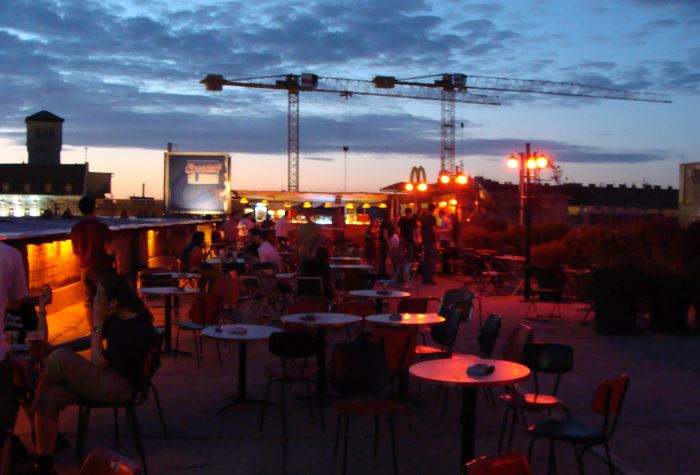 ©Yazan Badran @ Flickr
Budapest is undoubtedly beautiful, so why spend time indoors when you could be admiring the surrounds? Luckily, they've got it covered with an array of rooftop bars, where you can drink by day in the sun and at night under the stars.
As the name suggests, you'll be spoiled by all-encompassing views of Budapest. Occupying the highest accessible rooftop in the city, it is fair to assume that its views are unrivalled. The impressive surrounds are matched by its building – it sits on top of a classic Parisian department store. On its swanky wooden terrace you can enjoy a varied selection of wines, beers and cocktails – this place definitely sits at the fancier end the Budapest nightlife scale.
Once a Communist-era shopping centre, this unused building's roof terrace has been transformed into a lively student haunt, where, along with club nights, there are often events and film screenings to look out for. During the summer, the bar often hosts day-long parties and its central location always ensures a vibrant atmosphere.
Quirky Bars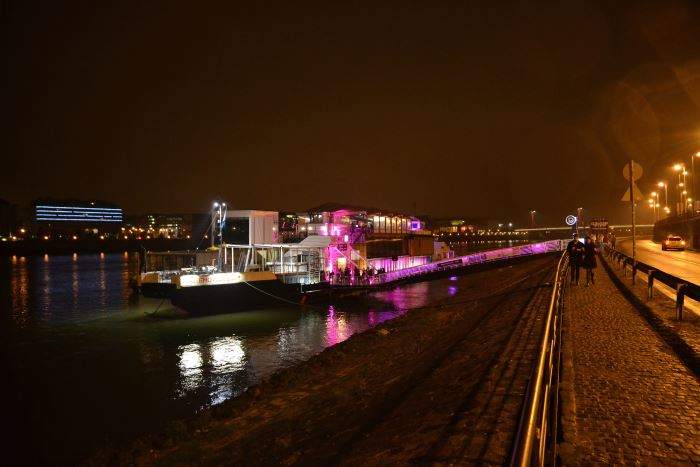 ©Das Kraftfuttermischwerk @ Flickr
It's not just the ruin bars in Budapest that make for endless instagramming opportunities! Some of Budapest's other popular bars have made a name for themselves, whether it be interesting decor, or an usual venue.
For Sale Pub is an interesting speak-easy, known for its unusual decor and very generous portions of Hungarian fare. To start a night out on the town, you can tuck into a hearty plate of goulash whilst admiring the rustic interiors. It's renowned in the city due to its floor to ceiling being covered in small pieces of paper that have been stapled and pinned by customers over the years. Its floors are covered in straw and peanut kernels that customers are actively encourage to drop. Its virtually impossible for patrons not to leave their mark here!
An ex-Ukrainian stone hauler, A38 allows revellers to take to the Danube on this boat-turned-nightclub. Over its three floors you'll find a restaurant, bar and club and often hosts big name DJs and musicians. Back in 2012 it was voted the number one bar in the world by Lonely Planet readers and even in 2016, it still comes up again and again as being the place to be for a wild night out!
To party in Budapest yourself, compare: Flights | Holidays | Car Hire