Visitors to the graffiti-clad, urban-chic city of Melbourne may notice the faint aroma of roasted beans and frothed milk wafting through the city streets. In recent years, the capital of South Australia has become a haven for latte-art lovers and the home of the very prestigious Australian coffee culture. These are the city's top 10 Instagram-worthy coffee shops that have got the art of coffee-making down to a tea (sorry).
Auction rooms
A trip to this hipster hangout is a pilgrimage for any coffee fanatic. With exposed brickwork and plenty of rugged urban furnishings, this is an idyllic backdrop for that Instagram shot. The coffees don't disappoint either, with a creamy blend of milk and nutty beans to get that foamy consistency for some impressive latte art.
The Crux and Co
Head to Crux and Co for tasty pastries, French macarons, and some pretty impressive 3D latte art. As well as the classic milky hearts and swirls, you can expect to see foamy baby bears protruding out of your morning coffee, complete with chocolatey noses and paws – almost too adorable to drink (almost).
Brother Baba Budan
If you're the sort with a penchant for beards and round, black-rimmed spectacles, nursing one of Brother Baba Budan's coffees with their specially sourced Seven Seeds beans will complete your hipster look. The atmosphere here is relaxed and friendly, and the eccentric and artistic décor is a definite sign that the coffee is going to be equally as aesthetically pleasing. You can even buy your own Seven Seeds beanie hat to label yourself as a true connoisseur of coffee.
Mr Hubbard Café
If your Instagram profile has been taken over by samey shots of flat whites, why not spice things up a bit by taking a trip to Mr Hubbard Café and ordering yourself a bright green matcha latte. This drink is bound to shock your followers and make them green with envy. This colourful café is all about maintaining a healthy lifestyle, with smoothie bowls galore as well as delicious velvety coffees.
Lolo and Wren
This beautifully-furnished café in Brunswick West is owned by husband and wife Franco and Karen Caruso who have decorated their shop with recycled materials to give it bags of urban charm. They cater for all coffee enthusiasts, with cold drip coffees available and a range of allergy-safe milks. Try their rich hot chocolate with scorched marshmallows and Belgian chocolate – yum.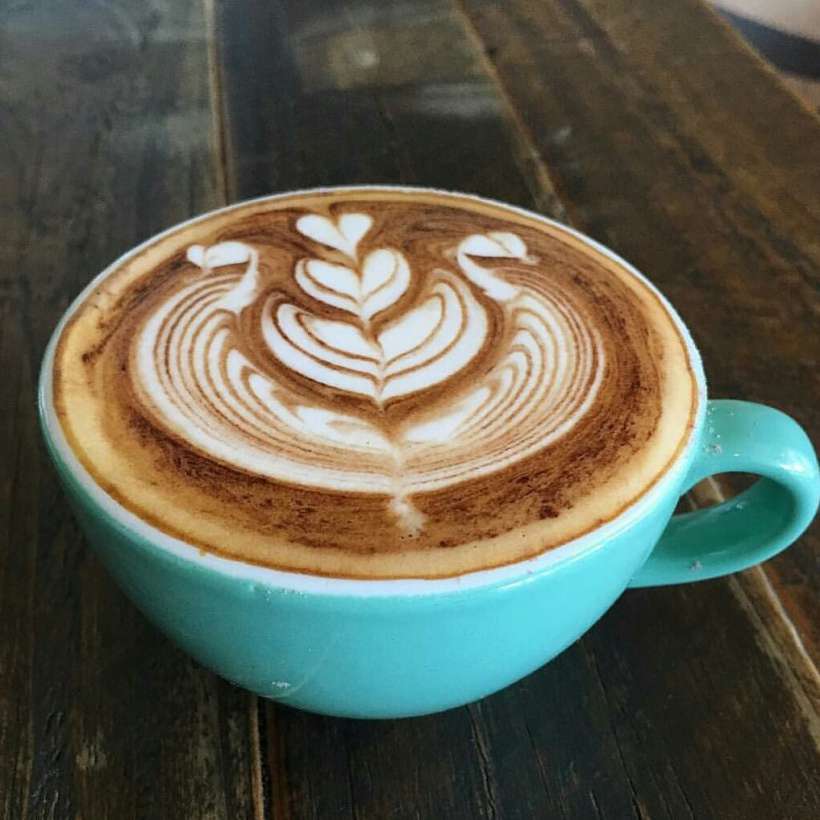 Image ©: Lolo and Wren
Manchester Press
The clever baristas at Manchester Press can do a lot of things with foamy milk and coco powder. From elegant mocha swans to flecked bunny rabbits to chai lattes topped with rosettes to even recreating people's faces out of foam, this café takes the art of latte décor to a whole new level and is a great spot for breakfast.
Prospect Espresso
Prospect Espresso gets full marks for its splendid latte art. What's more, the taste of the coffee is phenomenal, making the whole experience not only aesthetically appealing but a treat for the taste buds. With delicate duck egg blue coffee mugs and polished wooden tables, you can be sure that your snap will get the Instagram likes rolling in.
Kettle Black Café
Kettle Black Café does perfected golden latte art on top of delicious coffee. Although, if milky hearts aren't your thing and you're more after that rich intensity of a double shot espresso, Kettle Black Café also offers espressos made from deliciously roasted Square One drip filter coffee – a beautiful blend of beans from across the world.
Patricia Coffee Brewers
For the most avid of coffee lovers, Patricia is the next destination for your Instagram shoot. This spot does artisan, specialist coffees with beans ground on-site, so you can have no doubt about just how fresh your brew is. This café is often hailed as one of the top coffee shops in the city and it certainly has the latte art to match.
The League of Honest Coffee
Last on our list is this industrial-chic café serving ethically sourced coffees on a rotating basis. Staff dust the espresso with chocolate powder before adding the locally sourced milk, achieving a beautiful speckled effect. This is the ultimate pilgrimage for any coffee addict and makes for a picture-perfect latte art.
Want to sip a cup for yourself? Try our comparison tools to find the best deals on Melbourne flights | holidays | hotels | car hire