With mountains extending high above the tree line and no foliage to obstruct you, when skiing in Europe, there's only you and the vast whiteness before you. The sport was invented in Europe, and the après-ski culture was defined here. This means that no matter where in the world you take up your poles, they'll always be a hint of the European in your experience. Though with over 37,000km of skiing terrain to cover, and altitudes that reach up to almost 4,000 metres, there's really no better place to go than to where it all began. Here's our selection of ten of the very best resorts that Europe has to offer.
Val D'Isere, France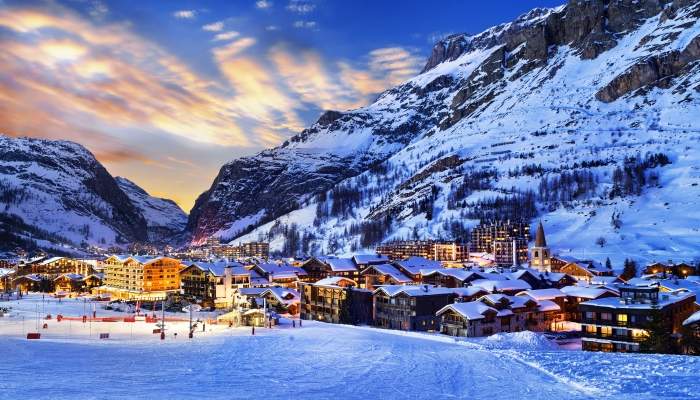 Image © ventdusud
If you don't mind the chintz or having a pair of very tired legs – then Val D'Isere is the place for you. Though the skiing culture here has become somewhat stuffy, with some guests more eager to show off their designer coats than their ski skills, this will always be one of Europe's best off-piste playgrounds. Val D'Isere didn't exactly come from humble beginnings either, since it was originally the hunting ground of the Dukes de Savoie. It's always inspired lavishness, but if you're serious about your skiing, then you can quite easily shrug off this aspect of it. It's not for the novices, as the slopes are steep and the courses winding and wild. It demands a slightly higher capability, as a blue run here could easily be classed as a red elsewhere – and the black runs intimidate even the most experienced of skiers.
Solden, Austria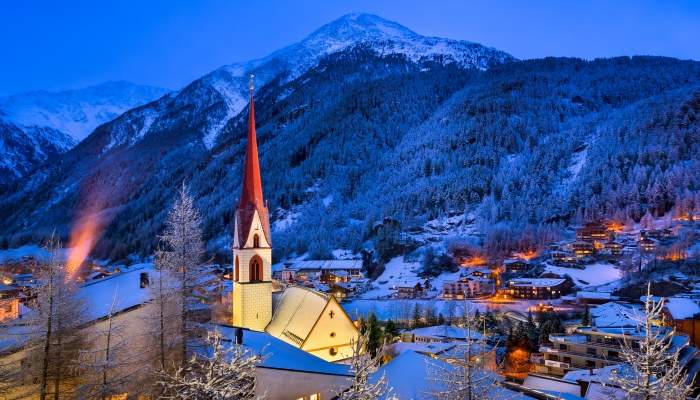 Image © anshar
Solden in Austria is one of Europe's more snow sure locations, as its high alpine setting almost guarantees it snow during the resort's long season, with it being open for most of the year. It's popular for its mirror-like glaciers, often becoming overcrowded because of them. It's quite easy to avoid this though, since almost all skiers here begin their route at one of two glaciers, so make sure to save them for later in the day. Skiing here feels cinematic – not least for the resort's three peaks which surpass the 3,000-metre mark – but a certain James Bond has also clicked into his boots on these slopes. You may recognise the sky-grazing mountains from the latest 007 film, Spectre.
Vogel, Slovenia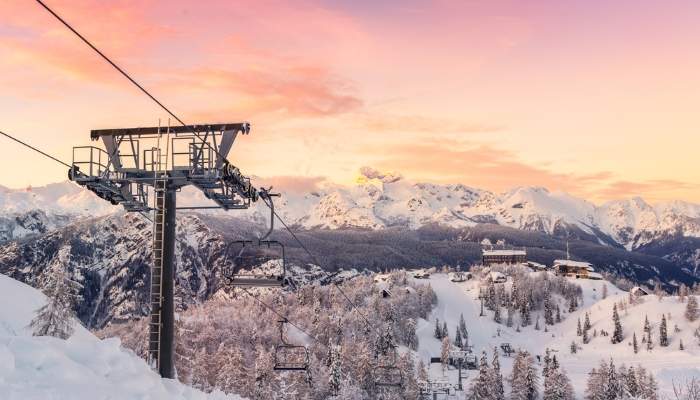 Image © ER_09
Vogel is a little, lesser-known resort in Slovenia with fresh snow which remains largely untrodden. It's within the Triglav National Park, meaning that the use of artificial-snow and any further development is prohibited. This makes it an authentic ski experience, with no artifice that may dilute the interaction between lil' old you and the dauntingly beautiful nature surrounding you. It's an ungentrified, uncompromised, unspoiled snow playground, with gorgeous mountains jutting out like jagged teeth.
Val Gardena, Italy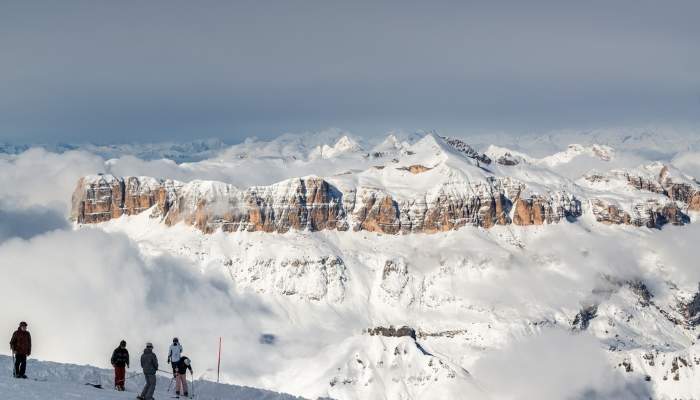 Image © Peter Gudella
Val Gardena in Italy is divided into three resorts, and is a grand carousel of interconnected villages that play host to a total of more than 1,220km-worth of pistes and descents. With all this space to play around in, you can expect a varied range of beginner-friendly courses to runs that really separate the wheat from the chaff. You'll be sliding on snow once trodden on by legends, as Val Gardena has a rich tradition of hosting intentionally-renowned events, including the Alpine Ski World Cup.
Kitzbühel, Austria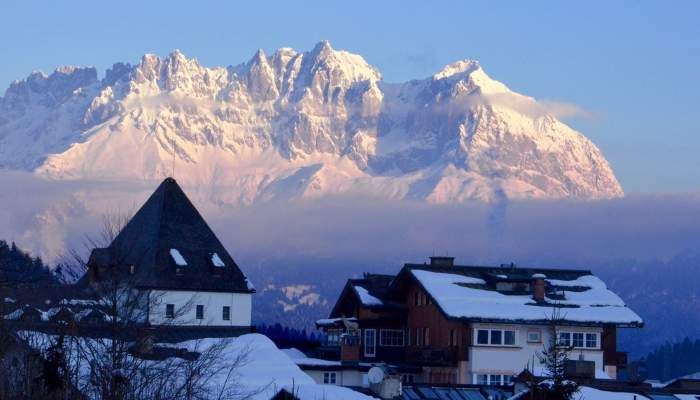 Image © Michal_K
With mountains reaching out high into the stratosphere, and the sound of nervous teeth-chattering on the Hahnenkamm – Kitzbühel is a resort famed for its outstanding natural beauty and pistes that can stir fear into the hearts of even the very bravest skiers. You may have heard of the 'Streif', which happens to be the world's scariest and most famous run. Ski legend Franz Klammer once said that, "Everyone who gets down in one piece and finishes the race is the winner." If throwing yourself from a dizzyingly high mountain isn't quite your idea of a fun outing, then there are also plenty of family-friendly runs. There's over 179km of beautifully manicured slopes and routes, and 54 cable cars and lifts to roam around on.
Zermatt, Switzerland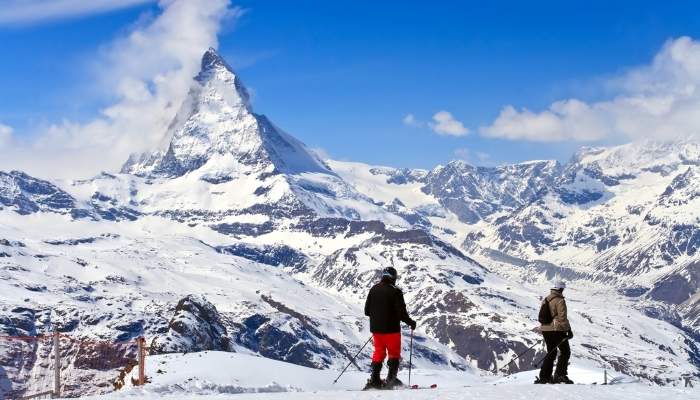 Image © vichie81
Straddling the border between Switzerland and Italy, this resort showcases a mountain so beautiful it's become sort of corny – the Matterhorn. Though it's certainly the jewel in the Swiss crown, there are plenty of other peaks on the resort's coronet to be discovered and be awe-stricken by. This is Europe's highest snow playground, as it towers up to almost 4,000 metres – with much of this inspiring intermediate to expert-level runs. Though for optimal views and snow coverage, Zermatt's nursery slopes are where to go. Despite being spread far apart, these slopes will have even first-timers feeling confident and inspired.
Bansko, Bulgaria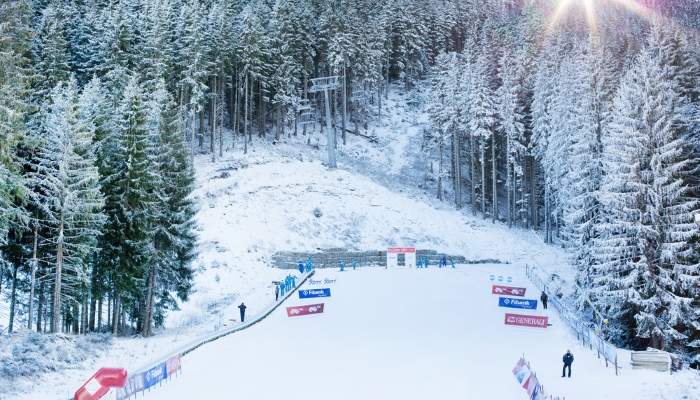 Image © Nataliya Nazarova
This is an arrestingly beautiful resort, and is certainly one to write home about. It's not the obvious option, but that just makes Bulgaria's Bansko all the more charming. Besides, one of the greatest benefits of this is that both ski and après-ski prices here are incredibly reasonable – and especially compared to the prices of Swiss, French and Italian resorts. It won't be a challenge for experts, but it does have a fantastic network of blue and red runs, so skiers who have some room for improvement should look no further.
Grindelwald, Switzerland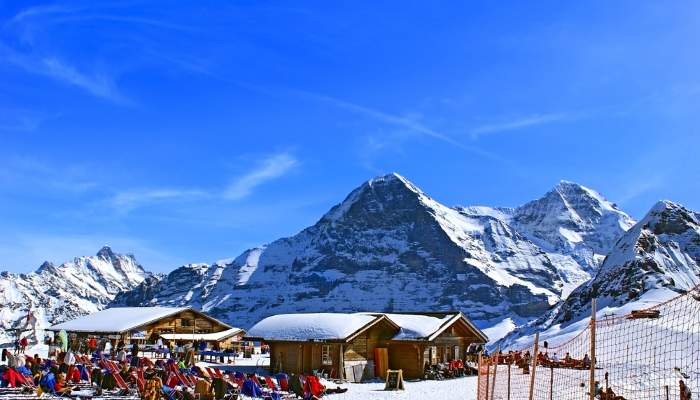 Image © eFesenko
Grindelwald is a real beauty. With the Eiger and its fellow peaks brooding dramatically in the background, there can't be many better views to be found when skiing in Europe. The north face of the Eiger is a sight that will be burned into brains, just don't get too distracted – it's surely caused plenty of falls. The resort has a long history and tradition of mountaineering, and its heritage manifests itself into the palpable old-world vibe which swaddles both the resort and nearby village. Darling little log houses are peppered amongst the snow, and create an adorable juxtaposition with the vast mountains kneeling behind them. The resort offers 12 miles of cross-country skiing, which is totally free to access, and a fantastic way to take in the views at your own pace.
Belle Plagne
Image © ER_09
Belle Plagne is the snowiest and highest of La Plagne's resorts, and though it benefits from its extensive amenities, Belle Plagne is a quieter and more secluded affair. Its small-scale feel makes it great for families and its old-timey buildings made of wood and stone also make it an appropriate romantic retreat. It feels like something of another age, as its pedestrianised streets and traditional Savoyard atmosphere will have you briefly travelling back in time. Since it has a high altitude, this is a resort that's more snow sure than its neighbours, and the quality of skiing is far better.
Courchevel, France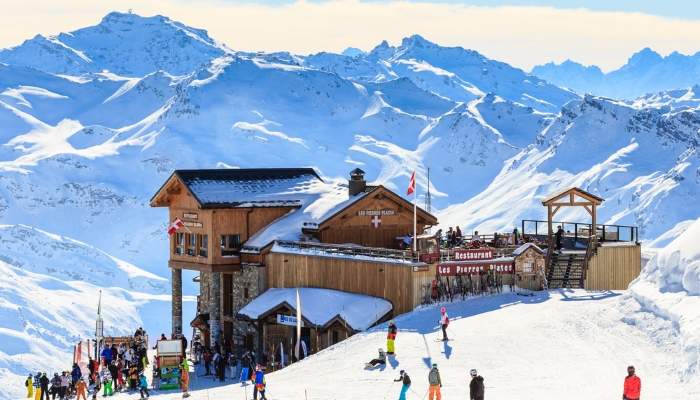 Image © nikolpetr
Rounding off the resorts with some more stuffiness – it's the delightfully snobby Courchevel. (We say it all with love, of course!) With the likes of Beyonce and the Beckhams leaving their footprints in the snow here – this really is the most premium and priciest of resorts. Though this may be the highest-quality, most beautifully groomed resort – with an abundance of soft and squeaky snow – everybody knows this, and so it gets crowded. To avoid the rotating rug of humans on the snow, consider laying low. The resorts lower down are not only less crowded, but less expensive too. The rule of Courchevel is that the higher you go, the higher the price.