St Petersburg is a spellbinding city dotted with the colourful spires and domed roofs of Orthodox churches that strongly resemble gingerbread houses. Its architectural splendour, coupled with the city's rich history place St Petersburg at the top of our cultural destination wish lists.
But for those lured by the Russian city's famed enthusiasm for that potato-based spirit we all know and (don't necessarily) love, the city is also filled with artsy underground bars that stay open until the small hours of the morning. Great for spending those long weeks of white night summer when the city is bathed in a luminous lustre – and known for their somewhat draconian door policies, (which is always a good sign that somewhere is impossibly cool), these are the top 10 spots where a vodka nightcap probably won't mean the end of your night.
Cafe-Bar Produkty

This bar is located in the heart of St Petersburg on a street lining the river. Guests go through a somewhat indistinct door and are transported into a dimly lit room that encapsulates 1970s East Berlin. Produkty's owner was inspired by the quirky hole-in-the-wall sized bars that give the Berlin nightlife scene its legendary edge, and this influence is plain to see in Produkty. The bar is fitted with kitsch 1960s reclaimed furniture all brought over from Berlin – think massive leather armchairs, round bar stools and typewriters. Retro new wave or post-rock synth-pop is blasted from an old-school jukebox that only accepts Deutschmark – another nod to the Berlin theme. Drinks consist of intricately-constructed cocktails and a variety of dry ciders.
Strika 40°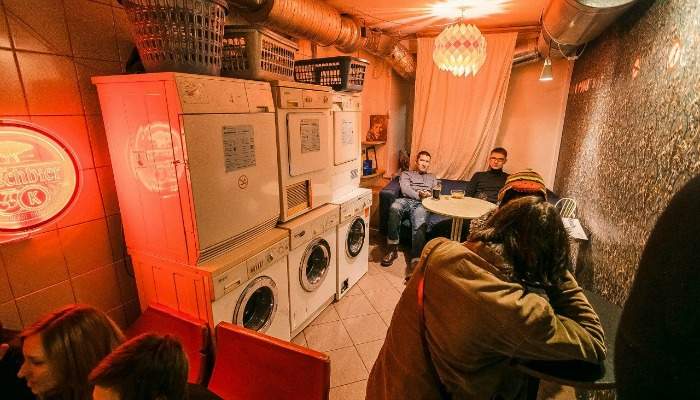 This hipster haven is the brainchild of Berlin based designer who saw a gap in St Petersburg's somewhat exhausted bar market for a launderette that doubles up as an oh so cool watering hole. The walls are adorned with modern art and there is a scattering of eclectic furniture from old sofas and chairs to a graffiti-clad piano in the corner that gives the place an artfully ramshackle vibe. Visit in the evenings to hear a variety of musical genres playing on the decks, from IDM to skandinavian synthfunk, enjoy a craft ale from tap or get some late-night laundry done. The launderette also puts on regular poetry recitals and is one of the oldest underground bars in the city, of which there are many in St Petersburg.
The Hat Bar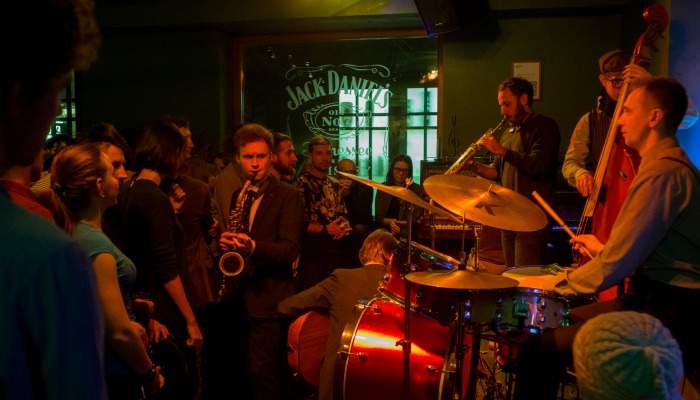 Boasting more than 20 different types of whiskey and nine different types of bourbon, the Hat Bar is not one for the fainthearted. The bar is situated in the heart of St Petersburg and offers guests a drinks menu with a range of exotic and exciting cocktails. Ultimately, the main lure to Hat Bar is the live jazz music and improvised jam sessions with musical performances from some of St Petersburg's best jazz bands packing out the bar out on a nightly basis. The jazz theme also transcends into the bar's interior decor with its dark and dingy colour scheme, whilst dapper band members suitably dress in crisp suits, transporting you to a 1920s New Orleans basement speakeasy.
Dunes on Ligovsky

Russia is in the throes of a pretty intense winter at the moment, and January is hardly the best time to be on the lookout for an al fresco bar. However, this watering hole is one to remember for the summer months when the bar's outdoor beach area is packed full of sun worshippers and revellers partying in the pinkish pearlescent glow of a Russian white night. The spot is right in the heart of St Petersburg and plays fun rock 'n' soul music whilst there are also games galore like fussball and table tennis. There are seating palettes and rugs on the sand, a decked patio with traditional picnic tables and chairs and blankets for chillier evenings. What's more, they've just opened a second floor!
Khroniki Bar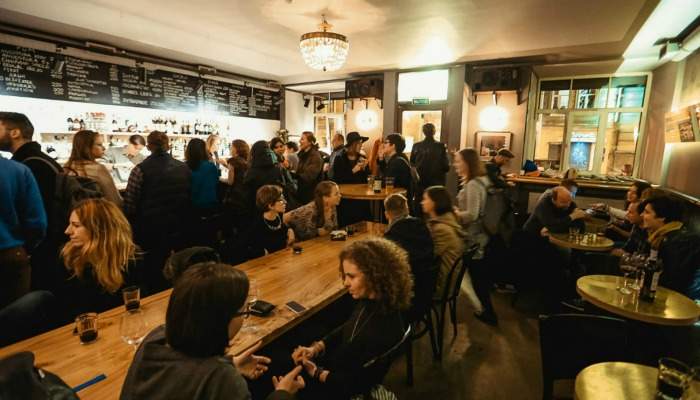 The Russian term 'ryumochnaya' literally translates to 'vodka glass place' and alludes to the era of Soviet Union domination when popular pubs cropped up and served alcohol alongside bar snacks to all, from government officials to mill workers. In an attempt to marry this tradition with the modern Russian drinking culture, Khroniki Bar is a retro-chic nostalgia overload. The bar's decor is distinctively timeless, with canteen-style food on the menu including traditional Russian favourites of herring on rye bread and smoked mackerel. Of course, the drinks list heavily features a range of vodka brands that are taken in shot glasses.
Redrum Bar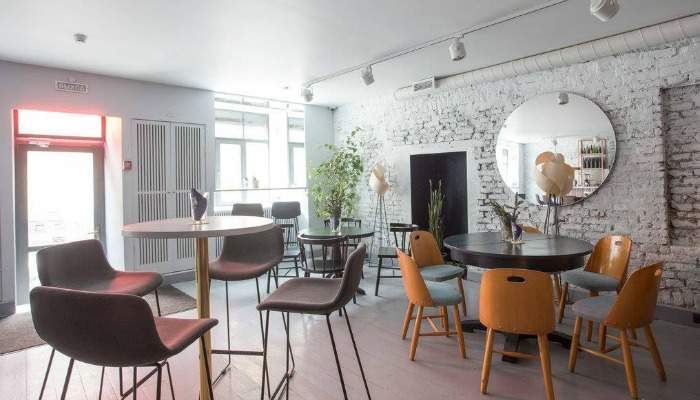 With a mammoth twenty-four craft beer taps, Redrum is a good hang out for anyone who fancies themselves as a craft ale connoisseur. Redrum is the headquarters for St Petersburg's main brewery – AF Brew – known as the driving force behind Russia's craft brewing revolution, and specifically in St. Petersburg, where they brewed Redrum IPA, which became an instant best seller. Redrum Bar transforms by night into a club filled with a fashionable crowd who are drawn by the craft ale drinks menu. The bar features a minimalist design, stylish lighting and stripped back white brick walls.
El Copitas

A far cry from the Soviet-style pubs, Secret Bar transports its guests across the pond to the colourfully cluttered and eclectic streets of Mexico City. Visitors are led downstairs to a small rustic basement with exposed brickwork and industrial lighting. The bar is complete with flowery tiles, patterned skulls, a mural of iconic feminist artist Frida Kahlo and, of course, enough tequila for all. Secret Bar has nailed the theme without being too obvious but by being very, very cool.
Poison
Enjoy a drink in Poison and lubricate your vocals for a rock 'n' roll karaoke performance. The small and hip bar is situated on Dumskaya Street – an unassuming but well-known spot where visitors to the city can discover St Petersburg's best nightlife under 18th century arches. Poison's laid back atmosphere, comfy booths and desired location attracts the locals, especially on a Thursday night. The drinks list boasts a variety of innovative cocktails and cheap beers priced at around £1.50.
Proof: Cocktail Club

This speakeasy-style cocktail club is one of St Petersburg's best-kept secrets. The bar has a real air of mystery and exclusivity with password-protected entry which is all part of the hush-hush prohibition era theme. Using local products, the barmen create a range of eccentric cocktails inspired by bootleg gin, whiskey and rum drinks that were popular during the unsuccessful prohibition experiment in 1920s America. The bar itself is dark and sleek in design, with hundreds of bottles on display like an old-school alchemist's cupboard.
Fancy a Russian vodka night cap? Check out our comparison tools to find the best travel deals on Russia flights | holidays | hotels