When we think of holidays, we imagine cocktails being brought to us whilst we lie back in a lounger beside a turquoise pool. However, our wallets can often hold us back from making these dreams a reality. To prevent you from experiencing the holiday woes we've rounded up destinations where your money will stretch much further, and you'll be able to experience luxury for less.
Sri Lanka
Situated in the Indian Ocean, Sri Lanka shares many character traits with one of its neighbours, the Maldives. There are the same expansive white sand beaches sloping in to turquoise waters where fish and sea creatures dart about in abundance. However, alongside gorgeous beaches, Sri Lanka also has incredible historical landmarks and an interior where herds of elephants roam free. Despite being a veritable tropical paradise, a luxurious holiday in Sri Lanka doesn't cost an arm and a leg. One of the island's most famous hotels is the Elephant Villa in the Kumbuk River resort – made out of straw and wood and shaped into an elephant, the villa is located in verdant surroundings and features two spacious rooms. Whilst the hotel is not cheap, rooms start at £110 per night which is pretty reasonable for such an iconic spot!
Goa
Famed for its beaches, laid back vibes and firm spot on the backpacker route, Goa is not an obvious choice for a luxury holiday. However, there are increasing numbers of luxurious hotels and fine dining restaurants. Whilst the quality of accommodation has risen, the prices are still impressively low. La Plage, on Aswem beach is one of these such restaurants. It boasts a prime location on soft golden sands and serves dishes such as caramelised tuna and saffron risotto to a mixture of well heeled locals, expats and travellers. Despite being one of Goa's trendiest spots, a meal for two will set you back less than £30.
Cape Town
While flights to Cape Town will set you back a little, on arrival things are really rather different! This sunny beach side city often ranks in the top 10 cheapest holiday destinations in the Post Office's Travel Money Report. This report looks at the cost of eight holiday essentials, including meals out, alcohol and sun cream. In 2020, Cape Town has come in sixth with those goods costing in at under £60 (significantly less than say New York's £105). Not only is eating and drinking out cheap but there are lots of free attractions too, leaving your bank account feeling even happier. Soak up the sun on the Clifton beaches, take a stroll down the Sea Point Promenade or enjoy some live music from the buskers on the V&A Waterfront.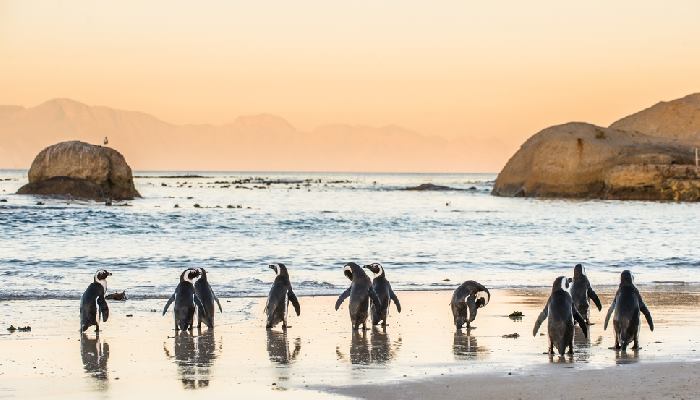 Cambodia
With jaw-droppingingly grandiose temples, a tropical climate and a famous foodie scene, you'd be forgiven for thinking that Cambodia would be an incredibly expensive destination. Surprisingly, the opposite is true and you can spend a week or two in luxury here without breaking the bank. There are 5162 Cambodian Riel to the British Pound and whilst you can expect to pay British prices to pay to enter the famous attractions such as Angkor Wat, everything else feels remarkably cheap. We found 5* hotels in both Siem Reap and Phnom Penh for less than £350 a week.
Laos
Laos is one of the lesser known East Asian countries, and yet this is starting to change. This land locked country has gorgeous natural surrounds and a food scene that will delight vegetarians and meat eaters alike. You can eat delicious food amidst lush green gardens, or surrounded by water features without breaking the bank. L'elephant in Luang Prabang comes with rave reviews, and you can gorge yourself on a lengthy tasting menu at La Signature Restaurant in Vientiane for around £65. You can bag a bargain in hotels across the country, but Ban Houayxay offers some of the cheapest prices in 5* hotels with week long stays for less than £160.
Marrakech
Marrakech welcomes its visitors with an explosion of smells, sights and sounds. It is a city that both meets and confounds expectations. There are the souks full to the brim with multi-coloured fabrics, intricate lanterns and leatherware, the scent of orange blossom which hangs in the air and the main square, the Jemaa el-Fnaa, where storytellers mingle with snake charmers and fresh juice sellers. Whilst the centre itself is dominated largely by small riads, the outskirts of the city play host to sprawling 5* hotels with vast pools to cool off in and warrens of spas. We found seven-night hotel stays from around £450, and meals at the finest restaurants such as the Red House from around £40.
Happy holiday hunting from the dealchecker team!