Swimming Pools You'll AQUAlutely Love
Other travel blogs love to post pictures of glorious and unbelievable swimming spots, but the trouble is many of them are private hotel pools with restrictions on public access. So we've had a splash around to uncover some of the very best pools that anyone can take a dip in. From floating pools and hanging gardens, all the way to shark-filled waters, we've got quite the selection for you to dive into…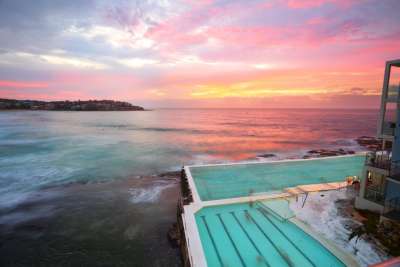 1

Bondi Baths, Sydney

Open to the public all year round, the famous Bondi Baths are a true Sydney highlight. Despite using the same water, the pool is always slightly cooler than the ocean due to its concrete structure, but don't let that put you off! As you take a dip in this world-famous swimming spot you will be greeted with stunning coastal views, as well as the sound of the waves crashing around you.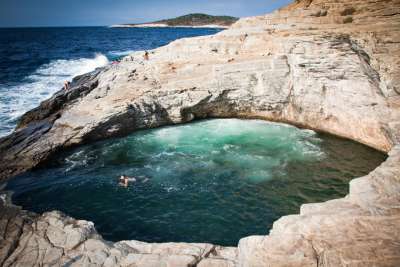 2

Giola Lagoon, Thassos

A natural lagoon carved into the rocks on the gorgeous Greek island of Thassos... what could be more inviting for a quick dip? Now we'd be lying if we said it was an easy journey to get here, but what we can promise is that the end result is well worth it. Plus, it's totally free to visit! Guests can dive into the crystal clear waters, splash about, or just aimlessly float around soaking up the rays in this remote and relatively unknown spot.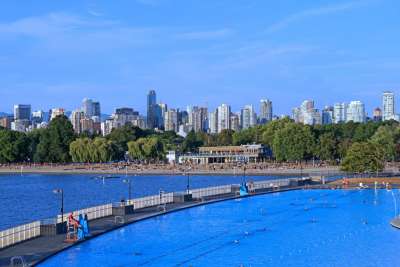 3

Kits Pool, Vancouver

Located on Kitsilano Beach, Kits Pool is is a pretty amazing spot for those looking to cool down in the summer months in this vibrant city. Almost three times the length of an Olympic pool, there's plenty of room for everyone to join in the fun. And with the pool divided into sections, you have the choice between hardcore exercise, or just embracing the glorious sights of this Canadian gem.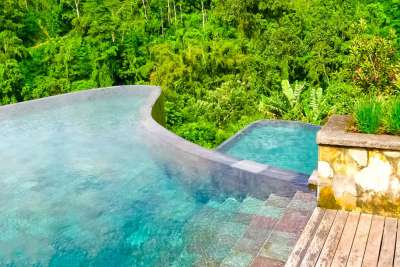 4

Hanging Gardens of Bali, Ubud

Said to be one of the world's best swimming pools, you'd be mad to give this one a miss. Located in the lush greenery of Ubud, the Hanging Gardens of Bali aren't available to everybody, however there are ways in. Staying in the hotel is rather pricey, so if it's a one off visit you're after you can book yourself a spa day, which comes complete with a dip in this magical pool. Designed to feel as if you're floating above the treetops, it really is a once in a lifetime experience.

Image ©

Solarisys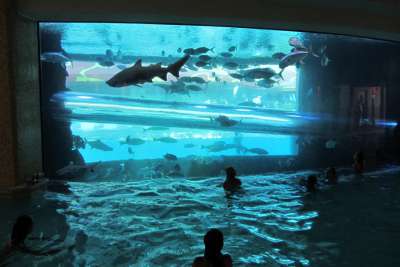 5

The Tank - Golden Nugget, Las Vegas

There is a fee for non-hotel guests, but it's well worth $25 to swim alongside a giant tank full of sharks... right? And if that's not enough for you, you can always ride on the waterslide that goes straight through the aquarium itself. If that's not your kinda thing, then why not just spend your time relaxing under a waterfall or lounging by the pools very own H20 bar. It's all very Las Vegas!

Image ©

waltarrrrr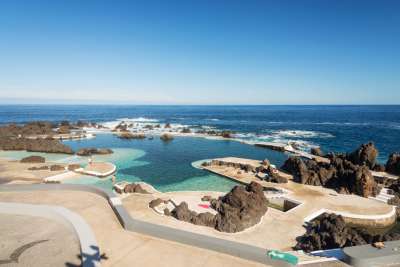 6

Porto Moniz, Madeira

Formed by volcanic lava and filled with fresh sea water, the natural pools of Porto Moniz are one of Europe's very best. Children are more than welcome, but do be aware that during high tides waves can be a little bigger. Generally the best time to visit for a more calm and serene experience is in the morning, but whatever time you visit make sure you take in the dramatic setting around you.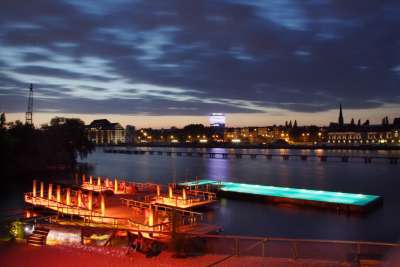 7

Badeschiff, Berlin

With a unique panoramic view of the river Spree, as well as Berlin's famous TV tower, it would be a crime to miss out on a dip in the Badeschiff through the warmer months of the year. The large floating pool is in fact a harboured barge and uses a wooden bridge with hammocks to connect it to the river bank. It's a popular spot though so get there quick, grab your day ticket and pull up a sun lounger!

Image ©

visitBerlin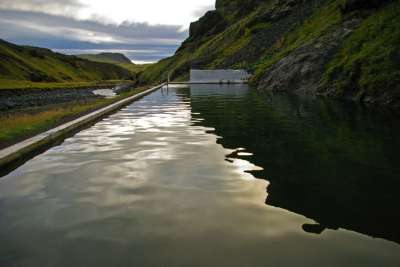 8

Seljavallalaug, Iceland

When thinking of Icelandic swimming spots, Seljavallalaug probably isn't the first place you'd think of. The Blue Lagoon is the most famous, and understandably so. But there's also this hidden gem, nestled in the mountains filled by a hot spring, that we really need to discuss. Seljavallalaug is a protected secret spot, but it probably won't stay secret for too much longer, especially since it's free! The main challenge however, is finding it.

Here

's a sneaky look into how to get there, before everyone else does!

Image ©

subindie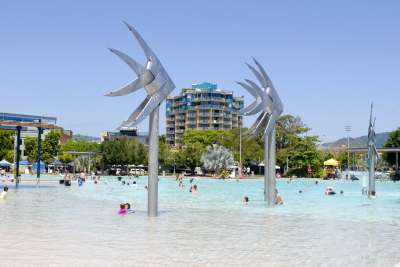 9

Cairns Lagoon, Cairns

Many worry about safe swimming when visiting Oz, but fear no more, Cairns Lagoon is the answer to your problems. With all-year round safety and no chance of cruising next to a croc, you can feel totally relaxed in this salt water spot located right on Cairns' esplanade. Take in the views of the mountains while the kids splash around without a worry in the world. Finish the day off at one of 12 BBQ facilities located on site whilst watching the sun set over the turquoise waters.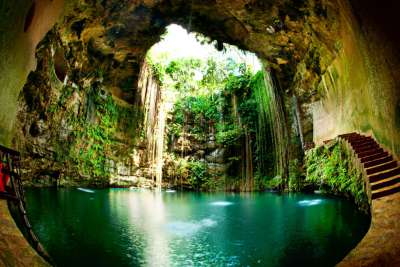 10

Ik Kil Cenote, Cancun

Last but certainly not least on this list is Ik Kil Cenote located 125 miles from Mexico's famous resort of Cancun. Essentially a glorious electric-blue pit surrounded by rocks and unfinished with an open top, this natural swimming hole should be on everyone's list. Take a day tour here so you don't have to worry about independent transport, and maybe even get a lunch thrown in too. Hey, why not? You're on holiday!
Most Popular Top 10s