Secret(ish) Spain Holiday Destinations
It's going to be difficult finding somewhere completely off the beaten track in Spain. The sunny nation is not just popular with UK tourists; beautiful Spanish costas, the charming small villages and non-stop city nightlife are known across Europe – and by the Spanish themselves of course. But we do know of some less-visited corners that have somehow been missed by the masses. So if you're keen to try somewhere different in Spain, these are our secret-ish spots to head for.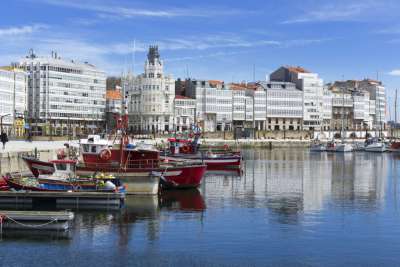 1

La Coruna

The north coast of Spain is generally a great place to head if you want to avoid the crowds. But our pick is the port town of La Coruna, which provides a great holiday mix of city and beach. To best enjoy the city history wander the medieval Old Town or visit the Tower of Hercules, a lighthouse originally built by the Romans and still in use today. On the beach side you're spoilt for choice, with a long seafront in town popular with surfers, and tiny unspoilt beaches just a short drive into the rugged Galicia countryside.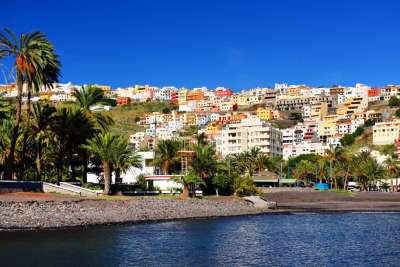 2

La Gomera

Hidden among the better-known Canary Islands, are a couple of smaller, quieter isles. La Palma, El Hierro and La Gomera. La Gomera is the second smallest, and draws in visitors who want to explore its volcanic landscapes, sub-tropical forests and untouched beaches. Hiking is a popular way to fit in the sights, but you could also enjoy a holiday in one of the sleepy beach towns, dining in family run restaurants and relaxing on the black sand shores.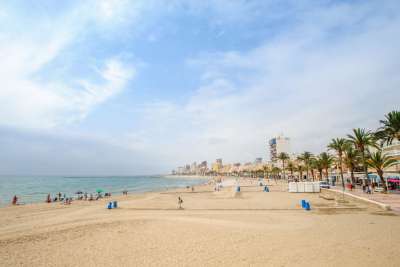 3

El Campello

This modern resort is often referred to as a hidden gem on the Costa Blanca. If that's true it's hiding in plain sight, just nine miles outside of Alicante, on the way to Benidorm. But it certainly is true that El Campello has missed a lot of the trappings of mass tourism, retaining its tiny colourful fishing houses, a charming harbour and 16th century watchtower. The beaches are pretty quiet for the Costa Blanca - and there are 23 long-pearly-white kilometres of them!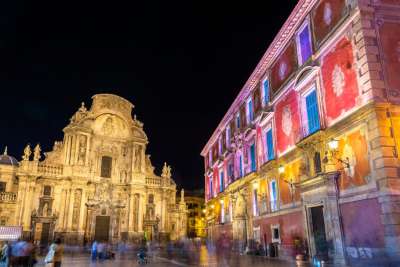 4

Murcia

The city of Murcia flies under the radar when it comes to Spanish city breaks. But we can't work out why. It's an enchanting historic city, filled with baroque churches, Moorish influences and art museums. Plus a large student population contributing to a youthful feel and thriving bar scene. The coastline of this region is also more than worth a look. Known as the Costa Calida, it's naturally rich in beautiful beaches including the strip of land known as La Manga, which separates the Mediterranean Sea from the Mar Menor lagoon - with great swimming on either side.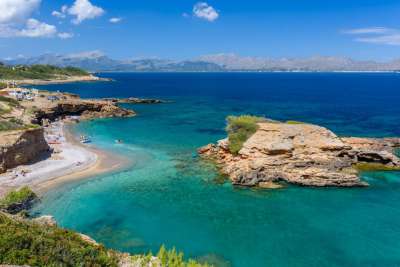 5

The Victoria Peninsula, Majorca

Even on the incredibly popular island of Majorca it is possible to find some isolated spots. The Victoria Peninsula is located right beside Alcudia, yet few tourists venture here. Much of the peninsula is a nature reserve, while the coast is dotted with tiny coves, surrounded by green pines and clear cobalt seas. S'Illot beach is one popular option, sheltered by a small island, or take a boat trip to see this secluded coastline in all its glory.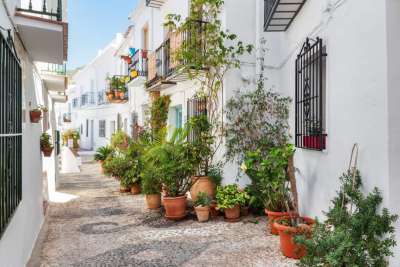 6

Frigiliana

This Costa del Sol village is a contender for the prettiest in Spain - and it's won awards to back it up. It'll be pretty clear why when you're staying amid whitewashed houses, cobbled streets, wrought iron balconies and trailing bougainvillea. The village is built into the mountainside, and you'll enjoy more views from the Old Town, which is the upper section. Find yourself a restaurant with a roof terrace and tuck into lunch with a view that stretches as far as the North African coastline.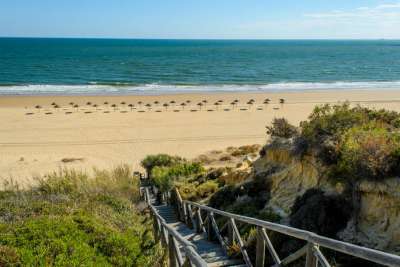 7

Huelva Coastline

Even the Spanish have been known to refer to the beaches near

Huelva

as the secret coast. This stretch of seaside running between the Portuguese border and the Andalucian city of Cadiz is home to many relatively undiscovered gems. Even close to the city centre the sands are spacious. But if you head to El Parador beach, backed by cliffs and National Parks, or Isla Cristina Beach, with its sand dunes and pines you'll have even more to go around. All are easily reached by car from Huelva, and if you stay in the city itself you'll discover an industrial port city with a long history - Christopher Columbus recruited sailors here in the 15th century - and plentiful fresh seafood.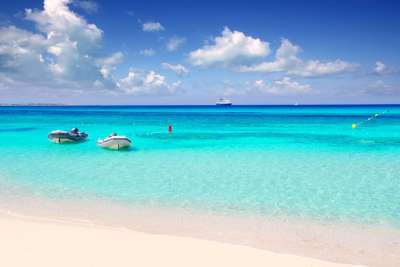 8

Formentera

With all the attention given to the popular Balearic Islands of Majorca and Ibiza, you'd be forgiven for missing the fourth island. And it's a real treat. Formentera boasts the kind of white-sand beaches and turquoise seas that wouldn't look out of place in the Caribbean. While it's not undiscovered by any means, the lack of airport does keep the number of visitors down. And unlike the bigger islands there's almost no building allowed on the beaches, leaving you to revel in their natural beauty.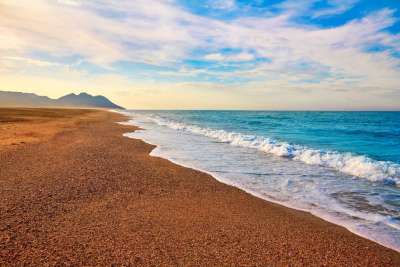 9

Costa de Almeria

Despite possibly enjoying the most hours of sun anywhere on mainland Spain, the Costa de Almeria is far less well known than its cousins Costa del Sol and Costa Blanca. The 200 kilometres of coastline you'll find here offer a diverse landscape which spans rugged cliffs, palm-lined Blue Flag beaches and hidden coves. If you like your beaches with facilities, try the one-time fishing village of Roquetas de Mar, or if you want to be the only one on the sand head for the harder-to-reach coves in the Cabo de Gata-Nijar Nature Reserve.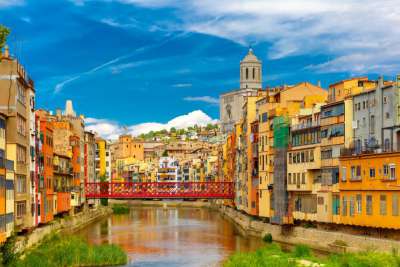 10

Girona

Ryanair launched a whole load of new routes to Girona earlier this year, so the secret is definitely out about this charming Basque town. Luckily a lot of those visitors will probably head straight on to the beaches of the Costa Brava. But if you decide to linger a while you'll discover a walled Old Town filled with medieval architecture, twisted alleys, Gothic churches and colourful houses hanging over the River Onyar. And if you do head to the Costa Brava there are some secret seaside spots there too. Try sleepy Llafranc and its pretty neighbour Calella de Palafrugell.
Most Popular Top 10s