Top 10 Destinations for Wine Lovers
Whether you're the sort who prides themselves on being able to detect an oak undertone from a mere sip, or if you're someone quite happy with a bargain bottle from your local off licence, the idea of visiting a tranquil vineyard entices all – from connoisseurs to quaffers! To quench your thirst, we've put together a top 10 of vineyard destinations where you can relax with your favourite tipple and enjoy a rosy evening taking in those sunset views.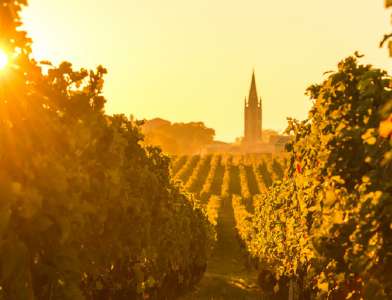 1

Bordeaux, France

If there is one thing the French are experts at, it's their wine. Bordeaux in particular has evolved into one of the world's finest wine hot spots, with years of trade passing through the city via the winding River Garonne, and with acres of vineyards surrounding Bordeaux's outskirts. The result is high-end labels of deep ruby reds and light and refreshing white wines pouring, quite literally, out of the French city. The charming Old Town has a plethora of wine bars for you to explore, with Le Wine Bar a particularly enchanting spot.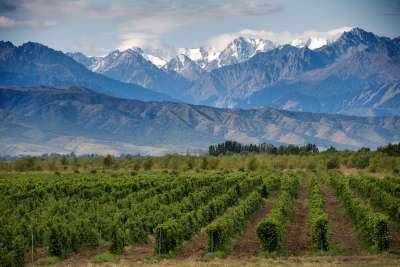 2

Mendoza, Argentina

If inky dark red wines are your thing, the tranquil town of Mendoza is the place for you. Here, the wine flows like water, and their production of velvety Malbec wine is unrivalled in the world. Argentinians are also masters of a fine steak, which is known to perfectly pair with the juice of this plump purple grape. Be sure to visit Mendoza in April, when the vineyards spring to life and you can hire a bike for a day out gallivanting in the sunshine, cycling from vineyard to vineyard with the dramatic Andes providing a spectacular backdrop.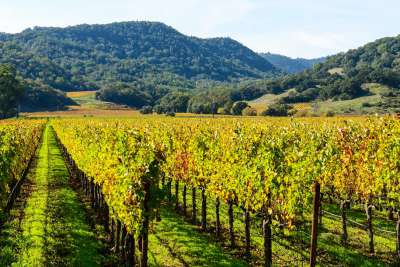 3

Napa Valley, California

Gaze out over the sweeping vistas of California's Napa Valley and you'll see acres of gnarled vines stretching off into the horizon. Napa produces an astonishing amount of voluptuous grapes, with an impressive 45,000 acres of vineyards. Internationally acclaimed as a top wine destination, this region on the USA's west coast produces plenty of of popular names, from the full-bodied Cabernet Sauvignon to the decadent Chardonnay. Visit the continental-feeling Castello di Amorosa for a picturesque vineyard tour, look out across the horizon from the castle fort walls, or hire a horse for added extravagance.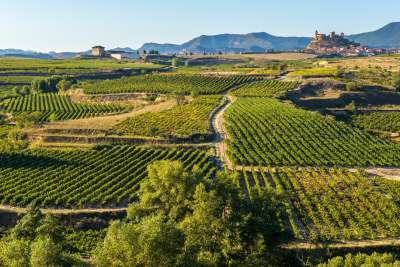 4

La Rioja, Spain

The name Rioja has become more synonymous with the full-bodied red wine than with the region in northern Spain that produces it! Rioja is one of the most famous Spanish wines on the market, created with a unique blend of various grapes and celebrated for its distinct oaky finish. The vineyards of Rioja are set high up in the mountains, and it's this cooler air that makes the wine so special. Wine enthusiasts should head to La Rioja in late June when the town of Haro becomes awash in purple as people take to the streets for a wine fight.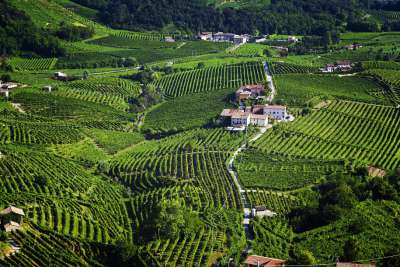 5

Veneto, Italy

Branching across northern Italy, Veneto is a great, sweeping region that encompasses all from the Dolomite Mountains down to the Adriatic Sea. Veneto is guarded from the harsh northern European climate by the Alps which provide a protective barrier, and allow for a rich annual crop of white and red grapes. The harvest is particularly great for Prosecco - a fine wine and Britain's favourite bubbly. Visitors to this part of Italy can spend time soaking up views of terraced vineyards that cascade elegantly over hills, and enjoying a glass of fizz as the sun tinges the landscape with a golden hue.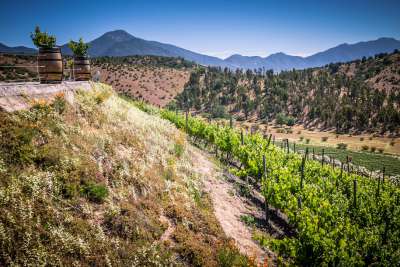 6

Casablanca Valley, Chile

The graffiti-clad seaside city of of Valparaiso may not be immediately recognisable as wine country on first glance, but head out of the urban city centre and into the Casablanca Valley and you'll find acres of wineland. This part of Chile has only been producing wine here since the late 20th century, but this corner of the country has quickly become a favourite spot for signature Sauvignon Blancs and much-loved Chardonnays. Visitors can journey from nearby Santiago, but Valparaiso provides far more exciting accommodation options, with a vibrant arts scene and colourful clifftop homes connected by funiculars.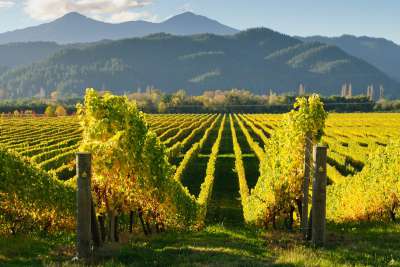 7

Marlborough, New Zealand

New Zealand is known for a phenomenal natural landscape which lends itself to extreme sports, but the country is also widely recognised for its wine production. Perched on the very north-eastern tip of the South Island, Marlborough in particular is a wine-lover's dream destination. The combination of a cool climate and fertile soil results in some award-winning grapes and great-tasting wines. Visit one of the many vineyards dotted around Marlborough and kick back with a chilled Sauvignon Blanc - a wine considered by connoisseurs to be Malborough's best export.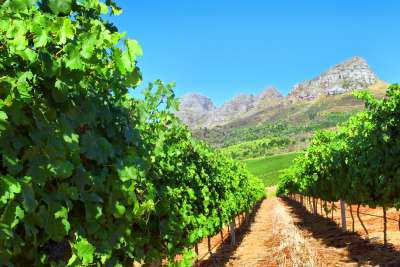 8

Western Cape, South Africa

The Cape is the largest wine-making region in the whole of South Africa, with a heritage dating back centuries. Wine tourism has really taken off here, with holidaymakers tempted by its sprawling estates which offer luxurious services, fine dining, and glamorous accommodation in a fabulous setting, all without breaking the bank. The vineyards still offer great value bargain bottles though, and visitors can enjoy sunset tastings in an atmospheric setting overlooking the dramatic mountainous landscape that gives the Cape its notability.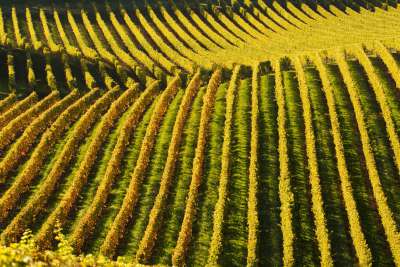 9

Barossa Valley, Australia

North-east of Adelaide are the plains of the Barossa Valley, a spot known among keen quaffers as one of the world's top wine-making regions. Visitors to this part of Australia can discover a world of sparkling whites, deep ports, and even the fruitiness of a sparkling Shiraz. The valley is deeply rural and best discovered by driving from vineyard to vineyard, past woods, lakes and leafy green fields home to wildlife. The landscape is scattered with 19th century churches which date back to the German settlers who first discovered the region's potential for agriculture.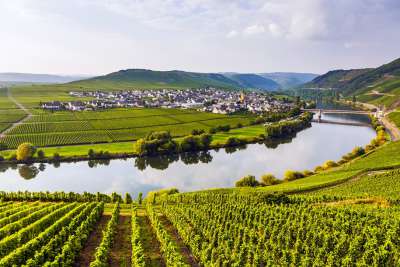 10

Mosel Valley, Germany

Germany is mainly recognised for its beer production, but the country actually produces a staggering amount of wine too. Straddling the border of north-eastern France is the Mosel Valley, which takes its name from the river Moselle which dissects the land. The scenery is lush and green, owing to its European climate, and rustic vineyards with pleasingly traditional German architecture are tucked into idyllic curves in the river. The Mosel is conveniently close to Frankfurt or Stuttgart, meaning a trip to the countryside is a viable option for a day trip.
Most Popular Top 10s