Malta is on the rise as a holiday destination. Want proof? In 2017, the number of international visitors to the country increased by 23%, and the country has made its way onto multiple 'must-visit' lists for 2018. Its capital, Valletta – famed for its charming Baroque buildings and seaside locale – is a 2018 European Capital of Culture, so there's really been no better time to make it your next city break!
But what does Malta actually offer a traveller? Well, obviously a truckload of culture – while Valletta has been named Capital of Culture, across Malta's two main islands you'll find history, arts and culture by the spade-load – galleries, museums, art installations and more than enough ancient buildings to gasp over for at least a week. Plus, its food scene isn't shabby either! Having sat at the crossroads of international trade routes for hundreds of years, it combines Sicilian, Middle Eastern, Spanish and British influences into one wildly original cuisine. Be sure to sample fenek, stewed rabbit, which is considered Malta's national dish.
But where to begin? Well, we've put together this super-handy infographic about the top places in Malta for food and culture to get you on your way… cameras and taste buds at the ready!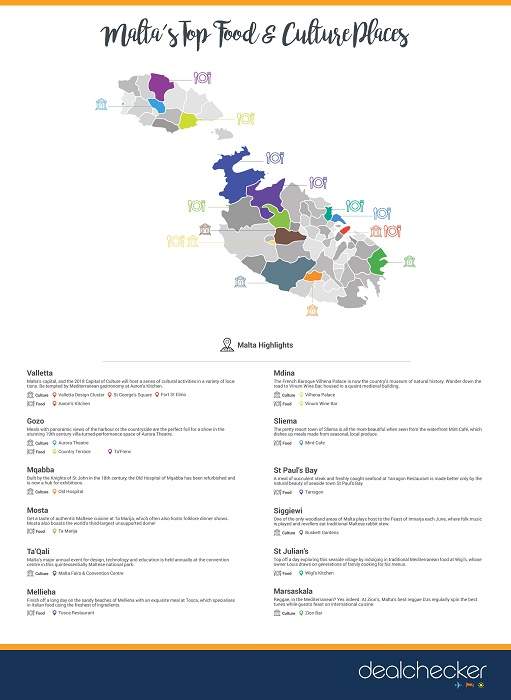 Valletta
The heart of Malta is its tiny walled capital, Valletta. While it's the 2018 Capital of Culture, this history-packed city is a joy to visit any time, really, thanks to its amazing Baroque buildings and prime position right on the Mediterranean. In 2018 the Valletta's abandoned 17th-century abattoir will be transformed into the Valletta Design Cluster, a centre for creative practice of all kinds, with studios and incubators for start-ups.
Meanwhile, St George's Square is Malta's largest plaza, and a hub of cultural activity. The annual Carnival kicks off here, and it plays host to a range of exciting festas and musical performances year-round. Make sure you check out the exquisite limestone Grandmaster's Palace – some of which is open to the public. Head down the road from the square to Aaron's Kitchen, which dishes up some of the finest Mediterranean cuisine you'll find on the island.
The 16th-century Fort Saint Elmo is not only an important historic monument, but it's also home to the country's National War Museum. Visitors will also be able to enjoy a range of literature and music festivals and light shows throughout the year.
Gozo
Gozo may be Malta's 'second island', but it certainly holds its own when it comes to food and culture! The Aurora Theatre is the home of Gozo's opera scene, and will host a packed program of performances in 2018, including Puccini's iconic opera Tosca. Pre- or post-theatre, feast on fresh seafood and savour views of Mgarr Harbor and Fort Chambrey, and all the way across to the island of Malta at Country Terrace. Or, head to Ta' Frenc for distinctively Maltese food like rabbit ravioli served in the restaurant's herb garden.
Mqabba
The village of Mqabba on Malta is home to more than its fair share of ancient archaeological sites and prehistoric remains, but make sure you schedule a visit to the Old Hospital. Erected by the Knights of St John in the 16th century, it's chock-full of ancient inscriptions and sculptural details. During June, 2018, an exhibition in the hospital will explore the unique relationship between the Filipino carers and the elderly Maltese residents they look after.
Mosta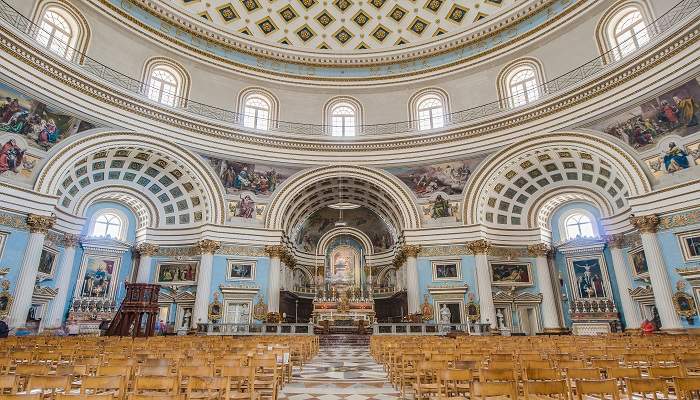 Ta Marija in Mosta is a true celebration of Maltese cuisine and culture. Serving up Maltese food with a local spin, the owner regularly takes to the restaurant's stage to weave tales of the area's history alongside live music and folklore dancing. While you're in Mosta, why not pop in to its famous Rotunda church? This Neoclassical beauty has the third-largest unsupported dome in the world!
Ta'Qali
Though it might not sound particularly enticing, the Malta Fairs & Convention Centre, sitting in Ta'Qali National Park, offers up a little something different from the country's lengthy, albeit fascinating, history. Get a glimpse of the future at the Malta Robotics Olympiad, which is what it says on the tin: an exhibit of a variety of robots!
Mellieha
You might find yourself in the tourist resort of Mellieha, splashing about on its sandy beaches and snorkelling in its crystal-clear water. But you may as well make the most of the town by visiting Tosca restaurant, where you'll be able to savour Italian food that's just as good as you'll find in Italy.
Mdina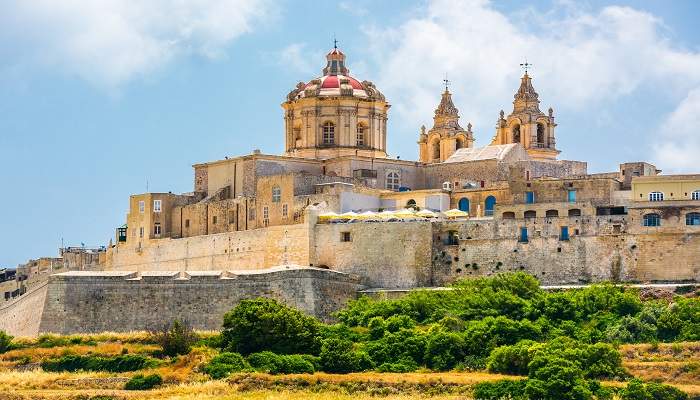 The fortified city of Mdina at the north of the island of Malta should rate fairly highly on your Malta bucket list for its 4,000-year-old history and cultural and religious treasures (it's said that St Paul lived here after he was shipwrecked on the island way back when). Vilhena Palace is a Baroque palace that has evolved into the country's Natural History Museum, with samples of local and international flora and fauna. Top off an afternoon of learning with a glass or two of Mediterranean wine at Vinum Wine Bar, which is housed in a medieval building.
Sliema
Combining Med beaches with sun and history, Sliema draws in visitors from all over the world. Take a break at Mint Café, which dishes up seasonal produce crafted into great local and international specialties.
St Paul's Bay
The sparkling blue seas of St Paul's Bay are a scenic backdrop for enjoying the food of Tarragon. With a menu of tender steaks, seafood dripping straight from the ocean and a wine list that will tickle your fancy no matter if you're a red or white drinker, it's a must-visit when you're in this picturesque town.
Siggiewi
For the most part, Malta is arid and rocky. Siggiewi, however, is all verdant woodland and quiet spots for picnicking under the trees. Each year it also hosts the Feast of Imnarja, where revellers can listen to folk music and slurp on traditional Maltese rabbit stew.
St Julian's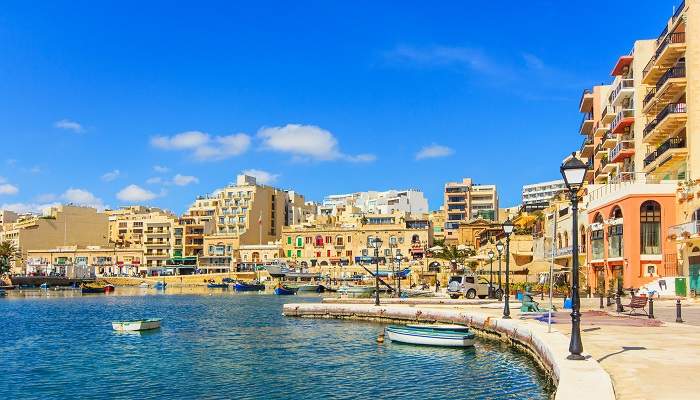 Head off on a walk around pretty St Julian's before sampling the classic Mediterranean food on offer at Wigi's Kitchen, where owner Louis cooks meals passed down his family through the generations.
Marsaskala
You might not be on a Caribbean island, but embrace the island lifestyle at Zion Bar, where reggae is the name of the game. Eat up burgers and chips as the island's best reggae DJs show how well they spin.
Can't wait to get indulge in some culture and cuisine in Malta? Compare the prices of: