Incredible Beaches, and How to Get to Them
British summer has well and truly arrived, and whilst we really are loving it, sitting at your desk is hardly a summery past time. Instead, we're daydreaming of dipping into azure waters and kicking back on white sands. We've hunted down the best beaches around the globe – beaches that slope into impossibly clear seas, and where there's always space away from the crowds.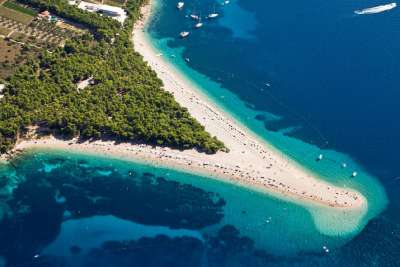 1

Zlatni Rat - Croatia

Situated on the island of Brac in front of a lush green forest, lies the white pebble beach of Zlatni Rat. The diamond-like formation juts out over clear turquoise waters. If you can drag yourself away from the sea, there are loungers aplenty to rent and lots of space to kick back with a picnic lunch.

The easiest way to get to this jaw-dropping beach is by flying into Split and then catching either a ferry or a catamaran over to Brac. Ferries take you into Supetar, where you will need to transfer on to Bol by bus or taxi from there.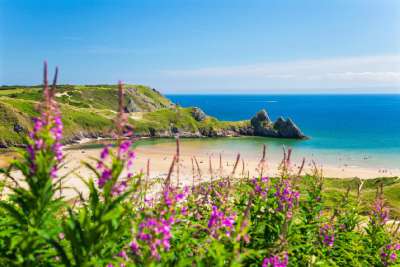 2

Three Cliffs Bay - Wales

After walking through bramble strewn paths and clambering down sand dunes, the golden sands of Three Cliffs Bay (on the Gower in Wales) finally reveal themselves. Bedecked with verdant hillsides and with powder-soft sands and clean blue waters, you'd expect this beach to be packed with crowds. However, the sand dunes and journey to the beach often deter visitors who flock to beaches further along the coast instead. And so, you can often find that you have a beach to yourselves.

There are public buses running from Swansea, but we recommend hiring a car to give you more flexibility.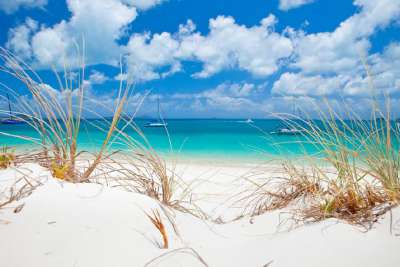 3

Whitehaven Beach - Australia

With over seven kilometres of white sands so soft that it feels like flour, Whitehaven Beach is impressive in its own right. However, the fact that its located on the Great Barrier Reef adds a whole extra appeal. Those who visit the Whitsundays can go snorkelling out on the reef in the hope of catching a glimpse of a reef shark or multi-coloured fish. There are also turtles and dolphins to spot frolicking in the waves.

You can fly from Cairns to Airlie Beach with some of Australia's low cost carriers, or catch a coach down for views of the surrounding countryside. Once in Airlie Beach there are a whole host of tour operators offering boat trips out to this dreamy beach.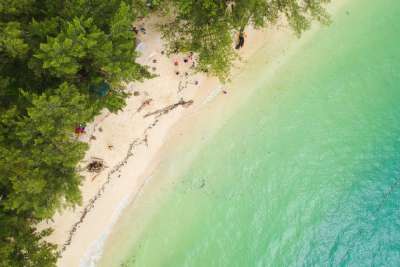 4

Manukan Island - Borneo

The island of Manukan lies only a short distance away from the city of Kota Kinabalu and yet, it's almost impossible to think of urban landscapes here. Whilst the isle is home to several luxury resorts the beaches here still feel somewhat wild. There are soft white sands chased into the sea by sprawling jungle surrounds, and the clear waters are a playground for clown fish, parrot fish and a whole range of other species. You won't want to forget to pack your snorkel!

To visit this pretty island, catch a boat from the Jesselton Point Ferry Terminal in Kota Kinabalu. Speed boat journeys take around fifteen minutes making it a great option for a day out of the city.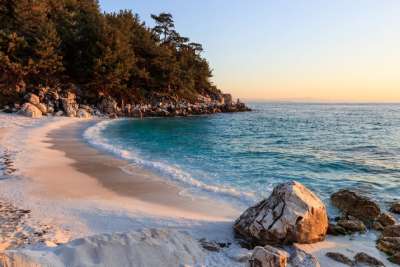 5

Marble Beach - Thassos

On the east coast of Thassos lies the picturesque Marble Beach. Situated below a marble quarry, the beach has become famous for its entirely white shoreline where marble has fallen to the beach below and given the sand and pebbles an almost effervescent hue. Those looking to spend a few hours here will be pleased to find that there are loungers aplenty to hire!

The island of Thassos is far less crowded than some of its counterparts and so is well worth the journey. The closest international airport is Thessaloniki and from there it is a two-hour drive to the ferry port of Kavala. You can catch a ferry to Thassos from there.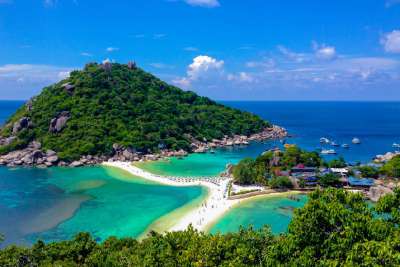 6

Koh Nang Yuan Beach - Thailand

The beach at Koh Nang Yuan acts as a bridge between tiny islets. Thin strips of white sands whirl through shallow waters meaning that you can dip your feet into clear, turquoise seas and spy tiny fish darting around. The islands themselves are bedecked with verdant forests, and you can take a hike up to the View Point which offers vistas out over the island and sea beyond.

To experience this slice of island paradise, we recommend chartering a long-tail boat out of the bustling resort of Koh Tao. The journey only takes around 15 minutes and is pretty cheap!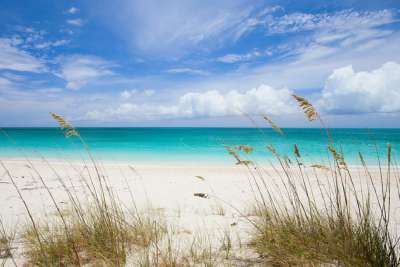 7

Grace Bay - Turks & Caicos

The Caribbean evokes images of soft sands sloping into clear turquoise seas against an impossibly blue sky, whilst palm trees sway gently in the background. Grace Bay, in Turks & Caicos fits this criteria. This 19-kilometre expanse of sand sits around a mile off a thriving coral reef. This means that you can expect to find an abundance of fish if you choose to snorkel through the waters.

The island of Providenciales, where Grace Bay is situated has no public transport, so we recommend that those staying outside of this area rent a car to explore.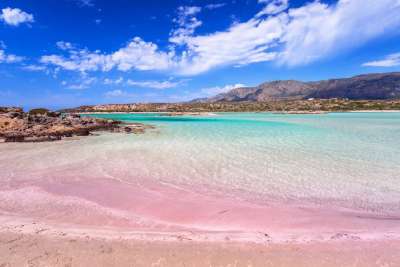 8

Elafonisi Beach - Crete

Those looking to up their Instagram game will want to head to Elafonisi Beach on an islet just beyond Crete. Tinged with a pink hue, this postcard-worthy beach will have you taking snap after snap.

To get to Elafonisi you will need to hire a car. Once you've parked up you'll need to wade through the shallows of the lagoon to reach the famous beach, so we recommend wearing clothes that you don't mind getting wet!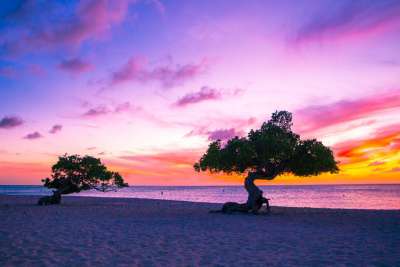 9

Eagle Beach - Aruba

Those looking to play tennis in the dreamiest of surrounds will want to head to Eagle Beach in Aruba where locals take to the soft white sands for a game or two at weekends. With turquoise waters and a long expanse of sand punctuated by the famous fofoti trees, this is an excellent spot for a day or two spent lounging with a good book.

As one of the most popular resorts in Aruba, there are an array of hotels just minutes' away from the beach meaning that you can spend as much time as you choose in this dreamy spot.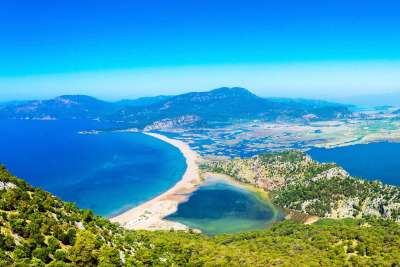 10

Iztuzu Beach - Turkey

The journey to Iztuzu beach is one to remember as boats gently carry you through reed-filled waters past the Lycian tombs set in Dalyan's hillside. Along the way you may be met by locals offering to sell you fresh blue crab to eat in return for luring loggerhead turtles to the surface with the very same food.

At the close of your boat trip, you will be met with 4.5 kilometres of golden sands. This picturesque landscape is a nesting ground for loggerhead turtles and whilst the beach is open to the public each day, there are notices asking you to take care of where you stand.
Most Popular Top 10s