Amazing Cities With Beaches
The tapas of holidays, a city-beach break is a great way to get a little bit of everything out of your summer escape. Roll sun, sea, sand, and culture into one with these fab city destinations, selected by us for their stunning beaches and buzzing metropolitan locations. And with city beaches generally being closer to major airports, it means you'll be relaxing with a cocktail in hand in no time.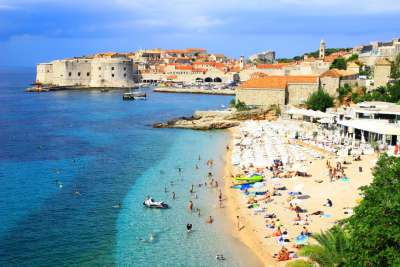 1

Dubrovnik, Croatia

Though more commonly known for its pretty stone and terracotta-roofed Old Town, the turquoise waters of the Adriatic make it a great location for stunning beaches. There are plenty to choose from but we think the two highlights are the beaches of Banje and Sveti Jakov. Banje Beach is in a great location and only a short walk from the eastern side of the Old Town, however due to its location the beach can get a little crowded. If you're in search of calmer waters Sveti Jakov is beach for you. Located a couple of miles further down the coast, this choice is a favourite with locals and rarely gets crowded.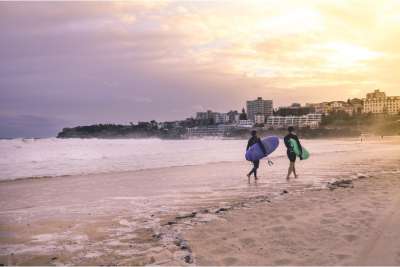 2

Sydney, Australia

With Australia's greatest export being hot surfers, a trip to Sydney has to include a visit to its beaches. Bondi Beach is known all over the world for its surf-scene and certainly doesn't disappoint. The long stretch of white sand is a mixing bowl of surfers, sunbathers and tourists enjoying the busy atmosphere and the lively surf. Bronte Beach is another great option, especially with locals, and is set in a cove not too far away from Bondi.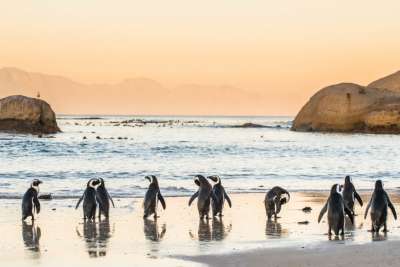 3

Cape Town, South Africa

Cape Town sits below Table mountain with the Southern Atlantic and Indian Oceans just off its coast. Beaches here are plentiful with white sands and good surf making them popular with water sports fans. The affluent neighbourhood of Clifton is home to four beaches, separated only by boulders and named by number. You can reach any in a ten-minute drive from town and all make for a great day out. Special mention however must go to Boulders Beach, though 25 miles out of town the beach plays host to a colony of African Penguins who make for incredibly cute pals to be sharing the sand with.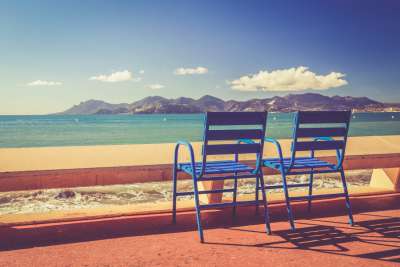 4

Cannes, France

This stunning resort town is considered the highlight of the French Riviera and is home to the International Film Festival, chic boutiques and beautiful beaches. The most popular of which can be found lining the Boulevard de la Croisette. If you're already in Cannes you may as well go big and spring for access to one of the private beaches. These come with access to lockers, loungers, umbrellas and a waiter service so you can have truly stress-free day on the sand. Alternatively head to one of the public beaches, like the laid-back Plage de La Bocca, which sits to the west of the city centre.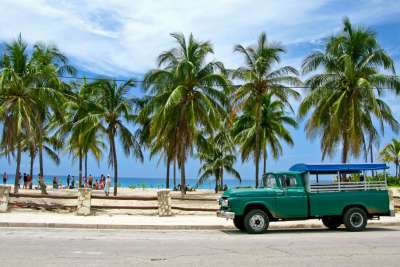 5

Havana, Cuba

Havana ooh nah-YEAH. Sun, sea and salsa are all within your grasp on a trip to the cool Cuban capital. A twenty-minute taxi out of the city will bring you to the five mile stretch of beautiful white sand known as Playas del Este, which is actually split into several smaller beaches. Santa María del Mar is considered the main beach and is well-known for its party atmosphere. So, position yourself near a bar serving mojitos, pop on your glitziest swimwear and get ready to bust out those salsa moves on the sand.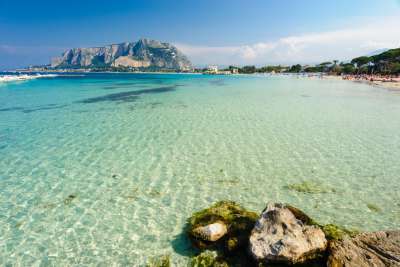 6

Palermo, Sicily

The Sicilian capital boasts mouth-watering cuisine, beautiful architecture and long stretches of white sand beaches. For a dip in the warm shallows of the Tyrrhenian Sea there are plenty of options along the Palermo coastline. A six-mile drive out of the centre will get you to the city's most popular spot, Mondello Beach. Lined with quaint pastel changing huts, the waters here are brilliantly blue, and crystal clear. Though it does get crowded in the height of summer there's always space on the sand to slot in between the bronzed and oiled locals for a spot of sunbathing.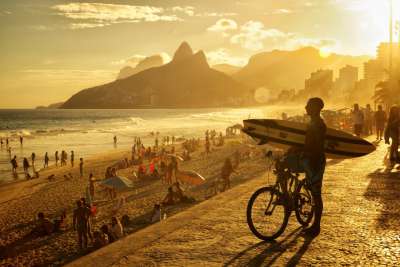 7

Rio de Janeiro, Brazil

Is your name Lola? Are you a Showgirl? If so Manilow's totally got your number and you need to head to Rio's gorgeous Copacabana Beach. Only a short drive out of the city centre the beach offers its bathers great views of the Rio skyline and famous Sugar Loaf Mountain. The white sands are lined with an eye-catching promenade which is paved in an Art-Deco monochrome design dating back to the 30's. On New Year's Eve the beach plays host to an estimated two-million revellers ready to enjoy the stunning fireworks and electric atmosphere.

Image ©

Jefferson Bernarde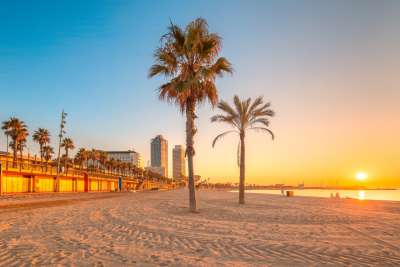 8

Barcelona, Spain

Barcelona is a hub for Catalan culture and cuisine. Wander the winding streets of the Gothic Quarter and marvel at the stunning architecture of Gaudiì. The coastal city boasts three miles of golden sands, with La Barceloneta being the most central spot for sun-worshippers. This is a classic city beach busy with tourists and locals alike topping up their tans. For the more daring there's the nudist beach of Nova Mar Bella which is split off from the main beach with a convenient sand dune.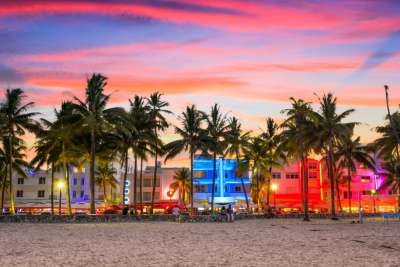 9

Miami, USA

The ultimate beach city, Miami plays equal host to skyscrapers and white sands alike. The best beaches can be found off the mainland and over the bridge on Miami Beach. The barrier island settlement is a city in its own right, and over the years has become known as the playground for the rich and fabulous. The most glamorous neighbourhood of all, South Beach, is known as the sun and fun capital of the world. Here you can enjoy Art-Deco architecture, fashion boutique shopping and glorious sun-drenched beaches.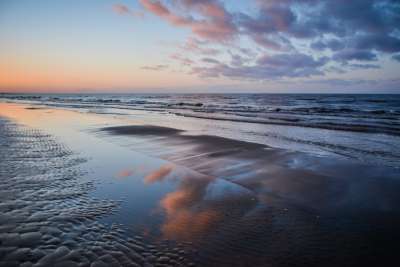 10

Riga, Latvia

Good things can be found in the most unlikely of places and Riga's beaches are certainly a great surprise for those visiting the Latvian capital for the first time. The city is famed for its medieval Old Town and art nouveau architecture, but its beaches are fast growing in popularity with tourists. A half an hour drive out of the centre will bring you to the Blue Flag Vakarbuļli Beach. The white sands can be found between the mouths of the Daugava and Lielupe rivers on a small island reachable by bridge. The beach feels a thousand miles from the city lined with lush green trees and quiet lapping waters.
Most Popular Top 10s