Fall for Autumn Foliage
After a long, hot summer, we're welcoming the crisp chill that heralds the arrival of autumn. Not only does it mean we won't sweat through humid days again until at least June, but it also means landscapes from Scotland to Japan will be painted with yellows, oranges and browns. Feast your eyes upon these destinations made all the more beautiful come September, and fall in love with their autumnal foliage.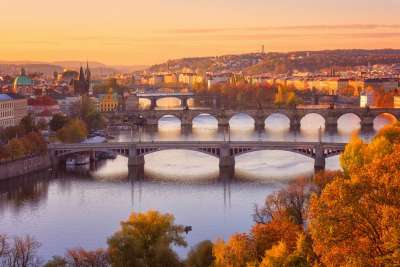 1

Prague, Czech Republic

The City of a Hundred Spires is beautiful year-round – but in summer you'll be jostling with other tourists to see the Astronomical Clock strike the hour, and come winter you'll be shivering your way across the Charles Bridge. Visit in autumn, however, and you'll see the hills surrounding the city burst into bright red, copper and gold, and avoid the peak tourist season. Plus, the weather is ripe for indulging in the city's famously hearty foods like chimney cakes, schnitzel and roast pork with bread dumplings and cabbage.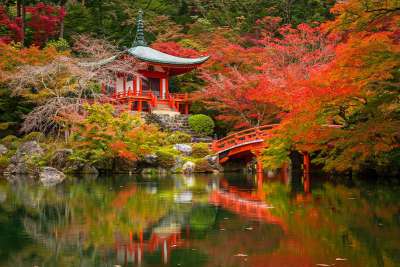 2

Kyoto, Japan

Let's face it, Kyoto is beautiful year-round – from cherry blossom season to the deep greens of summer and the smatterings of snow juxtaposed against its bright red buildings in the winter, it's a feast for the senses. And autumn is no different. Splashes of scarlet burst from branches and rusted amber-colour leaves fall to forest floors. Visit temples that look even more striking with backdrops of vivacious foliage, or head to the Higashiyama mountains for ultimate zen.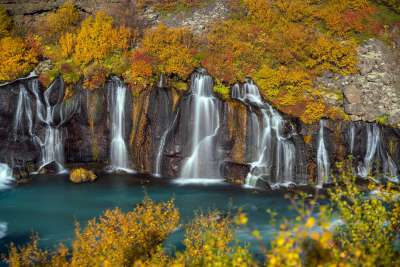 3

Iceland

From the pinks and greens of the Northern Lights, to the brown leaves and deep green moss set against striking backdrops of glaciers, Iceland's autumnal colours may not have the blockbuster effect of other destinations – but they are no less beautiful. Iceland in autumn not only offers up dramatic vistas and warmer temperatures than winter, but holiday prices can fall dramatically, meaning you can enjoy this incredibly popular country for less!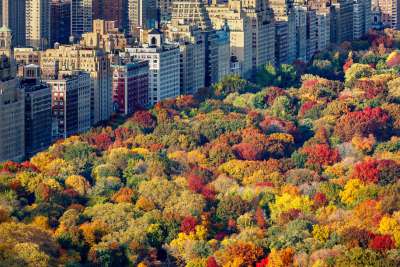 4

New York, USA

New York casts a spell over us at all times of year, thanks to its packed cultural calendar, restaurants serving food from every corner of the world, and iconic skyscrapers. But New York in autumn is truly magical. For one, you'll avoid the steamy summers that plague the concrete jungle and the frigid temperatures of winter. For another, you'll be able to see the leaves change to yellow and copper on their branches before falling to carpet sidewalks and the grass of Central Park. On these crisp autumn days, the sky is bright blue until the sun starts setting, bathing the city in a deep golden glow.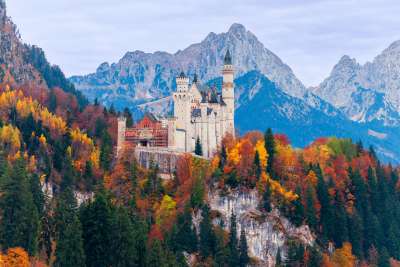 5

Bavaria, Germany

Picture a stereotypical autumn scene, and it'll look a whole lot like Bavaria in Germany! Think towering mountains blanketed in amber and bronze leaves, forest floors draped with fallen foliage, and golden sunlight reflected off the deep blue waters of expansive lakes. Famous Neuschwanstein Castle is particularly dramatic at this time of year – its white walls and towers are framed by bursts of red and yellow producing a particularly eye-catching effect. And don't forget, autumn is also Oktoberfest season, so pull on your lederhosen and dirndls and get ready to fall for Bavarian autumn.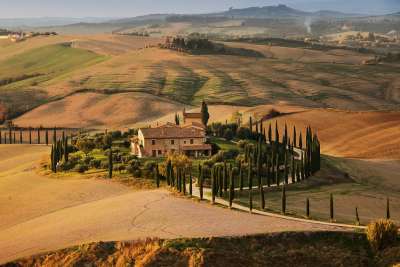 6

Tuscany, Italy

One of the most picturesque regions of Italy turns the pretty up to 10 come autumn. The grass of hills and fields turn vibrant yellow, red and orange leaves float delicately from trees to litter forest floors, and grapevines are heavy with purple fruit. Not only is it incredibly beautiful, but it's also one of the most delicious times to visit. Grapes are plucked from vines and turned into Chianti wine, porcini mushrooms add punchy flavour to pasta and lashings of truffles are a staple.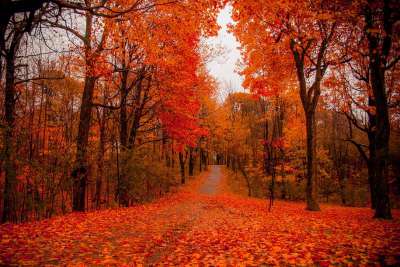 7

Montreal, Canada

Like much of North America in autumn, Montreal bursts into colour for one final flourish before it plunges into the depths of winter. The city's plethora of maple trees ensure that when autumn hits, its colours are front and centre. Mount Royal's vibrant oranges and yellows overlook the city, while a hike to its peak will offer up views across the cityscape, combining with the autumn foliage for a spectacular sight indeed.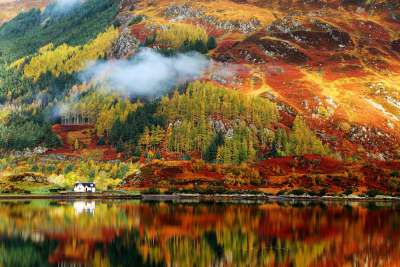 8

Scottish Highlands, Scotland

More famous for their greens than their reds and oranges, the Scottish Highlands is a surprise underdog when it comes to autumnal delights! The combination of evergreens and trees that fully embrace the season make for a veritable colour palette of every kind of green imaginable, deep rusty reds, splashes of yellow and healthy doses of copper. And that's not even to mention the majestic blue lochs, dramatic grey boulders and occasional splashes of pink flowers!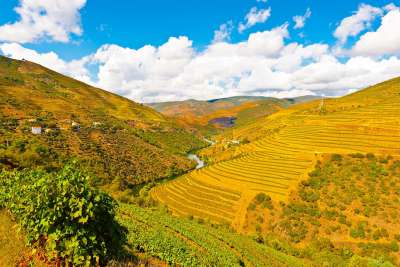 9

Douro Valley, Portugal

The home of Port wine gets an extreme makeover come autumn. Its usual green terraced vineyards are replaced with deep reds and purples, signalling the beginning of the grape harvest. With the Douro River weaving between the hills as it makes its way across Portugal to Porto, it has a striking effect, and is a surprise for the eyes after the saturated greenery present the rest of the year.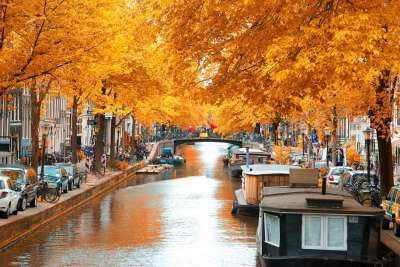 10

Amsterdam, The Netherlands

With its canals lined with more than 400,000 trees, it should come as little surprise that Amsterdam's autumn is up there with the best! The leaves explode into colour, before falling onto the streets and bridges around the canals, and layering the water in foliage, turning them orange. The city's gorgeous historic parks also come to life in autumn, so a visit to Vondelpark or Amsterdam Forest is a must to fully enjoy all the season has to offer.
Most Popular Top 10s