Paradise Awaits: Dreamy Long Haul Beach Destinations
We're finally coming out the other side of winter, summer is just about in view – albeit slightly blurred – but in view! But if you really can't wait that long, then what about taking that bucket list trip, and swapping coats for cozzies in a tantalisingly tropical destination? To whet your appetite, here's a list of ten locations for those dreaming of soft white sands and crystal blue waters. Get ready to drool over some staple long haul hotspots, as well as heavenly escapes we bet you didn't even know existed!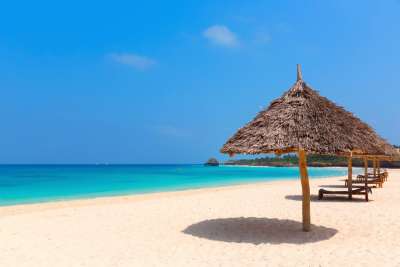 1

Zanzibar, Tanzania

Primarily known for being the birthplace of Freddie Mercury, Zanzibar boasts brilliant beaches, colourful coral reefs and a wide array of exotic wildlife. Soak up the sun on idyllic Nungwi Beach, where you'll find pearly white sands, sea turtles, and a lively area bustling with beach resorts, restaurants and bars. For scuba diving, head to Matemwe Beach, which is in easy reach of the surrounding traditional fishing villages – where you'll get an insight into local culture – and is also the jumping-off point for the world-famous diving spot, Mnemba Atoll!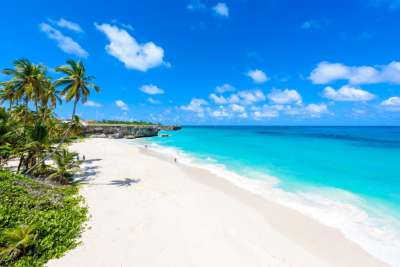 2

St James, Barbados

A tourist hotspot in western Barbados, St James is characterised by the multitude of upscale hotels and resorts – including the famous Sandy Lane - that line the country's Caribbean coast. Think aquamarine waters, luminescent sands dotted with palm trees, and beach bars serving up delicious rum cocktails. When it comes to staying active, keen golfers will be kept busy by the island's five tropical courses, while snorkellers and divers can acquaint themselves with the Caribbean's diverse marine life.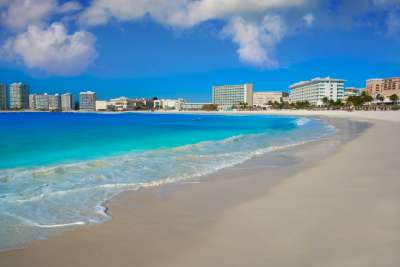 3

Cancun, Mexico

In this diverse city you'll discover cobbled streets, a local atmosphere and lively bars in the downtown area of El Centro, while the busy strip of Zona Hotelera is comprised of high-rise hotels that back onto the golden sands and foamy shores of the Caribbean Sea. A popular spring break destination for students, as well as families, you can expect an abundance of all inclusive hotels, an impressive nightlife scene and days spent lounging on the beach!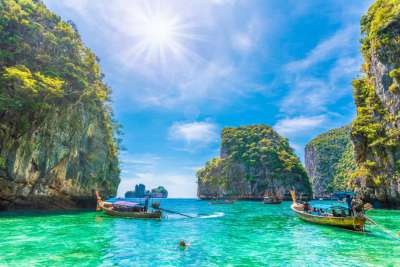 4

Krabi, Thailand

With more than a hundred offshore islands for you to explore, Krabi is a worthwhile contender for those seeking an adventurous beach break. Head to Ao Nang Beach for beautiful beach scenery and lots of surrounding shops, cafes and hotels to choose from. Be sure to take a trip to the phenomenal Phi Phi Islands, where ivory sands, turquoise waters and markets serving up local foods are just the beginning of the magic that this archipelago has to offer.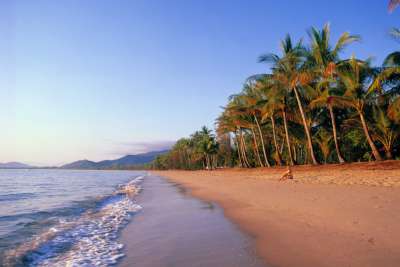 5

Cairns, Australia

Based in the north of Queensland, tropical Cairns is the gateway to Australia's Great Barrier Reef; it boasts a diverse and rugged landscape of mountainous forests, vast beaches and impressive waterfalls. For complete tranquillity, unwind in the luxurious resorts that surround the golden sands of the beachside suburb, Palm Cove. Adventure seekers should take the ferry to Fitzroy Island, where a tropical rainforest borders the soft sands and crystal-clear waters of idyllic Nudey Beach – just don't be fooled by the name, it's definitely a clothed affair!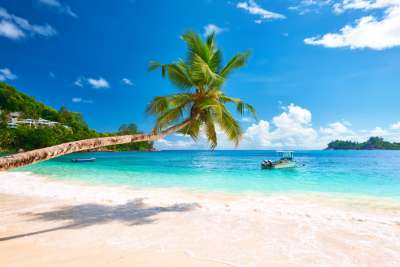 6

Mahe, Seychelles

A top choice for honeymooners, Mahe is the largest island in the Seychelles archipelago and is home to an abundance of exotic flora, as well as dreamlike swathes of white sand that are met by the calm waters of the Indian Ocean. Head to the secluded beach, Anse Intendance, for uninterrupted bliss, or dive the day away at Beau Vallon bay, which is famous for its vibrant coral reefs and is in easy reach of a multitude of hotels, restaurants and bars.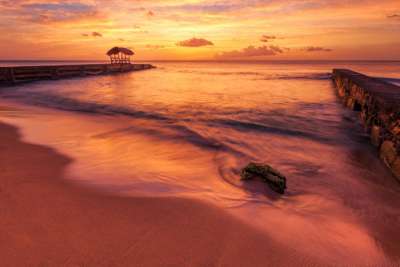 7

Tobago, Trinidad and Tobago

Visit the Caribbean without breaking the bank with a trip to the beautiful but undiscovered Tobago, which is dominated in the west by breath-taking beaches and a host of holiday resorts. In popular Pigeon Point, you'll find a luscious and expansive nature reserve, equipped with dining options, frequent live music and a blonde beach boasting comfy cabanas and excellent watersports facilities. It's also an ideal access point for scuba divers keen to explore the coral and marine life in Buccoo Reef.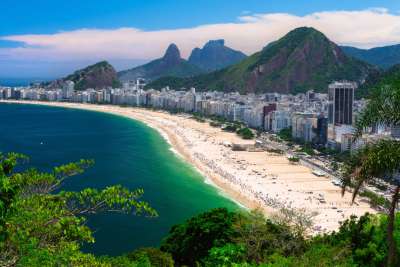 8

Rio de Janeiro, Brazil

Mostly recognised for the vibrant costumes, samba dancing and raucous atmosphere of the annual Rio Carnival, it's easy to forget that this bustling city is a seaside spot. Copacabana Beach always hosts an epic New Years Eve celebration, and offers a three-mile stretch of soft white sands that are lined with kiosks serving up casual beachfront drinks and snacks. Meanwhile, rural and remote Joatinga Beach has silvery sands and turquoise waters and is surrounded by a mountainous landscape.
9

Langkawi, Malaysia

The archipelago of Langkawi is made up of more than one hundred islands and islets, with Pulau Langkawi being the main choice for tourists. Popular beach town Pantai Cenang features local cafes, bars and a wide range of hotels, and its coastline is made up of teal waters, excellent watersports facilities and opal sands dotted with palm trees. North of Pantai Cenang is the quieter and more exclusive Pantai Kok - a quaint bay backed by limestone mountains and rural jungle.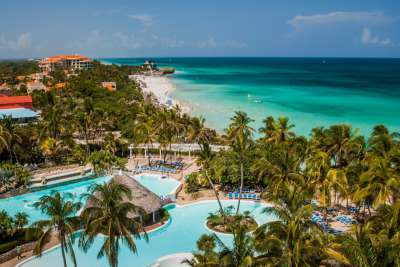 10

Varadero, Cuba

Living up to its name as Cuba's most popular tourist destination, Varadero boasts an array of accommodation that ranges from budget studios to all inclusive beachfront establishments. Most hotels in Varadero back onto the twelve miles of pearly Caribbean sands and smooth, azure waters of Varadero Beach. Be sure to do some diving at one of the area's thirty dive sites, or even hop on a boat to neighbouring Cayo Piedras del Norte and Cayo Romero for a more remote diving experience.
Most Popular Top 10s