Has a football match or tour at one of Madrid's famous soccer stadiums been on your wish list for a while? Or perhaps you're lucky enough to have tickets to see the Champion's League final between Tottenham Hotspur and Liverpool at the Wanda Metropolitano on June 1st. Arsenal fan and dealchecker, Fahad, who recently visited the Spanish capital, has shared with us his top tips for organising your fantasy football weekend. Back of the net!
Many football fans like myself can agree that the atmosphere at live games is second to none. Many also have a goal of visiting as many stadiums as possible – especially the giants in Europe. When my friends and I were deciding where to go on holiday for the weekend, we collectively agreed to watch at least one football match while we were there. This is how I watched La Liga's Atletico Madrid take on Valladolid, and had a tour of Real Madrid's Santiago Bernabéu stadium.
Pre-Travel Tactics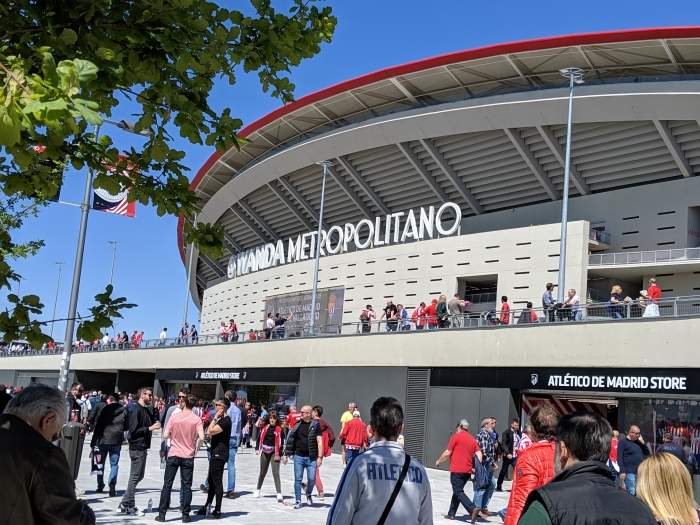 As with every holiday, a fair amount of time is spent scouring the web; researching, picking dates and finding the best deal. Luckily, getting football tickets is fairly straightforward, as long as there are seats for sale!
We bought tickets via Viagogo – a website that sells tickets for a huge range of events. Simply search for the match you'd like to watch, select any available seats and pay, it's that simple! We opted for the instant download tickets, where we were sent a barcode that we could either print out or display on our phones.
NOTE: La Liga fixtures are confirmed well in advance, however kick-off day and time isn't – our kick-off wasn't confirmed until two weeks before the game. The best thing to do is arrive at your destination on the Friday morning or afternoon, and return home on the Monday, to ensure kick-off falls anytime within your trip abroad.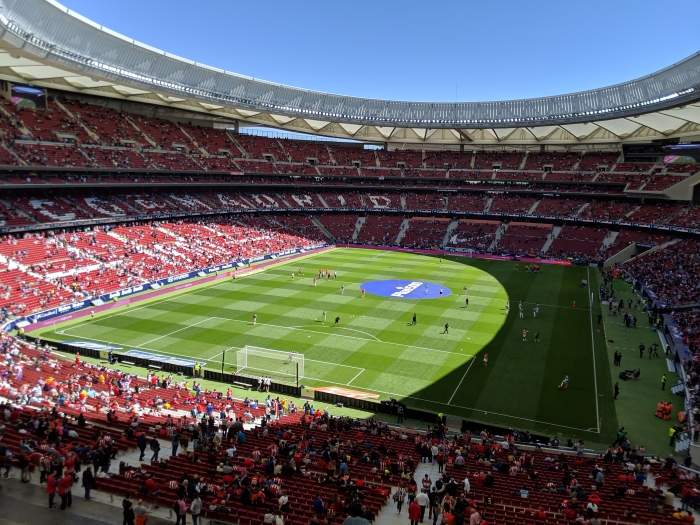 Atletico Madrid's home ground since the 2017-18 season and occasional venue for the Spanish national team's games, the Wanda Metropolitano Stadium can house up to 68,000 spectators and was built specifically for the fans so that they feel closer to the pitch. The stadium's modernisation and flexibility means it can also host athletic events.
Transport links to Wanda Metropolitano are extremely easy to use: the Estadio Metropolitano subway station is in sight of the stadium and there are a further three stations a short walk away. As you exit the subway, you'll most likely be walking with a pack of die-hard Atletico fans who will welcome you into the swarm of people singing chants, taking pictures and getting ready to watch their beloved club win.
The buzzing atmosphere continues into the stadium, where we were blown away by the amazing views. In my opinion, sitting high up in the corner is the best position – the pitch and players are perfectly within sight and the fans surrounding you makes it feel wholesome.
When we visited, Atletico Madrid beat Valladoid 1-0, thanks to an own goal by Valladolid's Joaquin Fernandez Moreno. Although I was hoping for more goals and drama, it was great watching this team live for the first time and experiencing their stadium.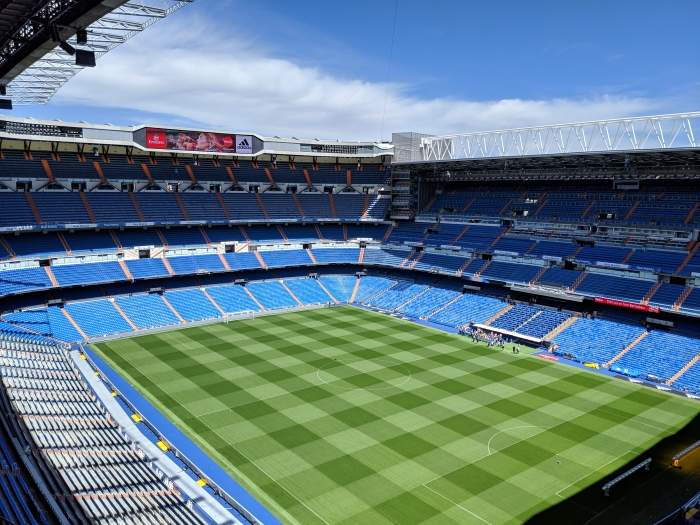 One of the most famous football stadiums in the world and base of arguably the best club in football history, Santiago Bernabeu has been Real Madrid's home ground since 1947. It can seat up to 82,000 fans – that's 14,000 seats more than their rivals Atletico, and theirs was built only two years ago!
Although Real Madrid weren't playing on the day we visited, we booked a stadium tour, which was definitely one of the highlights of my trip to Madrid. We had the opportunity to check the view from different seats all around the stadium, enter the players' locker rooms, walk through the tunnel onto the pitch, sit in the press conference room, and be blown away by an extremely decorated set of trophy cabinets.
Real Madrid are the only team to win the FIFA Club of the Century award, cementing their status as the greatest football club of the 20th century. They also hold the record for the most European Cups – commonly known as the Champions League – with a total of 13 (which is a bit greedy, coming from an Arsenal fan).
I was lucky enough to visit the two glorious stadiums of Madrid and would definitely recommend it to all football supporters – whether it be a match or a simple stadium tour.
Let us help you figure out your game plan! Use our tools to book your trip: