Travelling in the summer can be expensive to say the least. Prices can be higher because of the school holidays, or because many travellers seek sunshine away from the UK. There are countless ways in which you can save your pennies and still have a great holiday. So what are you waiting for? Get reading so your next escape doesn't break the bank!
1.Budapest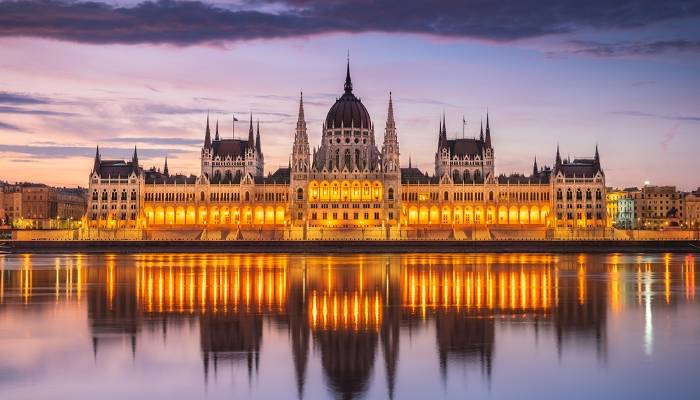 Budapest is one of the most beautiful and intriguing cities in Europe and there are few places that compare! The best and cheapest way to travel around this bustling city is on foot, Budapest is a very walkable city. However, if all of the walking gets too much, grab yourself a Budapest Card costs €21.99 for 24 hours and entitles you to unlimited free travel on public transport, free entry to twelve different museums, discounted tickets to a number of attractions, and discounts in restaurants and spas – you're guaranteed to save some coins!
Budapest is bursting at the seams with historical landmarks such as the Parliament Building and Buda Castle, along with a huge roster of museums to choose from – be sure to note that museums are closed on Mondays. One of the best things about Budapest is the gorgeous thermal spas, so pack your swimwear and head to the hot springs, your Budapest card will grant you free entry.
2.Algarve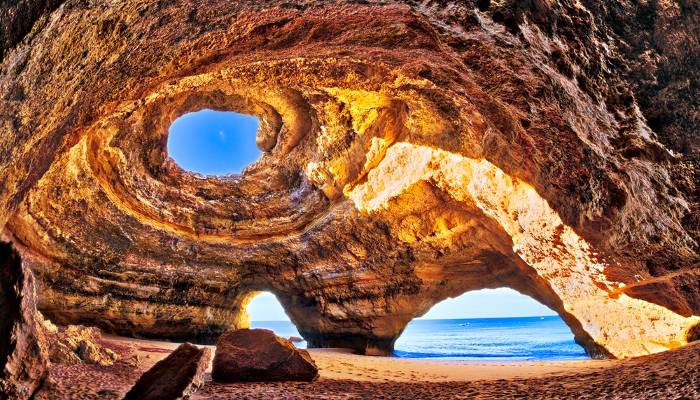 Host to one of the most scenic coastlines in the world, the Algarve houses an array of pristine beaches and picturesque cliffs. The famous Benagil Sea Cave is a must-visit landmark in the Algarve, the best way to get there is on a boat tour, so be sure to book your tickets in advance for discounted prices and to avoid disappointment.
Soak up the sun on your way to Tavira Island (south of the Algarve), and take in the beauty of this Portuguese island, with its golden beaches and crystal-clear blue sea. Whether you just want to find a quiet spot to relax or enjoy the large selection of watersports available, there is certainly something for everyone. Boat rides to the island only take around 20 minutes and cost €2 for a round trip, during which you will see the stunning park of Ria Formosa. After a full day of exploring and relaxing, head to the vibrant city of Lagos for the lively nightlife where you'll find an array of cheap bars and clubs to choose from – you're bound to have yourself a fab night!
3.Majorca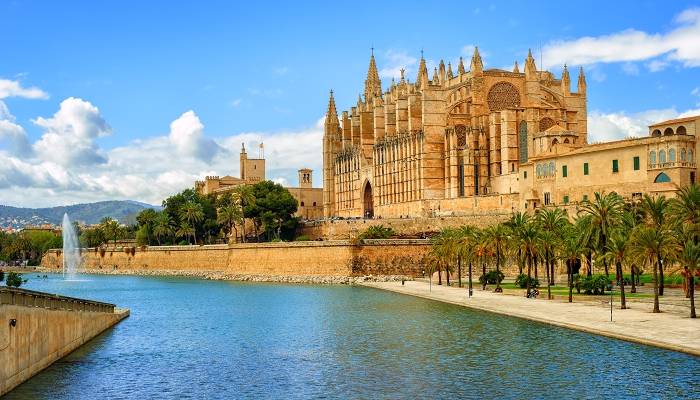 Whether you want to party in Palma, snorkel from a catamaran or soak in the beaming Balearic sunshine, Majorca is not short of fun activities that won't break the bank. The best place to begin is on the cobbled streets of Palma de Mallorca, from which you can take in the amazing history and all of the beautiful landmarks it has to offer. Here, the cheapest and most efficient way to get around is on foot. You will find sights such as Palma's famous gothic cathedral – La Seu – and the Royal Palace of La Alumudania; although La Seu charges a small fee to enter, you can purchase tickets in advance at a discounted rate. A great way to feast your eyes on the beauty of Majorca is by taking the vintage Soller train that features wooden carriages, panelling and benches and takes you on a scenic route from Palma to Soller.
UNESCO World Heritage site, Deia, is a beautiful, tiny, mountainside village with picturesque views of the turquoise Mediterranean, and is home to various poets, artists and wealthy Portuguese civilians. You can also make a visit to Cala Deia – one of Majorca's best beaches, for a budget-friendly day of sun, sea and sand!
4. Berlin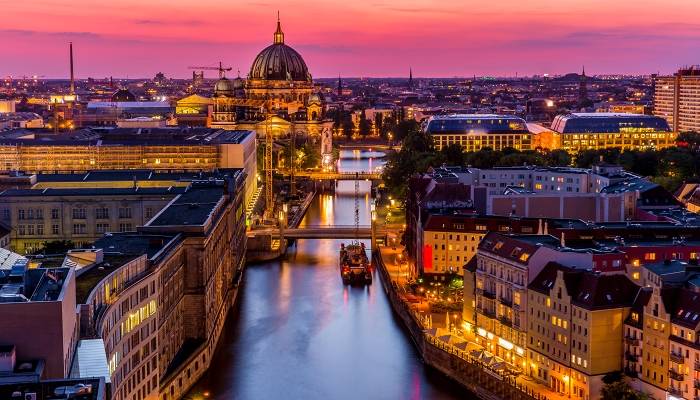 Berlin is the ultimate summer city break in Europe, whether you're interested in its fascinating history and stunning landmarks or want to take in the unique street art and global music culture. A must-visit place in Berlin is UNESCO World Heritage site, Museum Island, which is built on Berlin's Spree River and consists of five museums. A one-day ticket costs €18 and gives you access to all five of the museums, or you could purchase a museum pass for €29 which lasts for three days and grants entry to over 30 museums – including those on Museum Island.
Many of the most famous landmarks are free to visit including the Holocaust Memorial sculpture, East Side Gallery, Berlin Palace and Brandenburg Gate. You could also jump on a free walking tour where you can decide how much to tip your guide. If you're looking for more of an upbeat break, the nightlife in Berlin is unrivalled, from techno to jazz the city comes alive at night. Being a student haven, you'll find many cheap bars and clubs within the city centre.
5. Malta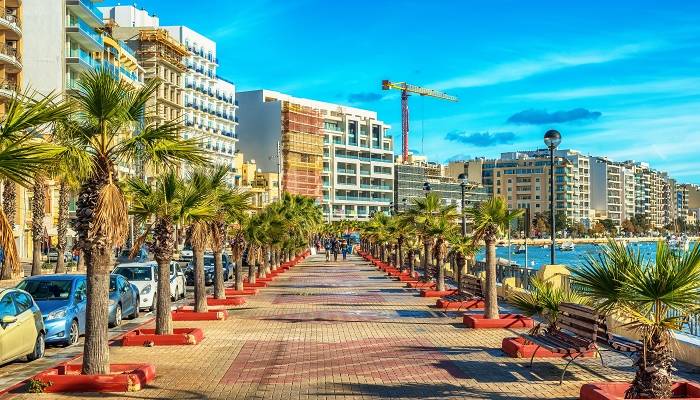 Malta's tiny capital of Valletta is full of colourful balconies and golden stone buildings, and is surrounded by beautiful blue sea on three sides. This city oozes history and culture, so much so that UNESCO designated the whole city a World Heritage site. While in Valletta be sure to check out St Johns' Co-Cathedral from the inside where you will find intricate gilded carvings. Valletta is the perfect place to wander on foot, with lots of back streets featuring low-cost local cafes and tucked away shops. At sunset, take the ferry from Valletta to Sliema, which was a fishing village but is now home to thousands of residents.Sliema is considered an elite area to live in and is loved by its inhabitants making it one of the busiest social hubs on the island of Malta.
The best and cheapest way to travel around Malta is via public transport. You can purchase a public transport card which gives you 12 consecutive trips, costing only €15! During your stay in Malta be sure to visit Gozo Island which only costs €4 for a round trip via ferry. Whether sightseeing in the capital Victoria or visiting the famous Citadel, you're you're in for a great experience. It is best to carry cash around in Malta as many activities do not take card, plus it helps to keep an eye on what you're spending.
6. Rome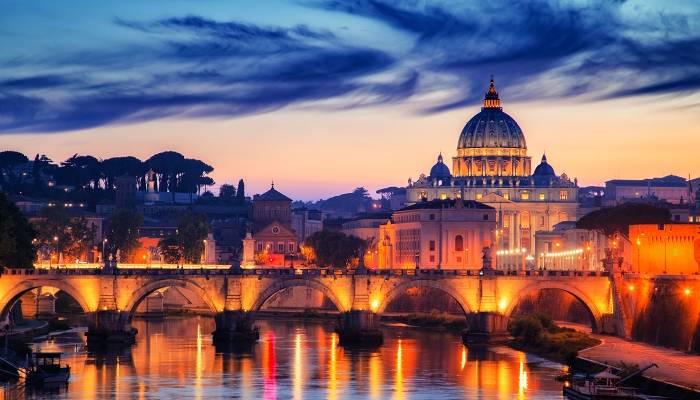 The beauty of Rome is something you have to experience in person to appreciate. From the endless amounts of historical landmarks to people watching in the piazzas, – plus the heavenly authentic cuisine – there really is no place like Rome. Although Rome has a reputation for being expensive, there are many ways to enjoy what this famous city has to offer on a budget. The Trevi Fountain, Rome's largest fountain otherwise known as the 'coin fountain', is a popular tourist attraction that you certainly shouldn't miss out on – it is free to visit and up to you how much to wish to throw in. Scale the heights of St. Peter's Basilica in Vatican City, it's not every day you'll get the chance to enter the largest church in the world for free! If you wish to head to the top of the Duomo, you'll need to pay a small fee of €6.
Spend a few hours wandering the grounds of the Vatican Museums where you'll find famous works from the likes of Michelangelo and Van Gogh It is worth purchasing a ticket in advance to prevent long queues and higher prices. The Colosseum is one of the most iconic sites in Italy, explore this stunning amphitheatre along with the Roman Forum and Palatine Hill, all from as little as €7.50 for a combined two-day ticket. When you've taken in enough history for the day, watch the sunset while perched on the Spanish Steps – cone of gelato in hand.
7. Istanbul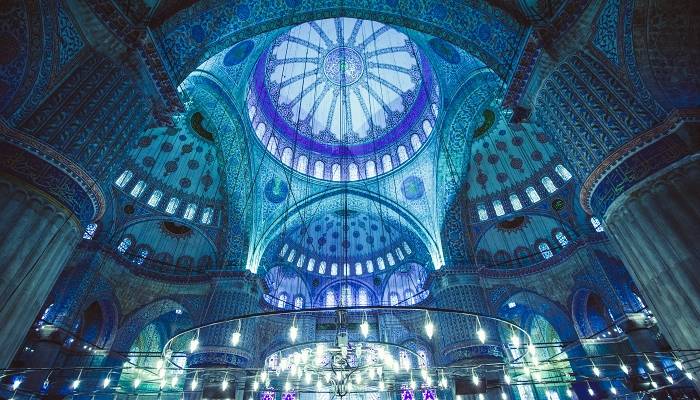 The rich culture, ancient architecture and famous landmarks make Turkey's largest city a very popular destination for travellers. The best way to travel this huge city is via public transport, you can purchase an Istanbul Card at a ticket machine and top up as much or as little as you wish. This card is accepted on all public transportation including the boats. Exploring the city by foot is also recommended as it is a great opportunity to meet locals and stumble upon hidden ancient ruins. On one side of Sultanahmet Park you will find the Hagia Sophia, former Greek Orthodox cathedral turned mosque, now a museum. Inside you will find gold calligraphy covering the 55m high walls and mosaics of Christ, the Virgin Mary and Byzantine emperors.
Take just a short walk to the opposite side of Sultanahmet Park and you will discover the stunning Blue Mosque that stands proudly over the city of Istanbul, which is decorated with over 20,000 handmade ceramic Iznik blue tiles. Be sure to check when prayer times are as it still a working mosque and closed to the public during prayer. Entry is completely free, however you are welcome to make small donations if you wish – remember to dress respectfully when visiting.
8. Vienna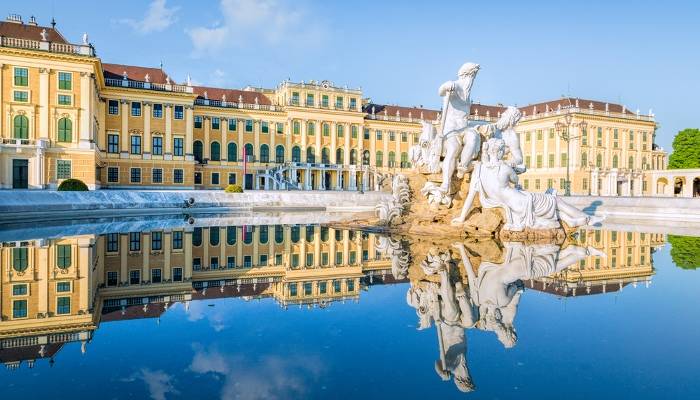 Vienna is one of the most beautiful and culturally diverse cities in Europe, boasting many famous landmarks, amazing food and stunning nature. It is certainly a very walkable city, but if you want to see as many sights as possible it is recommended that you grab yourself a Vienna card, which is €18 for unlimited public transport for one day or €24 for three days. Many of the famous landmarks do charge an entry fee, however if you plan your trip well you should be able to benefit from discounts on advance online tickets you can also purchase a Vienna Pass online which costs €79 per person and gives you access to over 60 top attractions.
One of the first attractions you should visit is Schönbrunn Palace gardens: this UNESCO Cultural Heritage site is free to enter and is one of the most important architectural and historical monuments in Austria. Be sure to check out all of the amazing museums in the Museum Quarter too, which are free to enter once you have a Vienna Pass. Vienna is a city with an endless number of exciting things to do and see, be sure to plan your trip in advance in order to save more money!
9. Rotterdam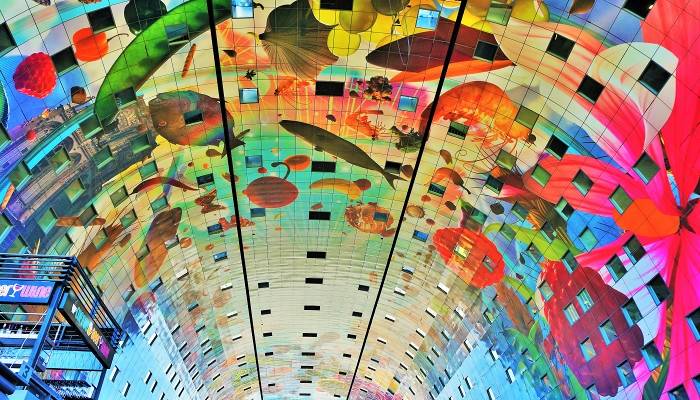 Being the second largest city in the Netherlands, it's no wonder Rotterdam is one of the best European cities to travel to this summer. It is the perfect blend of historic cobbled streets, beautiful landmarks and a vibrant nightlife. UNESCO World Heritage site Witte Huis is a must-visit landmark in Rotterdam, the building is Europe's first ever skyscraper and the tallest building in the city. Another wonderful architectural sight to see is the famous yellow cubed houses (Kijk-Kubus), which can be appreciated from the outside without having to pay the entrance fee. However if you do want to nose around on the inside, then it only costs a few euros.
If you're feeling peckish after a long day of exploring, head to the Markthal. This iconic building contains over 100 food stalls and trendy bars, where you are guaranteed low prices. While you're visiting the modern market hall, take a moment to admire the Horn of Plenty – a five-layered digital artwork that covers the walls and ceiling. Like many European cities, Rotterdam has a wide range of interesting museums to visit, so head over to Museumpark and get exploring! Tickets cost €30 per person and allow you access to five museums. The best way to travel within Rotterdam is to cycle, there are several places you can rent bicycles from; however it is cheaper the further away from the city centre you are.
10. Geneva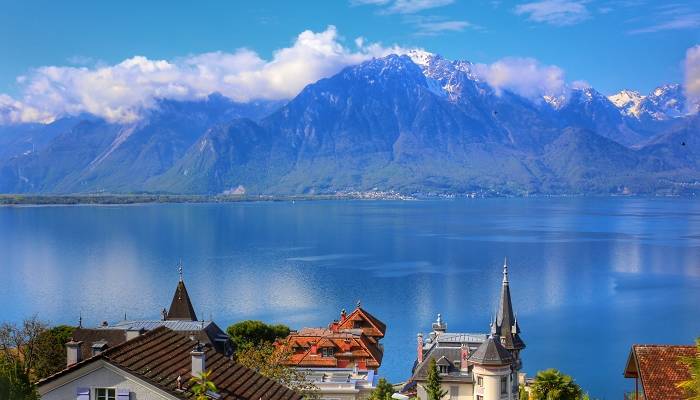 The incredible city of Geneva, perched on Lake Geneva, is one of Switzerland's most visited cities. It comes as no surprise that paddle boarding across the lake is a popular activity, there is also no fee to take part. If you're an adrenaline junkie you could also paraglide from France into Switzerland, which is the experience of a lifetime.
If you prefer an outing with less action you should head to the old town where you will discover authentic cafes and amazing architecture hidden away in the, winding cobbled streets – visit St Pierre Cathedral in the centre for a breathtaking view of the whole city and of Lake Geneva. For a relaxing day soaking up the sunshine visit La Pointe de la Jonction, a famous meeting place of two rivers – one is brown and muddy, while the other is crystal clear. The best way to travel this great city is via public transport which can add up, however when you check into any hotel, hostel or campsite in Geneva you will receive a free Geneva Transport Card that gives you free use of all public transport!
Explore one of these amazing destinations for yourselves with our great deals on flights,
hotels and holidays!