Although you can drive from the top to the bottom in only 45 minutes, this mini island has plenty to offer a spectrum of sunseekers. The second smallest of Spain's Balearic Islands, Ibiza has long been considered a partygoer's paradise but, while the nightclubs are still going strong, we think it's time to reveal that it's not just a destination for the all-night ravers. Cue our collection of location suggestions, broken down for each type of traveller.
24 Hour Party People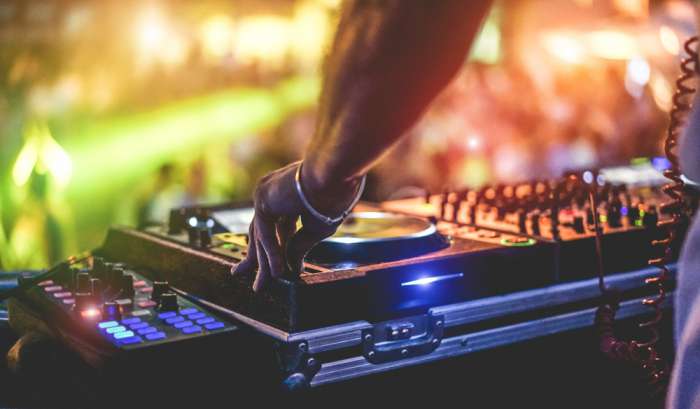 Often referred to as 'San An' by the young and trendy, San Antonio is top of the list when it comes to Ibiza's clubbing destinations. Home to the famed 'super clubs' Eden Ibiza and Es Paradis, this shoreline spot is the place to be for night owls. As well as booming clubs, you'll also find the famous Sunset Strip in San Antonio. With must-visit venues (such as Café Mambo and Café del Mar) and beach clubs aplenty on offer, this sun-baked part of the resort is considered a rite of passage for all visitors.
At only a short distance from the airport, San Antonio is an all-encompassing place to stay. From the tip-top bus service, to the wide range of accommodation on offer (from the cheap and cheerful to a little more luxe) and the plethora of restaurants, there's plenty to keep the all-nighters happy.
Feelin' Beachy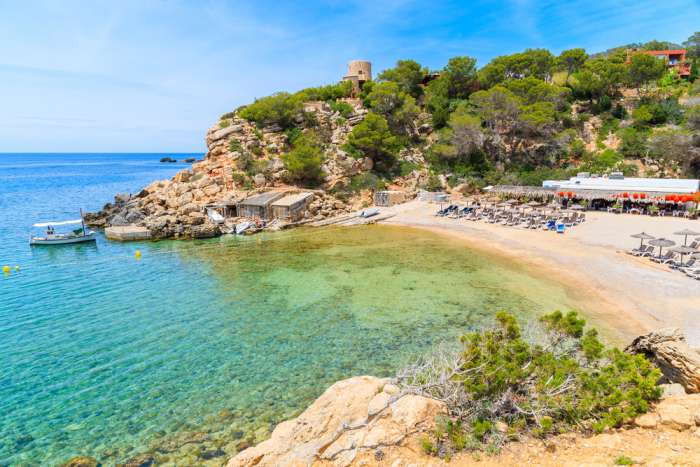 Sunseekers, rejoice – there's no shortage of soft sands on the White Isle. There's so much choice, in fact, that we couldn't pick just one, so we went with our top three:
Talamanca – The Popular Choice: Situated just a short stroll from Ibiza Town, this urban shoreline is an excellent all-rounder. With aquatic activities (kayaking and jet skiing) available from June to September, and a host of popular eateries a mere wander from the azure waters, it's clear why this sandy spot is a firm favourite.
Benirrás – The Rhythm of (Beach) Life: Based on the northern side of the island, Benirrás beach comes alive on Sunday evenings. Why? A troop of drummers descends on the shoreline to 'drum down the sunset' in truly spectacular style – it's one of Ibiza's unique experiences. If percussion isn't your beat, there are a handful of restaurants in which to sample fresh Spanish cuisine.
Cala Carbo – The Relaxed Retreat: Popular with the locals, this petite patch of sand offers sunbathers a spot to soak up the rays away from the hustle and bustle associated with much of the island. For a spot of lunch, we recommend La Sardinia Loca (The Crazy Sardine, no less) and afterwards a dip in the perfectly clear waters.
It's Culture, Dahhling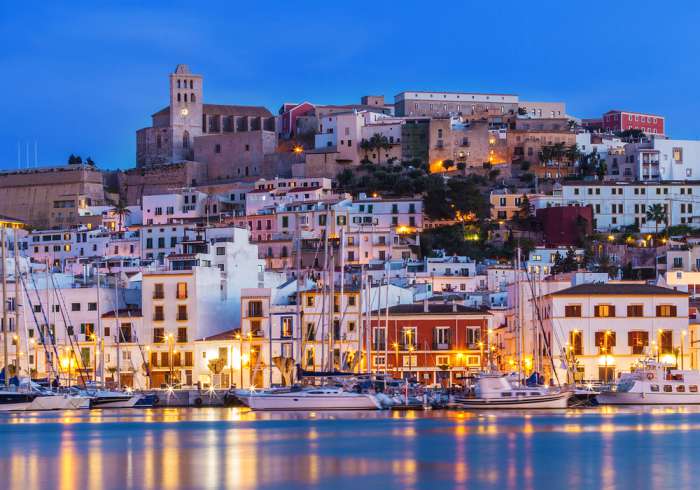 Calling all Ibiza naysayers – it's time to discover a cultural side to the island that you never knew existed. Looking for art, history and fine dining? The White Isle has it all, and much more besides.
Let's start in Ibiza Town, or more specifically, Dalt Vila, the island's old town. A UNESCO World Heritage site, there's been a settlement here for over 2,500 years, which means there's no shortage of things to see. From the city's ancient gates, to the majestic cathedral and the panoramic views that can be enjoyed from the turret, to the Archaeological Museum and beyond, Dalt Vila has much to offer any culture vulture. There's also a wealth of accommodation offers, from budget stays to luxury hotels.
A little off the beaten track yet no less intriguing, the northern village of San Carlos offers visitors a glimpse into a peace-loving hippy lifestyle. Still home to a number of long-haired residents, the settlement retains a wonderfully laid-back feel with plenty of cultural aspects (including an International Classical Music Festival!) destined to delight curious travellers.
For All the Family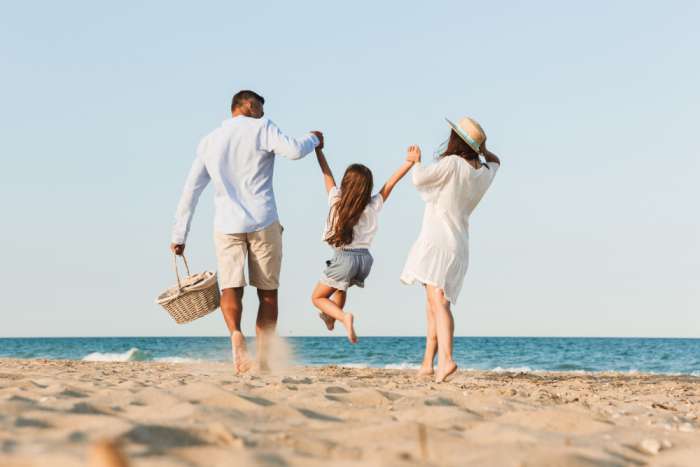 We know what you're thinking – Ibiza probably isn't the first place you consider taking the family on holiday, but we implore you to reconsider. If this article has told you something, it's that there's something for everyone on this island, including new parents with little nippers or families equipped sulky teens.
A family-friendly beach resort offering numerous activities, Es Caná is home to a series of reputable international hotels and a spacious beach that's lined with pine trees, ripe for exploring. For the adrenaline junkies in the group, waterskiing, parasailing and windsurfing are readily available, while those looking for a brief spell away from it all can stroll to the unspoiled beaches that circle the resort. Bringing a fussy eater with you? Fret not – there's a wide variety of restaurants serving international cuisine. Another great option is the resort of Cala Llonga where a long swathe of golden sands shelves gently into the sea, and a playground sits beside a mini arcade. True holiday bliss for little ones!
Love Island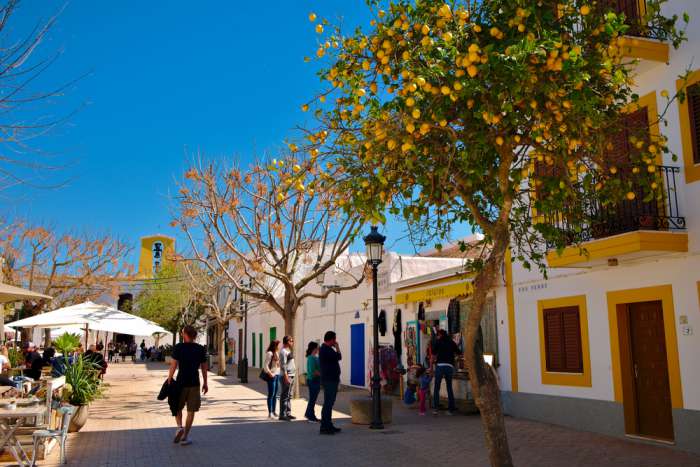 There's nothing quite like a little heat to rekindle the magic in any relationship. Studies have actually proven that couples are more likely to get 'betwixt the sheets' when the mercury rises, and who are we to disprove the theory? Whether you're whisking away a new flame on the first holiday or looking to reconnect over a candlelit dinner, Santa Gertrudis is the place for all you romantics.
Charmingly traditional, this inland village is awash with quaint restaurants, lively bars and numerous art galleries. A short walk from the small settlement, you'll find the truly delightful Es Jardins de Fruitera, renowned for its Ibizan delicacies. Based within a lush garden, there's no better place to whisper sweet nothings to your beloved. You won't find many hotels in the area, but there are a series of villas close at hand for a more secluded experience. After all, it's an island of sun, sea, sand and… Well, you know the rest.
We hope that our foray into the variety of Ibiza has inspired you to visit the White Isle. With average temperatures lingering in the 20s from April to October, and monthly sunshine hours never dipping below 151 turns of the clock, it really is an all-encompassing destination.
See you there? Holidays | Flights | Hotels