Austin is the capital of Texas and is the main hub for tourists who visit the state. The eclectic city is known for its friendly, creative inhabitants and you'll find it bursting with things to do – including strolling through the many museums, and later, soaking up the all American nightlife. As the live music capital of America, it promises a rollicking good time! Some of Austin's biggest assets however, are its natural landscape and city parks. Here are four outdoor spots that you should make time to visit between concerts and watering holes.
Mount Bonnell
Mount Bonnell is the highest place in Austin, however don't be put off – it's a manageable 775 feet and the panoramic views from the top are breathtaking. The main hike is pretty short – only around 0.3 miles – but it includes a bit of a steep incline. It's a good way to get your blood pumping, though, and shake off any foggy heads after sampling the city's notorious music and nightlife. It's probably the most picturesque place in Austin to the catch sunset – this part of the world is blessed with inimitable violet-hued skies at twilight. It can get quite crowded around dusk, so try and arrive early as possible.
Lady Bird Lake
Looking for outdoor fun in the heart of downtown Austin? Lady Bird Lake is a damned off section of the Colorado River that you can paddle board and kayak on, while admiring the view of the Austin skyline. If you're not a water baby, then head to the Ann and Roy Butler Hike-and-Bike Trail, which is over 10 miles long and circuits the entire lake. Between March and November you can bat-watch while floating on the lake in a kayak or canoe – Mexican free-tailed bats gather under the Congress Avenue Bridge at sunset, making for a once-in-a-lifetime sight!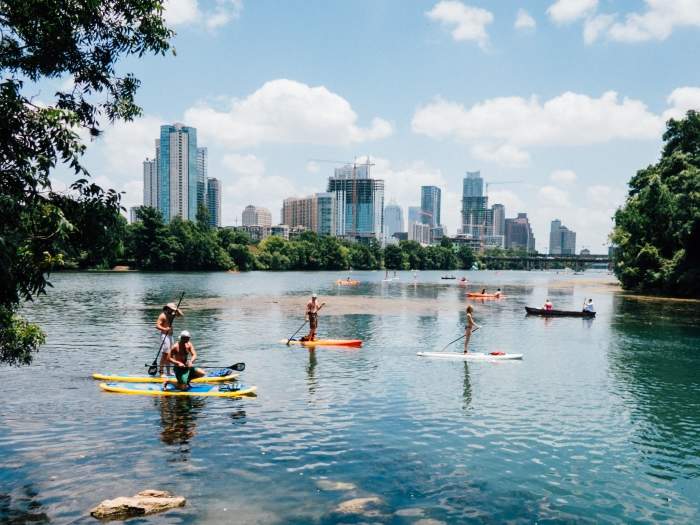 McKinney Falls State Park
Just a short drive south-east of the city centre is a sprawling natural wonderland, where visitors to the state can spend a night or two in the great outdoors, while still being at arm's length from the capital. McKinney Falls State Park spans 726 acres and offers all of the usual outdoor activities, such as hiking, cycling and camping – plus, it boasts impressive falls and a creek where you can swim and fish without needing a license. The park is also full of treasures to discover via Geocaching – for those not in the know, this entails hunting for clues and following trails using GPS devices. You might even spot some deer and armadillos along the way!
Barton Creek Greenbelt
The Barton Creek Greenbelt comprises of over 12 miles of bucolic Texan trails, featuring picturesque waterside spots for picnics and paddling. Sculpture Falls is a popular swimming haunt along the Greenbelt, with gentle rocky waterfalls and plenty of boulders to perch on and sunbathe.One of the main draws to this southern stretch of scenery is its limestone cliffs that are frequented by climbers.