Valentine's Day is going to look a little bit different this year, but a cosy night in with your partner or another Zoom sesh with your pals will suffice. Right? Wrong. There has to be something more exciting to do, we hear you cry. Well, there is. Here, we've compiled the best ways to spice up your lockdown V day.
Valentine's Day Dinner
View this post on Instagram
If you're celebrating Valentine's Day at home with your partner this year, then it's going to take something really very special to make dinner stand out from every other lockdown meal.
Luckily, lots of restaurants are cashing in on the passion by delivering set meals that are either ready to eat or broken down into the raw ingredients, so you can enjoy your favourite dishes — and help support the hospitality industry too.
"Cooking is like love. It should be entered into with abandon or not at all."

– Harriet Van Horne
One of the greatest joys of travel is indulging in the local fare — whether it's a classic Margherita pizza in Naples, jewel-like sushi in Japan or a big shared paella in Spain brimming with freshly-caught seafood. So, why not recreate one of your most memorable holiday meals? You'll find plenty of appropriate restaurant-style playlists on Spotify, and you could even crank up the heating for an hour and dig out your flimsy summer wares.
You might not have been on many holidays together yet, but we imagine you've watched a fair few hours of Netflix… So, how about bringing your partner's favourite foodie film or TV scenes to life? You could lay on some cold cuts and baked ziti like the Soprano family, or get concocting with chocolate like Willy Wonka.
Taste Film can do the hard work for you if your partner in crime happens to love the film True Romance. The all-American menu features a white peach bellini and 'Elvis's favourite' banana, peanut butter and bacon pie. If you're planning on eating along with the film, you can even transform your home into a cinema with a little help from the people at Celestial Cinema. Costumes are optional but, of course, encouraged.
Get Adventurous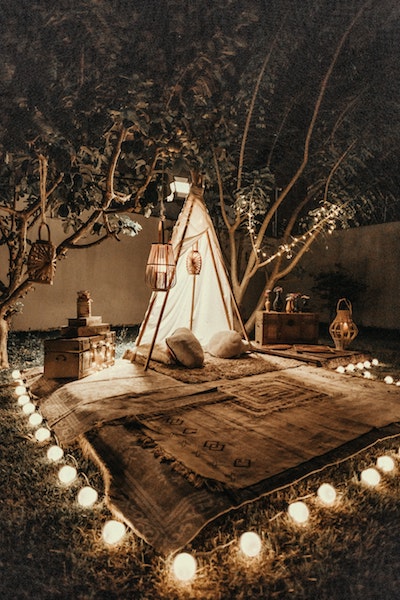 Immersive events were all the rage when we could actually, you know, go places, but there's no reason why you can't transform your own four walls into something much more stimulating yourself — you just need a bit of spare time…
Did you honeymoon in Hawaii? Order this date pack that contains leis and inflatable palm trees and serve fruity cocktails in coconuts. Do you have a spare room? Why not move in there for the evening and pretend that you're in a hotel? Order some room service (Deliveroo), and don't change out of your fluffy dressing gown and slippers until the morning. If you're lovers of the great outdoors and have a garden, you could camp out and spend the evening snuggled under the stars.
"Variety's the very spice of life, That gives it all its flavour." – William Cowper
If you're feeling particularly sensual, then you could sign up for a virtual massage workshop — one event that you'll be glad takes place online. For a slightly more irreverent but no less tantalising activity, you could explore your artistic side with some naked neon life drawing. You can buy additional items when you book the event, including neon face paints, so you could take turns modelling after the class ends. If you don't happen to be living with your partner at the moment, then you could both take part in the same class — and then get creative on Zoom afterwards.
Palentine's Day Happy Hour

Single people, we've got you covered too. Lockdown can be pretty lonely, so in our opinion, this year's Valentine's Day should probably be more about you. Luckily there are loads of virtual events happening that will distract you from any nausea-inducing social media posts — for a little while anyway.
"Wine is constant proof that the Gods love us and want to see us happy."
– Benjamin Franklin
There are so many drinks masterclasses to choose from at the moment, from high-end whisky flights to wine tastings and gin workshops. We reckon that the most crowd-pleasing option involves cocktails though, so you could either nominate the most enthusiastic mixologist in your group to take the reins, or treat yourself to a session hosted by a professional, such as this one organised by one of London's best bars, Callooh Callay.
Weird and Wonderful

The words Zoom and quiz might have already been locked in your 2020 Room 101, but hear us out. There are plenty of free Valentine's quizzes taking place that can be accessed via social media. Many of them are also themed, so you can test your knowledge of your favourite TV shows, such as The Office and Parks and Recreation (from which the term 'Galentine's Day' actually originated). There's even a dedicated Anti-Valentines Quiz, if you're feeling particularly bitter…
"A friend is someone who knows the song in your heart and can sing it back to you when you have forgotten the words." — Shania Twain
Spending a little bit of money on an organised event can also set your gathering apart from all the others you've no doubt had, and there's nothing quite like a violent death to extinguish any romance… Murder mysteries have been catapulted into the 21st century and can now be played online. Strictly Come Murder sees someone literally killing it on the dance floor, while Red Herring Games offers a varied line-up of punny scenarios — our favourite has to be 'The Great British Bump Off'. If you're more of a lively bunch, check out musical bingo or disco yoga.
If you're keen to explore your wilder side (and why the hell not?), then there are lots of online burlesque classes and shows to pique your curiosity. If that's not quite your scene, but you prefer the idea of watching rather than partaking, then there are a number of virtual comedy shows and events happening over the weekend, including the Laugh Train Home Valentine's special, which focuses on the funny side of dating.
If you feel so inclined, there are also some online speed dating events you can sign up to… But we completely understand if you think that this sounds like virtual hell.
Whatever your budget or party size, there are plenty of ways to entertain yourself this Valentine's Day. And the best part? You can do it all in your dressing gown while drinking straight from the bottle…