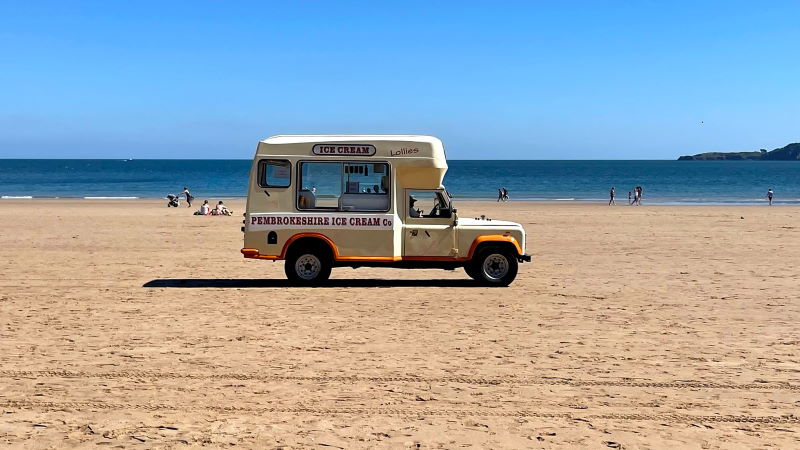 We've all heard talk about the revival of the Great British summer for 2022 and while you may have been dreaming of the Med, we're here to remind you that summer in the UK is pretty darn fantastic. From sunsets to seasides, there really is nowhere quite like our green and pleasant land during the most sunny months of the year.
Fish & Chips
Nothing says summer like digging into a cone of chips, all the while trying to ensure that seagulls the size of horses don't swipe them from your hands. It wouldn't be as fun without the challenge, right? Brighton is synonymous with the Great British summer and cemented its place as THE seaside escape for the rich and famous in the 19th century. Today, you can still enjoy the same summer holiday experience that the Victorians once flocked to this city for. Discover seaside hotels, the joys of strolling the promenade, days on deckchairs and of course fish and chips — that one's non-negotiable.
View this post on Instagram
Royal Gardens
Whenever we think of summer we picture bright flowers, emerald-green grass and birds singing from dusk until dawn. One place where you can certainly enjoy all of this is the Chelsea Flower Show, coming to you in 2021 with a difference. For the first time in history, the Royal Horticultural Society has postponed the flower show until September — usually it's held in May — in the hope that it can go ahead in COVID-safe conditions. Looking to get that spring garden experience a little sooner? Take a look at the National Garden Scheme. People from around the UK open up their gardens to the public and for a small fee you can visit. Some are hoping to hold Covid-compliant garden parties once they are able to — so go ahead and take a look.
View this post on Instagram
The Beach
Anyone else run into the sea expecting to be nicely cooled from the sun only to be plunged into an icy pool of darkness? Us too! But that's what the Great British summer is all about right? Braving a dip in freezing cold waters in an attempt to cool off from the scorching sun. One stunning spot to partake in a sea swim is Knoll Beach in Studland, which is easily accessible from the Sandbanks. You can enjoy rolling sand dunes and a stroll up to Old Harry Rocks, which is voted one of the most beautiful walks in the country. Thankfully in the UK you are never too far from the cold sea, so take that chilly dip wherever you fancy!
View this post on Instagram
Sunset Watching
Wherever you are in the UK, we bet you have a favourite sunset spot, be it on the coast, in the city, or watching the golden beams drop behind rolling hills. Here at dealchecker, we love where we live, and London offers plenty of spots from which to enjoy that fabulous summer golden hour. A favourite spot among us dealcheckers is Greenwich Park — an incredible vantage point that overlooks the whole city. Combine this location with a few drinks, good friends and a takeaway bite from any manner of cuisine that you can find in the big smoke, and you've got yourself a winning combination.
View this post on Instagram
Ice Cream
No British summer would be complete without plenty of ice cream. Popularised by the Victorians in the mid-19th century, ice cream became inexpensive in the UK when a Swiss man set up shop with a stand outside Charing Cross, selling the delicious creamy goodness for just 1p. You'll now have to fork out 99p or more for a taste of cooling ice cream, but it's certainly worth it on a hot summer's day. We are big fans of Cornish ice cream, made using local milk and clotted cream for extra creaminess. You can get all manner of flavours from cherry pie and custard to cookies and cream. Just picture this: seagulls crying in St Ives Harbour with a couple of scoops of ice cream and the sun beating down on your face. Now if that's not a taste of Great British summer, we don't know what is.
View this post on Instagram
Boats
This one might be a little more niche, but there's no better way to enjoy the temperate British sunshine than from the water. If you don't have access to your own vessel, there are plenty of places where you can hop on board for a bargain price! First of all let's head to Buckler's Hard, an 18th-century ship building village located in the New Forest which has been preserved in time. Here, you can hop onto a leisure boat for a little wildlife cruise down the Beaulieu River, which is rich in both history and wildlife, and enjoy a little sunshine and calming river sounds from just £5.50pp. Or if you're after a fancier affair, you can head to Cambridge, where you can get a taste of Venice with a punt around the university. Shared tours start from £12pp or if you fancy pushing the boat out (if you'll pardon the pun) you can take a private tour from around £79.
View this post on Instagram
BBQs
Finally, BBQs. They don't need an explanation, we're just longing for those sizzling sausages, beautiful burgers and sumptuous salads. Hold tight people, summer is on the horizon.
View this post on Instagram