Top 10 Scenic USA Road Trips!
There's something incredibly exciting about taking to the road and exploring areas that just can't be explored any other way! The USA is notably iconic when it comes to amazing road trips, and you don't have to travel far to find a scenic road. From breathtaking sea views, to snow-capped mountains lining the edge of the road and dusty orange desertscapes – it offers a multitude of options, with both long and short journeys that are equally impressive. To narrow it down a little, we've picked 10 of our favourite road trips that encompass a variety of experiences – but all of which guarantee beautiful scenery. Buckle up!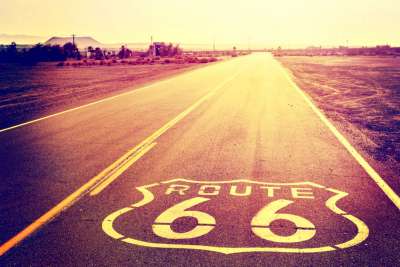 1

Route 66 (Chicago to LA)

Nicknamed 'Main Street USA', and spanning a whopping 3,945 kilometres, Route 66 is probably the most iconic of the American road trips. Almost in a bid for freedom, the road boldly cuts diagonally through eight states and three time zones, and has long inspired artists - past and present. A drive here cannot fail to ignite the imagination, and is best done with at least a month to spare. Expect sun-scorched cornfields, vintage gas stations, steak houses, homely motels, spectacular sunsets and a priceless feeling like the whole world is laid out before you.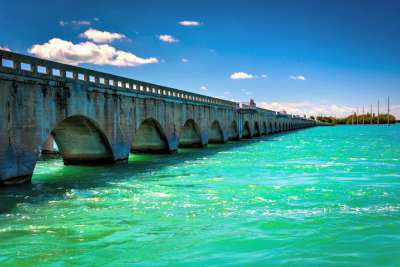 2

Overseas Highway (Miami to Key West)

Large sections of this dreamy island-hopping highway were built on bridges left over from the hurricane-destroyed Overseas Railroad, and the road crosses 42 bridges directly above the Atlantic Ocean on its journey from Miami to Key West. With stunning sea views on both sides of the road during the 257-kilometre drive, this road journey is quite unlike any other. Wind the windows down, put on your shades and soak up the laid-back vibes as you pass through incredible islands with equally incredible names - including Fat Deer Key and Tea Table Key! Toast to the end of your drive with a Long Island iced tea in eccentric Key West.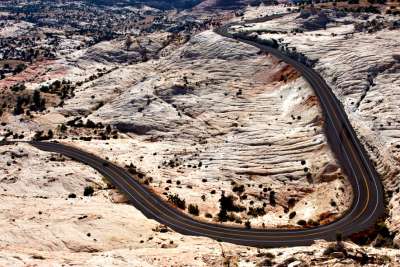 3

Highway 12 (Utah)

Providing access to some of Utah's most stunning scenery, Highway 12 is a 200-kilometre road through stark canyon land and was proudly dubbed the 'All American Road' in 2002. The section between Escalante and Torrey is particularly beautiful, climbing over an 11,000ft tall mountain and offering up dramatic views. The journey is jam-packed with incredible sights as you pass through Red Canyon, Bryce Canyon National Park, Grand Staircase-Escalante National Monument, over Boulder Mountain and through the Dixie National Forest. Expect breathtaking canyons, waterfalls, forests and more!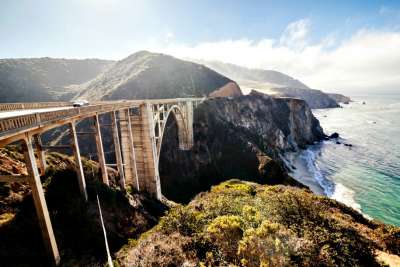 4

Pacific Coastline / Highway 1 (California)

This road trip makes for an exhilarating journey, stretching 198 kilometres along the central California coast and is easily achieved in a day. It's a twisting, cliff-hugging road that begins in Monterey and weaves through Big Sur, where forest-covered mountains plunge into the Pacific. You'll want to drive slowly to take it all in - granite mountains, green waters, hidden beaches and fresh sea air all add to the occasion. It's not for the faint-hearted, the road has sharp drop offs and dramatic drops, but for the brave - it offers an experience that's nothing short of stunning.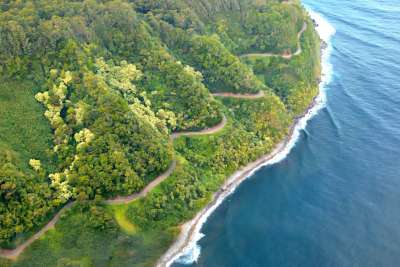 5

Hana Highway (Maui, Hawaii)

The Hana Highway is a 104-kilometre stretch of road that connects Kahului with the town of Hana in east Maui. Surrounded by greenery, the dreamy road provides drivers with spectacular views of black-sand beaches, plunging waterfalls and lush rainforests. The journey can take up to four hours, as there are plenty of sharp turns - but you'll want to take a leisurely pace anyway, with so much to look at. If you're looking for further road trips, Maui offers up more driving treats such as Kahekili Highway or Haleakala and the Upcountry Loop.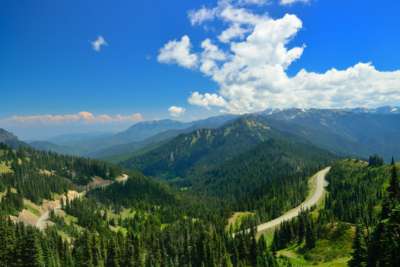 6

The Olympic Peninsula (Washington)

This stunning 3,734-kilometre national park in Western Washington makes for an album-worthy road trip, and can be easily reached via car ferry from Seattle. The film-like scenery includes snow-topped peaks, misty forests and views across Dungeness Spit, one of the world's longest landform beaches that projects into the water. You'll then travel through the mountain-rimmed seafront city of Port Angeles, the romantically wild Neah Bay and onto Lake Crescent - dubbed 'the most beautiful lake in the United States'. If that wasn't enough, further along you'll experience hot springs, rainforests and idyllic harbour towns!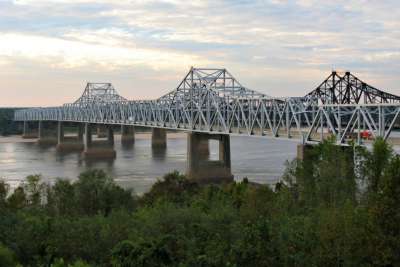 7

U.S. Route 61 (New Orleans to Minnesota)

Nicknamed the 'Blues Highway', Route 61 makes a great road trip for music fans, with melodic culture bursting at its seams. Spanning 2,300-kilometre and following the course of the Mississippi River, the road runs from New Orleans in Louisiana, to Wyoming, Minnesota. Highlights include the vibrant live-music scene and colourful cuisine in the 'Big Easy' (New Orleans), the Stax Museum of American Soul Music in Memphis, and the Vegas-style vibe in Tunica - which proudly owns the title 'The Gateway to the Blues.'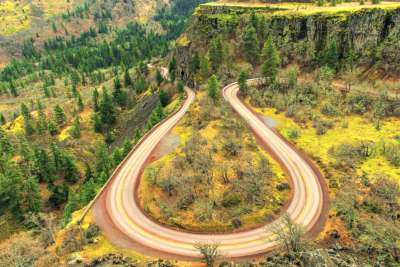 8

Historic Columbia River Highway

Known as the 'King of the Roads', the Historic Columbia River Highway stretches 113 kilometres and offers a day of incredible scenery. En route there are plunging waterfalls, architectural gems, historic monuments and dramatic views over the Columbia River Gorge. Just outside of Portland, your winding journey will take you to the spectacular Crown Point, where a photo of the gorge is a must, before guiding you through five miles of waterfall upon waterfall. At the end of the highway, you'll find yourself in Dallas, which boasts a world-class dining scene, excellent museums and a 68-acre arts district!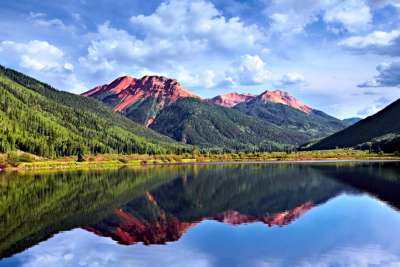 9

San Juan Skyway (Colorado)

As the TripAdvisor reviews suggest, this road trip is nothing short of incredible when it comes to movie-like vistas. The 375-kilometre loop lies in southwest Colorado and forges its way through the heart of the San Juan Mountains. One of the skyway's biggest thrills is between the Victorian towns of Ouray and Silverton, where the stretch of road is known as the 'Million Dollar Highway', in reference to the large quantity of gold and silver that once was transported through these parts. The views themselves are worth a million dollars, with winding dramatic mountain landscapes. Also, be sure to stop off at the strikingly beautiful Mesa Verde National Park.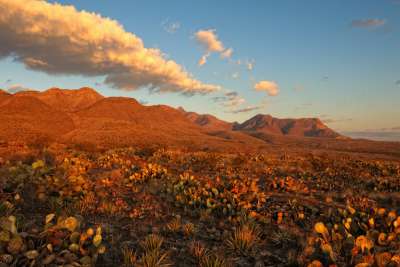 10

US Route 62 (Texas to New York)

U.S. Route 62 runs all the way from the US-Mexico border at El Paso, Texas, to Niagara Falls in New York, close to the United States-Canada border. Stretching a whopping 3,618 kilometres, the road passes through stark desert landscapes in Texas and the Carlsbad Caverns National Park in New Mexico, before spanning though Arkansas, Missouri, Illinois, Kentucky, Ohio, Pennsylvania and ending in the at the awe-inspiring Niagara Falls. Covering so many states it's a great way to see a large chunk of America and three weeks or more is highly recommended.
Most Popular Top 10s