Slovakia's picturesque alpine scenery looks like it's been lifted straight from a Brothers Grimm story, and its lakes and palaces are a photographer's dream. But luckily for us, Slovakia is not a land far, far away, it's a two-hour flight from London. And there are no witches, elves or imps intent on teaching us lessons in morality.
High Tatras national park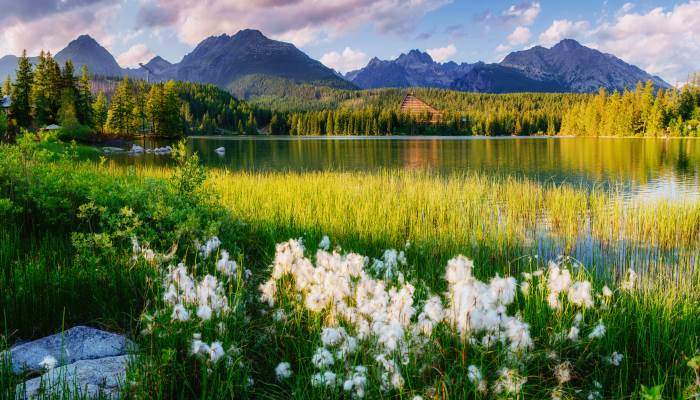 The beautifully serene Štrbské Pleso looks like the kind of place you'd visit if you want to cut yourself off from civilisation completely. In reality, though, the area surrounding it is a very popular skiing and hiking destination. So if your carefully laid breadcrumb trail gets gobbled up by a family of ducks, there are cosy hotels dotted around where you can seek directions.
Bratislava Castle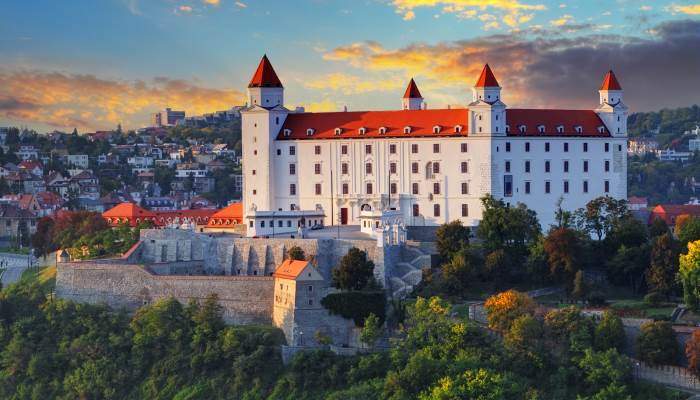 The eye-catching terracotta roofed Bratislava Castle sits smugly on a rocky hill, its whitewashed facade dominating the city's landscape. In its heyday, it would see knights and royalty passing through the grounds on a daily basis. Now just about anyone can visit its grounds and chambers, many of which have been converted to exhibition rooms, so you can learn about the building's history while you're wandering around.
Ochtinská Aragonite Cave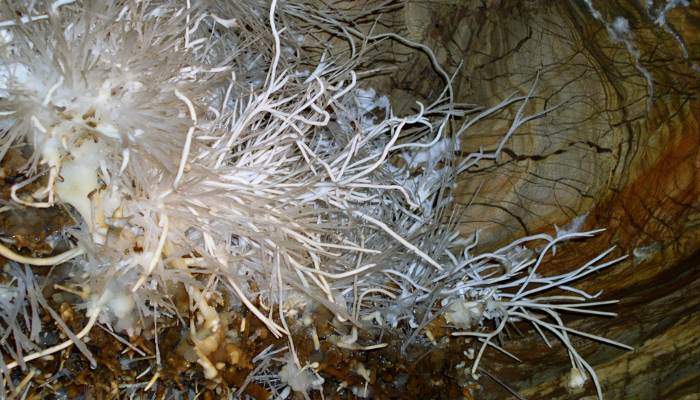 Image copyright of Peter Fenda
Sure, stalagmites and stalactites in caves are cool, but crystals, well they're in a whole other league. The Ochtinská Aragonite Cave is breathtaking, especially the Milky Way Hall section. It is so named because of its similarity appearance-wise to our solar system. Stretching across the ceiling like an intricate web, the creepy looking crystals you'll see make the awe-inspiring cave one of only a few of its kind.
Bystre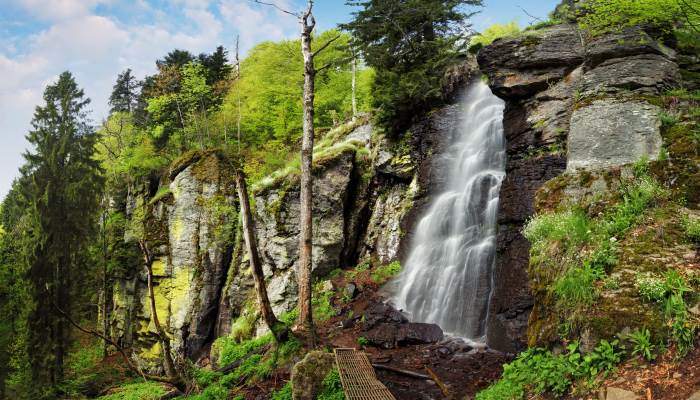 No woodland fairy tale setting would be complete without an enchanting waterfall, and with about 200 of them, Slovakia has plenty to choose from! Bystre is 23 metres and found in the Poľana mountain range, also home to the largest volcano in the country.
Bojnice castle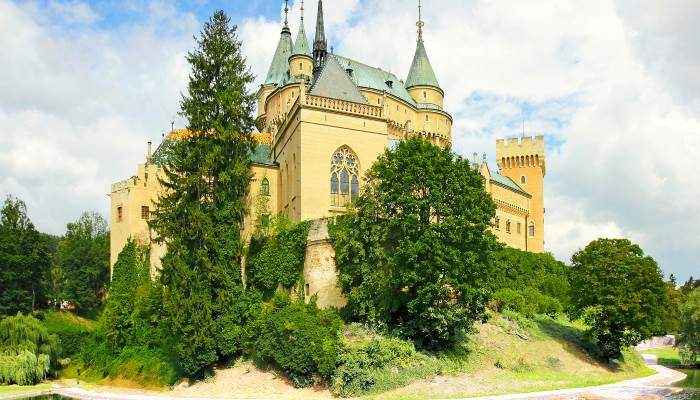 One of the most visited in the country, Bojnice is a beautiful medieval castle with a lime tree outside it almost as old as the building itself. Plan a visit and you'll also get to explore the cave which lies beneath, as well as some of the extravagantly furnished rooms. The International Festival of Ghosts and Monsters takes place here at the end of April. That's when more than 50,000 tourists gather for a kind of extended Halloween-type celebration with fancy dress, food stalls and fun activities.
Vlkolinec village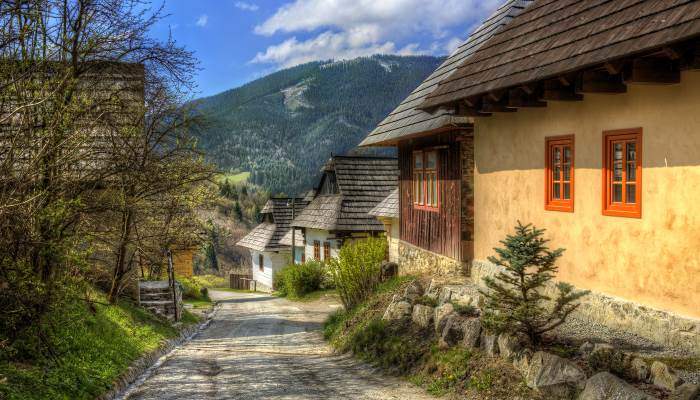 Imagine you're trawling around the Slovakian countryside, a bindle slung over your shoulder, and you happen upon Vlkolinec. The picturesque village looks like a place of refuge for any weary traveller with its rustic, folk architecture. Setting foot here may make you feel as though you've stepped back in time. Which it should. Because Vlkolinec remains largely untouched since about the 14th century, which is one of the reasons it's on the UNESCO World Heritage site list.
Orava Castle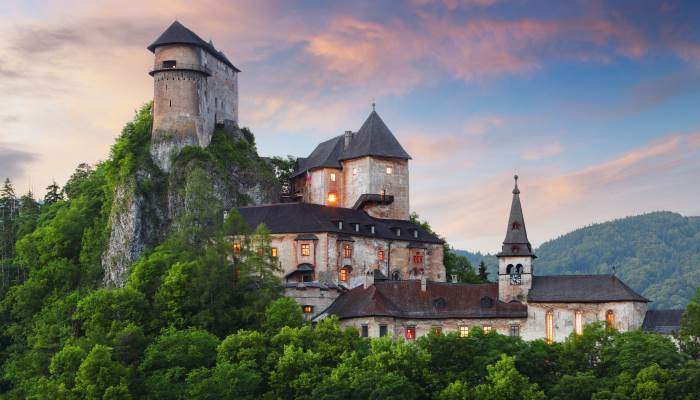 Blending in with the jagged cliffs it stands on, Ovra Castle towers over bucolic surroundings and contains Renaissance and Neo-Gothic architectural styles with a dungeon underneath. Now a museum, the castle hosts day and night visits.
Lúčky Waterfall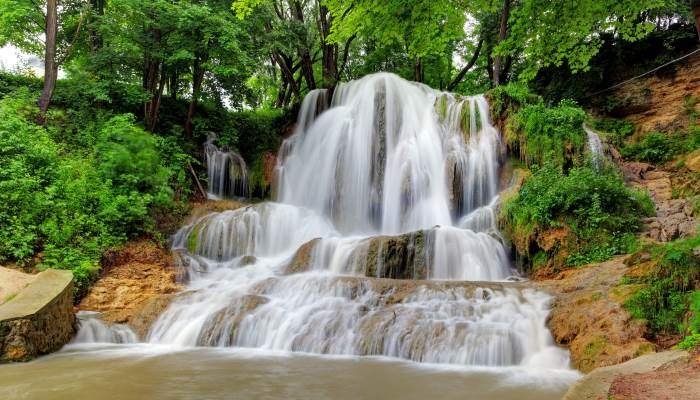 Arguably the most photogenic of the hundreds of waterfalls shaping the Slovakian countryside, 12-metre-high Lucky Waterfall looks like a bathing spot for nymphs and fairies. Multiple streams of mountain water cascade into a deep, warm pool below, meaning that even in winter, it doesn't freeze over.
Find a fairytale holiday deal using our price comparison tools: Flights to Bratislava | Holidays in Slovakia | Hotels across Slovakia | Car hire