Budget airlines' luggage policies can feel like one of the world's last frontiers. They are convoluted, and frankly, darn right confusing. When looking for the best value deal, they play an essential role – that £10 flight becomes all the more expensive when you have to add an additional £30 to bring your belongings on board. To save you a world of confusion, we've rounded up the policies of some of the biggest budget carriers.
Ryanair
Ryanair's unveiling of their latest luggage policy drew in an array of criticism in early 2019 with all but the smallest of bags being shunted onto their priority plan.
What's included now?
One single bag, measuring in at no more than 40cm x 20cm x 25cm.
What if I need more?
Flyers can pay for priority which allows early boarding and the chance to bring two bags along with you. One must fit under the seat in front while the other can go overhead (and needs to weigh no more than 10kg). Prices for priority boarding start at £6 one way.
Verdict: While Ryanair's included hand luggage allowance is a little on the measly side, their prices are low allowing you to travel at bargain, bargain prices.
Wizzair
Wizzair's policy is remarkably similar to Ryanair's, with both using a priority system to encourage users to opt for a combined priority check in and extra hand luggage package.
What's included?
A carry-on bag no larger than 40cm x 30cm x 20cm.
What if I need more?
You'll need to purchase WIZZ priority to bring more baggage on board. This package includes priority check-in, priority boarding, and an additional bag. Here, the additional bag can be a trolley bag, and needs to be no larger than 55cm x 40cm x 23cm. Prices start at £5 one way.
Verdict: Not too shabby. It's worth noting that priority boarding is becoming less and less speedy as more passengers opt for this package.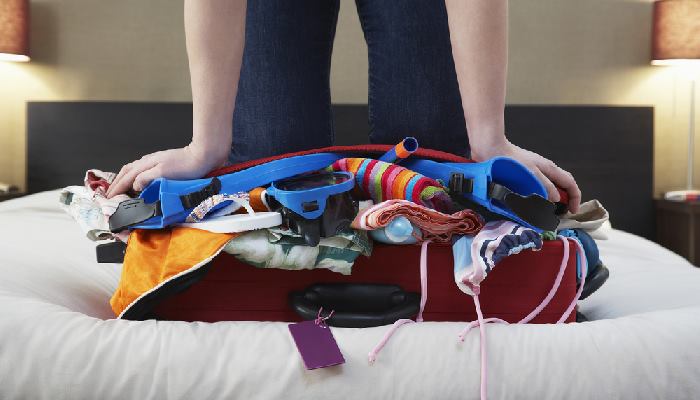 Jet2
Jet2 are one of the more generous airlines when it comes to hand luggage, allowing travellers to bring a little case on board within the price of the ticket.
What's included?
One piece of carry-on luggage. However, this carry-on luggage can be a small suitcase so long as it measures in at no more than 56cm x 45cm x 25cm.
What if I need more?
You can book a suitcase into the hold from £8 one way, but prices vary based on route and booking.
Verdict: Jet2's prices are slightly higher than the previous two airlines but they offer a very generous luggage package, without hidden costs.
easyJet
easyJet are one of the the UK's most famed bargain airlines, and yet, their hand luggage allowance is currently really rather generous.
What's included?
One piece of hand luggage, measuring in at no more than 56cm x 45cm x 25cm.
What if I need more?
You can buy hold luggage from £12 (but this does vary based on route). This increases to a £40 minimum at the airport.
Verdict: Low prices and a mini case on board – what more could you ask for?
Norwegian Airlines
Norwegian Airlines run a three-tier booking system. Which tier you go for determines how much you're allowed to take on board.
What's included?
Tier 1, otherwise known as LowFare comes inclusive of one 10kg carry-on. This must measure in at no more than 55cm x 40cm x 23cm.
What if I need more?
LowFare+ comes inclusive of a carry-on bag (10kg), a hold bag weighing in under 20kg and a seat reservation. Those feeling especially flush can opt for the Flex package which allows 5kg more hand luggage, two checked bags (20kg each), seats, Wi-Fi, fast track and priority boarding.
Verdict: A comprehensive tiered booking system, with generous initial hand luggage.