It's probably fair to say that we could all do with a bit of cheering up. While some of the things that make us happy might be out of reach at the moment, we're focusing on those simple things that can put a smile on your face instead… And what could be more delightful than taking in the spring air while wandering amongst swathes of glorious bluebells?
Now, bluebells traditionally bloom in the latter weeks of April, which is just beyond the current three-week lockdown the UK is now experiencing. Of course, we're not saying that you should abandon the guidelines set by the government at this time, as travel rules and social distancing will probably still be in effect when these joyous fronds set forth their scent, but, with 'one walk a day' hopefully still being viable, why not take in this delightful event as part of your daily exercise in a spot local to you?*
A Brief History of Bluebells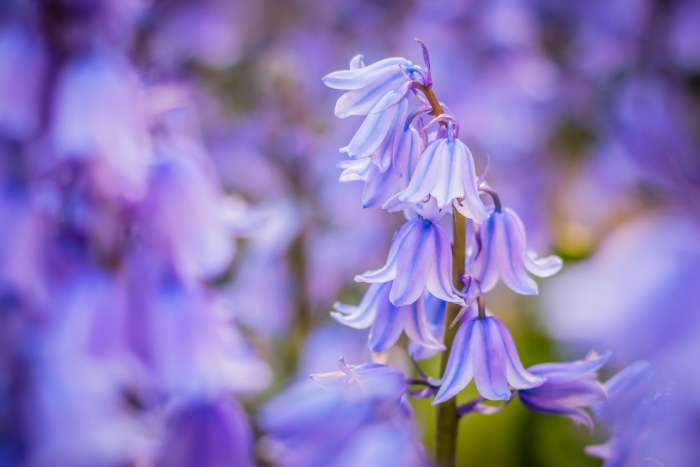 Did you know that almost half the world's bluebells can be found in the United Kingdom? They're incredibly rare and aren't usually seen in such abundance anywhere else. Why? It's partially down to how long bluebell colonies take to establish themselves – around seven years from seed to flower. If you come across a large swathe of bluebells, it's likely that you're surrounded by ancient woodland where the flowers have grown undisturbed for many years. It may be tempting to pluck a selection of these dainty blooms, but be warned – it's illegal to pick, uproot or destroy bluebells, so please enjoy them in their natural habitat only. 
Bluebells in the East of England
Top pick: Blickling Estate, Norfolk
View this post on Instagram

We're a big fan of Blickling Estate. The vast red-brick house was the birthplace of future Queen of England, Anne Boleyn, and the National Trust owns and maintains many acres of farmland, forest and garden around this impressive centrepiece. Springtime, however, is a very special time to visit, as the bluebells shade the ancient Great Wood in tones of dusty violet and vivid blue. You can also enjoy these delicate beauties on the popular Temple Walk route – the perfect set-up for a pot of tea and a scone in the cafe.
Honourable mentions: Ashridge Estate – Hertfordshire, Sutton Hoo – Suffolk, Sheringham Park – Norfolk
Bluebells in the South West
Top pick: Poldhu Cove, Cornwall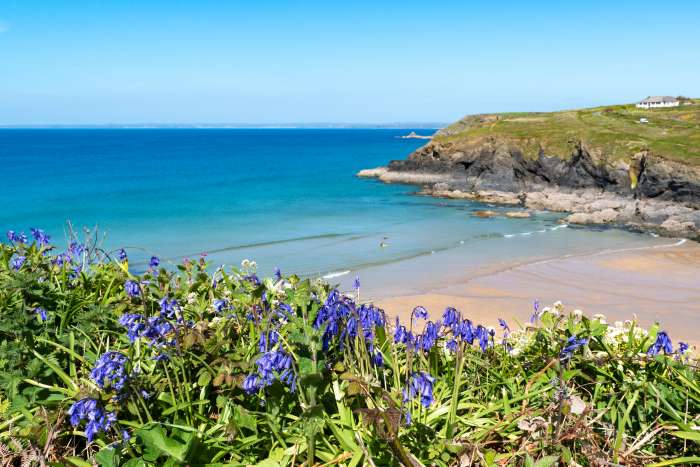 If you enjoy your bluebells with a spot of ice cream and sandy beach panoramas, Poldhu Cove in Cornwall is just the place for you. One of the most popular beaches on the famous Lizard Peninsula, this coastal treat marries gentle seaside trails with cobweb-banishing breezes and, of course, our favourite blue blooms come late April and early May. The National Trust runs a small museum close-by, and there's also a cafe for a spot of light refreshment after taking in all that natural beauty. 
Honourable mentions: Brean Down – Somerset, Cotehele – Cornwall, Heddon Valley – Devon, Fyne Court – Somerset, Godolphin – Cornwall
Bluebells in the South East
Top pick: Hampstead Heath, London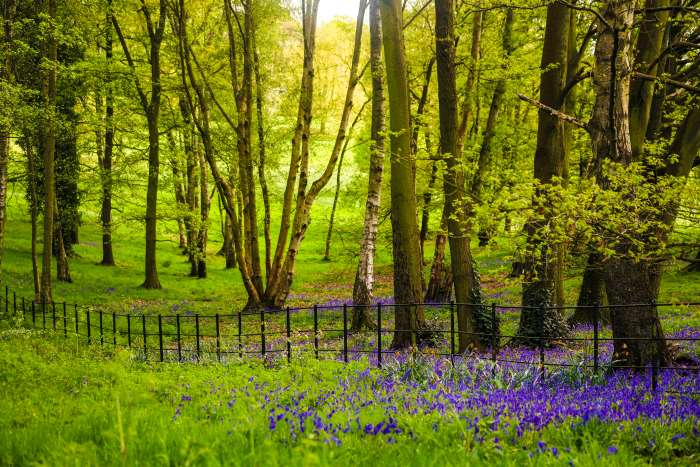 We know what you're thinking – how can parkland in London possibly put on one of the finest bluebell displays in the country? Well, Hampstead Heath is actually a great example of how the natural world can thrive within the city. Having sprouted between the trees for many hundreds of years, the bluebells arrive in late spring and colour this rural-esque part of the capital in shades of azure and violet – an excellent antidote to the stuffy tubes and concrete streets of the centre. After taking your time wandering along the wooden paths and enjoying the views of London's skyline, make for one of the celebrated pubs in the area for a hearty meal in historic surrounds. 
Honourable mentions: Sheffield Park and Garden – East Sussex, Winkworth Arboretum – Surrey, Sissinghurst Castle Garden – Kent, Kings Wood – Kent, Nymans – West Sussex
Bluebells in the Midlands
Top pick: Clent Hills, Worcestershire
View this post on Instagram

It doesn't get more 'quaint English countryside' than Clent Hills: an undulating collection of rises and falls amidst the verdant landscape, with copses of trees and even the petite Four Stones circle acting as a waymarker. In the latter days of spring, an abundance of brilliant blue flowers leap forth and swathe the area in sweet-smelling blooms – with one section of trail dubbed Bluebell Valley, you know you won't be disappointed with the display! Guided tours are also offered here, varying in length and difficulty to suit the group's needs – you can find out more here. Please be aware that this year's volunteer-led walks may not go ahead due to the current pandemic. 
Honourable mentions: Bunny Old Wood – Nottinghamshire, Clumber Park – Nottinghamshire, Calke Abbey – Derbyshire, Belton – Lincolnshire
Bluebells in the North
Top pick: Newton Wood, North Yorkshire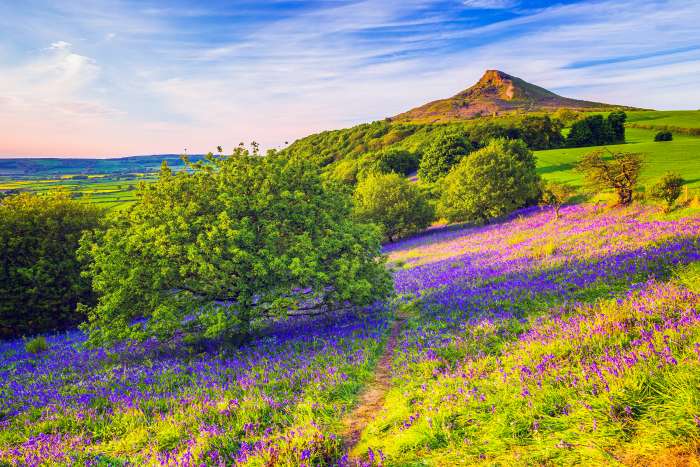 Proof that it's not all grim up North, the annual blue carpet transforms the undulating hills and rocky crags of Newton Wood every spring. In the dappled shade of the ancient oak trees, immerse yourself in the sweet scene of these beautiful blooms and the gentle buzz of the bumble bees, that are rather partial to the flower's nectar. A short yet challenging walk will see you summit the imposing (yet delightfully-named!) Roseberry Topping for excellent panoramas of the North Yorkshire countryside and the charming town of Harrogate just beyond, where a cup of tea and something sweet in Bettys awaits.
Honourable mentions: Kinclaven Bluebell Wood – Perth, Speke Hall – Merseyside, Waterhead – Ambleside, Nostell Priory – Yorkshire, Glen Finglas – Trossachs
Bluebells in Wales
Top pick: Coed Cefn, Crickhowell
View this post on Instagram

The ancient woodland of Coed Cefn is something of a historical treasure trove: not only will you find a handful of non-native conifers on the site, but an Iron Age hillfort as well! Positioned at the top of a gentle rise, visitors can enjoy a scenic wander through the trees, with views across the surrounding countryside providing that all-important finishing touch. During April and May, expect to find a blanket of blue blooms gently resting upon the earth as the bluebells put on their finest show. 
Honourable mentions: Talbenny Woods – Pembrokeshire, Tintern Abbey – Monmouthshire, Chirk Castle – Wrexham, Penrhyn Castle – Gwynedd
Bluebells in Northern Ireland
Top pick: Downhill Demesne and Hezlett House, County Londonderry
View this post on Instagram

Double up on your dose of blue with a wander around these sea-facing grounds of Downhill Demesne in Northern Ireland. Boasting breezy coastal walks, outstanding ocean views (on a clear day, it's possible you might even spot signs of whales!) and even the ruins of a once-grand mansion, this sprawling estate is also the site of vibrant bluebell displays. A chance to blow away the cobwebs while taking in nature's floral sapphires? You can count us in!
Honorable mentions: Castle Ward – County Down, Minnowburn – County Down, Strangford Lough – County Down, Castle Coole – County Fermanagh 
Did we miss any bluebell spots off our list? Where's your favourite place to catch these blue blooms? Why not tweet us @dealchecker! 
*If you do choose to visit the bluebells during this time, please follow government advice – we want everyone to stay safe and healthy while seeing these natural treasures. You can read more about the latest advice on the GOV.UK website.