Now, we know that the thought of staying in the UK for a holiday probably doesn't stir much excitement. In comparison to other destinations, it can seem as though this fair isle doesn't really have a lot on offer, aside from rain in the height of summer and hours of tailbacks on the motorways… Anyway, I digress.
However, with at-home travel likely to be our main source of getaways in the coming months, we're keen to explore some of the British Isles' lesser-known offerings – and where better to start than those rocky outcrops out at sea? Afterall, an island paradise is what we all long for from time to time.
'But there are no beaches,' we hear you cry, 'no sunshine, no sealife, no watersports!' Well, you might just be surprised…
Guernsey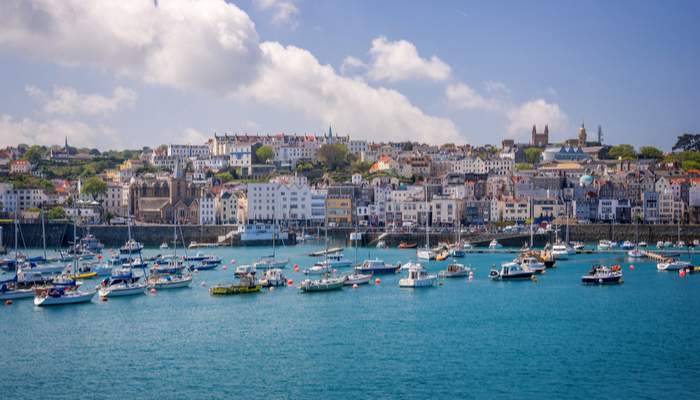 Closer to Normandy than our own shores, Guernsey is a melting pot of both British and French characteristics. The first tourist guide to Guernsey was published in 1834, which led to an influx of visitors from the mainland during the Victorian era. Today, Guernsey still offers tourists a welcome respite from the pace of life on the mainland, with the coastline, unique traditional cuisine and quaint festivals such as the annual Viaer Marchi drawing numerous visitors. Across the island, you'll find reminders of the German occupation, with many museums, bunkers and even an underground hospital on display. Alternatively, Victor Hugo House and the vibrant hues of Little Chapel illustrate the island's rich and varied culture. If you're looking for a long weekend getaway, search no more.
Best beaches: Cobo Bay, Vazon Beach, Petit Pot Bay, Port Soif Bay, Pembroke Bay, Havelet Bay
Hours of sunshine in July: 250 hours
Average July temperature: 19.8℃
Jersey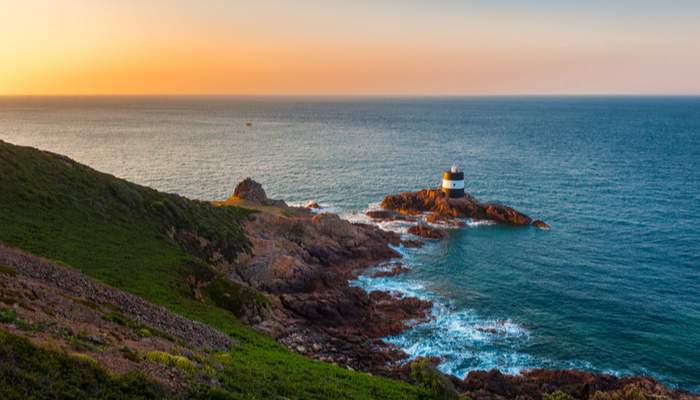 The largest of the Channel Islands, Jersey is dotted with everything from Neolithic tombs to the remnants of World War Two sites and medieval fortresses – not bad for an island that's only five miles long and nine miles wide! Thanks to its unique position in the bay of St Malo, Jersey experiences more hours of sunshine than the rest of the British Isles, making it an excellent getaway option. In between dining in the excellent restaurants found around Rozel Beach, head for La Mare Wine Estate by way of Elizabeth or Mont Orgueil Castle, taking in the spectacular ocean panoramas as you go. We hope you packed your walking boots, because there's really no excuse when it comes to traversing the many scenic nature trails that punctuate the island – they'll blow the cobwebs away!
Best beaches: Beauport Beach, Rozel Beach, Bonne Nuit Beach, St Brelade's Bay, St Ouen's Bay
Hours of sunshine in July: 252 hours
Average July temperature: 21.4℃
Isle of Wight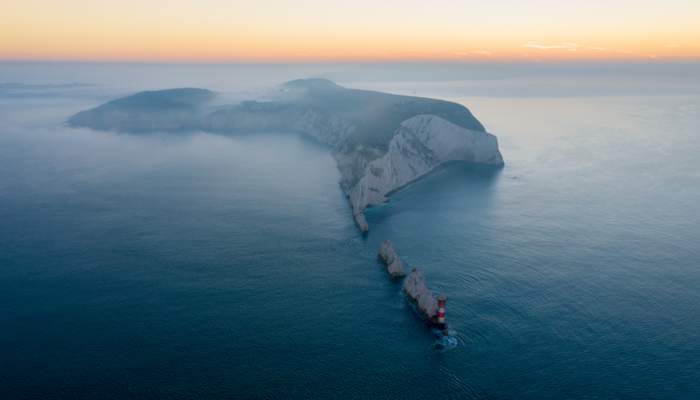 We're big fans of the Isle of Wight and have even recommended that you visit before. If you didn't heed our advice then (boo!), we hope this second attempt will do the trick! Tucked away on the south coast of England, the Isle of Wight is easily accessible via ferry departing from either Southampton or Portsmouth. Gifted with a unique microclimate, the isle slowly reveals its many delights: historical buildings rub shoulders with gently undulating hills; verdant forests give way to The Needles and their stark white hue; and pretty villages can be spied from the walking trails that criss-cross the island. Seek out a base on the southern coast for unparalleled sea views, access to the sweeping Military Road and sailing opportunities aplenty.
Best beaches: Welcome Beach, Steephill Cove, St Helens Beach, Whitecliff Bay, Colwell Bay
Hours of sunshine in July: 262 hours
Average July temperature: 20.4℃
Isles of Scilly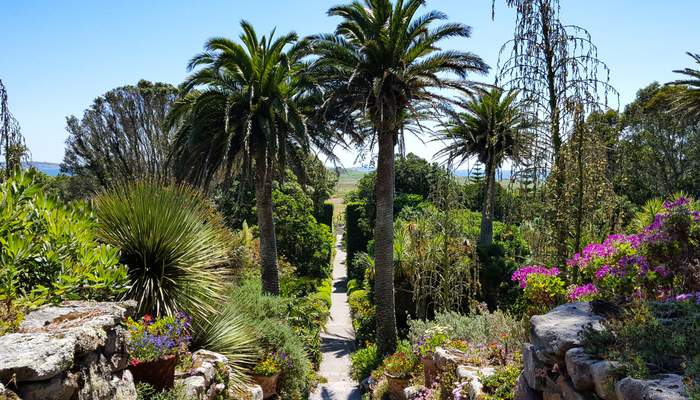 Not to be confused with the Scilly Isles roundabout in Surrey, the Isles of Scilly is an archipelago that lies off the coast of Cornwall. Thanks to their latitude, the isles experience a very rare subtropical climate, making it one of the warmest, sunniest spots in the UK. Only five of the islands are inhabited, but the others are open for visitors. Being such a petite collection of rocky outcrops, walking and boating are an essential part of any trip here, so be prepared to don your sea legs and hiking boots, travellers! With so much to see, from the popular Tresco Abbey Gardens, to the wild ponies of Bryher and the ancient stoney edifices that punctuate the horizon, could this sunny spot become your new island paradise? Once you've taken a dip with the local seals, the answer will be as clear as the blue ocean…
Best beaches: Great Bay, The Bar, Bar Point, Samson Flats, Pentle Bay, Appletree Bay
Hours of sunshine in July: 204 hours
Average July temperature: 19.2℃
Anglesey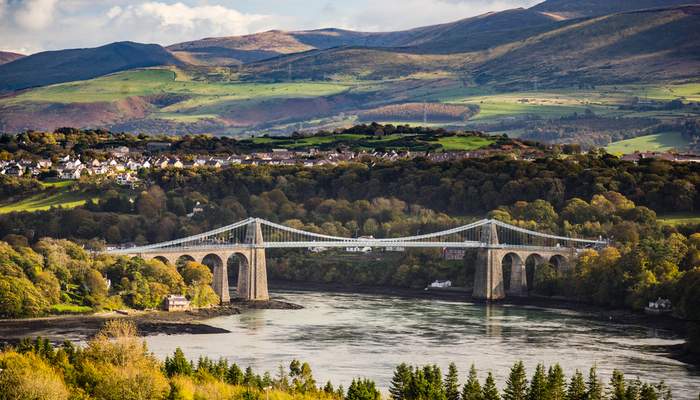 Have you ever wanted to visit the village with the longest place name in Europe? It's OK – we know you do! Luckily, Llanfair­pwllgwyngyll­gogery­chwyrn­drobwll­llan­tysilio­gogo­goch (no, we're not joking!) can be found in Anglesey and is immensely popular with tourists. Not only can you get your photo taken with the village's name here, but the famous Menai Suspension Bridge is close by. Elsewhere on this multifaceted island, you can seek out a range of pastimes: take to the coastal path for stunning views of the rugged (sometimes sandy) coastline, or venture inland to the medieval Beaumaris Castle and the Parys Mountain. Whatever you choose to do, it may be worth packing a raincoat as well – it is Wales, after all.
Best beaches: Porth Tywyn Mawr Beach, Traeth Cymyran Beach, Lligwy Beach, Porth Swtan, Porth Dafarch Beach
Hours of sunshine in July: 248 hours
Average July temperature: 16℃
Isle of Man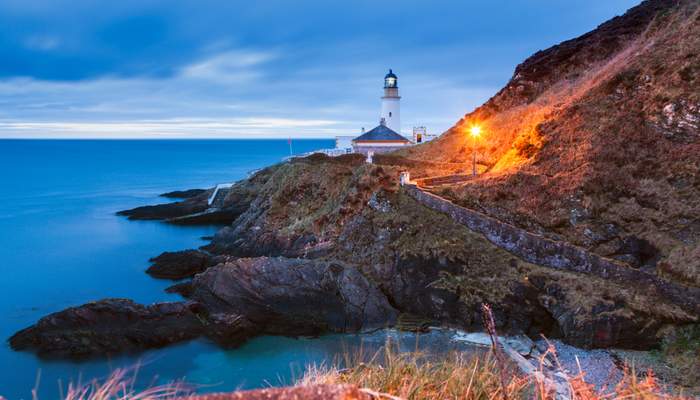 Tucked neatly into the Irish Sea between Ireland and England, the Isle of Man is something of a curiosity. An isle proud of its Celtic and Norse past, you'll find plenty of Neolithic sites scattered across the landscape, and even a few snippets of the traditional local dialect, Manx, spoken in some towns. The Isle of Man is also shrouded in folklore and legend, with stories of witches, spirits and fairies still being recounted today. During your stay on the island, make for the imposing medieval castles of Peel and Rushen by way of the Great Laxey Wheel, a museum with a rather large addition attached! The snow-capped peak of Snaefell and the many ancient glens that dot the island will certainly satisfy any natural world cravings, while the beautiful bays of Douglas and Peel make for a great fish 'n chip stop.
Best beaches: Fenella Beach, Kirk Michael Beach, Niarbyl Bay, Gansey Bay, Port Erin Beach
Hours of sunshine in July: 197 hours
Average July temperature: 18℃
Orkney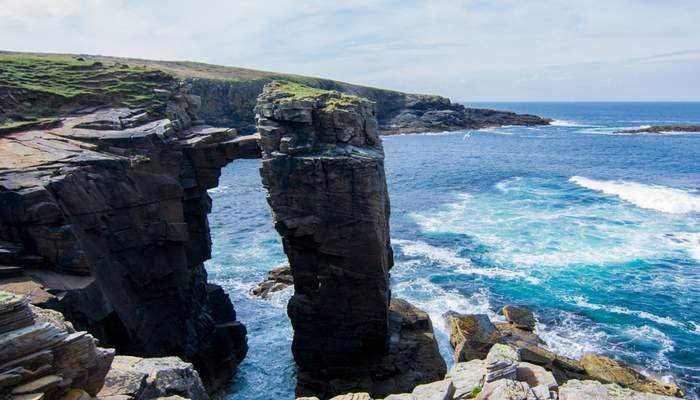 The most accessible of Scotland's archipelago regions, Orkney has been inhabited since the Mesolithic period, with evidence of these early island dwellers still visible on the terrain – from the Ring of Brodgar to the Knap of Howar, there's no shortage of ancient architecture. As well as these archeological sites, there's an abundance of wildlife scattered throughout Orkney, including seals, puffins and even occasionally dolphin and whale sightings – you may even come across the seaweed-eating sheep that traverse the landscape! We hope you packed your walking boots, because there's plenty of coastline to explore on these isles, with rocky headlands giving way to sandy beaches, often overlooked by lonely lighthouses.
Best beaches: Scapa, Mussetter, Aikerness, Rackwick Bay, Glimps Holm, Tresness
Hours of sunshine in July: 132 hours
Average July temperature: 16℃
Shetland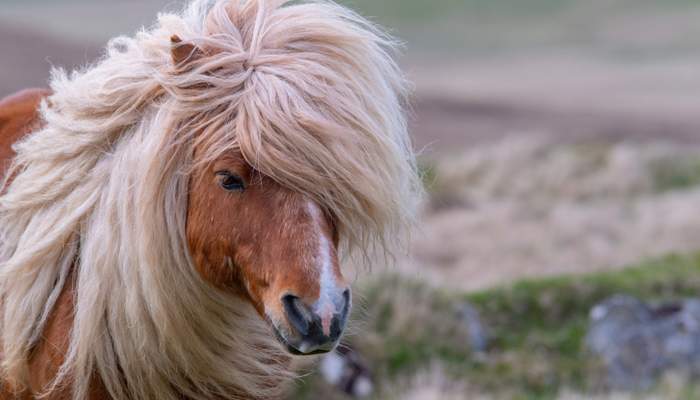 Teetering off the north coast of Scotland and reaching towards Norway, the Shetland Isles archipelago instantly evokes images of a wild, rugged landscape and sturdy ponies (just us?). Only 16 of the hundreds of tiny islands that make up Shetland are inhabited, with the capital, Lerwick, being the centre of proceedings. Visiting Shetland is all about breathing in that fresh sea air and enjoying the unspoilt beauty of the place, so don't expect to find many modern facilities here! In between Iron Age and Stone Age ruins, seek out the charming local puffins or amble across the headlands in search of isolated lighthouses positioned on rocky outcrops. With a landscape such as this, it's no surprise that the arts flourish here, with music, poetry and textile crafts being amongst some of the most popular pastimes. If you don't have a woolly jumper, now's the time to get one!
Best beaches: Grutness, West Voe Sands, Peerie Voe, Sands of Breckon, St Ninian's Ayre
Hours of sunshine in July: 124 hours
Average July temperature: 14℃
Faroe Islands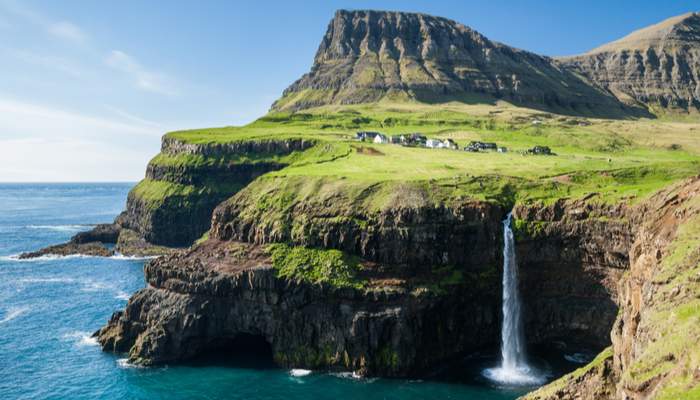 Although not part of the British Isles, we couldn't resist adding the Faroe Islands to this list. Once a part of Norway (that's how far north this archipelago is!), but now an autonomous territory of Denmark, this cluster is made up of over 18 major islands and hundreds of smaller islets, many of which are ripe for exploration. Aside from the historic sea-facing villages and unique museums found here, it's the impressive landscape which reigns supreme, with treacherous mountains, stunning coastal waterfalls and huge lakes providing ample sightseeing opportunities.
Best beaches: Sandur, Saksun, Famjin
Hours of sunshine in July: 111 hours
Average July temperature: 13℃