Nowhere does winter quite like the UK: snuggling up by the fire, crisp walks, roast dinners and wrapping up in your warmest clothes. So rather than jetting off for your winter escape, why not appreciate some lovely cities closer to home? After all, we think they are best at this time of year…
Bath
View this post on Instagram

Known for and named after its Roman baths, the beautiful city of Bath offers a stunning spot to escape to this winter. Before you visit, book yourself a slot at Thermae Bath Spa, the only place in Britain where you can bathe in the same naturally warm waters that the Romans used in their own baths. There's an outdoor pool which is beautifully warm — a lovely way to spend those chilly days. For a dreamy walk in the city, head through the sandstone buildings and up to the Royal Crescent where you'll find a five-star hotel and a museum detailing life in Georgian times, when much of the city was built. No city break is complete without a shopping trip, and Bath offers plenty of places where you can bag a bargain for yourself or tick items off your shopping list for Christmas. For food, we recommend trying out Giggling Squid, where you can enjoy Thai tapas for lunch or indulge in warming curries for dinner.
Edinburgh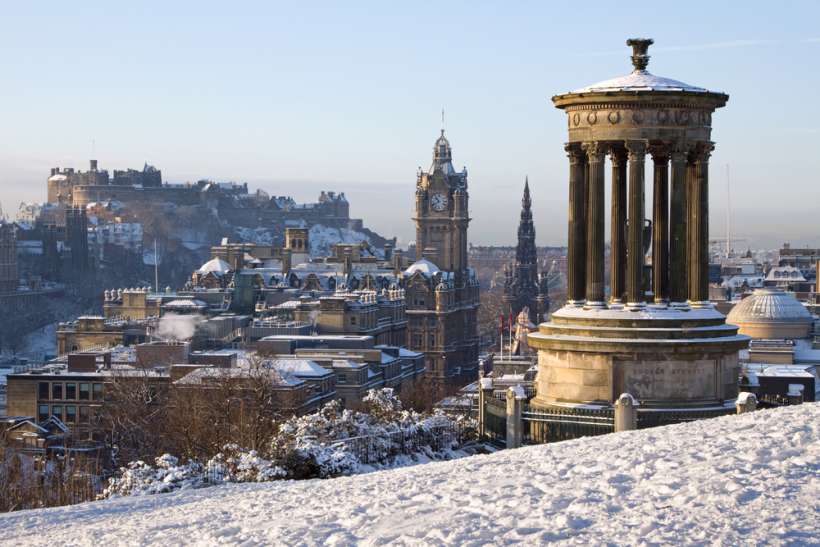 If we are embracing the cold, where better to go than chilly old Edinburgh? Hopefully the weather will be dry for your visit, allowing you to ascend Arthur's Seat and enjoy views over the city without any disruptions. Once your back in the centre of Edinburgh, be sure to check out the castle, Christmas markets, and colourful Victoria Street. If you fancy really embracing the culture of Scotland, book The Scotch Whisky Experience — it's an immersive journey through the history of whisky paired with a tour of the world's largest collection of Scotch and then followed by a tasting session within which you'll learn about the different regions' flavours. Spend your evenings in the city cosying up in the pub and be sure to try some haggis, neeps and tatties! For shopping, head to George Street for upmarket boutiques and high-end high street fashion.
York
View this post on Instagram

With a beautiful cathedral, lots of chocolate and a charming history, York offers a seriously festive city break. Let's start with York Minster — dominating the city and rising high above the streets, the Minster has been the centre of Christianity in the north since the seventh century, so is — of course — worth a visit. This year, York Minster will host its first Christmas Tree Festival with 40 trees decorated by local businesses, schools and charities! Be sure to venture inside too, to marvel at the stunning stained glass windows and enjoy the beauty of this fabulous city at Christmas. York also has a very rich history of chocolate making, so if you are a bit of a chocoholic then this is the place to indulge. Chocolate was first proposed as an alternative to alcohol in York in the early 18th century, and since then it's placed roots in this city which haven't budged. You can visit chocolate shops or get a real history of the stuff at York's Chocolate Story! While we're delving into the history, you can't visit York without an amble around the Shambles: one of the best preserved medieval shopping streets in Europe and believed to be the inspiration behind Diagon Alley in Harry Potter. For your wintry walk, head to the York City Walls. You can walk the whole two-mile circumference of the city centre and finish things off with a festive meal at The Ivy St. Helen's Square.
Cambridge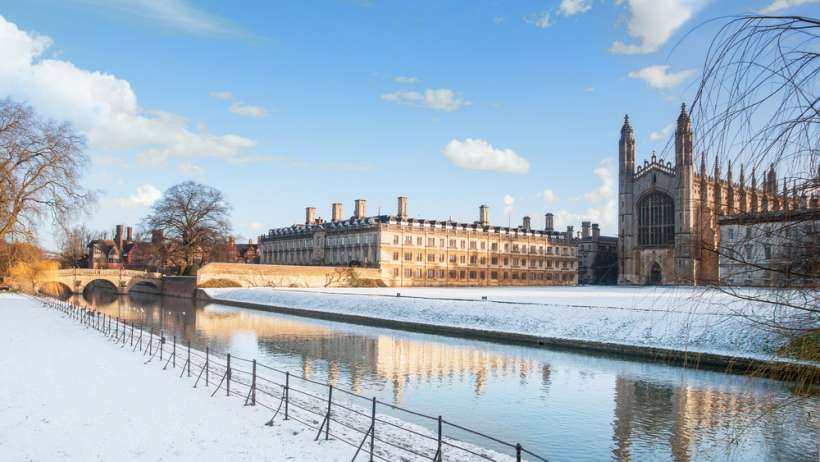 You may associate the beautiful university city of Cambridge with the summer season, thanks to its green open spaces and river punting. But these activities are just as fun when enjoyed during winter. All good winter city breaks include a shopping trip, and one of the best places to do this is Green Street — one of the most picturesque streets in the city — where you will find high street shops amongst independent jewellers and boutiques. King's Parade is another area that we love: it's filled with art galleries, book shops and wine bars. Once you've shopped 'til you drop, why not head to Six for a spot of dinner and views across this beautiful city? You could also spend your break exploring the University Botanic Garden, home at this time of year to golden trees, frosted paths and seasonal surprises in the form of unexpected festive installations. Another unusual winter activity is punting! Take a trip up the River Cam with some blankets, plenty of layers, and — if the mood strikes — a flask of mulled wine. It's an experience that's sure to get you in the festive mood.
Canterbury
View this post on Instagram

Looking for somewhere a little quieter? May we introduce charming Canterbury… Boasting a famous cathedral, fabulous Christmas markets and cosy pubs, it's got all the ingredients you're after for a weekend away in a new city. It's another hub that was built by the Romans and founded way back in 597 AD — so you could say it's pretty historic! Visit Canterbury Cathedral and take a walk around the grounds, or stick to the many shops on offer in the town. Crooked buildings line the ancient streets, where you'll be able to find a warm pub or tea room for lunch. But if you fancy something special, we recommend Cote Brasserie where you'll usually find a set menu and can enjoy a glass of red. Aside from eating, drinking, shopping and exploring, what more is there to do? Kick back and enjoy the festive spirit at the quaint Christmas market in the centre of town, where you can stock up on cheese, trinkets, and maybe even find a bratwurst!