From £270 - How to Get Cheap Return Flights to Florida in the USA
Do you have the urge to got to Disney World, Universal Studios or Seaworld? We're here to help with the best prices to get your trip to Florida going with a bang.

The cheapest flight right now is:
Manchester to Orlando from £270 return!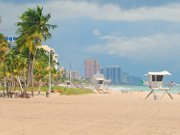 Orlando enjoys high year-round temperatures so whenever you go you can be sure of warm weather. The cheapest flights can be found during the rainy months, which are from June to September. This is also the most humid time to visit.

To get cheap flights at other times, make sure you plan ahead and are flexible on your travel dates. You can look out for special offers and avoid school holidays as the prices can really skyrocket!
The best deal we found on a cheap flight to Orlando right now is:
£270 return
Airline: TUI
Outbound: 01 May 2018
Inbound: 08 May 2018
Found on Skyscanner
Check Prices & Availability
We last checked this deal at 15 March 2018 11:43
If you find it's no longer available then please email enquiries@dealchecker.co.uk to let us know.