Find Cheap Flights to
Cuba
Finding Cheap Flights on dealchecker:
Cuba
The best time to visit Cuba is between late November to April - temperatures will be warm and you won't have to worry about rainshowers.
Jose Marti International Airport is the main port for international flights. It can be referred to Rancho-Boyeros Airport in reference to the area it's located in.
You must acquire a Visa before you fly - contact the nearest Cuban embassy or consulate in your country.
Flight Destinations in
Cuba
or select where you want to fly from
Cheapest Flight Deals to
Cuba
Cheapest flights departing in the next six weeks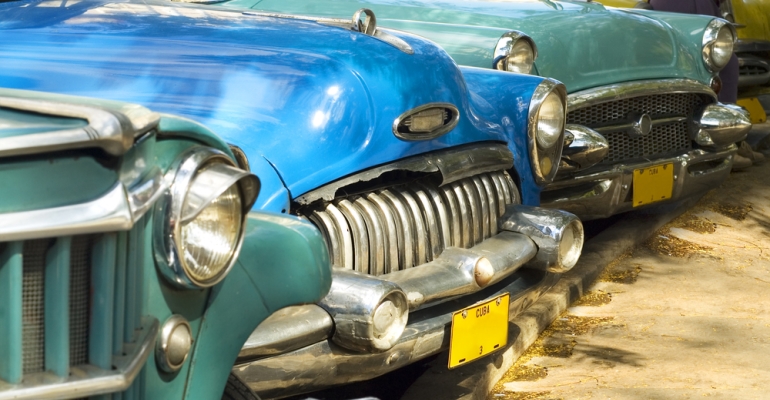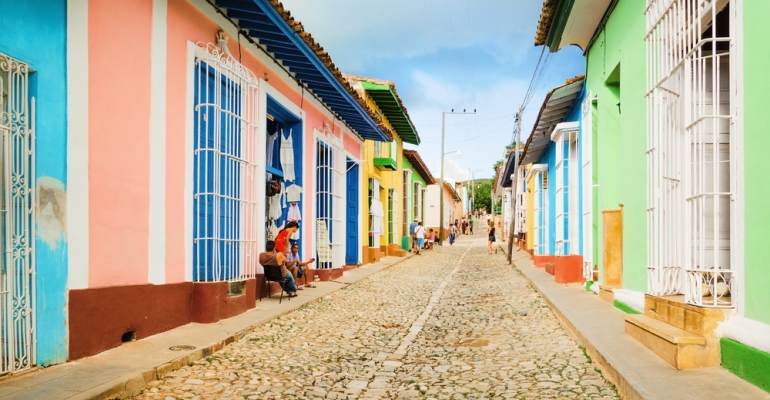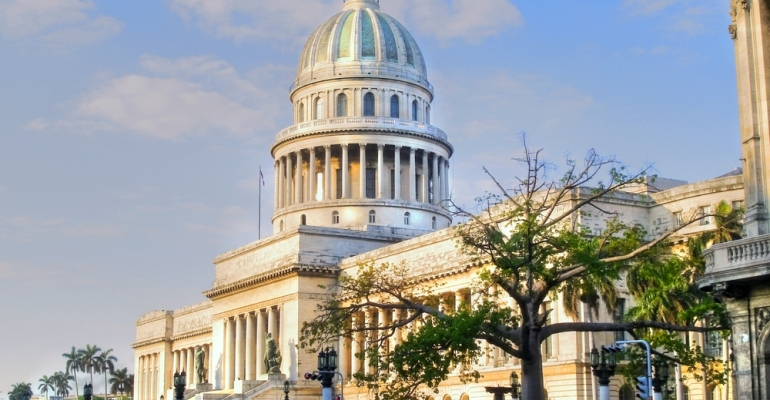 Approx 10 hours

Spanish

Peso

- 5
Cuba is very different to many other destinations, with its stand-out features helping to define it as a communist state with bags of character. Backpackers and tourists come to discover the pulsing heart of the nation and marvel at the ageing American cars which fill the streets of Havana. A newer, more open leadership from Raul Castro makes it easier to mix with the citizens.
Getting Around Cuba
You can get hold of a rental vehicle with relative ease in Cuba and always check that the deal you are getting is good as not every agency is completely competent. If you've always dreamed of getting behind the wheel of one of those iconic 1950s motors (often referred to as a Yank tank, or máquina in Cuba) there are plenty of specialist agencies out there happy to help you. Enjoy the drive!

Bus travel is another option if you plan to travel around Cuba, air-conditioned coaches connect many Cuban cities. We would advise catching a bus rather than trains. Cuba does have a train network, but can be relatively slow and is often unreliable. If you do intend to travel by train plan your journey accordingly to avoid missing deadlines and other travel opportunities. Of course, cycling fans may well stick to two wheels as the nation is known for its ability to accommodate riders.
Flights To Cuba
Cuba flights departing from the UK and heading there without stops can take around ten hours to arrive. Havana flights land at Jose Marti International Airport which is 20 minutes outside the capital and the best place to start cheap holidays in Cuba. Often it can be worth keeping an eye out for cheap last minute flights if your outbound dates are flexible.
Direct Flights to Cuba
Currently the only airline flying direct from the UK to Havana is Virgin Atlantic; their regular scheduled flights depart from London Heathrow bound for Havana twice a week. If you're not headed for the Cuban's historic capital you can also fly direct to the stunning beach resort of Varadero from Manchester, or to the city of Holguín from London Gatwick, both routes are operated by Thompson Flights.
Other Popular flight routes to Cuba
Since flying to Cuba via the USA is (for the moment at least) nigh on impossible, the vast majority of indirect routes to Cuba are going to route you through Europe. KLM and Air France offer convenient routes, flying to Havana from Paris and Amsterdam respectively. Both cities are near enough that the quick flight from the UK won't add many hours on to your time in the air. Spain is another popular routing, and practically on the way. Air Europa offer a popular budget flight to Havana via Madrid.

If you're looking for the cheapest route, we have sometimes spotted bargains flying to Cuba on Russian Airline Aeroflot. However, the connection is in Moscow, four hours in the wrong direction - it's certainly not the quickest flight to Cuba.
Regional Airports in Cuba
Although Havana is by far the most popular portal into Cuba for UK tourists, it's not Cuba's only international airport. Varadero is easily reached, either by a direct flight from Manchester by Thompson Flights, or indirectly via Zurich with SWISS. Although it is possible to catch a flight to Cuba's other international airports like Santa Clara and Camaguey via Canada you'll probably find it far more convenient to fly to Havana and take an internal flight.

Cuba's internal flight network is well developed. Almost all cities, and a number of resorts including Cayo Coco and Baracoa have their own airport. Three airlines, Aerocaribbean, Cubana and Aerogaviota operate domestic flights.
Practical Advice on Travelling to Cuba
Remember that UK citizens will need a visa or Tourist Card in order to enter Cuba. These cards are easy to obtain from the Cuban consulate. When you land in Cuba it is your Tourist Card which is stamped rather than your passport. Remember to hold onto the card as you will need to hand it over before you leave on your return flight. You also will need to pay a departure tax, currently CUC 25, so hold onto some currency.
What To See In Cuba
You need to visit Havana if you book cheap flights to Cuba, if only to check out the museums and spend a night in one of the bustling clubs. Varadero is the place to go for touristy, beach based fun with world class facilities.