Find Cheap Flights to
Greece
Finding Cheap Flights on dealchecker:
Greece
Athens, Heraklion, Corfu, Kos, Mykonos, Zante and Rhodes are the main airports you'll be flying into.
Bear in mind that just because you fly into one Greek city it doesn't mean you have to stay there. Island-hopping is what Greece is all about!
Avoid July and August, the country's peak summer months, as those are when flights (and everything else) will be more expensive.
Flight Destinations in
Greece
or select where you want to fly from
Cheapest Flight Deals to
Greece
Cheapest flights departing in the next six weeks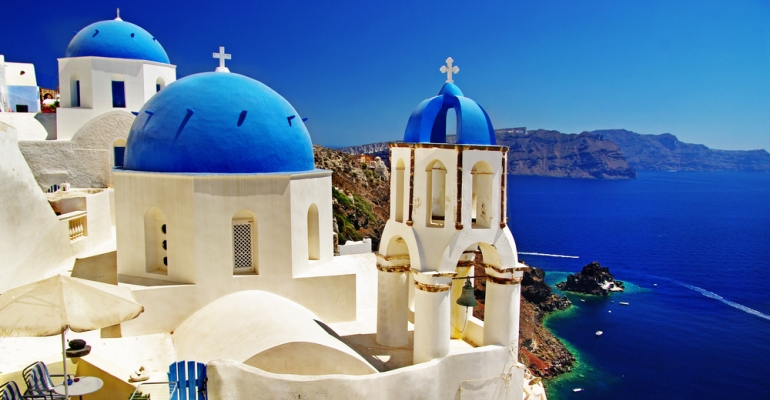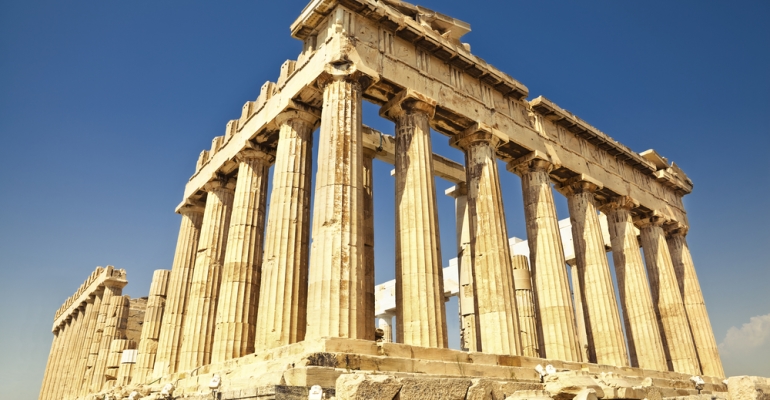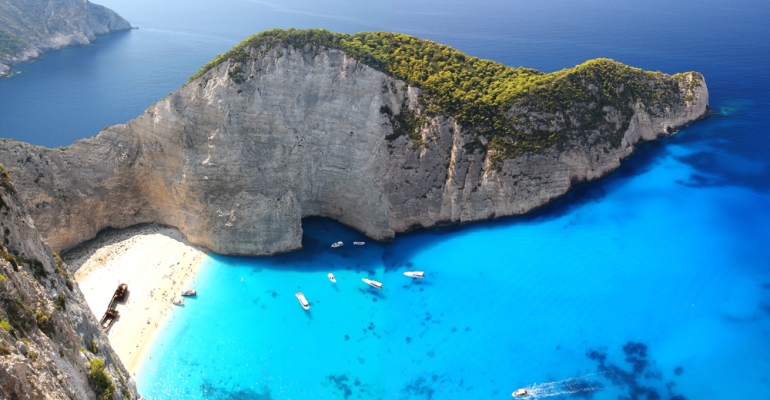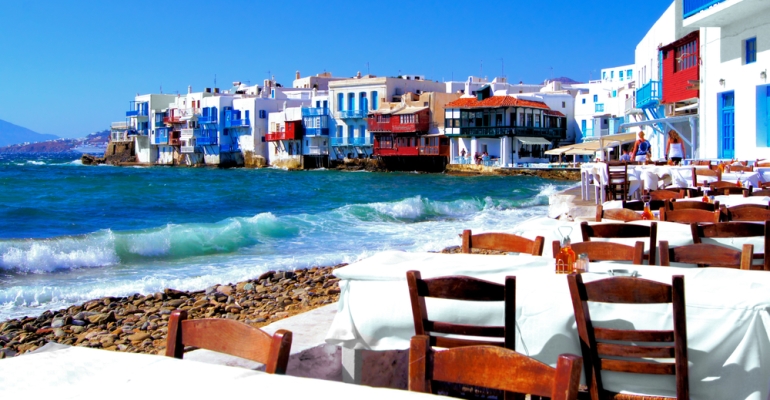 Greece has a huge amount to offer as a holiday destination. From the historic beauty of Athens, with the awe-inspiring Acropolis at its centre, to the sun-kissed beaches of the Greek islands, it's easy to see why British holidaymakers are snapping up cheap flights to Greece. Flight times in the region of four hours from UK airports and a fantastic range of towns and resorts to choose from have created an enormous demand for holidays in Greece. Flights to Greece land at a wide range of airports spread right across the many Greek islands and the mainland, so it's very easy to get to any one of the numerous Greek resorts.
Where to go in Greece
Most holidaymakers choose to fly directly to the Greek islands when they book flights to Greece. There are certainly plenty of options to choose from and each island has its own unique charm. Some islands, such as Mykonos, are better known for their lively party resorts, while others, such as Santorini, have a more family orientated laidback feel. Before you book flights to Greece you should decide on the sort of holiday you prefer or you may even decide to book an all inclusive Greek holiday package which is ideal if you want to spend all your time in one beach resort. For a traditional and relaxing holiday in Greece, there are lots of quiet coastal resorts that have sprung up from Greek fishing villages.
Getting around Greece
If you plan to explore the Greek islands during your trip you can book Greece flights to any number of airports and then use the excellent Greek ferry services to get around once you get there. Larger Greek destinations such as Crete have more than one airport and are often served by a number of charter airlines offering cheap flights. On these larger islands it can be a good idea to organise Greek car hire so you don't waste money on transfers and shuttle busses.
What to do in Greece
Greece can offer such fantastic variety that it's a great holiday destination for lots of different people. The islands and the mainland tourist destinations get very busy in summer so it's essential at this time of year to pre-book your hotels. Families, couples and groups of friends can all find their ideal holiday resort in Greece, simply by hopping on a cheap flight. Greece is well known for its friendly, welcoming people and has plenty to excite your taste buds in the delicious Greek cuisine. Unlike some beach holidays, when you book cheap flights to Greece, you discover a holiday destination that not only has sun, sea and sand, but also fascinating historical features and some breathtaking scenery. Find the cheapest flights to Greece at dealchecker and prepare to have the time of your life in glorious Greece.
Direct Flights to Greece
Whether you're planning on a trip to the historic mainland or to one of the gold-dusted Greek Isles, there are plenty of direct routes from the UK to numerous destinations across Greece. The larger islands like Corfu, Crete and Rhodes are served by a number of airlines, whereas if you want to travel to smaller, more obscure islands, sometimes you'll have to fly into the nearest larger island and take a ferry from there.
Flight time to Greece varies depending on where exactly you're flying to. If you're heading to Thessaloniki, expect a direct flight to take just over three hours. However, since the islands are a little further, your flight time will increase. A direct flight to Kos, for example, should take around three hours and 45 minutes.
There's less demand for direct flights to Greece in the winter, which means there are fewer on offer during these months. In the peak season, you'll find it easier to nab yourself a great deal. You're more likely to land yourself a cheap holiday deal too, while last minute flights can come cheap.