Find cheap flights to
Monaco
Flight Destinations in
Monaco
or select where you want to fly from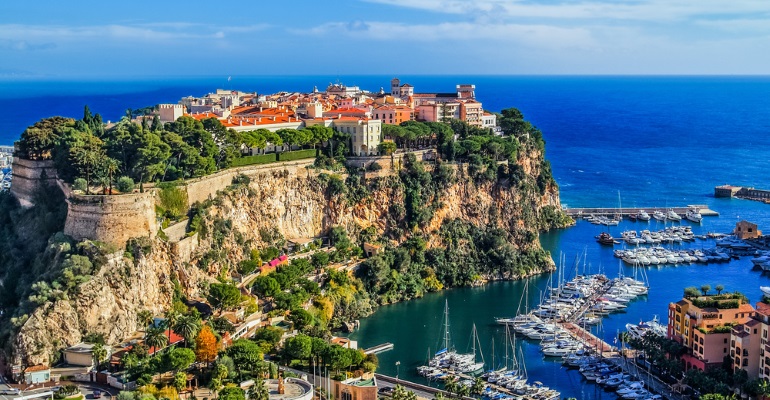 As the world's second smallest country, the principality of Monaco manages to pack a lot into its tiny land space. Home to the royal Grimaldi family, the Grand Prix and arguably the most famous casino, the Monte Carlo casino, Monaco is a country of wealth and history. One only needs to look at its ports to realise this; the waters are filled with opulent yachts and boats. For a glimpse of how the rich and famous live, as well as a visit to a truly beautiful country, make sure you enjoy a day in Monaco.
Getting Around Monaco
While Monaco obviously constitutes a small area, it is also quite mountainous, so walking around may not be for everyone (there are a few public escalators and elevators). Instead, catch one of the local buses; these are affordable and stop at the casinos, the tourist office and train station.
Flights To Monaco
There are no direct flights to Monaco from the UK as Monaco does not have an airport. Instead, those wishing to visit the tiny city-state must fly to Nice Côte d'Azur Airport in France, which is approximately 40 minutes away. For cheap flights to Nice, have a look at airfares with budget providers such as easyJet, Germanwings, Monarch and Brussels Airlines.
What To See In Monaco
Monaco's major draw card is its casinos in Monte Carlo. The iconic eponymous casino has been featured in several films (any James Bond fans out there?) and the area has been the setting for several video games. If you're a high roller, enjoy a flutter otherwise simply stroll around and take in your luxurious surroundings.

Monaco is also known for its Formula One Grand Prix; the rich and famous flock to the area to watch this coveted race. In January 2014, Monaco will also host the Monte Carlo Rally, which involves three days of high-speed, adrenalin-pumping car racing.

Other noteworthy attractions includes the Grottes de l'Observatoire, a prehistoric cave network home to stalactites and stalagmites and the 19th century Cathedrale de Monaco, where the graves of Princess Grace and Price Rainier lie. Also worth visiting is the Palais du Prince, Monaco's 13th century royal palace. To witness the changing of the guard, visit just before midday.