Find Cheap Flights to
Thailand
Finding Cheap Flights on dealchecker:
Thailand
International flights tend to fly into Bangkok. If you want to explore the northern parts of the country, head from there to Chiang Mai International or Chiang Rai.
South of Bangkok are Pattaya and Phuket airports, which can be accessed from airports across Thailand.
If you're not a fan of ferry rides, opt for a flight from Krabi to the resort island of Koh Samui. Once there, you'll be able to visit the likes of Kho Pha Ngan and Koh Phaluai.
Flight Destinations in
Thailand
or select where you want to fly from
Cheapest Flight Deals to
Thailand
Cheapest flights departing in the next six weeks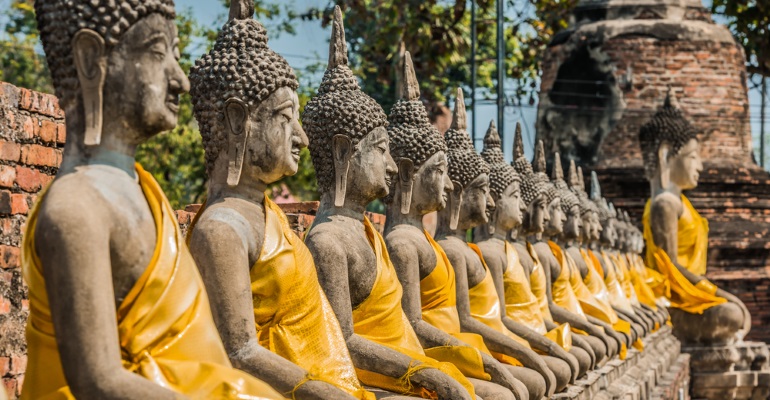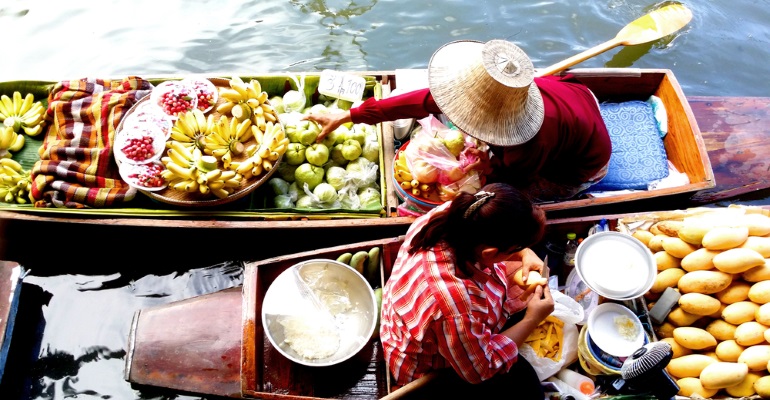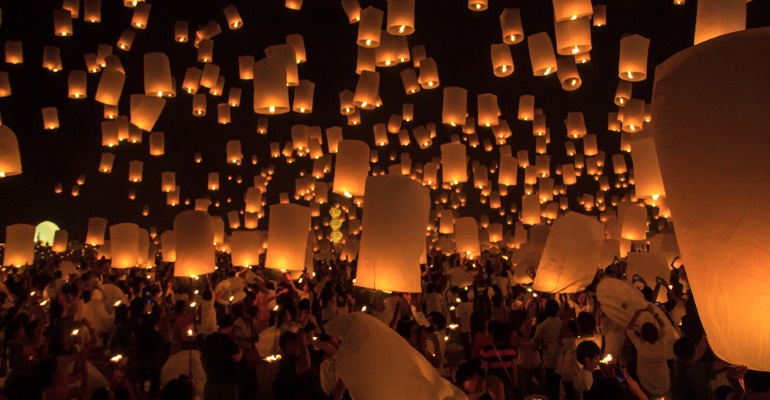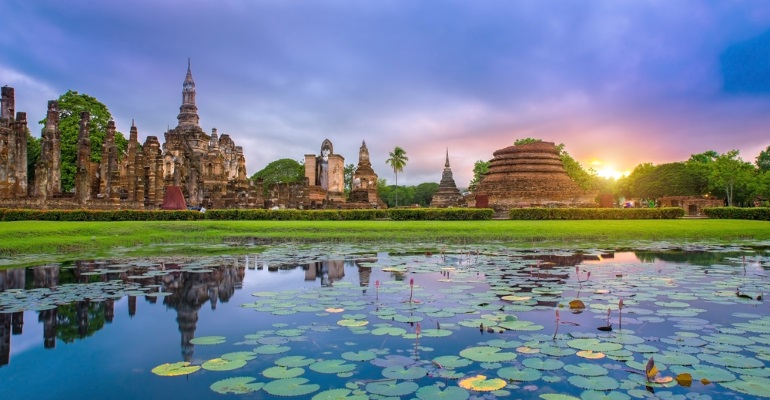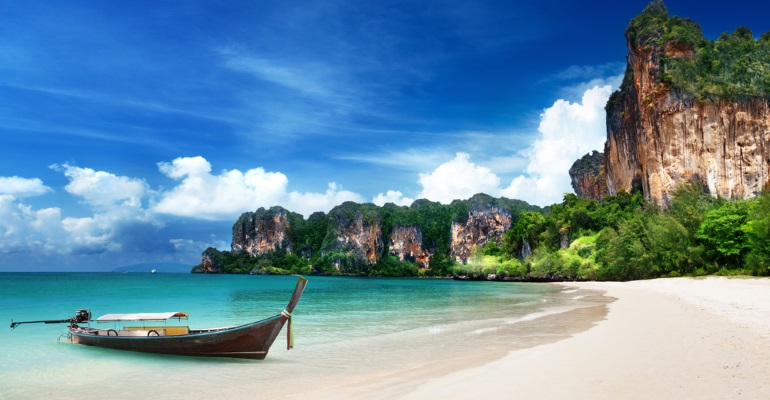 Approx 13 hours

Thai

Thai baht

+ 7
Thailand sits at the centre of the Indochina Peninsula in Asia and is known worldwide as a covetable holiday destination, so flights there are always sought after. Once you've arrived, you will find great food, a lovely tropical climate, fascinating culture and great beaches - what's more, all this won't break the budget! In fact, the majority of your holiday budget will be consumed by the price of your Thailand flight, so aim to stay as long as you can.
Expect a huge variety of experiences too, from the bustle of Bangkok to the northern jungles and the southern beach resorts whose white sands have become synonymous with perfection. One thing's for sure, once you've been on a flight to Thailand, you'll want to go back for more!
So it's time to head on over, taste your first bite of Thai street food in Bangkok, visit the amazing temples of Chiang Mai, go to a full moon party in Ko Pha Ngan and gaze in wonder at Wat Phra Kaew, the most sacred Buddhist temple in the country, where you will find the famous Emerald Buddha.
Flights to Thailand
Your flight to Thailand could arrive into any number of airports, and where you arrive will largely dictate what sort of holiday you will have. If you're simply after the cheapest flight to Thailand that's out there, and will worry about heading off elsewhere once you're on the ground, then you definitely should go for a flight to Thailand's busiest airport, Suvarnabhumi Airport in Bangkok.
It's usually cheapest to take an indirect flight to Thailand, with many services to Bangkok stopping along the way. The travel time on a direct flight to Thailand from the UK is just over 11 hours, and with a stopover this can get to over 15 hours very easily. Watch out for two-stop flights though, as these often take well over 24 hours without any cost benefits over the one-stop flights to Thailand.
For the cheapest flights to Thailand, your best bet is to depart from London Heathrow. Not only will you enjoy multiple direct flights to Bangkok each day, but you can head to other destinations like Phuket, Krabi and Chiang Mai with only one stop along the way.
Meanwhile, flights from London Gatwick to Thailand will generally necessitate at least one stop along the way, often in Doha or Dubai. However, from November to April TUI offers direct flights once a week.
Getting a flight to Phuket is normally the way to get to the southern beaches of Thailand on the cheap, whilst a cheap internal Thailand flight onwards to Krabi or Koh Samui can save you precious time. But if the culture is why you're looking into a Thai flight, then heading to Chiang Mai will be money well spent.
Main Airports in Thailand
As a major tourist and business travel destination, Thailand is home to a number of airports - meaning you won't find it hard to fly close to where you're holidaying!
Bangkok has consistently been named the most-visited city in the world, and has two international airports to cope with that demand. Suvarnabhumi Airport is the primary airport serving the city, and has outbound flights to numerous other destinations like Phuket and Koh Samui. It's where most flights from Europe land. Don Mueang Airport is Bangkok's second airport, and the oldest airport in Asia. It mostly serves other Asian airports and domestic flights.
Phuket Airport is Thailand's third-busiest airport after the Bangkok airports, with holidaymakers flocking here from all over the world for the island's famous nightlife and beaches. Indirect flights depart from many UK airports regularly, including London Heathrow, Manchester and Birmingham.
If you fancy a holiday to Thailand's verdant north, your best bet is to fly into Chiang Mai Airport. The easiest way to get there is by flying to Bangkok and then changing to a connecting flight, which will take a little over an hour.
Getting Around Thailand
Once your flight into a Thai airport touches down, you'll need to get to your hotel to rest up before you can begin your adventures! In Bangkok there is a huge range of options from limousines to shuttle buses plus taxis and local buses. If you're a little worried about finding your way after arriving on your flight then a taxi won't break the bank, just make sure that they use the meter!
Taxis are also available in Chiang Mai, but at other smaller airports you'll need to start your adventure as soon as your flight to Thailand arrives. Local buses, tuk tuks (three-wheeled vehicles) and songthaew, which are often called minivans, are the main modes of travel in these other destinations. As Thailand is a popular country for backpacking and budget travel you'll be on a well-worn route and there should be plenty of advice on the internet on how to get to your particular hotel, village or beach.
If you're feeling brave, hiring a car is an option available all over the country. Be warned though that the Thai people don't follow many of the rules we adhere to in the UK, so there will be a very steep learning curve. Some things that will help are avoiding rush hours, sticking to a slow pace if you're worried and being very vigilant!
When to Visit Thailand
Peak Season in Thailand
Luckily for visitors to Thailand, this is a country that's perpetually balmy! The best time to head to Thailand is between December and March, when it's cooler and drier than the rest of the year. January and February see the lowest rainfall, and winter offers the best conditions for diving and snorkelling.
Gulf of Thailand holidays are best from January until March, when there is a great deal of sunshine, and it's relatively cool and dry. Meanwhile, the west coast, where you'll find famed islands like Phuket and Phi Phi, has its best beach weather December and January. This is also the best time to head to the always-humid Bangkok, as it becomes slightly less sticky and steamy.
Off Peak Season in Thailand
Throughout the country, the rainy season runs from May to October, when monsoons strike its skies. However, this is the time of year when Thailand flights are the cheapest. Venture over from May to August to avoid the worst of the rains and take advantage of the lower prices. Plan your Bangkok shopping trip for September and October, the wettest months of the low season - the rain won't bother you so much when you're sequestered in one of the city's famous shopping malls!
Where to stay in Thailand
Thailand has accommodation choices to suit every budget so it's easy to plan your dream holiday once you book your flight to Thailand. Luxurious offerings are easy to find all over the country with golf and spa resorts gaining ever-increasing popularity. We can't see this changing in 2018 and 2019, as Thailand does luxury well!
Beach lovers will be astonished to find out how easy and cheap it is to get a good quality hotel right on the beach. Plus, many hotels boast their own private beach so you can relax in blissful surroundings, although never leaving the resort will definitely leave you needing to re-visit on another Thailand flight! Phuket's beaches are famous, as are Phi Phi Island's, while the city of Rayong, and its beaches, are great for an off-the-beaten-track option with all the mod cons.
Plus, if you're on a shoestring budget, Thailand is well on the backpacker circuit, meaning there are a whole raft of super cheap places to stay, well-vetted and reviewed all over the internet. It's a good idea to plan to stay in several of these places rather than stick to one because getting to know fellow travellers is at least half of the fun of this type of holiday in Thailand.
What to do in Thailand
Where you go will affect the things that you do, for example in Bangkok the main activities are sightseeing by day and partying by night, whilst in Chiang Mai things are more sedate with the local culture the main draw.
If your Thai flight arrives into Phuket or Krabi then the beach is sure to be your main focus! Koh Samui and Koh Pha Ngan are where it's at for the strongest hippy traveller culture and the famous full-moon parties.
You could also join in one of the many parties in 2018 or 2019 by visiting for one of the less hedonistic offerings such the Thai Martial Arts Festival, the Koh Samui Yacht Regatta or even the Naga Fireballs in Nong Khai!
For more ideas get yourself over to our Thailand guide.