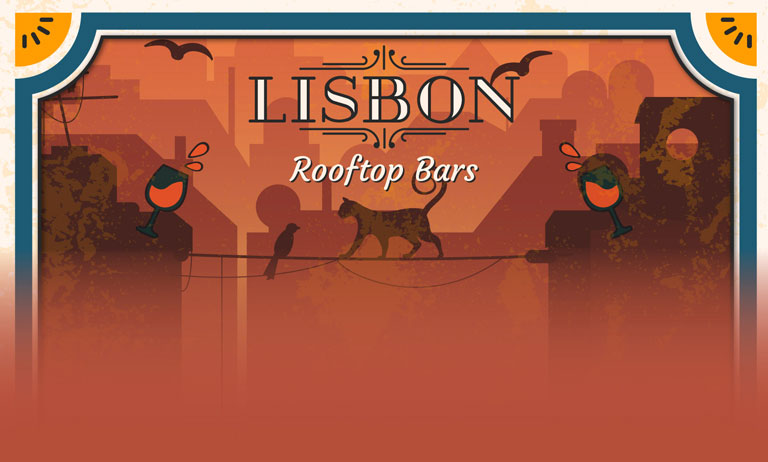 With the sun shining overhead, and an icy drink of your choice in hand, you'd be hard-pressed to find the type of relaxation you'll discover on a rooftop bar in Lisbon. Cocktails come with a side of breathtaking city panoramas that belong on a filtered Instagram post. Here's the best of the best.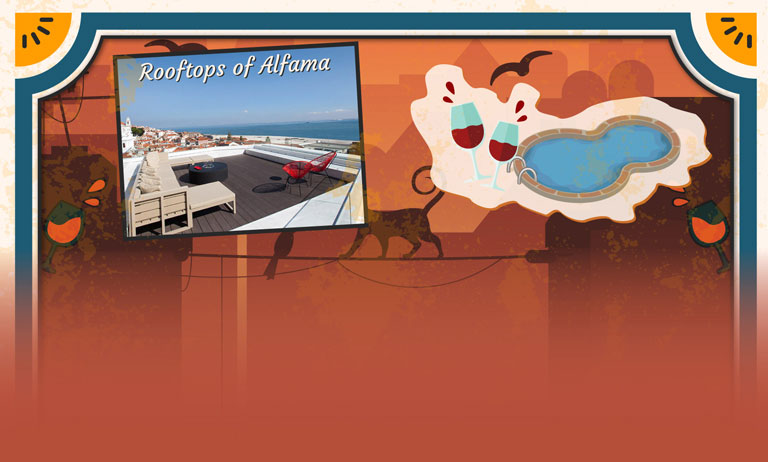 Memmo Alfama Hotel
Head to the rooftops of Alfama to the aptly-named Wine & Bar Terrace. In the Memmo Alfama Hotel, the unhindered view of the terracotta roofs and the Tagus River somehow make those drinks all the more refreshing. Don't forget to bring your swimmers - there's a red pool to test out!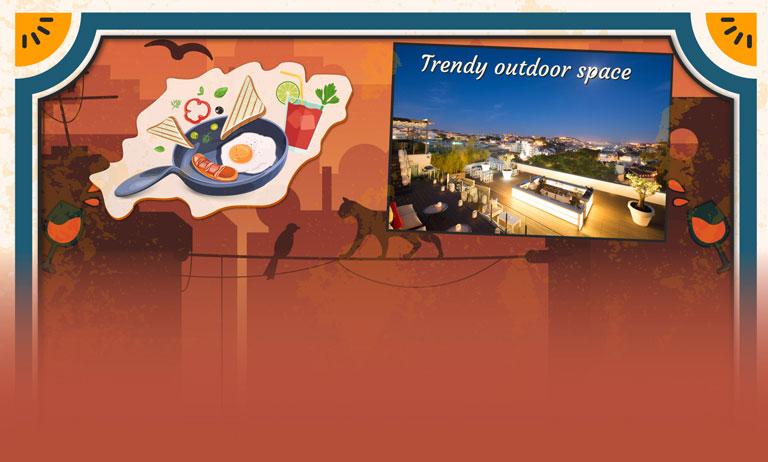 Sky Bar
Sky Bar at Tivoli's reputation precedes itself. Hordes of locals and tourists flock to its trendy outdoor space. Regarded as one of Lisbon's greatest nightspots, its simple modern and design (with inviting cushions and pillows) will put you at ease. Try it out for brunch on the weekend then burn off the calories by exploring the nearby city landmarks on the famed Avenida da Liberdade.

PARK Restaurant & Bar
Just because this unassuming bar can actually be found on the rooftop of a car park, doesn't mean it's not beautiful. Views of Lisbon, Tagus River and the bell towers of Santa Catarina Church sit alongside chic wooden furniture and small potted trees, creating an intimate mood. Not only does it attract talented DJs but it sometimes transforms into an outdoor cinema.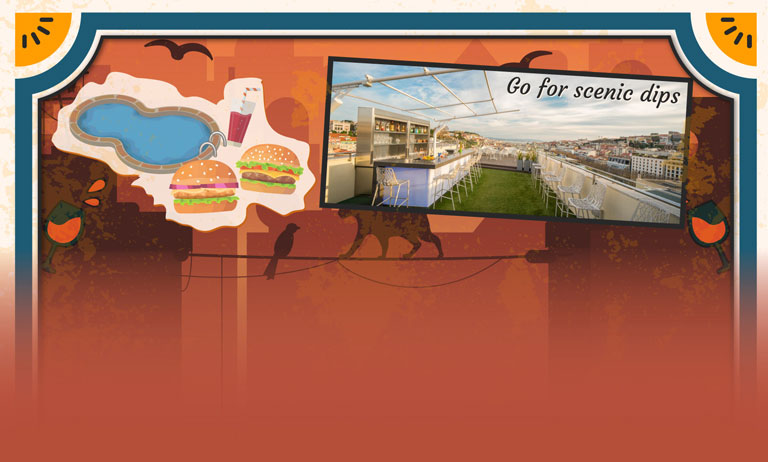 NH Liberdade
Make a beeline for the scenic avenue of Avenida da Liberade. On top of the NH Liberade Hotel sits a terrace with a pool that even non-guests can use. Go for scenic dips, dig into fresh salads and sandwiches and sip on juices and beers as the sun sets.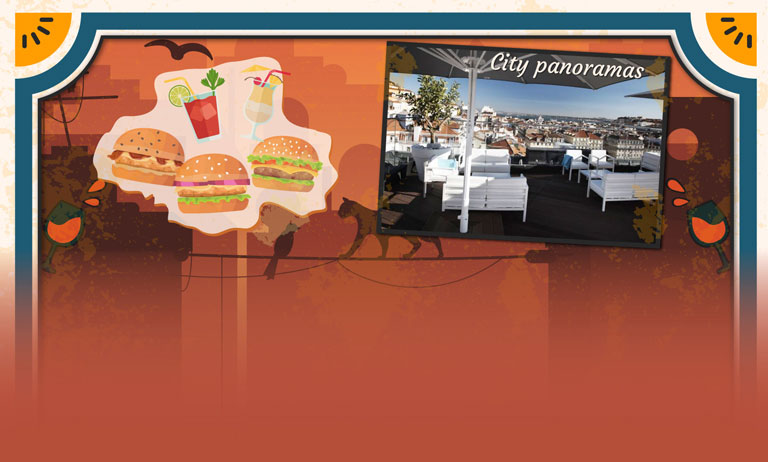 Hotel Mundial
This panoramic lounge has earnt its popularity. Hotel Mundial's rooftop bar boasts white-washed wooden furniture with cozy blankets for when the sun goes down. Once summer hits, DJs ramp up the energy at sunset parties alongside generous helpings of burgers, salads and cocktails.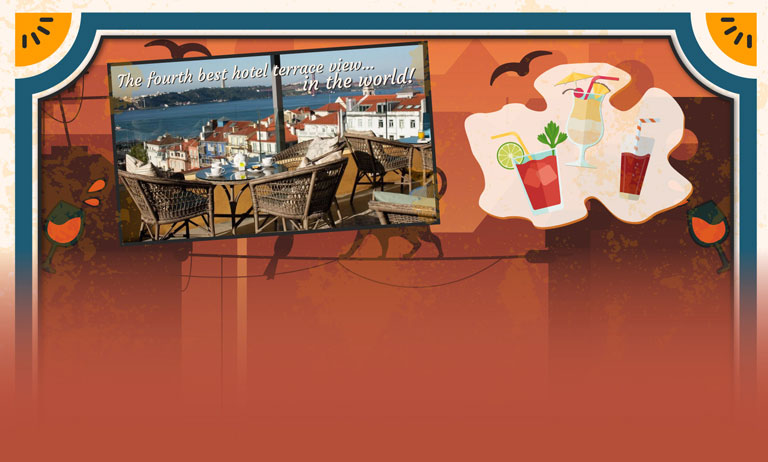 BA Terrace
If you needed convincing to visit this particular rooftop bar, the BA Terrace at the Bairro Alto Hotel has been voted as the fourth best hotel terrace view in the world. Once the sun sets behind the bridge over Rio Tejo as you lean back into fluffy pillows, ice-cold drink in hand, you'll see why.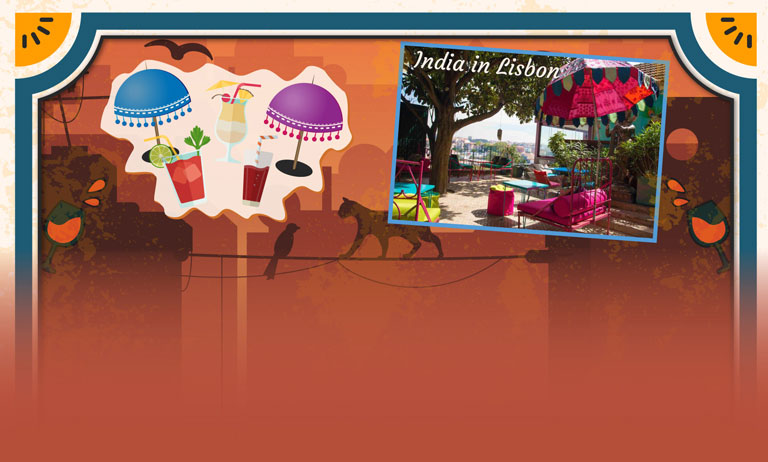 Lost In Esplanada Bar
Step into Lost In and you'll feel as though you've been transported to India - and that's the point. At the top of Bairro Alto in the Principe district, you'll be greeted by vibrantly coloured umbrellas, silky fabrics and overhanging trees. Plus those views of rolling hills and São Jorge castle aren't bad either.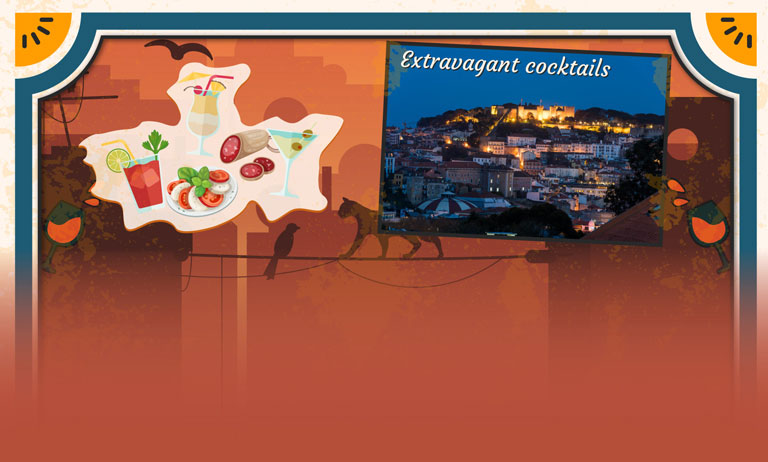 Varanda Do Castelo
Bargain-priced tapas, panoramas of the Tagus River and extravagant cocktails are served at the very heart of Lisbon's city centre at Varanda Do Castelo. Lean back as you admire the views, the lilt of the music in the air and the warmth of the sun - it'll be a novelty that doesn't get old.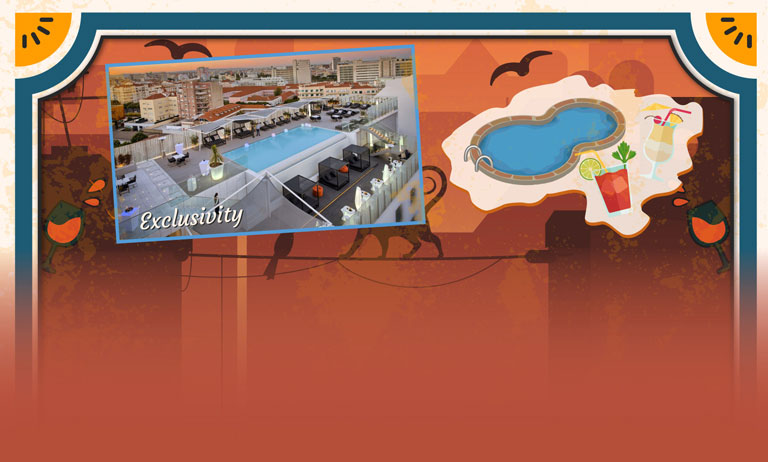 Upscale Bar
If you're looking for exclusivity, you've come to the right place. The 9th floor of the Epic Sana Hotel is home to Upscale Bar and is decked out with a cocktail bar, outside patio, an infinity swimming pool and comfy lounge chairs. The views of endless array of terracotta roofs will keep you mesmerised.
Like the star jewel in any crown, Lisbon sparkles that little bit brighter than anywhere else in Portugal. Spread across looming hillsides that peek over the Rio Tejo, Lisbon manages to put forward the qualities of other European capitals without, well, over-egging the pudding (overdoing it, basically). Dramatic gothic cathedrals jostle for space with monasteries, museums and whispering, narrow backstreets - indeed they are all part of the chattering cityscape that attracts so many to this beautiful city. A holiday to Lisbon should definitely be on the cards for 2018.
Euro
Portuguese
approx. 3 hours
GMT +0
Fab holidays for:
Bargain city breaks, Delicious food, Stunning Beaches
Airport:
Lisbon International Airport
Did you know?
Lisbon isn't technically the capital of Portugal - there are no official documents to support that fact. It apparently just happened in 1255 when Alfonso III moved the courts to the city.
Other Destinations in Portugal
Other Nearby Destinations
You Might Also Be Interested In
Weekend Breaks in Lisbon
The metro network makes travelling around Lisbon quick and easy (and luckily cheap) so you won't struggle to explore, even if you're just over for a speedy weekend trip. Aim to book accommodation in the downtown area of Baixa so you're well positioned to enjoy the city.
Get a Lisbon Card to make your travels easier. For €17.50, you can get a 3-in-1 transport and discount cards as well as a museum pass. With unlimited travel, queue jumps and free access to some of Lisbon's best museums and attractions, you won't be forced to rush your way through the weekend.
Make a beeline for Alfama, which is home to the cathedral, Lisbon Castle and Saint Anthony's church as well the Feira da Ladra, a huge flee market that takes place every Saturday. You could spend hours browsing!
There are plenty of bakeries along the cobbled streets where you can grab lunches quick and easy as you play at being tourists, with rooftop bars being the main thrill of the evening as the sun sets.
Beaches are just a short, 20-minute train ride away, from Estoril to Cascais. You don't always have to travel by train or tram either. Cascais offers free bike hire daily from 8am so hop on the saddle and zoom around the coast with the win in your hair and the sun at your back.
Top 5 Reasons to Visit Lisbon
Top
5
Lisbon is often overlooked when searching for a European city getaway but that stops now! There are definitely more than five reasons why you should pack your bags for Portugal's inimitable capital.
You can explore on foot

Like many European cities, Lisbon is a place made for strolling. Jump on one of the jewel coloured trams that trundle their way through tree-lined avenues, watching old Lisboetas gossip in the public baths and breaking bread at miniature fastidas restaurants (where the traditional melancholic singing Fado is practised, dontcha know).

There's stunning architecture

To put it simply; Lisbon is a photographer's dream. Everywhere you look there's a delicious visual treat waiting for an aesthete's hungry eyes - check out Belem Tower, the Jeronimos Monastery, the Gulbenkian Museum, the Tile Museum and the Oceanarium, just to name a few. Psst...You can get free or reduced admission to most of the attractions with a Lisboa card.

The nightlife is bustling

Not only is Lisbon known for its nightlife, it has a reputation for being downright cheap. The streets of Bairro Alto is your best bet, with many hotspots to be found. The areas around the Cais do Sodré and Largo de Santos are for those looking for a good ol' cheesy disco.

The beaches are beautiful

Forget-me-not blues and bleached sands are par for the course at Lisbon's beaches. Hop the train to Estoril (35 minutes) or Cascais (40 minutes) and settle into the soft sands for the day.

The food is fresh and tasty

Seafood lovers are in for a treat. Thanks to Lisbon's proximity to the Atlantic Ocean, you'll be spoiled for choice for plates heaped with seafood, from clams in delicious white wine sauces to salted cod.
How to get to Lisbon
Luckily, a Lisbon holiday doesn't involve a strenuous travel regime. There are direct flights to Lisbon from London, Manchester, Liverpool, Edinburgh and Bristol airports, and these tend to be cheaper than indirect flights by quite some way. Lisbon's airport is practically in the middle of the city, meaning that onward transfers are speedy. You can travel onwards by a variety of methods.
Mild winters and warm summers mean there's not a bad time of year to take of the many city break deals on offer to Lisbon. Summer tends to be the most expensive because of the nearby beaches, but you can find deals all year round that won't break the bank - keep your eyes peeled for last minute bargains.
Where to stay in Lisbon
There are plenty of cheap holidays in Lisbon to be had, with a choice of areas depending on what you want from your stay. Nowhere is particularly expensive thanks to the number of cheap Lisbon hotels available so go wherever you want! If it is nightlife you're after, then you'll want to stay in the Bairro Alto which boasts something of a street party atmosphere at the weekends. For a quieter or romantic break, check out the oldest districts of Alfama and Castelo. Shopaholics should stay within easy reach of the Avenida da Liberdade and the Principe Real is generally the hippest area with the trendiest boutiques. To stay a little out of the way of the main action, but close to many of the main sights, you could also consider a stay in Belem on your Lisbon city break.