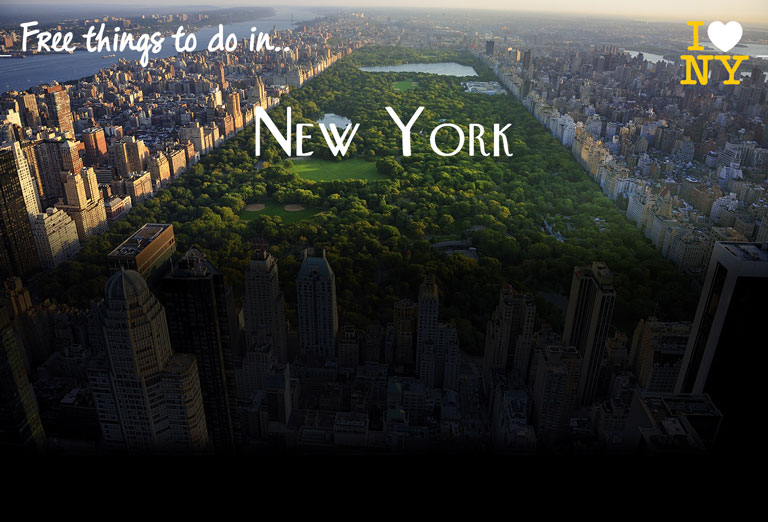 Visiting New York really doesn't involve as much saving as you think. In fact, you can scrimp and save your way through this inimitable city without paying a penny (at places you happily would).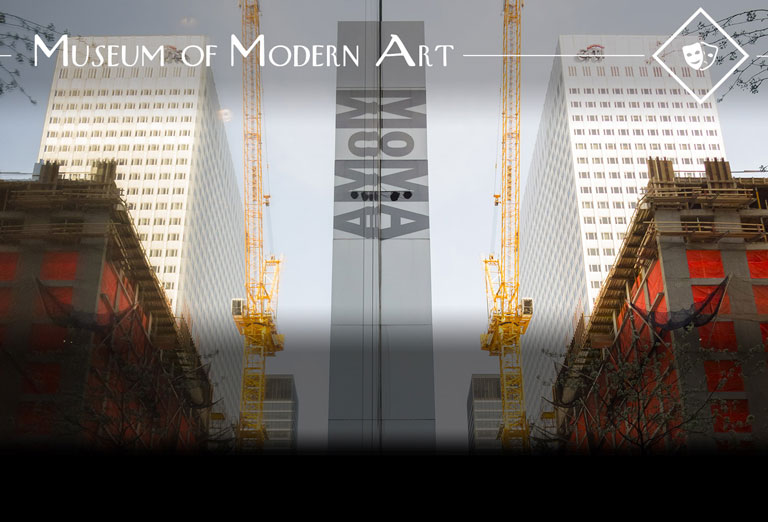 Skip the museum admission fees
Head to the famous Museum of Modern Art, home to some of the greatest Picasso pieces, sans the $25 fee - it's free every Friday from 4pm to 8pm! You can visit the sculpture garden every morning from 9:30 to 10.30am without paying too.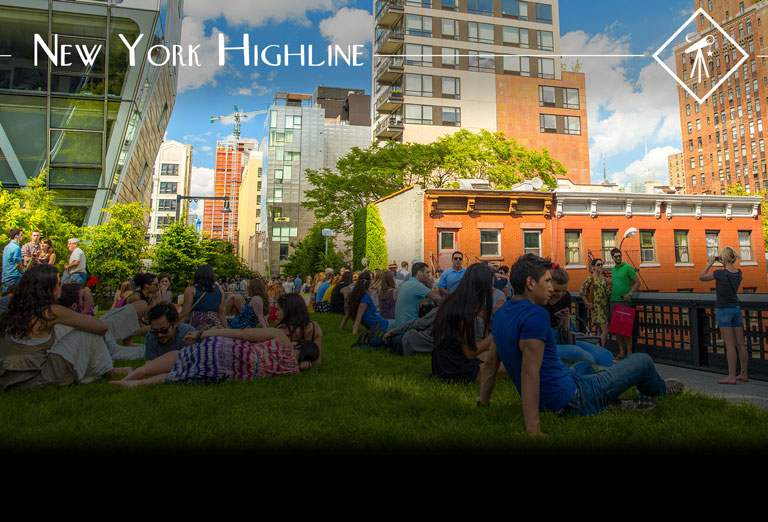 Stargaze on the High Line
Yes, New York does have a scenic, elevated park decked out in green shrubbery, flowers and fountains that you can visit for free. But there's now more to it. Once dusk falls, every Tuesday telescopes are set up on the section between West 15th and West 16th Streets. You'll fall in love with the world of stars residing over you.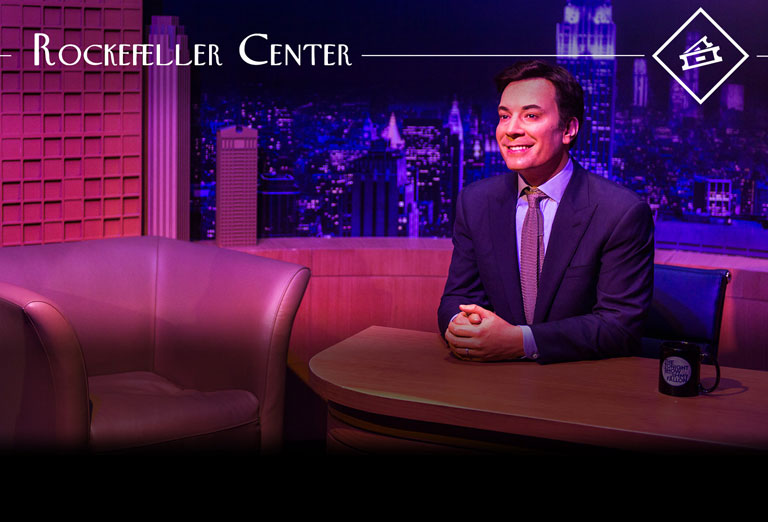 Hang with celebs at the Tonight Show with Jimmy Fallon
Watch a taping of the Tonight Show at NBC Studios at the Rockefeller Center. You may have to plan ahead as free tickets are released a month in advance or you can try your luck and get standby tickets on the night of the actual event. Either way, a hilarious evening awaits.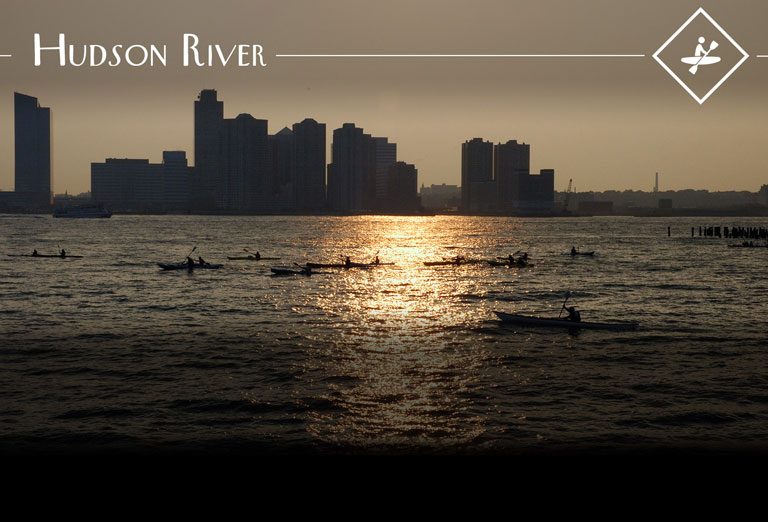 Kayak down the Hudson River
Take a break from the hustle and bustle of the city and go for a relaxing meander down the Hudson River at Pier 26 in Tribeca or from the Manhattan Community Boathouse. It's all on a first-come, first-served basis and is not available from mid-October, for obvious, below freezing reasons.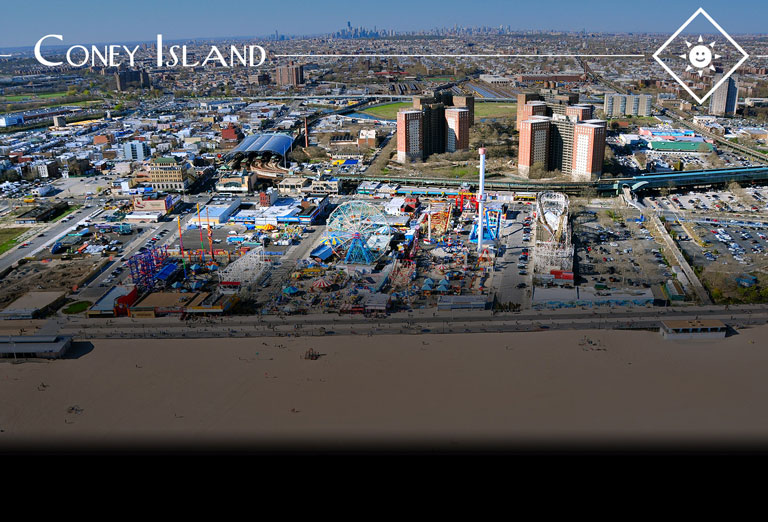 Set up camp on the beach
Not just a city destination, there are a surprising amount of beaches for sun lovers in NYC - and they're free to visit! Coney Island is a favourite but don't skip out on Brighton Beach. The Rockaways is circulated by surfers while Fort Tilden never fails to attract a hipster or two.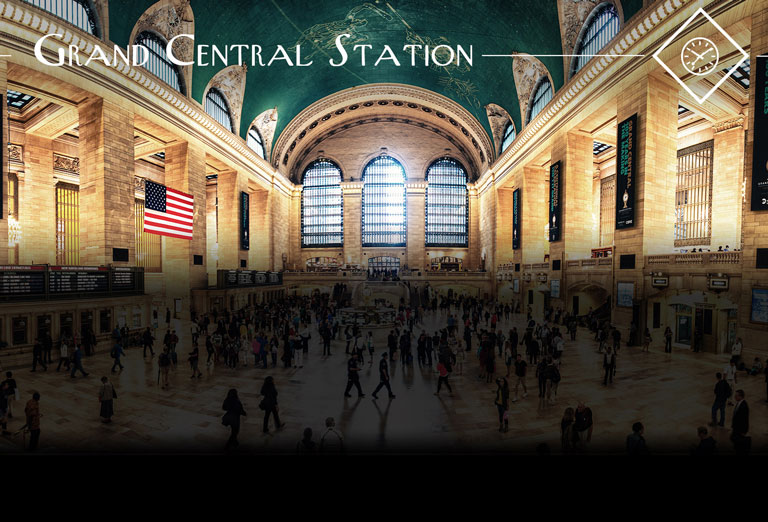 Play Chinese Whispers in Grand Central Station
While it may sound odd to visit a train station, you'll understand when you see it. The 102-year-old train station is a stunning piece of architecture. Once you're finished craning your neck to see every nook and cranny, go to the Whispering Gallery near the Oyster Bar. Stand under diagonal arches and start whispering - it'll ring through like the best game of Chinese Whispers you've ever played.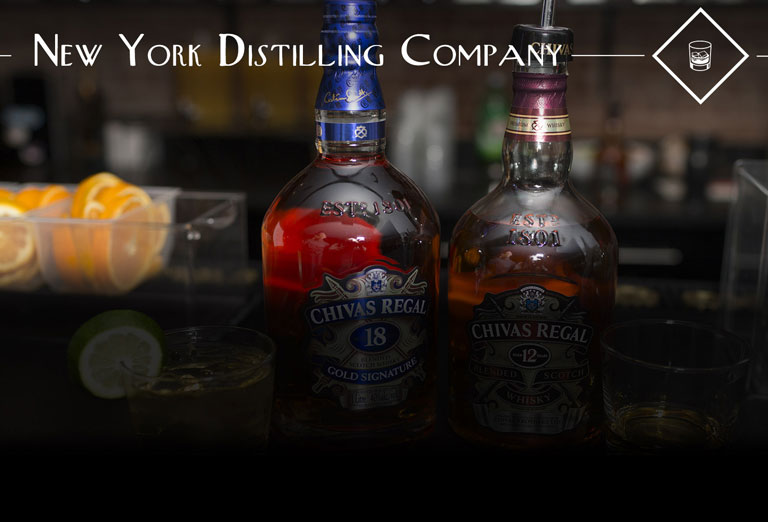 Drink for free at the New York distilling company
There's nothing like a refreshing gin or whiskey, and it tastes even better when it's free. Head to the NY Distilling Company for a tour and tasting on Saturdays and Sundays from 2pm to 5pm. After learning about the history of gin and whiskey, sip proof of how fantastic their distilling process is.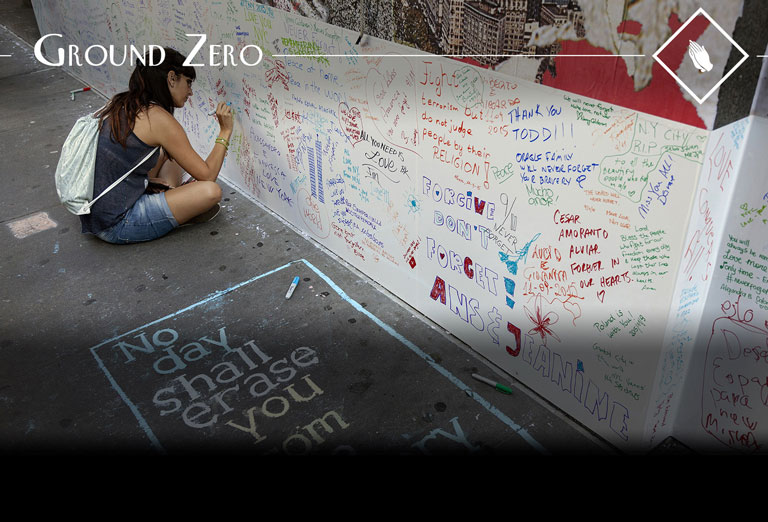 Remember 9/11
The museum is situated where the World Trade Center once stood and while it's only complimentary for 9/11 survivors and their families, the outdoor memorial is always free of charge. The background, day and aftermath is fully explored and every victim of the tragedy is commemorated.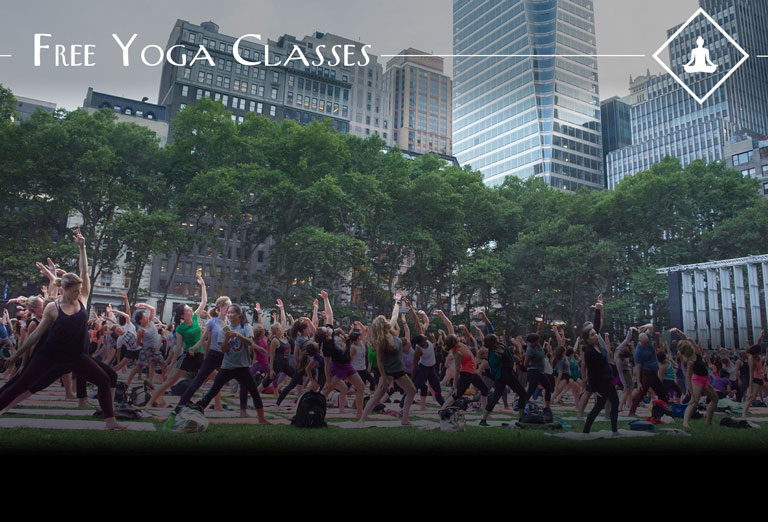 Find your zen at Bryant Park
Bryant Park comes alive at summer with plenty of free activities to take advantage of. On Tuesday mornings at 10am or Thursday evenings at 6pm, free yoga classes are held on the lawn or the upper terrace. Time to get your yoga chants perfected.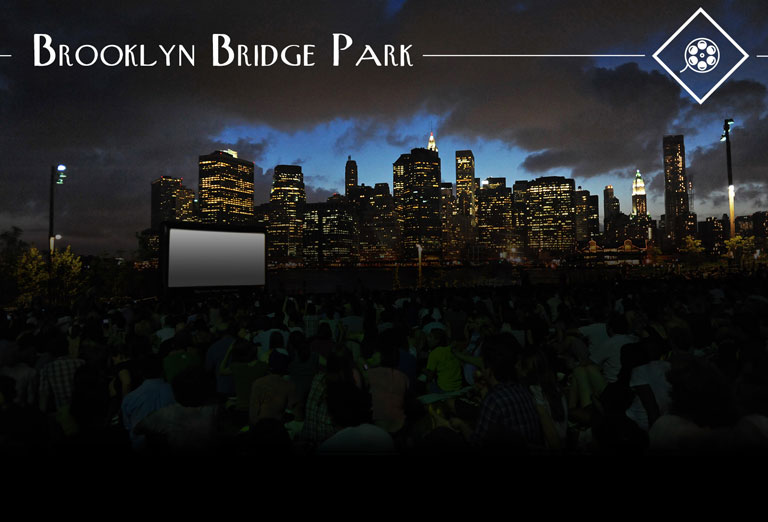 Enjoy a movie in the outdoors
Brooklyn Bridge Park and Bryant Park both host film nights out on the lawn. It's the best of both worlds - enjoy balmy summer weather while lying back and watching a blockbuster outside, instead of cooped up in an air-conditioned cinema. Movies begin when the sun sets so grab a blanket and save a spot.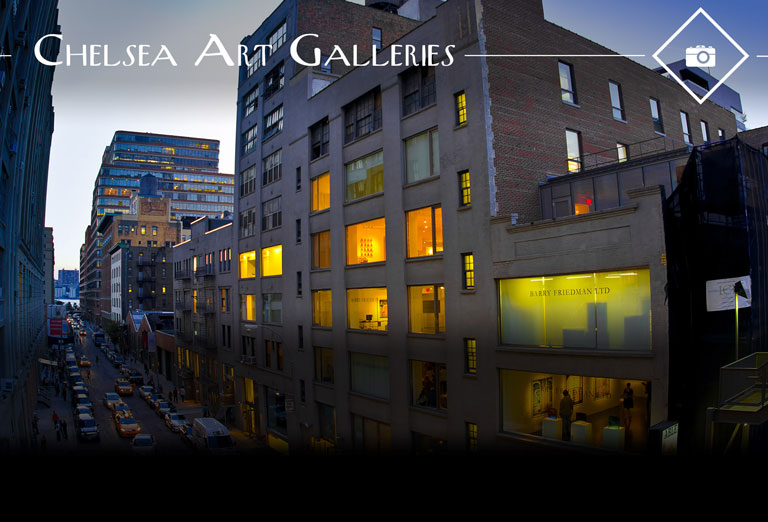 Wander around art exhibits in Chelsea
There's an overwhelming amount of galleries between West 14th Street and West 29th Street around 10th and 11th Avenues and you can walk in without paying a penny all year round. Highlights include Gagosian, David Zwirner and Milk Gallery - and the free wine or beer available on opening nights!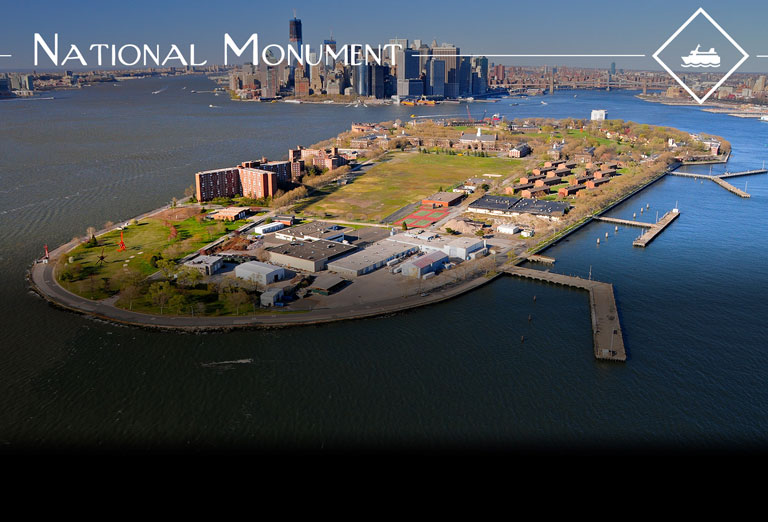 Plan a trip to Governors Island
This 172-acre isle is a beloved green space off the southern tip of Manhattan. With acres of lawn to bike around, a beach to relax beside and a 2.2 mile promenade around the perimeter, take a stroll or picnic with breathtaking views of Manhattan, Brooklyn and the Statue of Liberty in front of you.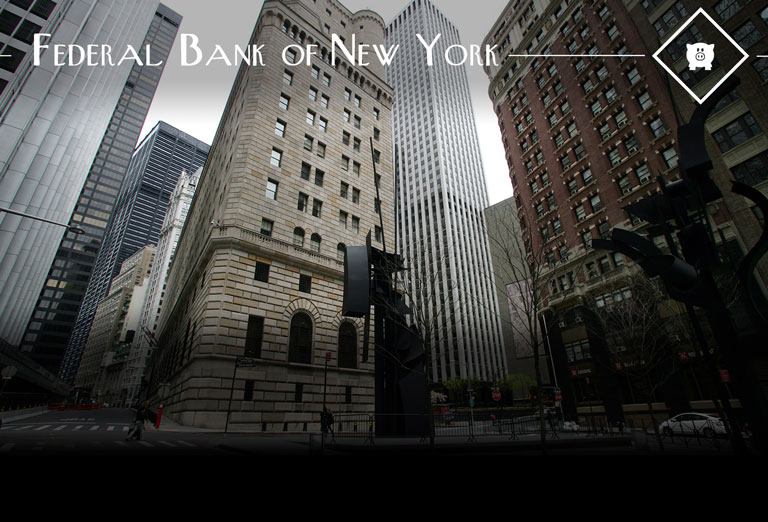 Explore the federal bank of NY's gold vault
You'll feel like you've entered Harry Potter's very own Gringotts when you book a free tour of the gold vault in the Federal Bank of New York on a week day afternoon. More than 6,500 tons of gold has been stored in a building that dates back to the 1920s.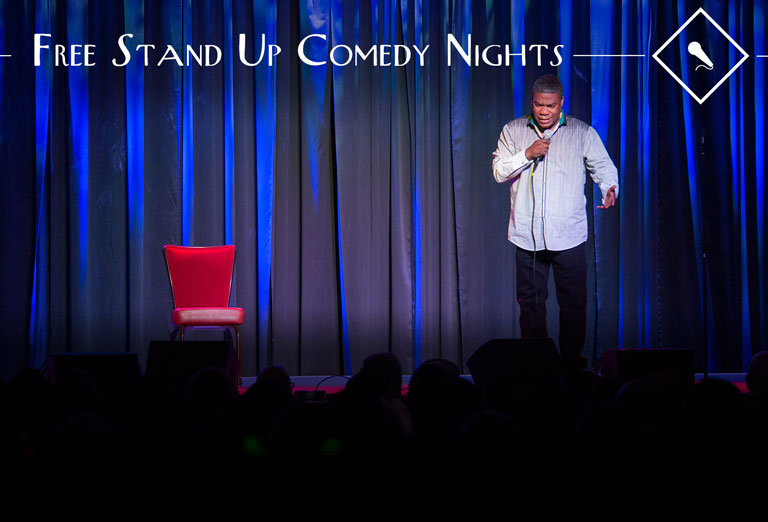 Belly laugh at a comedy club
These comedy shows are ones you wouldn't mind paying for, but luckily you don't have to. Whiplash has a weekly stand-up event at the Upright Citizens Brigade Theatre while Knitting Factory is the place to be on Sunday. Go to Alligator Lounge on a Tuesday night and you get free pizza! Try not to laugh it out of your mouth.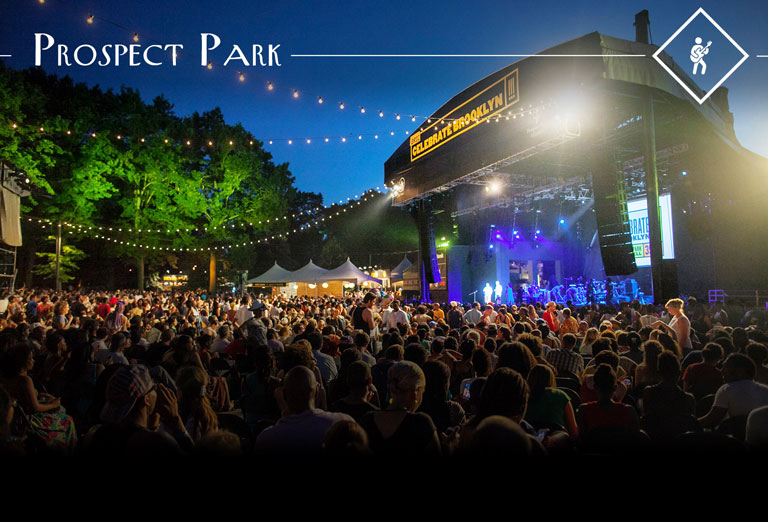 Catch a free concert in Prospect Park
Make a beeline for Prospect Park in Brooklyn for a Saturday night of free concerts. It hosts quite an array of acts, such as the Barenaked Ladies, St Vincent and Willie Nelson. Don't forget to keep an eye out for acts in other places such as Central Park and the Lincoln Centre - they're free too!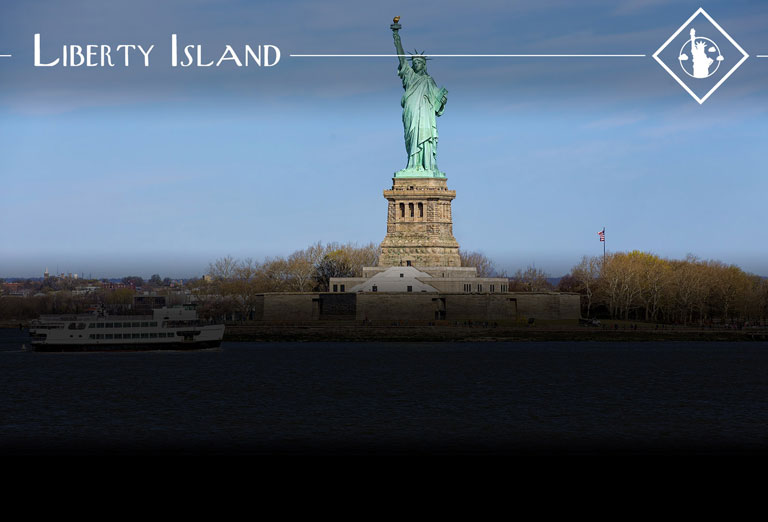 Ferry to the Statue of Liberty
Little known fact about the Statue of Liberty: you don't have to pay to see it close up. Save your dollars on a tour and opt for the Staten Island Ferry for commuters, which scoots across the New York Harbour. You can now get your Statue of Liberty selfie without digging into your pocket.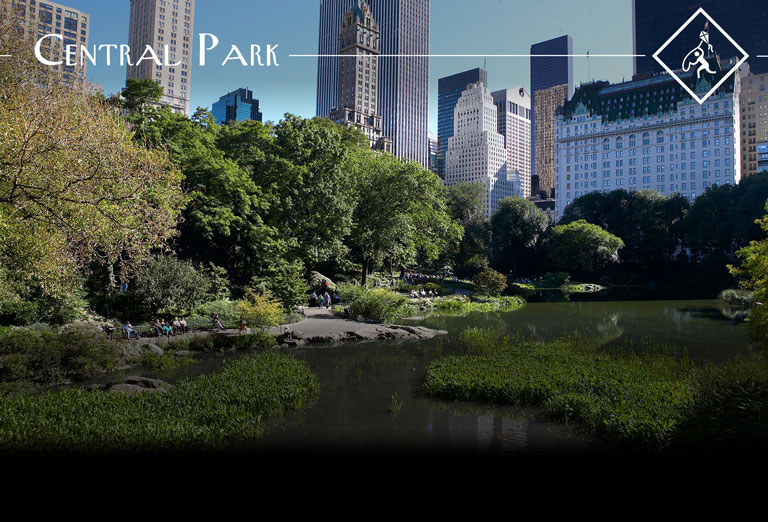 Take a tour of Central Park
One of the city's greatest parks, it's also overwhelmingly big. The Central Park Conservancy offers free guided tours to help you discover every nook and cranny. Take a hike through the North Woods, go see the Strawberry Fields, dedicated to John Lennon, or stroll past scenic lakes and ponds.
New York is known as the city that never sleeps, and thanks to featuring in innumerable TV series and films it's instantly recognisable. We know it for its amazing skyline, for the famous bright yellow taxis, the brownstone-lined streets, fabulous shopping and (usually airborne) shots of Central Park. Now it's time to experience it for yourself! Cheap holidays to New York don't hang around for long - so if you spot one you should definitely snap it up.
Keep an eye on your budget by looking for package holidays or late deals for New York holidays in 2018/2019, being sure to keep an eye on your hotel's location. It can often be worth arranging an upgrade so that you are in a more central location, saving you both time and money when it comes to sightseeing - things which locals know are both as valuable as each other, especially if you're only on a short break in New York.
Whether you've got your eye on a shopping break on Manhattan's Upper East Side, visiting historic Coney Island, digging under the skin of Brooklyn's art and culture, or are simply interested in tucking into a heap of pancakes over brunch in "the Village" (Greenwich), there's so much to do on a cheap holiday to New York, we're sure this won't be your last trip. A New York city break in 2018/2019 is looking more tempting by the day.
Fab holidays for:
City breaks, 24 hour cities, Famous landmarks
Main Airports:
JFK, LaGuardia, Newark
Did you know?
New York City has 722 miles of subway track, which means it's not hard to get around the city and see the attractions.
Other Destinations in United States
Other Nearby Destinations
You Might Also Be Interested In
New York Weekend Breaks
To tackle a city like the Big Apple in a weekend break, your best bet is to divide New York into districts. Luckily, they've already been separated out for you.
SoHo puts you near Chinatown, designer shops and fine restaurants while the Upper East Side is home to many of the city's art galleries and museums. The Village is where people go to party, Union Square, Flatiron District and Gramercy Park are home to many farmers' markets and Times Square is the hub of all things touristy. Find accommodation according to what you want to see most - and book hotels in advance if you want to save money on New York city breaks.
If catching a show on Broadway is an essential part of your cheap weekend break to New York, you need to book in advance. A lot of shows sell out, especially over popular weekend dates.
Have a look to see the types of events that are on your New York weekend break. For example, the performing arts Lincoln Center has a host of shows, from opera to modern dance. You should definitely try and fit in a visit - take advantage of the student discount rates - or just go for a tour of this historic facility. City breaks to New York offer a great chance to experience the culture the city is famous for.
If you're planning a short three-night New York break, you won't want to waste any time queuing. Many who book New York holidays like to visit iconic sights, and some, such as the top of the Rockefeller Center, let you book a timed ticket online. And don't waste time wandering around Central Park hoping to bump into what you want to see. Arm yourself with a map and work out exactly where you need to go on your trip to New York!
What to do in New York
Top
10
When it comes to listing all the things to do in New York on a cheap break, or even to try to list the must-sees, it's impossible to know where to start! We've tried to put together a quick top ten best of New York here. In no particular order:
Empire State Building

See the amazing views from high up in the Art Deco building on 5th Avenue.

Times Square

Soak up the neon lights and pose for photos with the zany dressed-up characters wandering around the square.

Central Park

Get away from the madness of Manhattan with a peaceful stroll through the scenic Central Park.

Statue of Liberty

Take a boat to Liberty Island and pay a visit to Ms. Liberty herself.

Guggenheim Museum

Take in some abstract art with a series of exhibitions and shows.

Grand Central Station

This isn't just any train station. Admire the classic designs throughout the station.

Brooklyn Bridge

Walk across the Hudson River and over the bridge on your way to a stroll around Brooklyn Bridge Park.

Coney Island

Take a day trip to Coney island and enjoy the faded grandeur of this seaside resort.

5th Avenue

Spend the day window shopping or splurging away at the luxury shops on 5th Avenue.

Rockefeller Center

If you're visiting during Christmas, make sure you stop by the Rockefeller tree and ice rink. The New York festive season could have its own top 10.
Where to stay in New York
New York has a fine selection of great value hotels, although there are plenty of overpriced offerings too. Be sure to read some of the reviews, but be aware of the fact that New York hotel rooms are all tiny, and that people largely go on these sites to complain!
If you're after New York breaks on a budget then expect to be a way from Central Park. Midtown is known for all its shops, bars, restaurants and entertainment options, but this also means it's a premium location for visitors. Downtown is a great alternative with its host of trendy areas, perfect for finding those out-of-the-way spots people come home raving about, and for taking envy-inducing holiday snaps.
If you're looking to splash the cash a little on a weekend break in New York, then Uptown Manhattan is a great choice. Hotel rooms here are generally larger, and the area is more family friendly. Plus, there will be lots of swish shops and restaurants on your doorstep!
Your final option is to head further afield, with Brooklyn offering plenty of budget-friendly choices, while Long Island is a very upmarket place to lay your head. Brooklyn is popular thanks to its different ethnic districts, and is well known for its delicious food, as well as its hipster-centric entertainment. Long Island is where the wealthy residents of New York have a holiday home. It's a bit of a journey into the centre, but a stay here is the most relaxing way to see the sights. Perhaps the most budget-focused option is to stay near to Newark airport. You'll find many travel companies using hotels in this area as their lead in price for trips to New York.
---
How to get to New York
All holidays to New York start with a flight across the Atlantic. Expect to be in the air for around seven hours. There is not normally much difference in price between direct and indirect flights so choose one flight, not two to avoid unnecessary travelling time - especially for short breaks to New York! New York has three airports, so be sure to check which you are landing at and work out a plan for your onward travel. Most flights land at JFK Airport, although if you're on the lookout for a cheaper holiday in New York, you should certainly consider a flight to Newark or LaGuardia as well. Waiting until the last minute can also often turn up some bargains, too. Booking package holidays to New York with all your flights and hotels included can also be a great way to save your pounds.
Once you arrive in New York, the fastest way to continue your journey is to hail one of the iconic yellow taxis, although if you're keeping an eye on the budget then you'll probably want to consider one of these other options:
Travel from JFK - Get on the air train for the fastest way to the centre. It runs 24 hours a day into Manhattan and connects with the subway. Shuttle buses can take up to 60 minutes, or you could also catch the subway direct from JFK. To join the network, get on the free airport bus to the long stay parking! It's best to avoid this method at peak times, as there is minimal space for luggage in the carriages. If you're travelling light, then the local buses are the best budget option, but no large bags are allowed at all.
LaGuardia - It takes a little more time to get into New York from this airport, as the shuttle bus is your only option if you have large bags. Expect the transfer time to be around 60 minutes, or longer in rush hour. You can also take the bus or the subway, although neither of these are advised with large bags.
Newark International Airport - The air train is again the fastest way to arrive in Manhattan to start you cheap New York break, with shuttle buses the only other option from here. Expect journey times of around 60 minutes by road.
When to go to New York
With its four distinct seasons and enough fascinating sites to command visitors' attention time and time again, there's no bad time to visit New York. Head there during January and February for the cheapest hotel prices - but be prepared for temperatures that fall below freezing! Brave the cold, though, and head to Central Park - the snow makes this iconic green space all the prettier!
The early autumn months sees both temperatures and prices rise, but it's still an affordable time to visit if you want to beat the holiday crowds and avoid the winter freeze! May and June is when things really start heating up - and prices start to reach skyscraper-high proportions! The summer time sees humidity kick in, and days that hit 35°C are not unheard of - American kids break from school as well, driving up prices. However, prices reach their peak in September and October, when the city is at its most pleasant, weather-wise. Avoid the city in November, when Thanksgiving kicks prices into overdrive, and December, when people flock from across the world for New York's famous Christmas trimmings - ice-skating rinks, Christmas trees that are storeys-high, and its famous Times Square NYE celebrations. It's definitely worth the cost, though, if you you want to join in the Big Apple festivities!