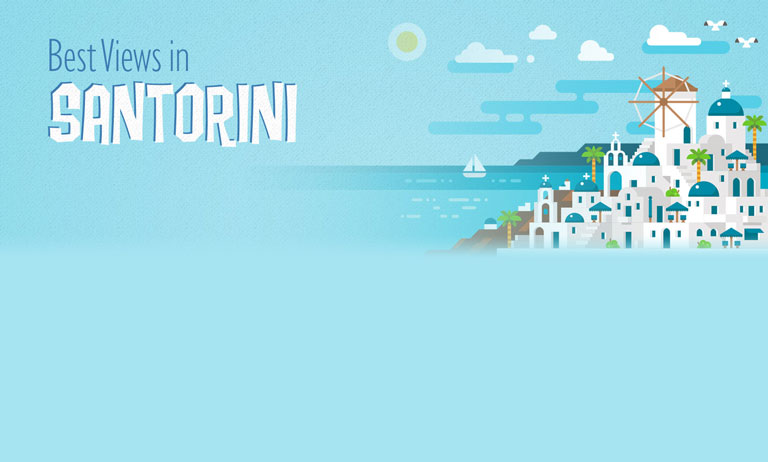 Everyone knows about Santorini's electric blue domes that make the surrounding buildings even more blindingly white, all against a precipitous plunge into rock and sea. But you've got to see it to believe it. You'll soon understand its reputation as one of Greece's most beautiful islands.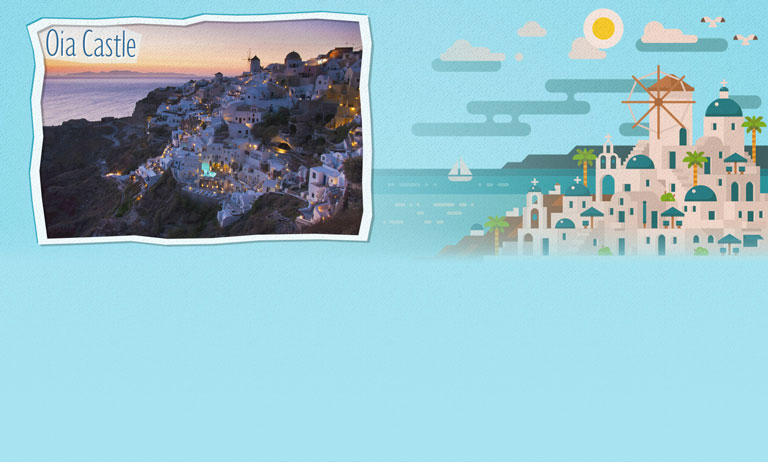 Oia Castle
Oia Castle never looks better than it does at blue hour. A blueish tinge fills the air as the sun sets on the structure, with the island's iconic windmill in the distance. A luminescent light bathes the many white-washed buildings in a soft glow and, in that moment, click away. It's postcard-perfect.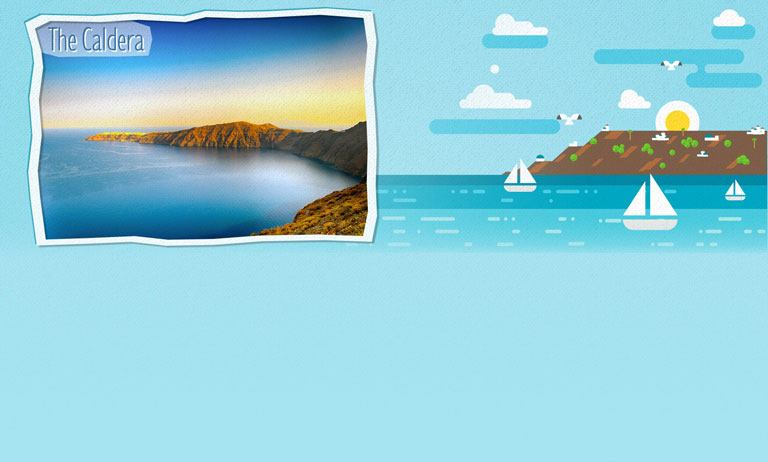 The Caldera
The serene and beautifully blue caldera of Santorini tends to attract cruise ships in their hundreds but don't let that deter you. Measuring four miles in diameter and more than a thousand feet above sea level, panoramas of the caldera are more than worth the crowds.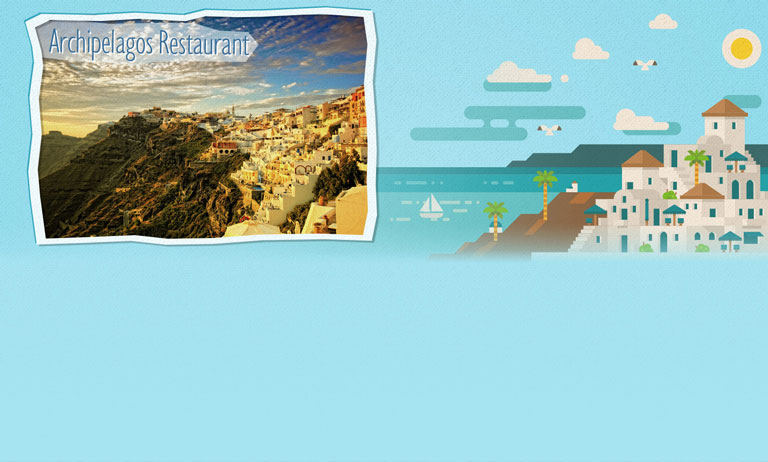 Archipelagos Restaurant
Fira's cliffs overlook the stunning caldera and Archipelagos puts you in a place where the phrase 'dinner and a view' just doesn't cut it. Mediterranean-Greek style dishes are placed in front of you while the sun paints the unencumbered sky a myriad of brilliant colours.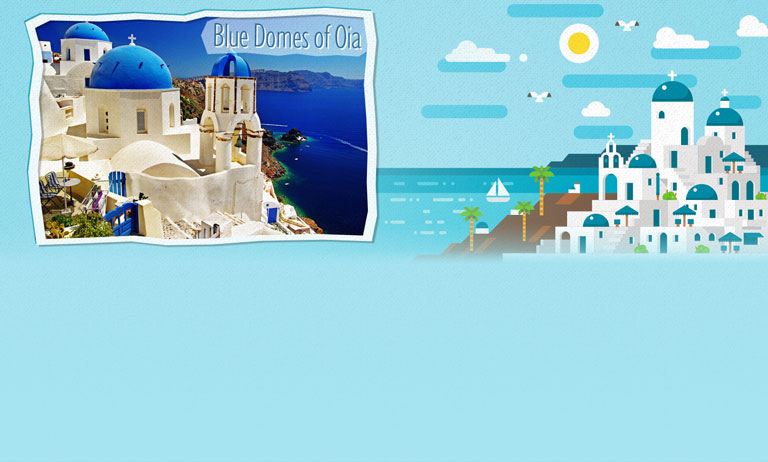 Blue Domes of Oia
Arguably one of the most iconic shots of the island, these blue domes are what everyone associates with Santorini. Walk down the main marble streets of Oia and take an alley towards the water - there you'll find the domes at their best, looking out over the caldera.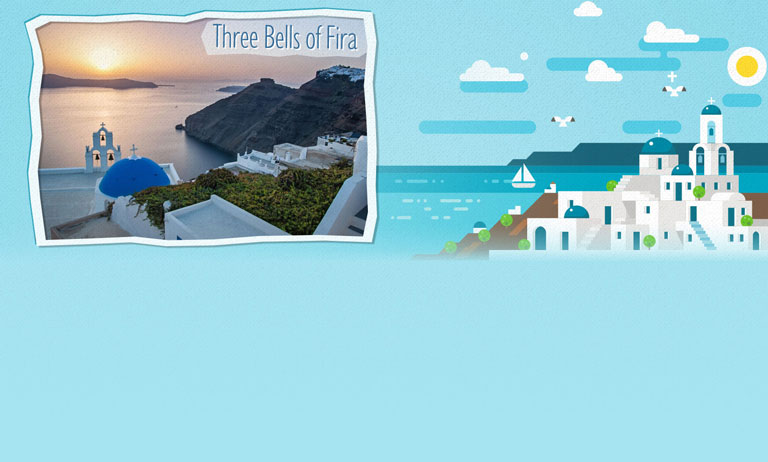 Three Bells of Fira
Make a beeline for the town of Fira. Look out for a restaurant called Mama Thira Taverna and walk up to the top of the cliff. That bit of exercise will be worth it - you'll find one of the best views of the blue domes, the caldera and the famous three bells.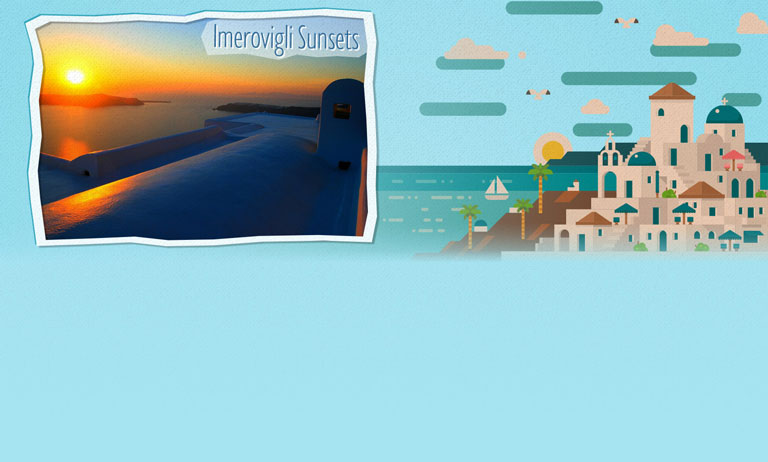 Imerovigli Sunsets
Avoid the crowds for a sunset over the caldera and make your way to Imervogili. Not only does the sky light up like a painting but you won't be elbowing over-eager tourists out of the way to get your winning shot.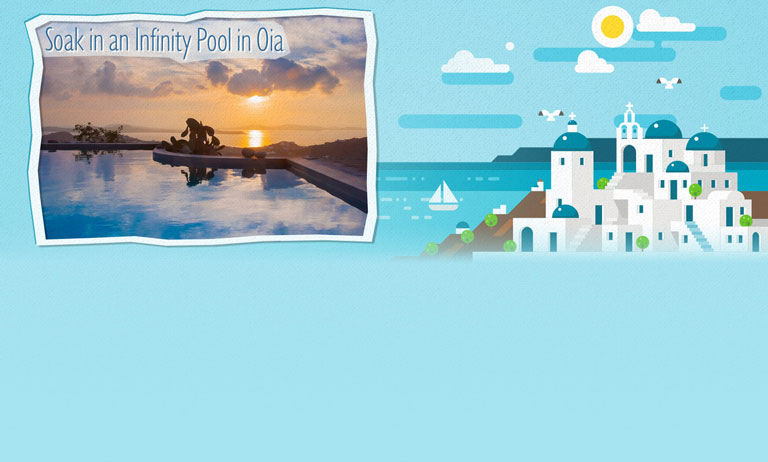 Soak in an Infinity Pool in Oia
One of the things that will catch your eye are the inviting infinity pools dotted across the cliffside. They're often attached to luxury suites but splash out and spend the night - it'll be worth every penny. Perivolas is one of the most luxurious - admire the poolside panoramas, cocktail in hand.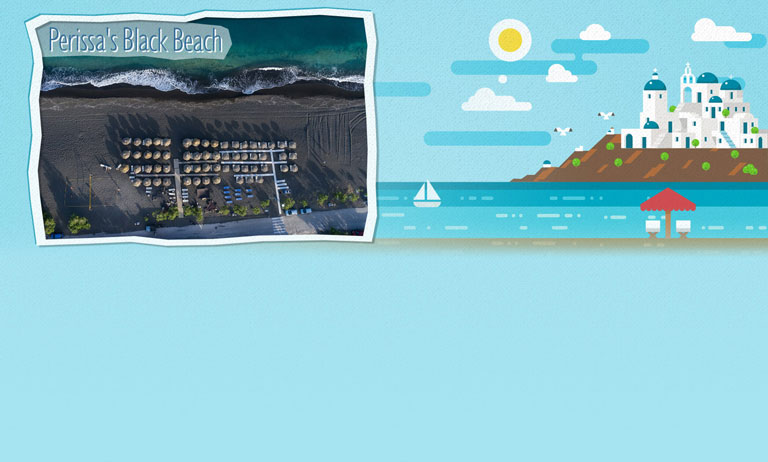 Perissa's Black Beach
One of Santorini's most famous beaches, the dramatic black sand beach boasts crystal clear waters that sit in startlingly contrast to its shore. Beach bars and cafes are there to entertain and even when you look behind you, those famous blue domes make their presence known.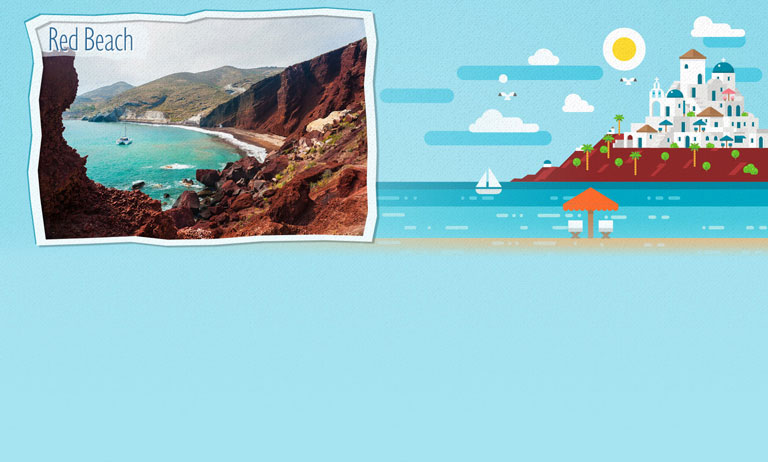 Red Beach
Not to be outdone by its darker counterpart, Santorini's Red Beach is a mere 20-minute drive from Fira, and steps from the ancient site of Akrotiri. The dramatic red and black volcanic rocks frame this colourful beach and make for quite the photo opportunity!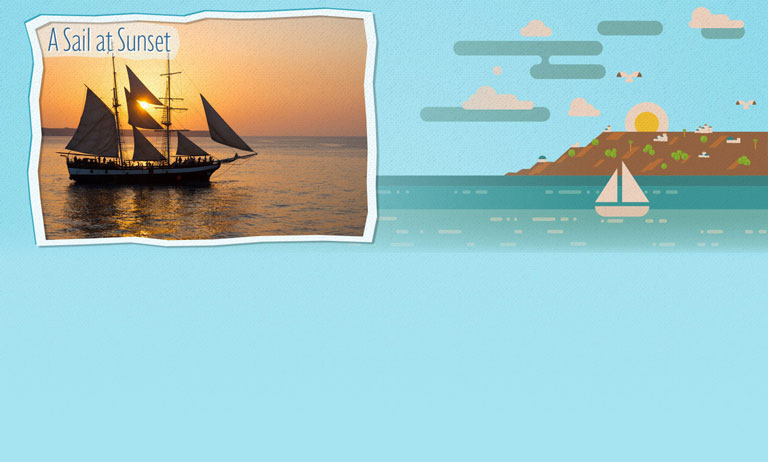 A Sail at Sunset
Sometimes it's better to step off dry land and go for a sail around the sea. There are no crowds, with nothing blocking your view, and you'll be able to see Santorini in all its glory. And, if you're lucky, you may catch a glimpse of resident wildlife frolicking through the waves.
A beautiful island off the southeast coast of Greece, Santorini is a vibrant holiday destination, with red sandy beaches contrasting with whitewashed houses. Visit colourful cliffs concealing pretty villages and enjoy the stunning sunsets. It's hard not to be moved by this island's incredible scenery. Whether you are seeking a beach retreat, a cultural trip or a combination of the two, this volcanic island offers up holiday experiences aplenty. If you're lucky, you could also visit on a cruise with some of the smaller ships calling here.
Euro
Greek
approx. 4 hours
GMT +3
Fab holidays for:
Volcanic beaches, Vineyards, Island hopping
Airports:
Athens and Santorini Airport
Did you know?
Due to its volcanic past, Santorini has white, black, and red beaches.
Other Destinations in Greece
Other Nearby Destinations
You Might Also Be Interested In
Top 5 of Santorini's Most Unusual Beaches
Top
5
While Santorini has plenty of stunning shores, its other unusual beaches attract all the attention.
Kamari Beach

Kamari has the largest stretch of black powdery sands in Santorini. Lounge on the unusually coloured sand but be warned - it soaks up the heat easily so bring a towel and some flip flops.

Amoudi Bay

For stunning views of the volcano's caldera, climb down the 300 steps from the northern city of Oia to the tiny port of Amoudi Bay.Despite the rocky beach, swimming at the foot of the caldera is incredible and worth the effort. And an added benefit? People rave about the sunsets here.

Red Beach

You've guessed it - Red Beach boasts red sands and it's just as cool as it sounds. At the tail end of of the road to Ancient Akrotiri, it's more remote than Kamari Beach which means you avoid the crowds. Plus, the contrast of the vibrant blue waters against the red sand is spectacular.

White Beach

White Beach is only reachable by a boat from Akrotiri or swimming from Red Beach, which is right next to it. Its black pebble shore sits in stark contrast to the striking white cliffs.

Vlyhada Beach

With grey volcanic sand, Vlyhada Beach is surrounded by white cliffs that have been sculpted into weird and wonderful formations by the wind and sea. The sight is so strange that visitors liken it to being on the moon.
How to get to Santorini
Many travellers come into Santorini via stopovers in Athens (about a 45-minute flight to the island), however there are also package holidays to Santorini that include direct cheap flights with charter airlines from the UK. If you can hold off, consider booking a last minute flight for even cheaper fares. The airport is eight kilometres from Fira, the capital of Santorini, and a good starting point for Santorini holidays. Santorini car hire is readily available and may prove to be useful depending on how much you plan to move around the island.
What to do in Santorini
The best thing to do is to hop along the many different beaches around Santorini to see the varying landscapes and colourful sand. Small, whitewashed villages dot the island, with great taverns to sample the local dishes. The village of Oia is said to have the best sunset views in the Aegean.
When to go
The high season in Santorini is in July and August, meaning that if you are looking for a cheap holiday then it is probably best to avoid these months. Spring and Autumn are the best time for bargains, with pleasant weather and fewer crowds. In May and October the average temperature is a warm 20C which reaches heights of 25C in the height of summer.
Where to stay in Santorini
Holidays in Santorini are almost invariably beach based and therefore your hotel will be the place you sleep in and will be used for relatively little else.
If you are looking for comfort and cleanliness, check out the range of budget accommodation, some of which is based in Fira in the form of compact holiday apartments. A number of highly recommended budget hotels can be found at Perissa Beach, one of the many so-called black beaches, named after the black pebbles that line the shore. There are a few hotels offering all inclusive holidays but this type of holiday is not as prevalent as other Greek Islands. Alternatively check our unique hotel blog which features a very special hotel on one of Santorini's cliffs.
What to do for Families in Santorini
While Santorini is usually associated with luxurious holidays for adults looking for a relaxing escape, it's not hard to make your next holiday to the island a bit more kid-friendly. Many of the villages are completely car-less, often navigable only by foot, making them safe and attractive for families with young children, and those who don't want to venture too far from their accommodation. The most kid-friendly locations? Kamari and Perissa are two areas with a high concentration of resorts with pools, that are close to the beach, and not as expensive as other locations such as Oia and the Caldera. The calm waters of Santorini's beaches are great for kids of all swimming levels. Make the most of the glistening water with a boat trip - there are plenty of operators dotted around the island, many offering excursions that include food, drink and snorkelling gear. Book in advance to save pounds!
Get your kids thinking with visits to the archaeological sites of ancient Thira and Akrotiri, which are thought to date from around 900BC and the 4th millennium BC respectively. Even kids who aren't keen on history are sure to be fascinated by the sheer age of these settlements - and if they're not, there are always marvellous views across the ocean!
What to do for Couples in Santorini
Santorini was seemingly built for couples looking for a romantic escape, whether that be for their honeymoon, a wedding anniversary, or even just a chance to get to know each other a little better in a new relationship. With plenty of spots to peer at the island's famous sunsets, winding laneways surrounded by whitewashed buildings spread through the city just made for strolling hand in hand, and more cosy hotels than you can poke a stick at, Santorini dials up the romance, big time.
Like many Greek islands, there isn't much to do with your days besides lazing on the sand or by the pool, feasting on local delicacies and rounding out the day with a drink as you watch the sun go down. Mix things up a little by heading to the Bronze Age archaeological site of Akrotiri, which was destroyed by a volcano, with its remains preserved by the volcanic ash!
For the most romantic Santorini experience, stay in the white-and-blue town of Oia, or in prime sunset-viewing position in Imerovigli. If you want an area that's a little livelier (think nightclubs), the capital of Fira might be more up your alley!