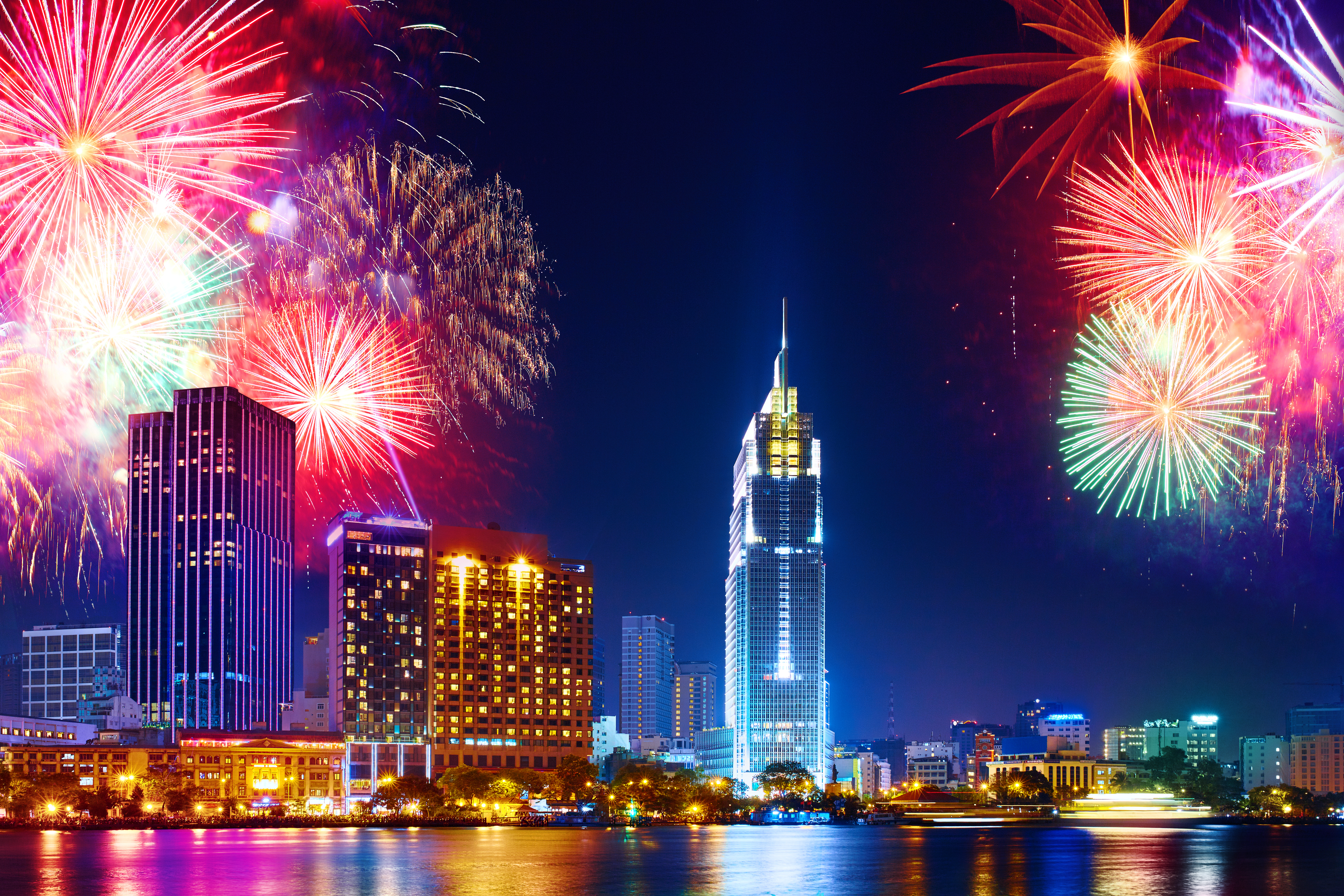 Annual guide to Vietnam
With its sparkling scenery, food that turns taste levels up to 10 and historical sights aplenty, there's no reason not to visit Vietnam at any time of year. Vietnam also loves a good celebration, from ringing in the lunar new year to remembering past loves, and there are opportunities for visitors to join in the revelry year-round - here's one for every month to get you going!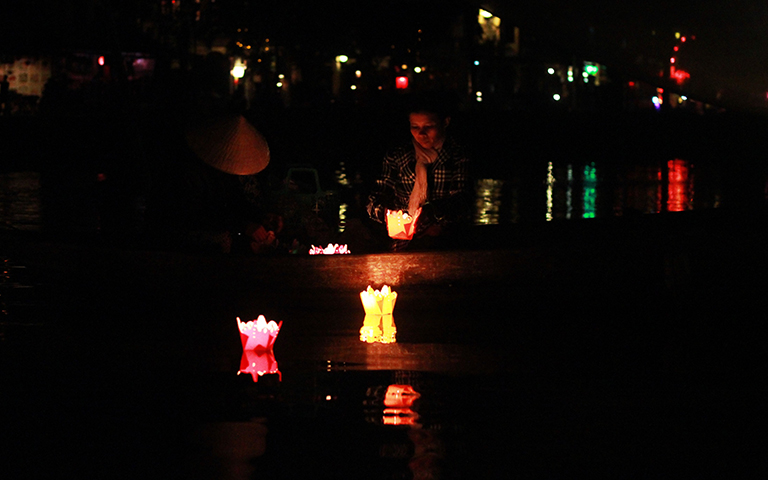 Hoi An Lantern Festival
Hoi An
On the 14th night of each lunar month, the electricity in Hoi An is turned off to kickstart celebrations of the full moon. Light a lantern and watch it float down the river alongside those of hundreds of other visitors and locals, sample the region's cuisine and take part in traditional games. Image Ⓒ Flickr | Earl Goodson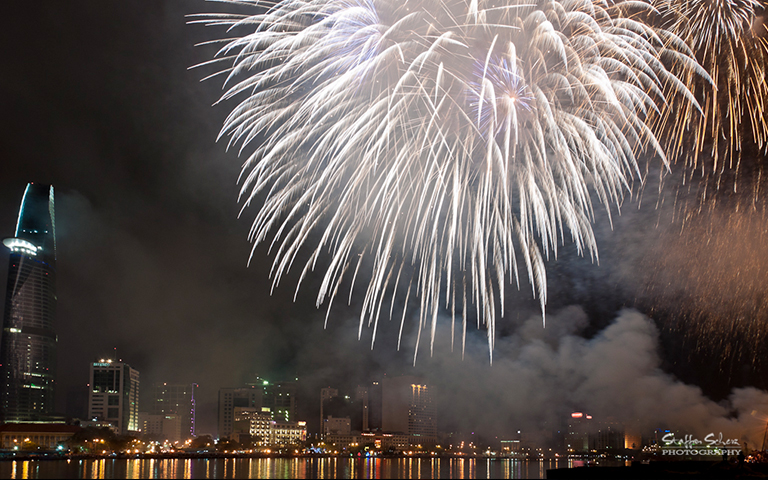 Tet - February
Nationwide
Ring in the lunar new year during Vietnam's most epic annual celebration. Streets and houses are decorated in bright colours, and be prepared to loosen your belt as many, many feasts are held - festivities often continue for over a week! Image Ⓒ Flickr | Staffan Scherz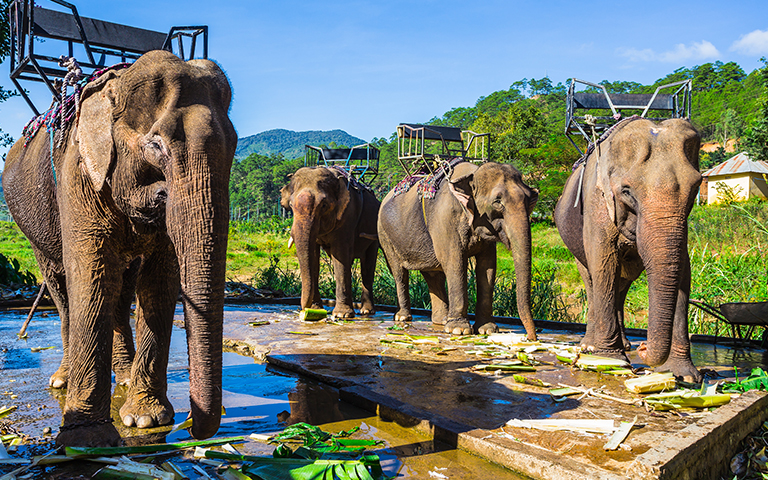 Elephant Race Festival - March
Tay Nguyen
Here's one that does exactly what it says on the tin: 10 elephants, racing for glory. During the festival the elephants are fed special foods and, as well as racing, they take part in swimming competitions, tug-of-war and football matches.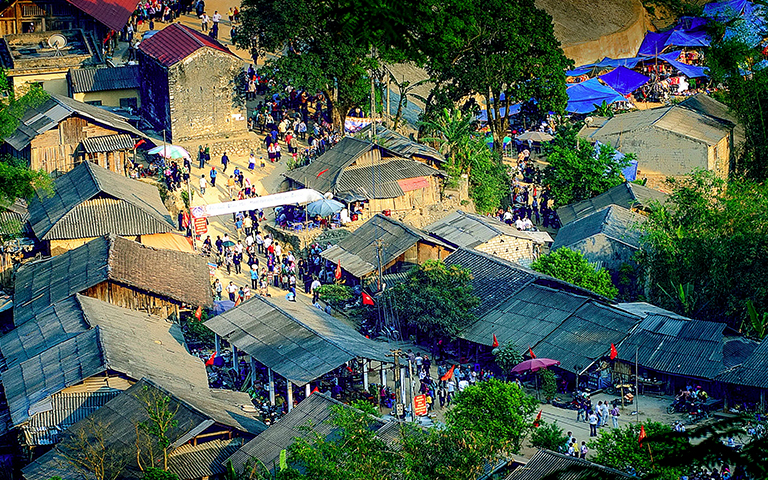 Khau Vai Love Market Festival - April
Khau Vai Commune
Money and goods aren't exchanged at this market. The main commodity here? Love. Ex-lovers who couldn't be married meet at the market every year to reminisce and share their feelings with one another. Image Ⓒ Flickr | VietnamDicovery Travel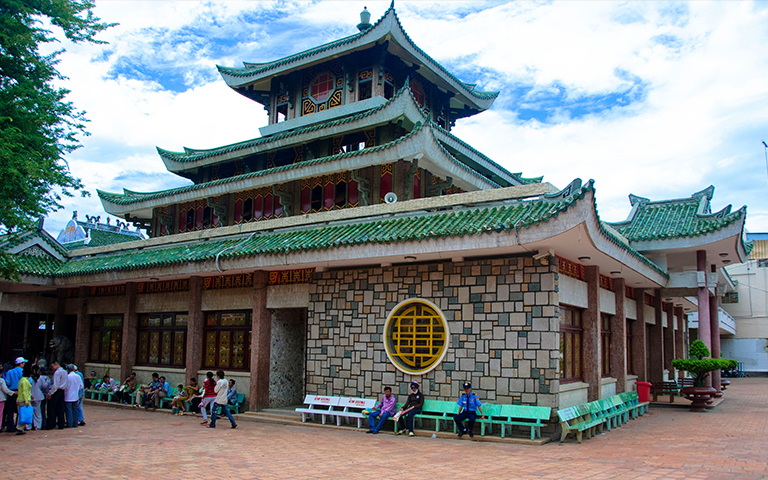 Ba Chau Xu Festival - May
Chau Doc
In the 1800s a statue of a woman was found where the Ba Chau Xu Temple now stands. The locals built the temple to worship her, and believed she would bring them flourishing crops and wealth. During the festival the statue is washed, offerings are made, and dances are performed. Image Ⓒ Flickr | tien le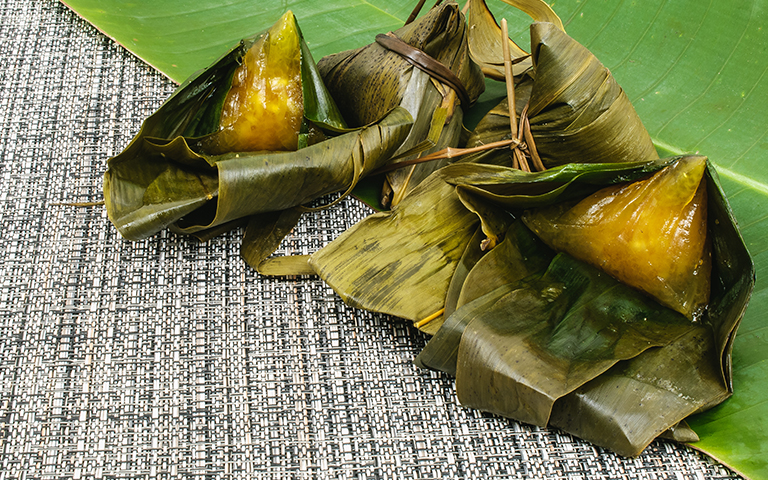 Tet Doan Ngo - June
Nationwide
On the day that the sun is closest to earth, Tet Doan Ngo is held to prevent disease, evil and illness. Sour foods like oranges, lemon and rice wine are eaten, as these are thought to cleanse the stomach and rid the body of illness.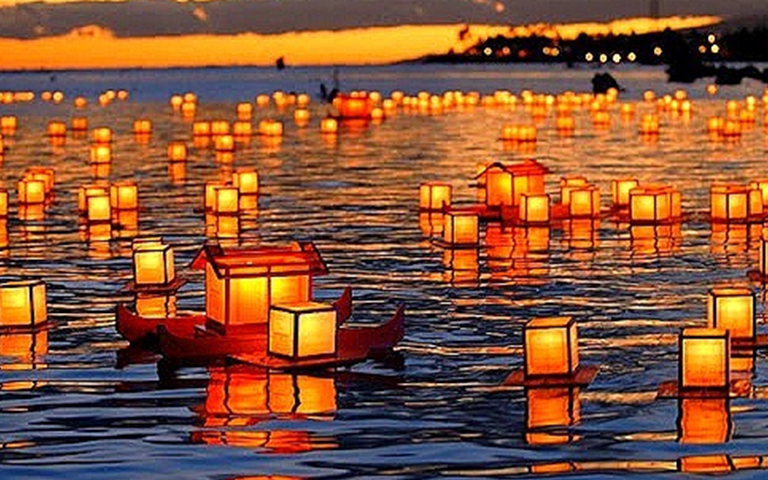 Vu Lan Festival - July
Nationwide
In the 1800s a statue of a woman was found where the Ba Chau Xu Temple now stands. The locals built the temple to worship her, and believed she would bring them flourishing crops and wealth. During the festival the statue is washed, offerings are made, and dances are performed. Image Ⓒ Flickr | Khai Hoan Hotel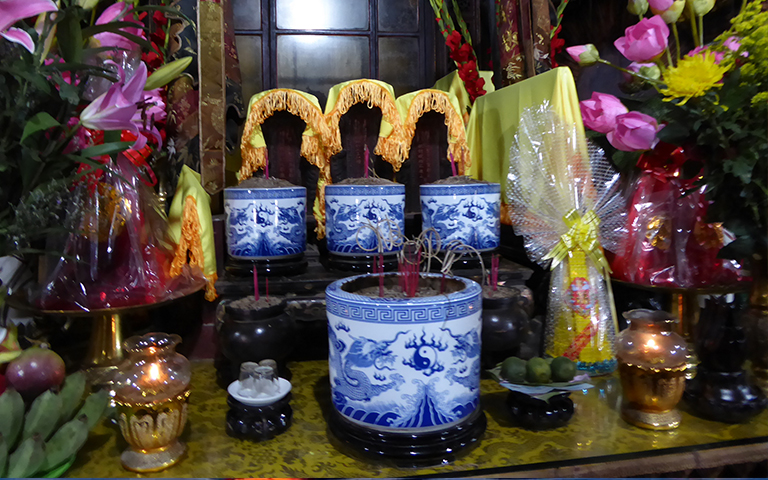 Hon Chen Temple Festival - August
Huong Tra District
Help the Vietnamese honour their deceased and living parents at this popular festival, held on the day when lost spirits search for mercy and return to their former homes. Birds are released into the air and fish into the sea, and parents are offered gifts in gratitude for their sacrifices. Image Ⓒ Flickr | Radek Wrana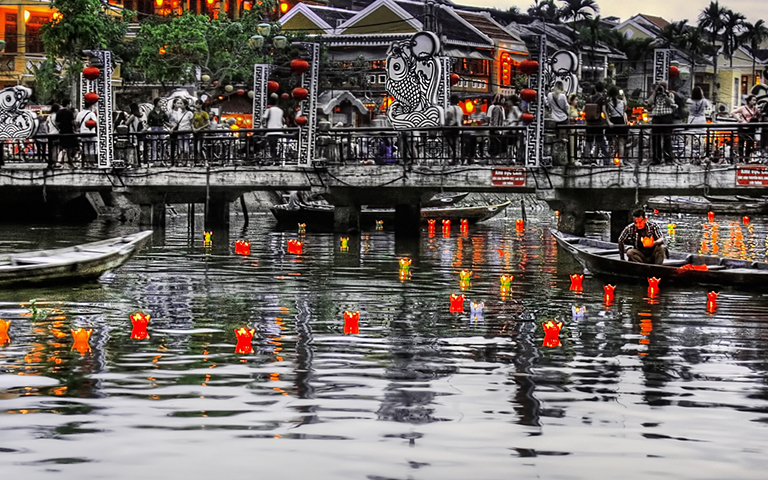 Tet Trung Thu - September
Do Son District
After a long harvest parents needed to make up for lost time with their children. So, they held this festival under the full moon, which symbolises prosperity and fullness of life. Kids parade through the streets singing and carrying colourful lanterns, while 'moon cakes' are handed out as gifts. Image Ⓒ Flickr | Daniel Mennerich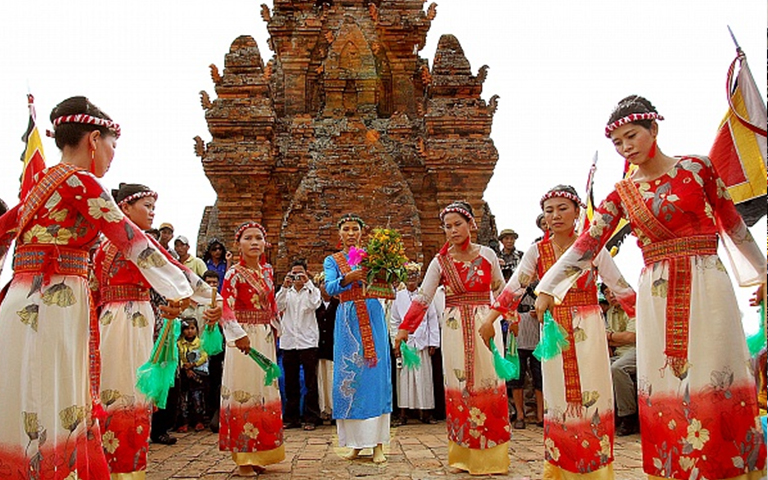 Kate Festival - October
Ninh Thuan
A celebration of the ethnic minority Cham's New Year, and held in three temples across south-east Vietnam's Ninh Thuan district, Kate Festival is a commemoration of the dead and a way to honour Cham heroes. With folk dances, costumes and games, it's a raucous, colourful celebration. Image Ⓒ | Khai Hoan Hotel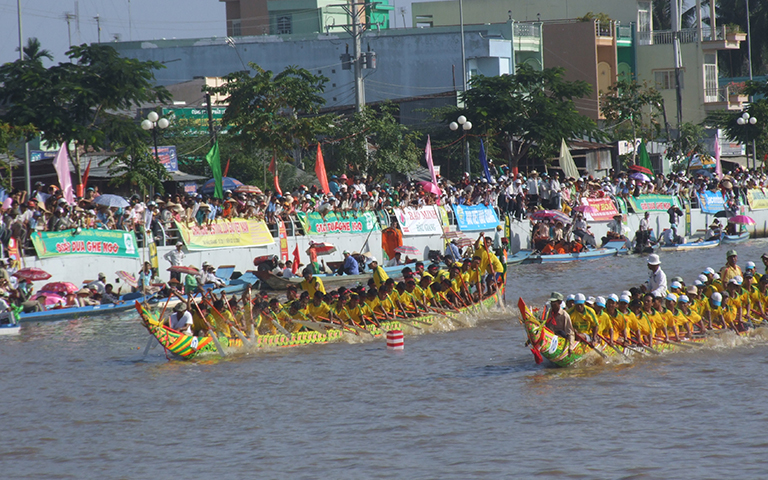 Ghe Ngo Festival - November
Mekong Delta
Khmer people from Cambodia, Thailand, Vietnam, Laos and Myanmar are invited to take part in this traditional boat race and raise awareness of the cultural heritage of their ethnic group. Brightly coloured boats are paddled down the river, and there's also food markets and dances.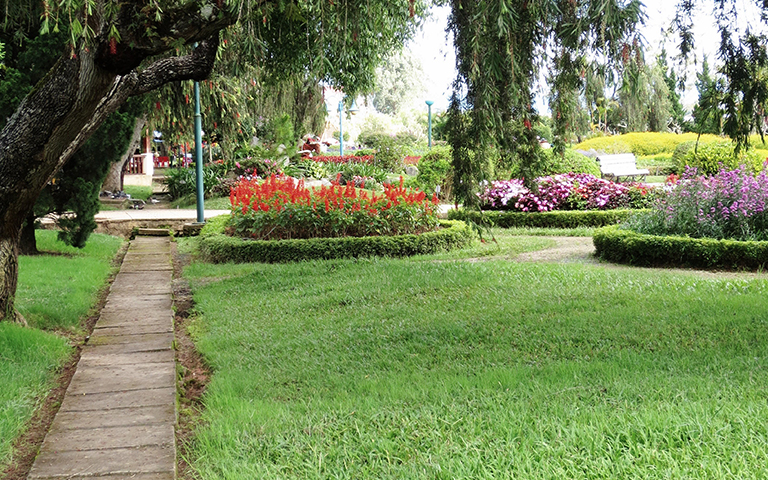 Da Lat Flower Festival - December
Da Lat
Held every two years since 2005, this festival exhibits flowers, ornamental plants and vegetables in a spectacular array of colour. There's a bounteous flower garden, competitions between flower growers, parades, street performers and produce markets. For beverage lovers there's a square full of Da Lat-grown wine, coffee and tea.
Vietnam is a country of dramatic coastline, spectacular landscape, a rich history, divine food and beautiful beaches. It's wrapped in vivid colours, from the lush green countryside and rice fields of the Mekong Delta, to the gorgeous fabrics for sale in Hoi An and the hubub of traffic and street life of Hanoi.
While flights to Vietnam may be a bit pricier than a European trip, once you're there, cheap holiday deals are widely available. Have a look at flights to Bangkok to start off your Vietnam journey for 2017/2018, or even check out last minute Vietnam deals if time isn't of the essence. Once you're wandering around the enigmatic streets of this lovely country, you'll know every penny spent was worth it.
Other Destinations in Vietnam
Other Nearby Destinations
You Might Also Be Interested In
How To Get To Vietnam
Holidays in Vietnam start with a flight into one of the four international airports. Tan Son Nhat Airport which serves Ho Chi Minh City and Noi Bai Airport in Hanoi are the main portals for those travelling direct from Europe and the US. Da Nang and Can Tho Airports accept Vietnam flights from Asian destinations. Last minute deals aren't the easiest to find but once you're in south east Asia, such as Thailand, local flights are absolute bargains.
Top 5 Things to Do in Vietnam
Top
5
Vietnam shouldn't be overlooked when deciding on a south east Asia holiday. It's got a lot more to offer than you think!
Ha Long Bay

Ha Long Bay is one of the world's natural wonders and an elected UNESCO Heritage spot. Spectacular limestone islands and islets are spread across 1,500 kilometres and booking a junk boat to see them is an experience like no other.

Imperial Citadel of Thang Long

Also a UNESCO World Heritage site, the Imperial Citadel of Thang Long was once the political centre of Vietnam for 13 consecutive centuries. It was also the capital of Vietnam for eight centuries! It's definitely worth a visit.

Cu Chi Tunnels

Cu Chi Tunnels are a war museum, with a twist. A tribute to to Viet Cong-era soldier, prepare to be squeezed into very small spaces as you learn all about the fights from 1948 onwards while wandering around 120-kilometre worth of tunnels.

Phong Nha-Ke Bang National Park

You'll find this UNESCO World Heritage park in Quang Binh Province, north-central Vietnam. Not only is it beautiful but it's the result of earth crust development 464 million years ago. It's the oldest major karst formation in all of Asia.

Mui Ne Sand Dunes

Mui Ne's sand dunes are conveniently located near the beach so you can do half a day of sunbathing and half a day of sandboarding or sledding down white and red sand dunes.
What To Do In Vietnam
Vietnam holidays are filled with contrasts. Vietnamese cities are noisy bustling places filled with smells and sounds that bombard the senses in a truly memorable and wonderful way, and holidays in Hanoi will satisfy those looking for the buzz of city life. For those who want to relax on a beautiful beach or explore the rich history of the country there are numerous places to visit. Vietnam holidays have something for everyone.
Where To Stay In Vietnam
There is a range of accommodation in Vietnam to suit all budgets. Travellers looking for cheap holidays to Vietnam will have no trouble finding good accommodation at sensible prices. For those looking for luxury all the big names in hotels are represented both in the cities and on the islands as well as at beach resorts, with all the facilities you would expect.