Search for holidays by date to - Egypt
All you need to know about holidays to
Egypt
Egypt is a desert country bridging between the Middle East and North Africa. The River Nile, the Mediterranean and the Red Sea coast provide much-needed respite from the heat and it's in these places that you will find a wide range of fantastic spots for a holiday to Egypt. No longer an arduous or expensive journey away, Egyptian destinations are today reachable by low cost airlines, which means Egypt holidays are cheaper than ever. That makes a stay in Hurghada and Sharm El Sheikh in 2013 and 2014 a great way to make your money go further. And sunshine, beaches and stunning diving will never go out of fashion in our opinion!
Don't forget about the other Egypt holiday destinations too - the ones that have been popular with tourists for hundreds of years. Many of these date back to the time of the Pharaohs and include the amazing sights of Luxor and the Valley of the Kings, as well as the Great Pyramids of Giza. Cheap Egypt holidays to Cairo, Alexandria and Luxor are all great ways to get closer to the ancient attractions, and a Nile Cruise will get you close to most of the big attractions, all from the comfort of an all inclusive boat!
After something unusual on your holiday to Egypt? Then seek out a holiday to one of the desert oases, like the Siwa Oasis, which is the very image of a green and pleasant land in the middle of the desert.
Flights to Egypt
It's easier than ever to get a great deal on flights to Egypt from the UK which is great news for travellers on a budget! Increased supply means cheaper prices for you, whether you want to travel in the high season or not - making an Egypt holiday on the cheap even easier to arrange.
Whether you're planning a holiday to Cairo, Luxor, Sharm El Sheikh, Hurghada or elsewhere you can use our handy search tool to make sure you kick-start you holiday to Egypt with a great value flight.
Most flights to Egypt take between five and six hours from take-off to landing, and nearly all of them fly direct too. This means that your hotel in Sharm el Sheikh, Cairo or elsewhere isn't as far away as you might think, and your holiday to Egypt can get started!
When to visit Egypt
Winter sun holidays to Egypt in 2013 and 2014 are set to remain popular thanks to the guaranteed great weather and the seaside attractions. Sharm el Sheikh is the best known resort, with Hurghada following hard on its heels. There are also other up-and-coming resorts such as Taba, which are smaller and quieter with fewer facilities - but smaller crowds too.
The best time for a beach holiday in Egypt is certainly the winter, not only because travelling at this time allows you to escape the cold and grey UK weather, but also because the temperatures in Egypt are the best at this time of year. It's simply too hot in the summer! And the same is true for a city holiday in Egypt, whether you want to go to Cairo or Luxor - avoid the summer with its mercury-busting temperatures.
To get the best of cheaper fares and smaller crowds on your holiday in Egypt you could visit in autumn - there is a slightly higher chance of rain but the underwater visibility will be at its peak, great if you're really after plenty of time in your scuba gear. For Nile cruises, spring is a great choice too, before the sunshine really gets into its stride.
What to see in Egypt
There is plenty to take in on a holiday to Egypt. Many of the most famous sights date from the time of the Pharaohs, and many more have arisen from the country's natural beauty. Try our Egypt guide for general destination information for your Egypt holiday experience, and try to see as many of our top ten sights as you can. These are (in no particular order):
1. Pyramids of Giza A tourist attraction for centuries, it's easy to see why. These magnificent structures are impressive, imposing and well worth a detour long or short to see on a holiday to Egypt.
2. Luxor Temple Built in 1400BC, this temple complex is stunning, particularly at dusk when you can watch the sun set, as well as at night when the buildings are beautifully lit.
3. Abu Simel Moved piece by piece to its current location so that it wouldn't be destroyed when the Aswan High Dam was created, you get the idea that this is a special site! Carved out of limestone, these temples have daily light shows, 20-feet high statues and a biannual festival.
4. Valley of the Kings As the most popular attraction to visit on a holiday to Egypt, expect a visual feast. There are 63 tombs including that of Tutakahmun, as well as the temple of Queen Hatshepsut. Huge crowds visit the exquisite décor daily!
5. Museum of Egyptian Antiquities This museum is widely acknowledged as being home to the best collection of ancient Egyptian artefacts anywhere in the world, and there are no fewer than 107 rooms to discover in this Cairo museum. Tutakahmun's golden mask and numerous royal mummies are just some of the amazing things to look out for.
6. Ras Muhammed National Park This stunning just south of Sharm El Sheikh covers both land and sea - but it's out to sea where you'll find amazing coral reefs that the park really comes into its own. Expect vertical reefs up to 800m deep, clear waters and an all-round spectacular experience for scuba divers on a holiday to Egypt. Bird watchers can be in heaven too as the park is a prime migratory spot for heron, white stork and osprey.
7. Coloured Canyon Expect an early start if you want to visit this beautiful spot on the Sinai Peninsula, but it's well worth it. This canyon is filled with intricately shaped rocks in stunning colours, honed smooth by the action of water over centuries - now just a distant memory as this location is in the middle of the desert.
8. Blue Hole Not for the faint of heart (or the inexperienced), this is one of Egypt's premier dive spots for experienced scuba divers, but also its most dangerous. Located close to Dahab, the Blue Hole is known for its fantastic coral reefs and huge variety of fish, as well as for The Arch - a deceptive tunnel in the reefs.
9. Mount Sinai A religious site for both Christians and Muslims, this mountain is where Moses reviewed the Ten Commandments. Visit by day or by night (for the sunrise) and it's up to you whether you take the longer, shallower route, or take the bull by the horns and brave the 3750 steps to the summit, called the Steps of Penitence!
10. Coptic Cairo This district in Cairo is jam-packed with ancient sights such as the Babylon Fortress, the Coptic Museum, the Hanging Church and the Greek Church of St. George. It's filled with stunning architecture and historical sites, so if your holiday to Egypt is going to include a trip to Cairo then make sure a day here is on your itinerary.
Holiday deals for
Egypt

(deals for 7 nights)
Halomy Hotel
from £388 p.p
From: London
Date: Thu 30 May 2013
Destination: Naama Bay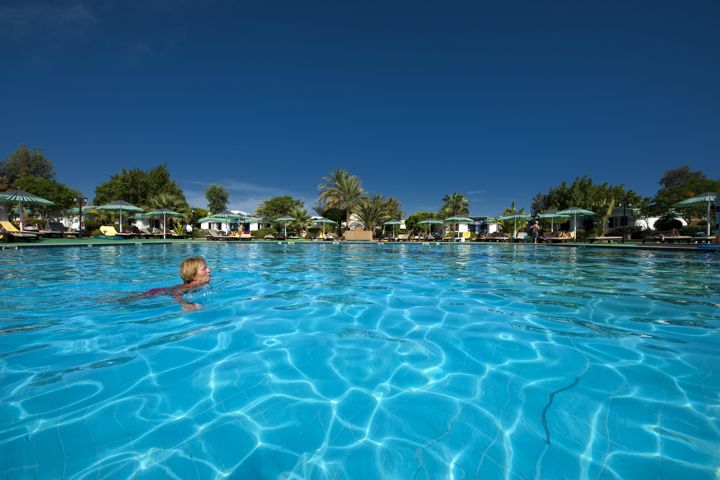 Ghazala Beach Hotel
from £389 p.p
From: Gatwick
Date: Sat 1 Jun 2013
Destination: Sharm el Sheikh
Sofitel Karnak Luxor Hote...
from £373 p.p
From: London
Date: Wed 5 Jun 2013
Destination: Luxor
Related
Blog Posts
What To See On A Nile Cruise

written by Em
"We've been spotting a lot of great value Nile Cruise deals around at the moment but it can be tricky to know what to spend your money on when it comes..." 11 April 2013
What to See on the Red Sea

written by Alice
"Sunny Sharm el Sheikh and the resorts that line the coast of the Red Sea have been preferred winter sun retreats of ours for years. What if you want t..." 29 October 2012
Best Cruise Deals
Hand picked deals
Updated 22/05/13
Get our deals email FREE each week!