Top 10 Theme Park Destinations!
There's something about theme parks that makes many of us quiver with excitement, whether we are five or fifty-five years old. Add in an overseas destination to the equation, and you've got one hell of an adrenaline-filled recipe…
In fact, much like travelling, the thrill of a ride can make us feel alive and propel us to cloud nine. So for the daring and pleasure-seeking amongst you, we've researched the world's top theme parks and their destinations, to bring you a bucket list that would be soooo much fun to tick off.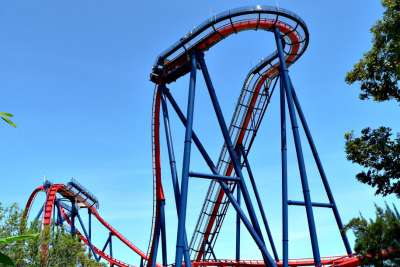 1

Busch Gardens - Tampa, Florida

Rated above the region's multiple other theme parks when it comes to hardcore thrills, Busch Gardens in Tampa offers a plethora of spine-tingling rollercoasters nestled amidst tropical greenery. There's Falcon's Fury, which plummets 300 feet at 60 miles an hour, SheiKra - a fast-paced floorless dive coaster and Montu which provides three seconds of absolute weightlessness - and that's just for starters! If it all gets a bit too much, head to Tampa Bay for postcard-style beaches with swaying palm trees and turquoise waters.

Image: Eugene Buchko / Shutterstock.com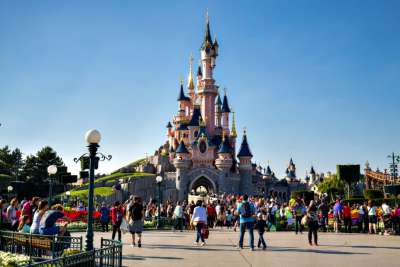 2

Disneyland - Paris, France

Located three and a half hours' drive from the atmospheric centre of the French capital, Disneyland Paris makes an interesting contrast to the chic cobblestones of the cultured city. The adventure begins on the drive there, with roads lined with manicured grass verges and well-tended gardens, gradually leading you into the full-blown Disney bubble. Thrill seekers should ride on Space Mountain: Mission 2, an indoor rollercoaster in total darkness, and take the plunge at the Tower of Terror, a scary elevator that drops 13 floors!

Image: Pavel L Photo and Video / Shutterstock.com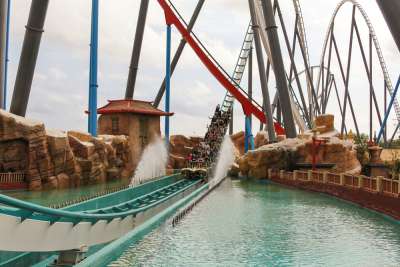 3

PortAventura - Salou, Spain

The impressive PortAventura theme park is located in Salou just a 30-minute train ride from the atmospheric city of Barcelona, on the beautiful Costa Dorada coastline. With around four million visitors a year, the theme park is the most visited in the whole of Spain. The mammoth grounds are divided into six themes and adrenaline junkies should head straight to the Mediterranean section, home to Furios Baco - the fastest rollercoaster in Europe. Oh, and If you do need a break from the rides, PortAventura has its own man-made beach complete with sunloungers, parasols and a bar!



Image: Dmitry V. Petrenko / Shutterstock.com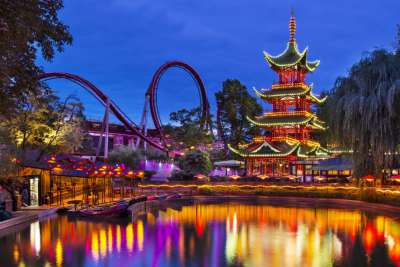 4

Tivoli Gardens - Copenhagen, Denmark

Founded in 1843, Tivoli Garden's is one of Denmark's national treasures, with prior visitors including fairytale writer Hans Christian Andersen and Walt Disney. Located just a short stroll from the centre of the city, the park offers stunning scenery with exotic architecture, lush gardens and lakes. The atmosphere reflects the season, with open-air concerts in the summer, a spooky setting over Halloween and magical festivities at Christmas. There are also plenty of rides, and daredevils will love 'The Demon' - a breathtaking rollercoaster with three scary loops.

Image: Sean Pavone / Shutterstock.com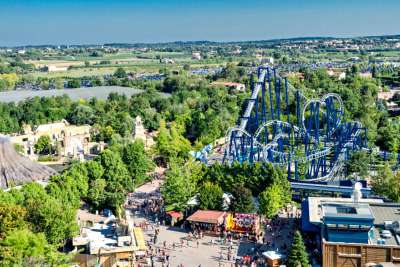 5

Gardaland Park - Verona, Italy

Around 30 minutes' drive from the city of Verona, Gardaland Park sits close to the beautiful scenery of Lake Garda and has an impressive selection of spine-tingling rides including Oblivion - Italy's first dive coaster, and Space Vertigo which plunges you 40 metres in height. Expect gorgeous views of the surrounding countryside too (if you can bring yourself to look) as you ride the colossal coasters. The park is also home to two hotels and a sea life aquarium - or you could combine your visit with stays in the romantic city of Verona and the picturesque Lake Garda.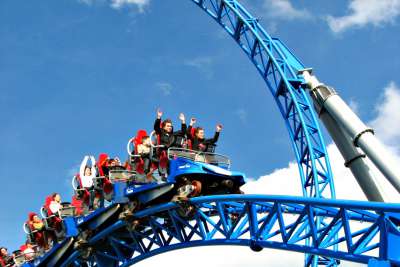 6

Europa-Park - Rust, Germany

Germany's largest theme park is located in Rust, in south-west Germany, between Freiburg and Strasbourg, France. Home to a whopping 12 rollercoasters, adrenaline junkies will be in their element - ride Euro-Mir for a fast-paced nosedive into a black hole as your car spins 360 degrees, and don't miss the Silver Star - a steel rollercoaster with a height of up to 73 metres! The park is close to the wonderful scenery of Germany's Black Forest and under an hour's drive from Strasbourg in France where you'll find gothic architecture and timbered cottages that look like they've been lifted straight out of a fairytale.

Image: Jeremy Thompson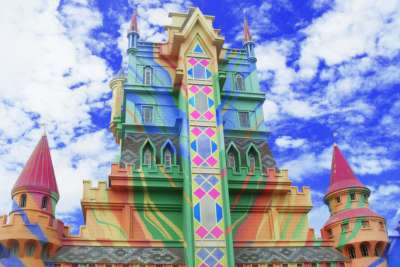 7

Beto Carrero World - Penha, Brazil

A two-and-a-half-hour drive from Curitiba, Beto Carrero World in Penha is the largest theme park in Latin America and has earnt itself rave reviews amongst 'themeparkers'. Ride highlights include the Firewhip rollercoaster and the terrifying Big Tower, which has a 93-metre free fall! There's also an onsite zoo, plenty of beautifully choreographed shows, shops, museums and a huge food court. Due to its popularity, the park is best visited during weekdays and out of peak summer season - although the Crazy River ride is a great way to cool off! Away from the park, the modern city of Curitiba is the place to recharge your batteries.

Image: Marina Lins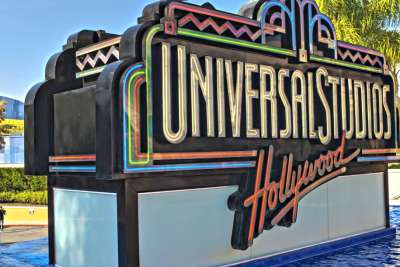 8

Universal Studios - Hollywood, USA

Located in sunny Los Angeles, Universal Studios aims to offer the ultimate Hollywood experience, with a variety of film-based entertainment. There's real studio tours, splash-filled action at the WaterWorld shows and a whole host of blockbuster-related rides for thrill seekers. Highlights include the Transformers: The Ride-3D, the family-friendly Simpsons Ride, and Revenge of the Mummy which catapults riders at speeds up to 45 mph in total darkness. Away from the park, you can immerse yourself in glitzy LA, where you'll find golden beaches, chic clubs, boutique shops and beautiful people!

Image: Dmitry Morgan / Shutterstock.com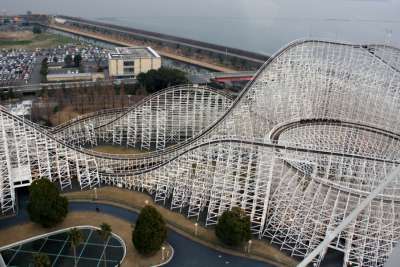 9

Nagashima Spa Land - Kuwana, Japan

Located in Kuwana, around 35 minutes' drive from the architecturally beautiful city of Nagoya, Nagashima Spa Land has plenty to keep you amused - with several rollercoasters, thrill rides, a giant Ferris wheel and even a waterpark. Daredevils will be in their element with the Steel Dragon 2000 (the world's fastest descending rollercoaster) and the White Cyclone (the world's largest wooden coaster). After a jam-packed day of scary rides, the waterpark makes an idyllic spot to unwind with hot baths and Jacuzzis on hand to bring you back down to earth.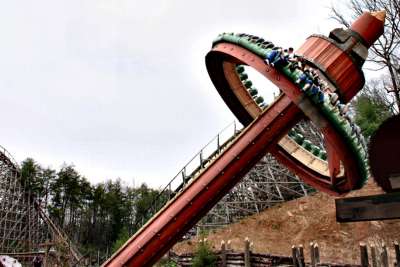 10

Dollywood - Tennessee, USA

About a three-hour drive from Nashville, Dollywood has long drawn dedicated Dolly Parton fans from far and wide. A charming ode to the big-haired country singer, the lovable park is home to country-themed rides and attractions, a water park and a brand new hotel - Dollywood's DreamMore Resort. But it's not all cotton-candy, the Mystery Mine packs a punch with its scary theme, partial darkness and vertical drop, or there's the equally formidable Tennessee Tornado and Wild Eagle coasters.
Most Popular Top 10s