The Best Adrenaline-Inducing Waterparks
It's probably right around the time when your toes are edging towards an impossibly steep (if not straight down) decline and you're aware there's an impatient line of people behind you, waiting their turn, where you can't remember if this is fun or death-defying.
Waterparks can do that you, but only briefly. Once you're shooting down at impossible speeds or spinning around in inflatable tubes surrounded by (happily) screaming friends, you forget you're a tax-paying adult. And really, that's why these following waterparks are so great. Adulthood is choosing the steepest, scariest, fastest ride there is and knowing you just can't back down.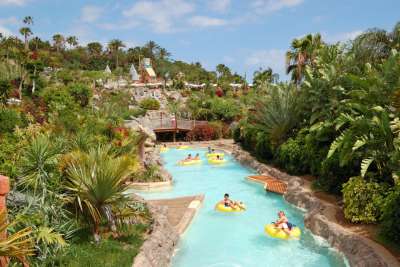 1

Siam Park - Tenerife

Siam Park may be in Spain but its Thai theme will make you feel as though you've flown the coop for somewhere far more exotic. With 30 attractions to its name, it's one of the biggest waterparks in Europe. You'll hurtle down the near-vertical Tower of Power, spin into The Dragon or raft down the Mai Tai river. Give your heart a rest and lounge on the white sands of Siam Beach, shop for a few hidden treasures at the Floating Market or make friends with some sea lions. There are plenty of restaurants and bars (and even tea houses) to sample as well.

Image copyright:

slava296

/

Shutterstock.com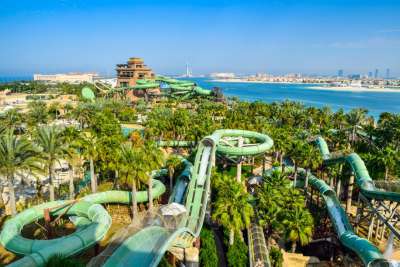 2

Dubai, UAE

Dubai catches your eye for all kinds of reasons - skyscrapers that tower at impossible heights, mammoth malls that you could easily get lost in and possibly the glitziest hotels you've ever seen. The waterparks are no different. Wild Wadi is situated so that you're offered stunning views of the famous Burj Al Arab before you plunge down the 120-metres slide at the Jumeirah Sceirah (at 80 kilometres/hour!). There are plenty of other rides to get your heart pumping, especially if you plan a trip to Aquaventure Waterpark at Atlantis, the Palm. Zip through a slide and fly through a shark tank, plummet on the Leap of Faith or flip and turn on Zoomerango. The rides won't disappoint.

Image copyright:

Kotsovolos Panagiotis

/

Shutterstock.com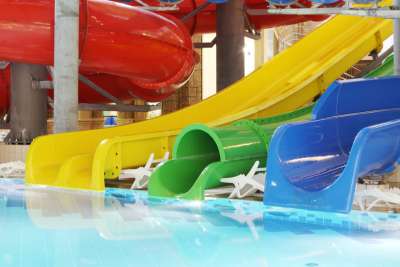 3

World Waterpark - Alberta, Canada

You don't often expect to find a water park in a mall but the Canadians brought it out of the bag. West Edmonton Mall in Alberta, Canada is home to World Waterpark (and the world's largest wave pool). Spread out over five acres, there are 17 different water slides to test your bravery on, plus a handful of hot tubs. Best part about it? Once you're done, it's time to shop.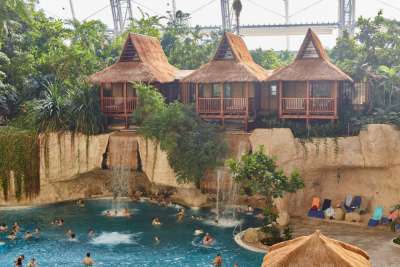 4

Tropical Islands - Berlin

Tropical Islands is more than impressive. At best it can be described as a giant dome - it's the size of eight football pitches and is so tall the Statue of Liberty could fit right in. At 66,000 square metres, it's the largest free-standing hall in the world. Walk inside and the wonder doesn't stop. Be greeted by the world's largest indoor rainforest, alongside pools, beaches and giant water slides, one of which stands at a vertigo-inducing 27-metres.
Image copyright: Tropical Islands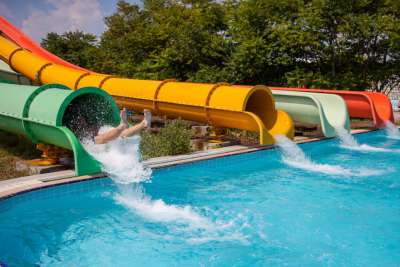 5

Blizzard Beach - Orlando, Florida

Florida is known for a lot of things - balmy weather, Disney-themed antics and plenty of amusement parks. Florida also does waterparks in a way that no other state can emulate. Blizzard Beach is one amongst many. There's a 120-foot slide, rides that go up to 60 kilometres per hour, the world's longest white-water rapids raft ride and even a one-acre wave pool. Go further afield and you'll find Florida's many other offerings, from Rapids Water Park to LEGOLAND Florida Water Park.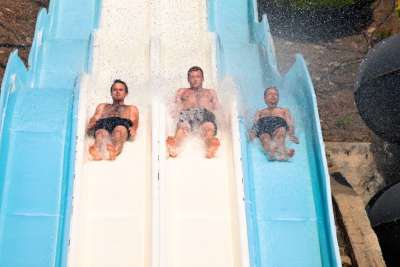 6

Area 47- Innsbruck, Austria

Austria created Area 47 on a creative curve. Yes, they've got slides and yes, they go fast but to get from one to the other you get to travel across rock climbing walls, rope courses and zip lines. Located along a river you're even afforded some great views. So get stuck in - jump off the 30-foot diving platform, race down a steep snowboarding platform or leap from a rooftop onto a giant inflatable tube. Rest assured - this is one waterpark that'll never get boring.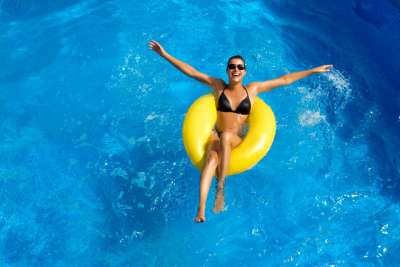 7

Fasouri Watermania - Limassol, Cyprus

The six-lane mat racer is only the start of the fun at Fasouri Watermania! Corkscrews, lazy rivers and a kamikaze ride will all get the adrenaline pumping (and the screams going). Even if rides aren't your thing, sitting back and lounging on a sunbed is a great way to while away the time. Try out Black Cannons - you'll go flying before you splash into the water. If you're feeling particularly waterpark crazy, drive over to WaterWorld in Ayia Napa. From the Fall of Icarus to the Quest of Hercules, you'll be zipping and sliding to your heart's content.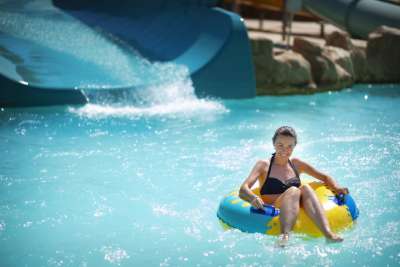 8

Aqualandia - Benidorm

Set in the hills behind Benidorm's mass of high-rise hotels, make a beeline towards the Big Bang. A criss-crossed network of brightly-coloured tubes will shoot you down the hills, apparently simulating free-falling as you go. Vertigo will put you 33 metres high before you slide straight down while Splash lets you compete against others towards the finish line. And then there's some surprisingly scenic pools, lined with greenery and flowers - just for a breather from all the excitement.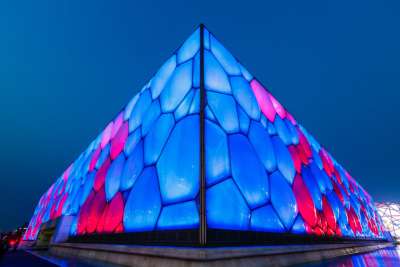 9

Water Cube Water Park - Beijing

Originally the site of the National Aquatics Centre for the 2008 Summer Olympics, the Water Cube Water Park has since become a 12,000 square-metre complex which boasts a wave pool, lazy river, 13 water slides and rides and even a spa area! Test out RideHouse, Aqualoop and Tornado in one of Asia's largest indoor water parks.

Image copyright:

Zhao jian kang

/

Shutterstock.com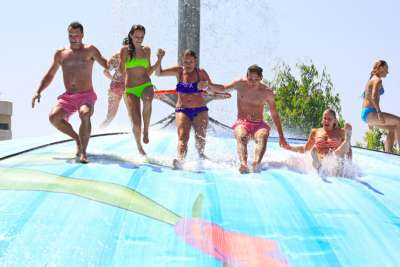 10

WaterPark - Faliraki, Greece

Alongside glistening shores and sun-filled days, Faliraki also has the aptly-named WaterPark as one of its crown jewels. There is its Kamikaze ride, a pirate ship which toddlers love to explore, wave pools, lazy rivers and even black holes - just about everything you could want at a water park. Try the Twister slide or the Free Fall if you're brave enough!

Image copyright:

Baronb

/

Shutterstock.com
Most Popular Top 10s