10 Beautiful Holiday Resorts in the Canaries
With year-round sunshine, otherworldly landscapes, sun-kissed beaches, sand dunes and colourful villages, the Canary Islands make a great holiday destination. Just a few hours' plane ride away they also offer great value for holidaymakers seeking a sunny destination during autumn and winter. From package holidays to adventurous activity trips, the Canaries have got it covered – only question is, which island resort will you choose?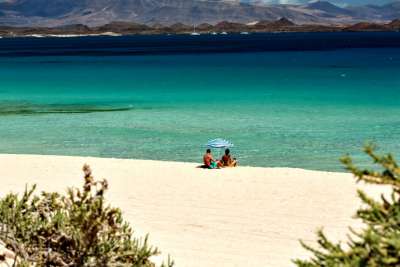 1

Corralejo - Fuerteventura

Love the beach? Located on the northern tip of Fuerteventura, Corralejo boasts miles-upon-miles of sand dunes that gently roll out towards the sea, creating beautifully broad beaches. A former fishing village, the town is brimming with charm, and home to uneven streets, inviting local restaurants and low-rise whitewashed architecture. You may not want to leave.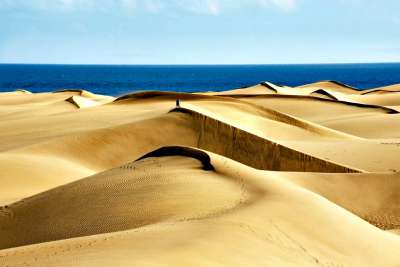 2

Maspalomas - Gran Canaria

Maspalomas is home to 17 kilometres of sand-dune coastline, with wide beaches and shallow waters that make it a great choice for a beach holiday. As well as gorgeous scenery, the area has one of the Canary Islands' most interesting night scenes. There's everything from nude sunbathing parties to A-list-style nightclubs, and its thriving gay community gives the resort a glamorous and modern edge.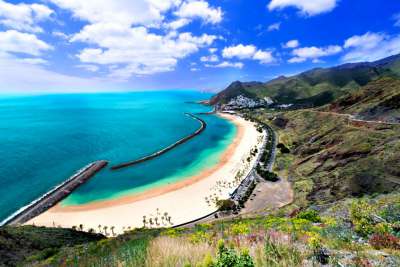 3

Santa Cruz - Tenerife

Nestled at the foot of the Anaga Mountains, Santa Cruz in the north of the island is the gateway to some of the Tenerife's most beautiful beaches. The capital of the island, Santa Cruz offers brightly coloured architecture, quirky shops, fascinating museums and plenty of greenery. Be sure to visit Ajabo Beach for atmospheric black sand, or Playa de las Teresitas for golden sand, cobalt water and stark mountain backdrops.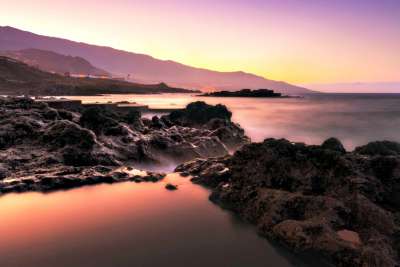 4

Los Cancajos - La Palma

If you're seeking a peaceful and authentic Canary Island holiday then Los Cancajo on the unspoilt island of La Palma ticks the box. Think crowd-free volcanic sand beaches, Spanish tavernas oozing with charm, and laid-back bars serving tasty Sangria. Plus, the island's picturesque capital Santa Cruz de La Palma is just 10 minutes' drive away and home to whitewashed villas surrounded by lush green hills.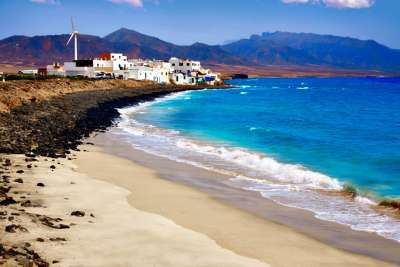 5

Jandia - Fuerteventura

Perched at the southern end of the island, this small holiday resort packs a punch with fantastic hiking, top-notch windsurfing and sandy beaches that are nothing short of stunning. You'll find 32 kilometres of coastline to choose from, authentic beachfront restaurants, and unpaved tracks primed to be explored in the mesmerising Jandia National Park.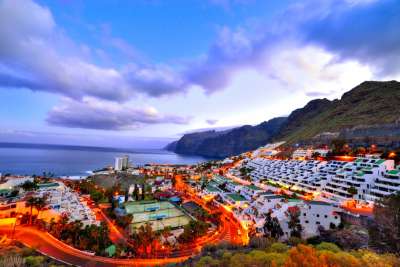 6

Puerto de Santiago - Tenerife

Located on the west of the island, Puerto de Santiago is a low-key resort that sprawls along a rocky coastline with secret coves. Frequently named as one of Tenerife's most attractive resorts, the quiet black sand beaches aren't the only draw, slightly north of the town you'll find Acantilados de los Gigantes (Cliffs of the Giants). These rock walls soar up to 600 metres out of the ocean and as well as being breathtaking, offer world-class diving opportunities.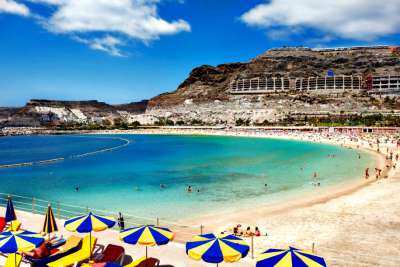 7

Puerto Rico - Gran Canaria

The sunny holiday resort of Puerto Rico is all about sun, sea, fun and modern amenities. Located on Gran Canaria's south-west coast, the resort is nestled in volcanic valleys and boasts two gorgeously golden beaches including the Blue Flag-winning, horseshoe-shaped Amadores. After sunset the promenade comes to life, but families are also catered for with a waterpark, amusement arcades and the nearby Sioux City theme park.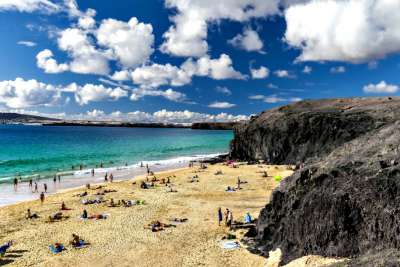 8

Playa Blanca - Lanzarote

Despite being one of Lanzarote's largest tourist resorts, Playa Blanca is notable for its beauty, with white-sand beaches and an authentic Old Town. The resort remains sophisticated but there are plenty of bars and restaurants to choose from. Foodies will love the fresh seafood spots on the promenade, and exhibitionists can head to one of the lively karaoke bars in the evening. Just a 15-minutes drive away you'll find the boiling pots of Los Hervideros - impressive blowholes in the cliffs!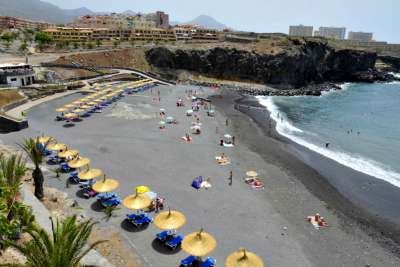 9

Callao Salvaje - Tenerife

For holidaymakers wanting to escape the bustling resorts of Tenerife, the village of Callao Salvaje is a lovely mix of authentic Canarian flavours with enough amenities to keep visitors content. Expect a small black sand beach, reasonably priced restaurants and a sense of community. The international mix of visitors and residents makes it an interesting choice, and couples will love the serenity of this area.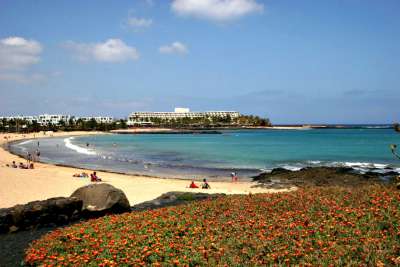 10

Costa Teguise - Lanzarote

A popular yet attractive tourist resort located on the eastern side of Lanzarote, Costa Teguise is blessed with a wealth of beautiful beaches and fantastic watersports. Located on Lanzarote's south-east corner, it's a popular spot with the Spanish royal family, and it's not hard to see why. As well as five sandy beaches, there's plenty of family-friendly activities, plus the island's cosmopolitan capital with its high-end boutiques is just a 15-minute drive away.
Most Popular Top 10s