The World's Top Ten Christmas Markets
"Not bloody Christmas! It's not even Halloween yet!" We hear you. It seems each year the Christmas music comes on the radio a little earlier and the supermarkets sell out of advent calendars before you can say "Bah humbug!" It doesn't take long to eat all of the advent chocolates in one sitting, nor for that over-anticipated festive spirit to fade out. Preparing for a holiday takes a little longer though. That's why we're writing this two months before the merry occasion, so you can prepare yourself for potentially the best Crimbo of your life! We've picked 10 of the best Christmas markets around the world to make it so.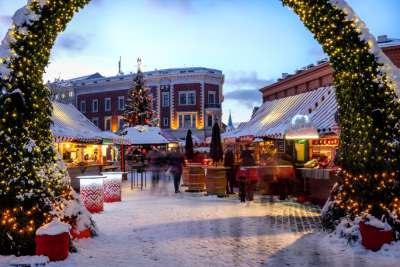 1

Old Town Christmas Market, Riga

We seem to think that everything Christmas comes from Germany, but the Latvians beg to differ. It was them, they claim, who birthed the Christmas tree (hopefully not one person specifically, that would be painful). The very same tree that overshadows the Old Town Christmas Market of their capital city represents the very first one, which supposedly once stood in the same spot. A perk for this tree however, is that it gets to enjoy the whiffs of a lot more mulled wine, beeswax candles and sauerkrat than the rest of us.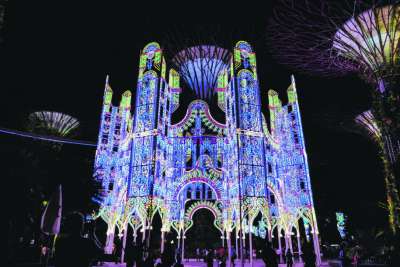 2

Christmas Wonderland, Singapore

Christmas in Singapore?! Yes, friend. Hear us out for a second - this is a place that certainly doesn't scrimp on mind-blowing architecture and public spaces. Both of these things come into play for its epic Christmas Wonderland. So why not?! Christmas Wonderland is still in its infancy, as it celebrates its fourth year, but it's matured quickly. You'll find twinkling light sculptures, carnival games and a spectacular ice palace spread out around 57,000 square-metres.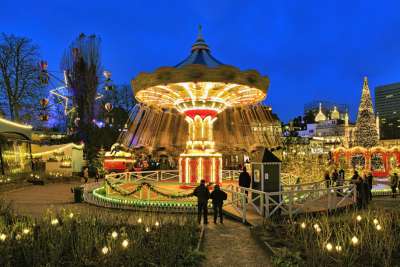 3

Tivoli Gardens, Copenhagen

Walt Disney, the actual lad, chose to base his park on these gardens. And, if you've been to one of his heavily trademarked parks, then you'll know that the original must be pretty good. True as much, Tivoli Gardens are pretty good. When it's decked out in Christmassy gear, it's even better. The myriad of fairy lights glitter around the gardens, as high-octane rides rattle the market stalls. Hundred-strong choirs triumph over the noise and fill the cold air with Crimbo tunes, while the many fires around the site burn and keep chilly fingers warm.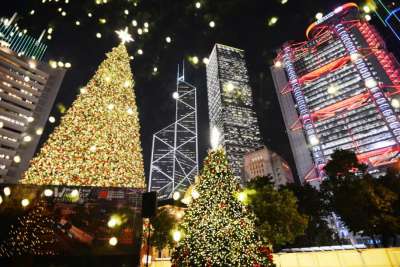 4

WinterFest, Hong Kong

Hong Kong's skyline glimmers with tinsel and glamour as the skyscrapers are spruced up for the Christmas period. There are illuminations and scintillating light displays throughout the city, adding a spell of magic to each street. You can expect high-end brands to participate, as past editions have seen the likes of a 30-metre tall Swarovski crystal sculpture and merry-go-rounds from Tiffany's.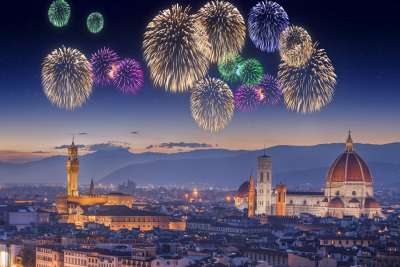 5

Piazza Santa Croce, Florence

Each year Piazza Santa Croce comes decked out with wooden stalls which brim with some of the best stocking fillers you can find. It all takes place in front of the intimidatingly beautiful Santa Croce Basilica, with sellers that come from all over Europe. The market's most enticing premise is its fusion of Italian and German traditions, as it takes the best bits from both to bring a gloriously European market experience.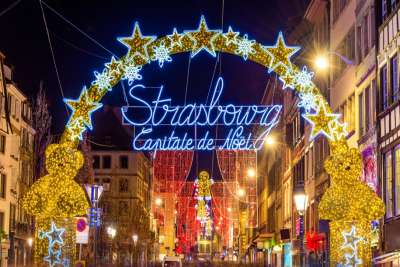 6

Strasbourg, France

With over 300 chalets spread out over 11 locations in this delectable French city, you'd be hard-pressed to return home empty-handed. Strasbourg refers to itself as The Capital of Christmas has been been upping its merry game since 1570! Today you'll find this old gal still standing proud in front of Strasbourg Cathedral. Although it stills retains its storied history, today you'll find new touches, including an excellent ice-skating rink.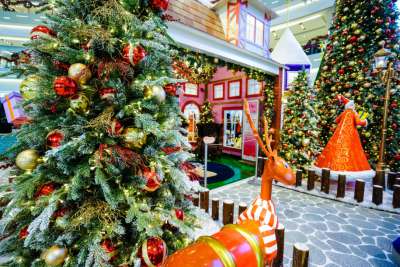 7

Christmas Designer Market, Shanghai

For the more upscale market, head to Shanghai, where each year 75 designers from all over the city showcase their best apparel and accessories. It all takes place at the Shanghai Centre, where you'll find that east meets west, as shoppers don their best Christmas bling and purchase some of the most extravagant stocking fillers out there. Mulled wine and stews waft around the mall, making for a delightfully spirit-filled and cosmopolitan experience.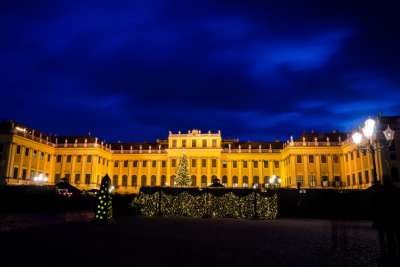 8

Schoenbrunn Palace Christmas Market, Vienna

The gold luminescence of the Parade court of Schönbrunn Palace sets the scene for this magical market. A sense of luxury surrounds the area, as the forecourt invites in exhibitors from Austria and the neighbouring countries to sell their best produce. The outbuildings provide an immense backdrop as shoppers guzzle down Gluhwein and reindeer stews. Sorry, Rudolf.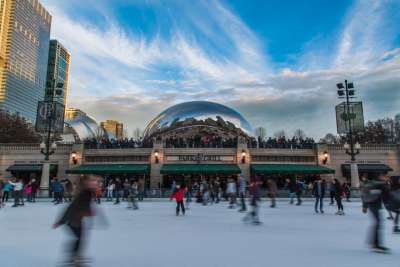 9

Christkindlmarket, Chicago

Chicagoans can hardly imagine a time without their now iconic Christkindlmarket. Hailing from Germanic roots and traditions, the market has morphed into everything that is true to the heart of Chicago - just with some Christmas stuffing. Market stalls surround the towering Christmas tree, where scenes from the nativity are performed. You'll also find choirs, brass bands and dancers, as you take it all in with great lugs from beer steins.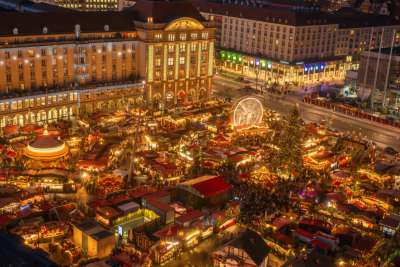 10

Dresden Christmas Market, Germany

Here we are then: basically where Christmas began. Germany's Christmas markets are world-renowned, and seem to be the archetype of what most people's idea of 'Christmas' is. The Dresden market specifically hones in exactly that. Established in 1434, this is Germany's oldest Christmas markets, and possibly one of the very oldest in the world. It's located on the Altmarkt square, in the city's historical centre, and comes surrounded by markets which stretch all the way up to the main railway station. However, your eyes will dart immediately to the spectacular Christmas pyramid, which is the world's tallest, as it stands at a height of 14 metres. You'll also find the world's biggest nut cracker here, because, why not!
Most Popular Top 10s