The ancient city of Kutaisi – one of the oldest continuously populated cities in Europe – is home to some amazing authentic (and very cheap!) Georgian cuisine. It's the second largest city in Georgia, as well as its legislative capital, and is only 4.5 hours away from London. Here are some of things you should eat (and drink) while visiting this beautiful place.
Try many varieties of Khinkali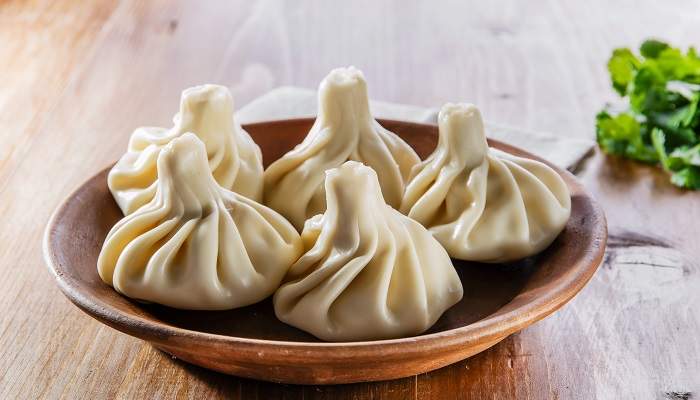 My favourite Georgian dish – by far – is the large dumplings called khinkali. This dish originated in the mountain regions of Georgia but is now served in pretty much every restaurant in the country.
The fillings include various types of meat, cheese and potato. The original recipe consists of minced lamb and pork or beef and pork, with onions, chilli, salt and cumin. Frequently broth is added to the mince – the dumpling's exterior holds in the juices of the meat when they are cooked.
The traditional way to eat them is by hand. First, bite a small hole in the dough and suck the juices to prevent the dumpling from leaking. The hard, doughy top of the dumpling is used to pick them up and is generally not eaten. Don't be tempted to use a knife and fork, as this may offend the chef – roll up your sleeves and get stuck into these giant dumplings!
Typically, a portion of five khinkali will set you back £2-£3, and I would not recommend ordering more as you will have no space left for other dishes!
Go to bread heaven with the help of many types of Khachapuri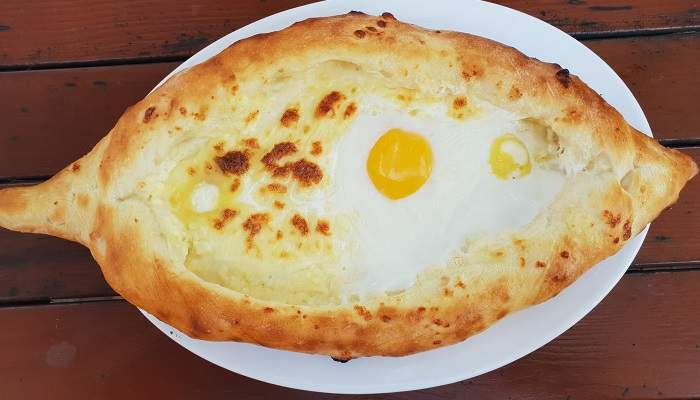 Khachapuri is traditional Georgian bread stuffed with cheese and other fillings. Its various shapes and forms come from different regions of Georgia, such as adjaruli khachapuri (pictured above), which comes from the Adjarian recipe and is filled with cheese and eggs.
The traditional way to eat them is to rip the crust and dip it in the gooey goodness inside. The streets of Kutaisi are filled with the smell of fresh khachapuri being baked in every house each morning – this is Georgian staple food.
These bread miracles are very cheap and often cost less than a pound each.
To try both great khinkali and khachapuri, head to Palaty restaurant on Pushkin Street and you will have the best Georgian meal of your life.
Time for Georgian wine and, of course, Chacha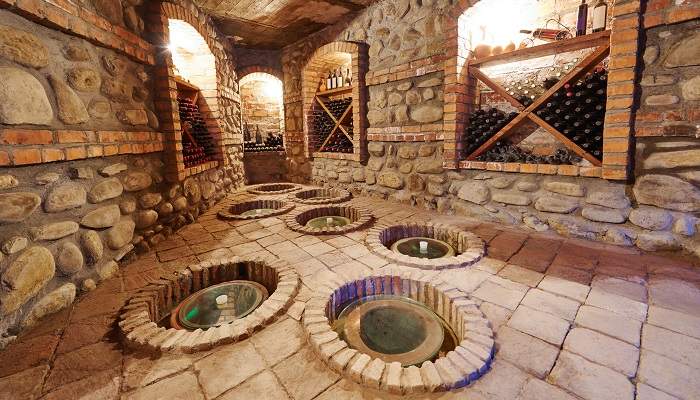 Virtually everyone makes their own wine (and chacha) in Georgia. Chacha is made from grape pomace – the residue left after making wine – and is comparable to the common brandy. It can also be made from pretty much any fruit, most notably figs, tangerines, oranges, berries and even tarragon or honey. Historically it was only homemade, but now it is produced commercially, too. It can range from 40% to up to 80% alcohol and is offered everywhere you go. Georgians also believe chacha can cure various illnesses!
Even when chacha is not consumed, Georgians drink a lot of wine. Fresh homemade wine is cloudy and can taste like grape juice gone sour, but their bottled wine is truly great. Georgia is one of the oldest wine regions in the world – they have been making wine for over 8,000 years. Their grape varieties are different to the mass-produced ones and are little known, but there are plenty of varieties, from dry to semi-sweet, and even port-like dessert wines, all for a fraction of what we are used to paying for good wine in Western Europe.
Go for wine tasting in the cellars of Satsnakheli Wine Gallery or just buy a bottle or two from one of the many wine shops in the city.